Welcome all to my first NFL mock draft of the off-season. A couple of things to note: this will only be the first round of picks, and there will be no trades in this mock.
1. Jacksonville Jaguars: QB Trevor Lawrence, Clemson
Let's be honest, this pick is a lock. It honestly wouldn't shock me if Urban Meyer already gave Trevor Lawrence the playbook to start studying. Jacksonville is in full rebuild mode as they have traded all of their big names and finished the season in full "tank of Trevor" mode. Lawrence will have pro bowl receiver DJ Chark and one of the NFLs top rushers this past season in James Robinson, but other than the the Jags don't have many weapons. The Jags also posses the 25th pick, so we will talk more about that when we get there.
2. New York Jets: OL Penei Sewell, Oregon
This pick may come as a shock to many of you. I'm sure you were expecting a Justin Fields or a Zach Wilson here, but in this situation, I have the Jets repairing their relationship with Sam Darnold. Now that googly eyed Gase is out as head coach, I think Darnold will have one last season to prove he can be the Jets quarterback of the future. Let's be real here. The Jets have no weapons and had one of the worst offensive lines in the league last year despite using a first round pick on tackle Mekhi Beckton last season. Darnold has shown flashes of promise despite his poor supporting cast, so why not go out and get him the best tackle in the draft? Say Darnold doesn't work out this year. Just suffer through one more terrible season and take your quarterback next season.
3. Miami Dolphins: WR Ja'Marr Chase, LSU
Now that Sewell is off the board, I think the Dolphins will trade the 3rd pick. Since we aren't doing trades in this mock draft, lets say the Dolphins take the best receiver in the draft in Ja'Marr Chase. Chase opted out of this season, but lets not forget what he did in the 2019-2020 season where he racked up over 1,700 yards as well as 20 receiving touchdowns. Chase also has an NFL ready body compared to other top receivers like DeVonta Smith or Jaylen Waddle.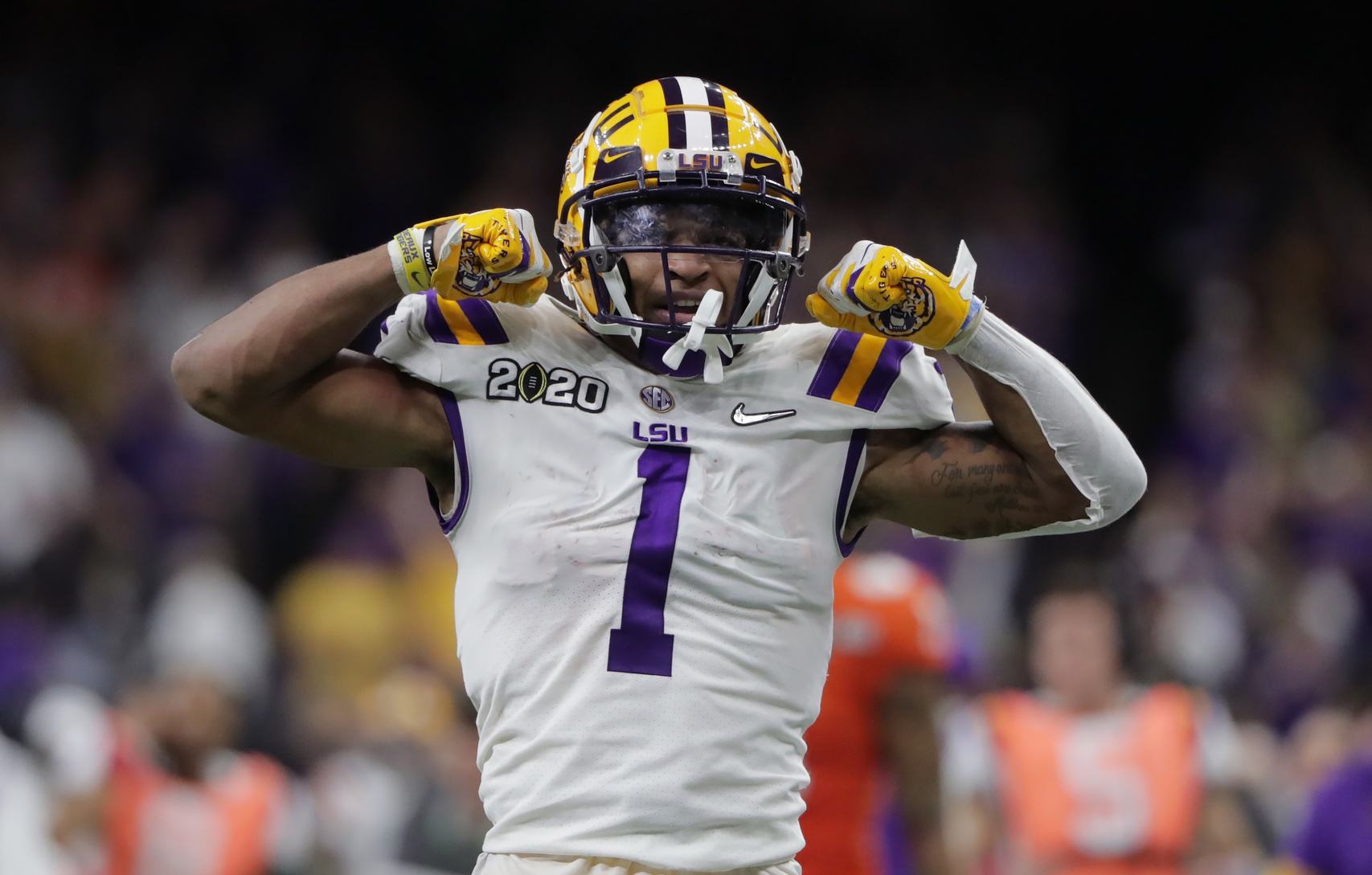 4. Atlanta Falcons: QB Zach Wilson, BYU
The Falcons are in a great spot to take their quarterback of the future here at pick number 4. I assume someone will trade up to 3 to take a quarterback, but for the sake of this draft, lets say the Falcons take one of the most polished quarterbacks in the draft in Zach Wilson. Matt Ryan is on the decline and the Falcons have a team full of weapons and a new head coach waiting for Wilson to arrive.
5. Cincinnati Bengals: OL Rashawn Slater, Northwestern
Another year, another Bengals top 5 pick. This time, they are here to protect their franchise quarterback, Joe Burrow. The Bengals are on the come up and have a great group of weapons on the offensive side of the ball. Getting some offensive line help is their best bet here at the number 5 spot.
6. Philadelphia Eagles: QB Justin Fields, Ohio State
The Eagles are a mess. Carson Wentz is so down bad right now, but why? Is it the coaching staff? Is it the terrible receiving group he is being forced to throw to? If I'm the Eagles I'm doing all I can to keep Carson Wentz, get him some weapons, and restore his confidence. But here's the catch: it's the Eagles. Carson Wentz will probably end up in a Colts, Bears, or 49ers uniform by then end of the offseason, so I think the Eagles will end up going with a quarterback. Justin Fields is the best quarterback available in this scenario so they grab him here with the 6th pick. As a coach or GM, I wouldn't be comfortable with just 2nd rounder Jalen Hurts on my roster going into the season. All the more reason to grab Fields here.
7. Detroit Lions: WR Jaylen Waddle, Alabama
With the recent acquisition of Jared Goff, its time for the lions to go get him some help. Speed is seeming to become one of the most important traits in a wide receiver, and Jaylen Waddle is as fast as they come. I think if the Lions go receiver with this pick, their offense will be in pretty good shape.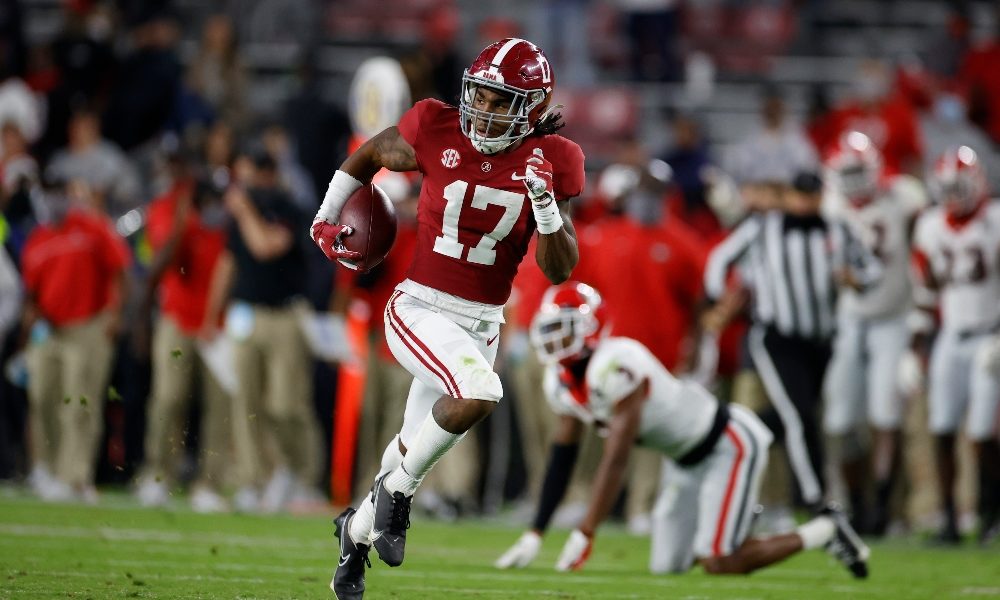 8. Carolina Panthers: QB Trey Lance, North Dakota State
The Panthers are still looking for their guy at the quarterback position, and I think Trey Lance out of North Dakota State is that guy. In 2019, Lance threw for 2,700 yards and 28 touchdowns and 0 interceptions. The only concern with Lance was his lack of competition. From what we've seen, Lance has made a great case for being one of the top quarterbacks in this draft class. Not to mention he's coming out of a quarterback factory who produced players like Carson Wentz and Easton Stick.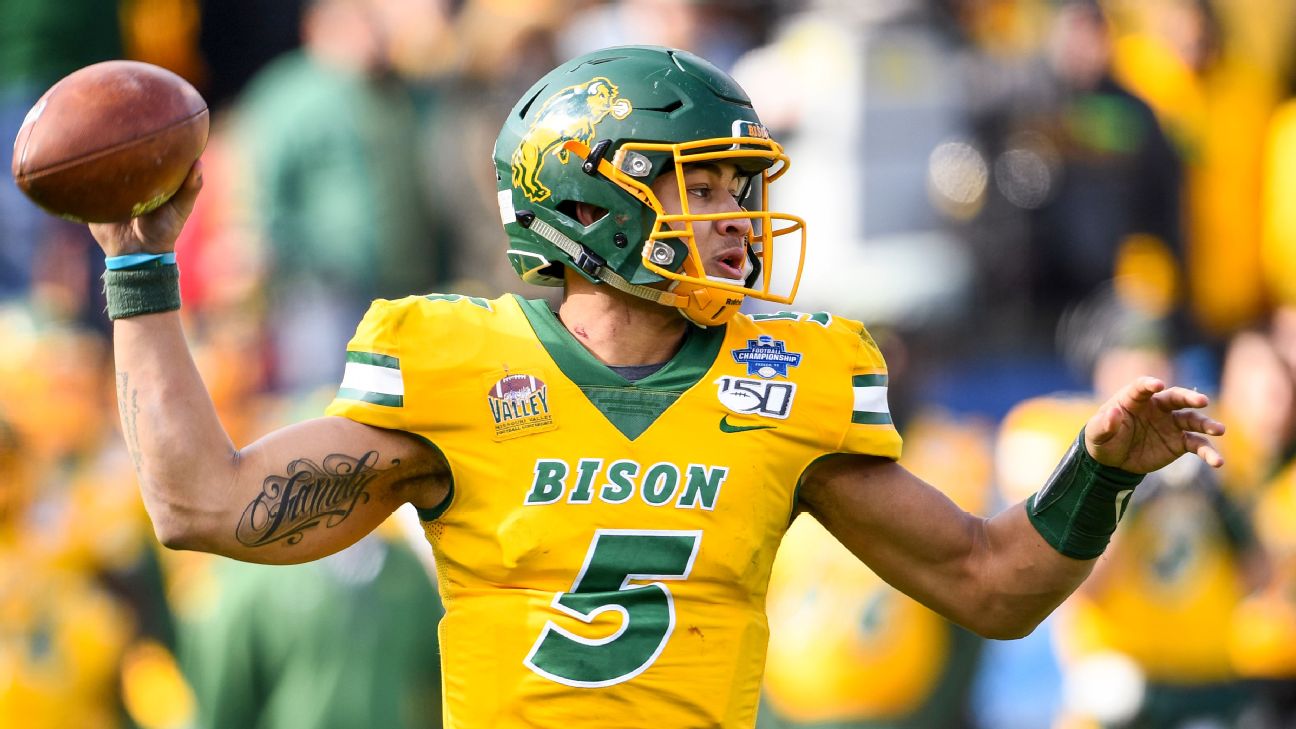 9. Denver Broncos: CB Caleb Farley, Virginia Tech
The Broncos are not a bad team on paper. Their corners are their main weak spot right now, especially with the release of former all-pro AJ Bouye. There is a lot of debate on who will come off the board first, Patrick Surtain II or Caleb Farley. I think it will come down to the fit of the team that takes them. I think the Broncos take Farley because of his athletic ability and speed. Having a fast corner that is good in man coverage will pay off for the Broncos, who have to play the Chiefs twice a year.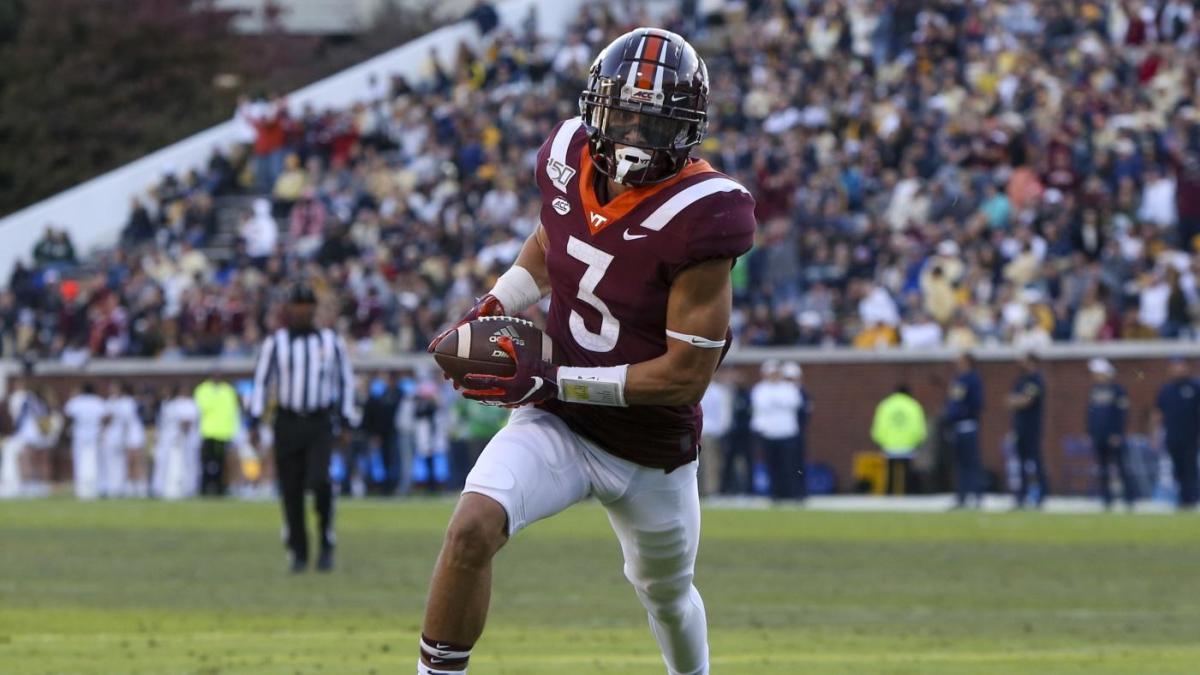 10. Dallas Cowboys: CB Patrick Surtain II, Alabama
The Cowboys could use some help on the offensive line because of age and injury concerns, but the Cowboys secondary remains a liability. Despite getting Trevon Diggs in the first round last year, the Cowboys are still in need of some defensive back help. The Cowboys are in the perfect spot to grab one of the best corners in the class, Patrick Surtain II. This is a great pick up for the Cowboys at the 10 spot, and there will already be some chemistry in the Dallas secondary as Diggs and Surtain II played together at Alabama.
11. New York Giants: WR DeVonta Smith, Alabama
The Giants get a steal here as the Heisman Trophy winner DeVonta Smith falls into their lap here at pick 11. There have been some concerns about Smith's size and being durable enough to play in the pros, but he silenced all doubters in the national championship game as he proved why he was the Heisman Trophy winner. The Giants are getting a great route runner and speedy receiver to add to Daniel Jones' growing list of weapons.
12. San Francisco 49ers: CB Jaycee Horn, South Carolina
Overall, the 49ers are a pretty complete team. The one spot that stood out as a weakness to me was their secondary. The two best defensive back prospects are already off the board, but I don't think Jaycee Horn is too much of a reach at the 12 spot. Expect the 49ers to make a trade or two and shake up the offensive side of the ball this offseason, so I think taking one of the most scheme-diverse and physical corners in the draft isn't a bad pick here at 12.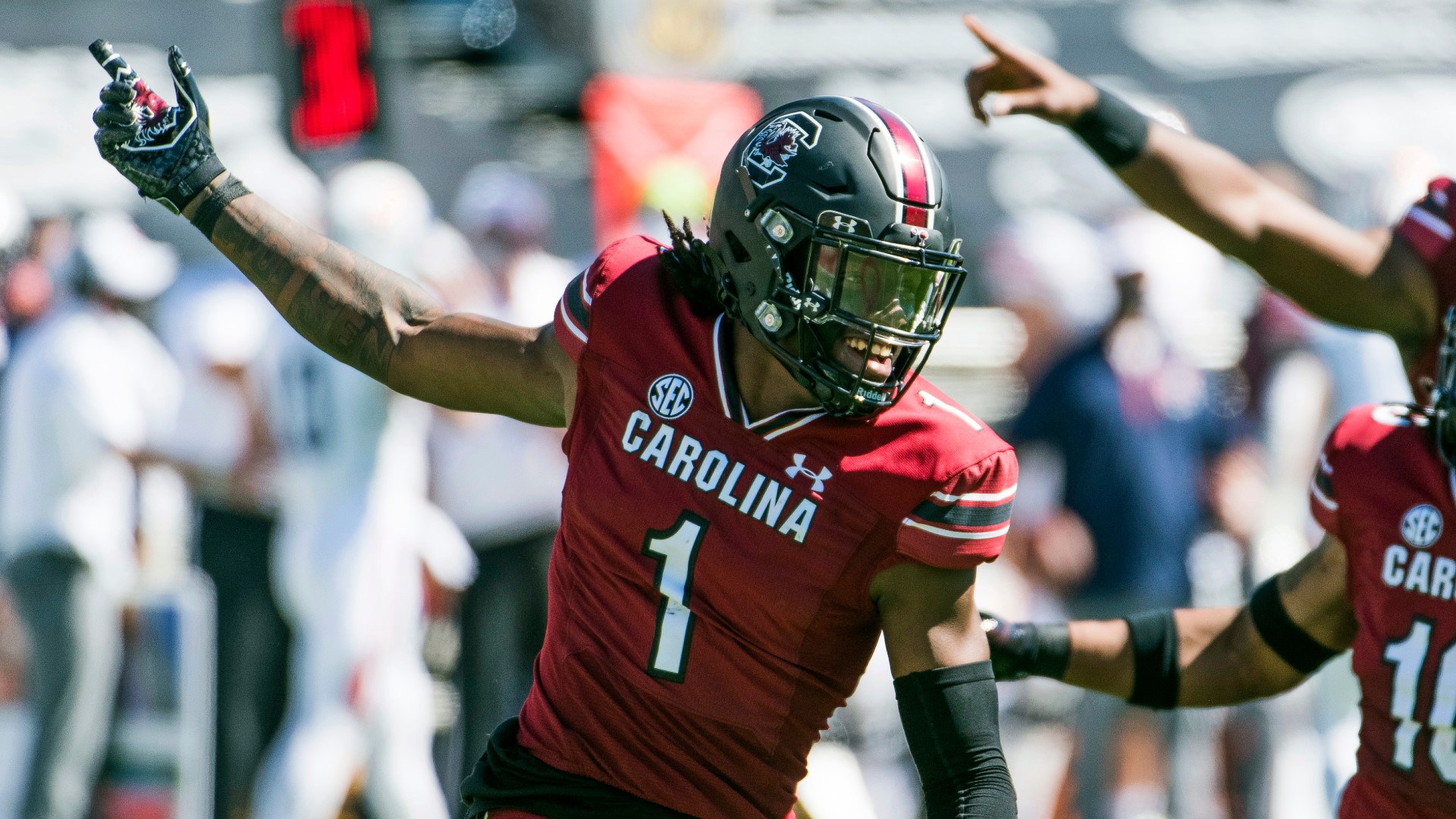 13. Los Angeles Chargers: OL Christian Darrisaw, Virginia Tech
The Chargers had an awakening this year as Justin Herbert exploded onto the scene. This past season, the Chargers had the worst offensive line rating in the league. I think the Chargers first order of business should be to address their offensive line, and they do so here by taking Christian Darrisaw. Darrisaw did nothing but steadily develop since starting as a freshman at Virginia Tech. He will be ready to play at the NFL level and is a great pick here for Los Angeles.
14. Minnesota Vikings: EDGE Gregory Rousseau, Miami
The Vikings need some defensive help. With the three best corners off of the board already, the Vikings try to replace the loss of Everson Griffin with Miami standout pass rusher Gregory Rousseau. Scouts have said Rousseau has potential to be an all-pro caliber player at the next level, and would be great in Minnesota lining up opposite of Danielle Hunter.
15. New England Patriots: LB Micah Parsons, Penn State
The Patriots aren't used to picking this high in the draft, but they make the most of their opportunity here by taking the best linebacker in the draft. The Patriots linebacking core fell apart with Kyle Van Noy leaving for Miami and Jamie Collins heading to Detroit. Parsons was a standout linebacker at Penn State, but draws pro comparisons to Saftey Jamal Adams because of his athleticism and versatility.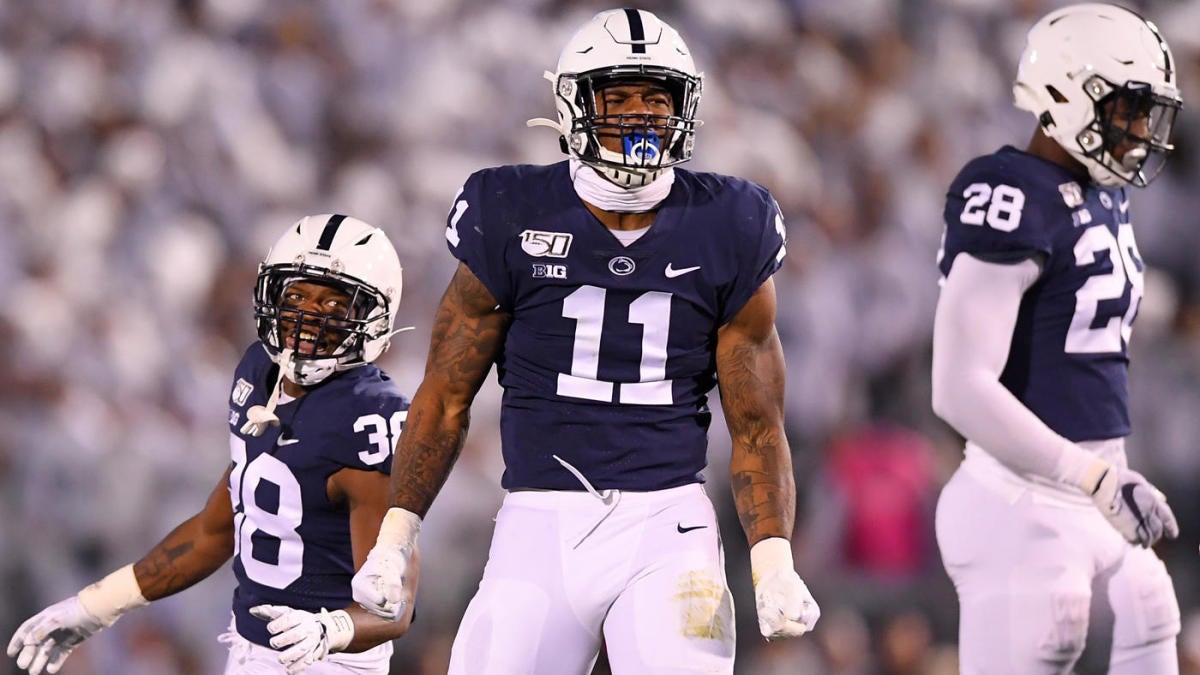 16. Arizona Cardinals: TE Kyle Pitts, Florida
The Cardinals have some defensive needs they need to address, but we know the Cardinals. They are an offensive first team and Kyle Pitts is a no brainer here. The Cardinals had a middle of the pack offensive line last season, so I think this is a great pick for Arizona. Whether Pitts lines up at tight end or wide receiver, he will be a powerful and versatile piece of Kliff Kingsbury's offense.
17. Las Vegas Raiders: LB Jeremiah Owusu-Koramoah, Notre Dame
The Raiders have struggled to find solid linebacker play over the years. Even with the recent additions of Cory Littleton and Nick Kwiatkoski, the Raiders linebacking core has not played up to par. Owusu-Koramoah has drawn comparisons to Cardinals safety Isaiah Simmons and Panthers' Jeremy Chinn as he is seen as a "tweener". His ability to play linebacker and cover like a safety makes him one of the most versatile players in the draft. Players like this are much needed now to cover the athletics tight ends that are dominating the game today. The Raiders would love to have this having to match up against Travis Kelce twice a year.
18. Miami Dolphins: OL Alijah Vera-Tucker, USC
The Dolphins got some help on their offensive line last year, but the Dolphins still struggled in that department through out the season. Thus far, the Dolphins have already taken a receiver and one of the most athletic and versatile lineman in the draft falls into their hands here at 18.
19. Washington Football Team: QB Mac Jones, Alabama
With the release of Dwayne Haskins and an aging Alex Smith, Washington is in a prime spot to take one of the most underrated quarterbacks in the draft. Jones is more of your traditional pocket passer, but he does it very, very well. He hit on about 77% of his passes this past year, and threw for 41 touchdowns and only 4 interceptions. Jones is also very smart when it comes to understanding the offense and reading the defense. The only downside to taking Mac Jones here is his lack of athletic ability that we have become used to seeing in NFL quarterbacks.
20. Chicago Bears: OL Teven Jenkins, Oklahoma State
The Bears need a quarterback here, but with five already off the board they resort to the offensive line. The Bears line wasn't terrible, but they could definitely use some work. Taking Jenkins here is not a bad pick as he is great in the pass, and even better in the run. Jenkins was said to be one of the strongest offensive line prospects and is seen on film pushing other first round prospects into the benches.
21. Indianapolis Colts: WR Rondale Moore, Purdue
The Colts could use a quarterback with the departure of Philip Rivers, but I think they will look into a trade for that. With a pretty good offensive line, I look for the Colts to take a weapon here, and Rondale Moore is exactly that. A speedy and shifty receiver with sure hands, Moore excels with the ball in open space. Moore also boosts your return game, drawing comparisons to Tavon Austin and Tyreek Hill in how he was used at Purdue.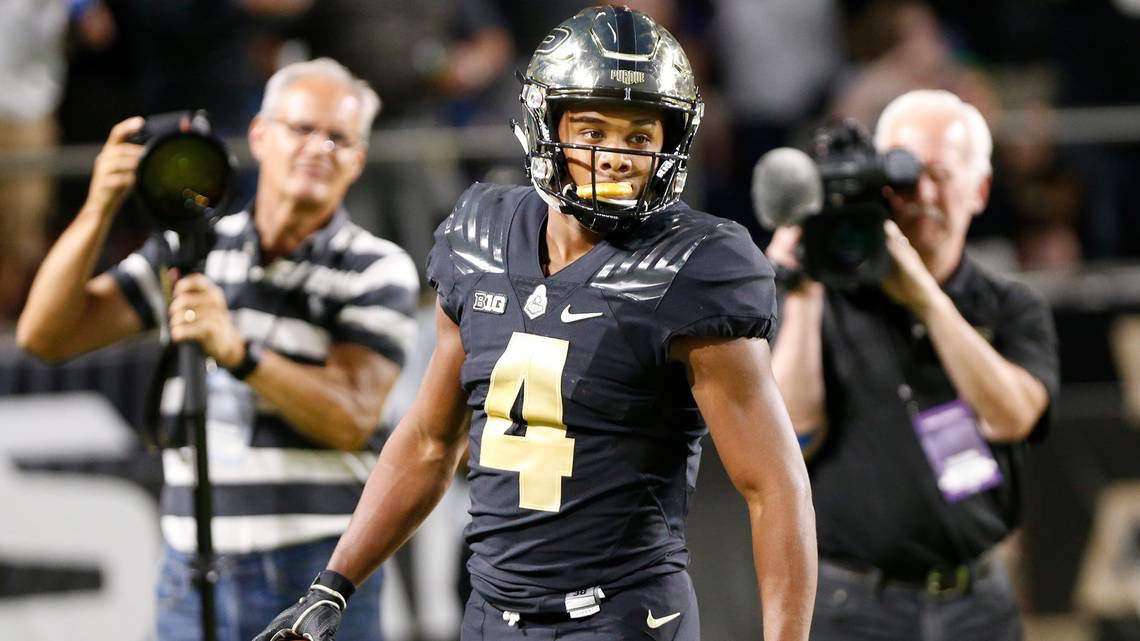 22. Tennessee Titans: LB Zaven Collins, Tulsa
The Titans were last in the league in sacks last year, so look for the Titans to take someone who can get to the quarterback. Collins is one of the most dynamic playmakers on the defensive side of the ball, with the skills to rush the passer, stop the run, and defend against the pass. Collins has all the skills an NFL linebacker needs to be successful and expect him to make a noticeable impact his first year in the league.
23. New York Jets: WR Rashod Bateman, Minnesota
The Jets desperately need weapons to give Sam Darnold a chance at success. They really need a running back as Frank Gore is turning 73 this year, and is not equipped to be the number one running back. I think the Jets use this pick to take a receiver of their choice, and circle back for a Travis Eteinne or Najee Harris at pick 34. I saw Bateman play basketball in high school, and I can tell you the explosiveness is there. Bateman possess the route running of an NFL receiver with the ability to go up and get the ball at the highest point. Watching his film reminds me a little of just Jefferson with his route running and ability to get yards after the catch.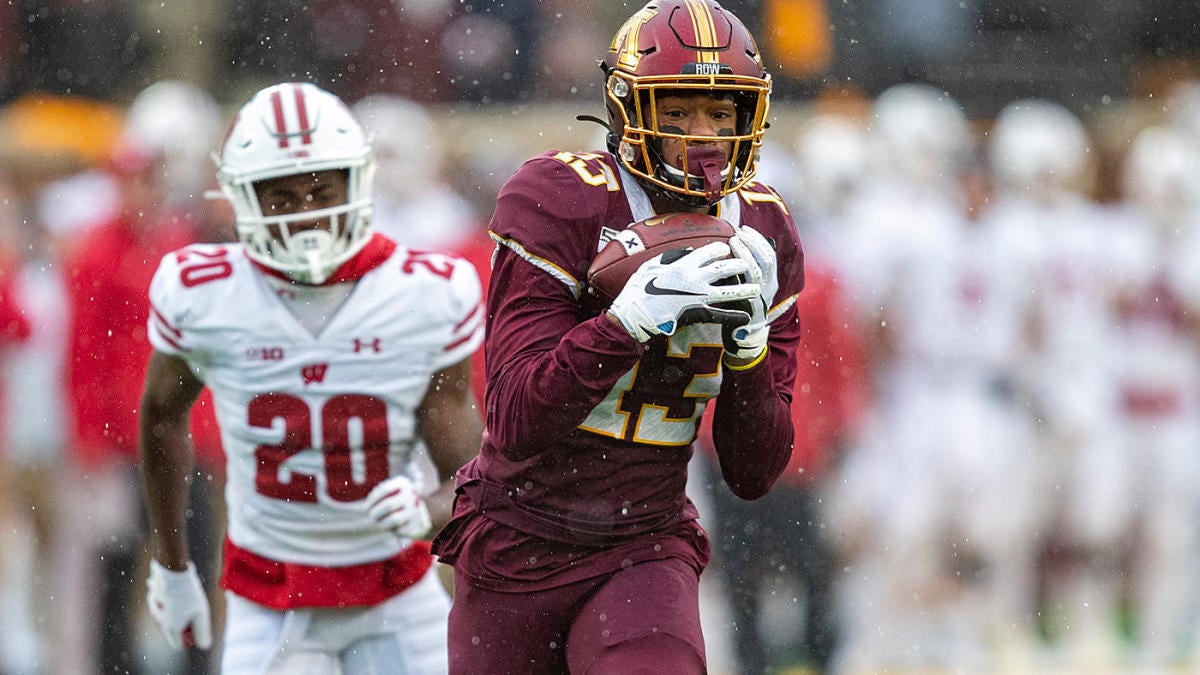 24. Pittsburg Steelers: OL Alex Leatherwood, Alabama
The Steelers were hot off the start but slowly started to fall apart. The Steelers need to get the run game working and they can do this by beefing up their offensive line. Leatherwood can start right away in Pittsburg and play anywhere along the offensive line. The Steelers could also use some depth at running back, but that's a problem for later in the draft.
25. Jacksonville Jaguars: EDGE Kwity Payne, Michigan
The Jags got Trevor Lawrence but now they need some weapons and defensive help. The Jags get a steal here with a top 10 prospect falling right into their arms here at pick 25. Payne is a freak athlete that will help anchor the Jacksonville defense. The Jags also hold the 33rd pick so they can get a wideout to kickoff round 2.
26. Cleveland Browns: EDGE Jaelan Phillips, Miami
The Browns are a solid team on paper, but wouldn't mind grabbing another potential star to line up opposite Miles Garrett. Philips is a former 5-star recruit that is extremely talented and versatile. Phillips can play on the line or come off the edge, and can even fall back into coverage if needed. This is a great pick up for Cleveland.
27. Baltimore Ravens: WR Amon-Ra St. Brown, USC
Baltimore could loose Yannick Ngakoue and Matt Judon in free agency, but if they don't, I think St. Brown is a great way to unlock Lamar Jackson's full potential in the pass game. Baltimore doesn't have much at the receiver position outside of Marquise Brown, and Amon-Ra St. Brown is a great addition to the Baltimore offense. St. Brown has big play ability and can run routes with the best of them. Kadarius Toney could be a good pick here too, but I feel as if he does some of the same things as Marquise Brown. St. Brown adds an element of diversity to the Baltimore offense as he is good in all levels of the pass and has sure hands to compliment this.
28. New Orleans Saints: LB Azeez Ojulari, Georgia
The Saints are pretty well equipped on both sides of the ball, but could add some youth to their pass rushing group and some depth to their secondary. Ojulari flew under a lot of scouts radars while having a monster season at the University of Georgia where he racked up 5.5 sacks and 2 forced fumbles. Ojulari is also versatile enough to drop into coverage, and has great speed to get from sideline to sideline.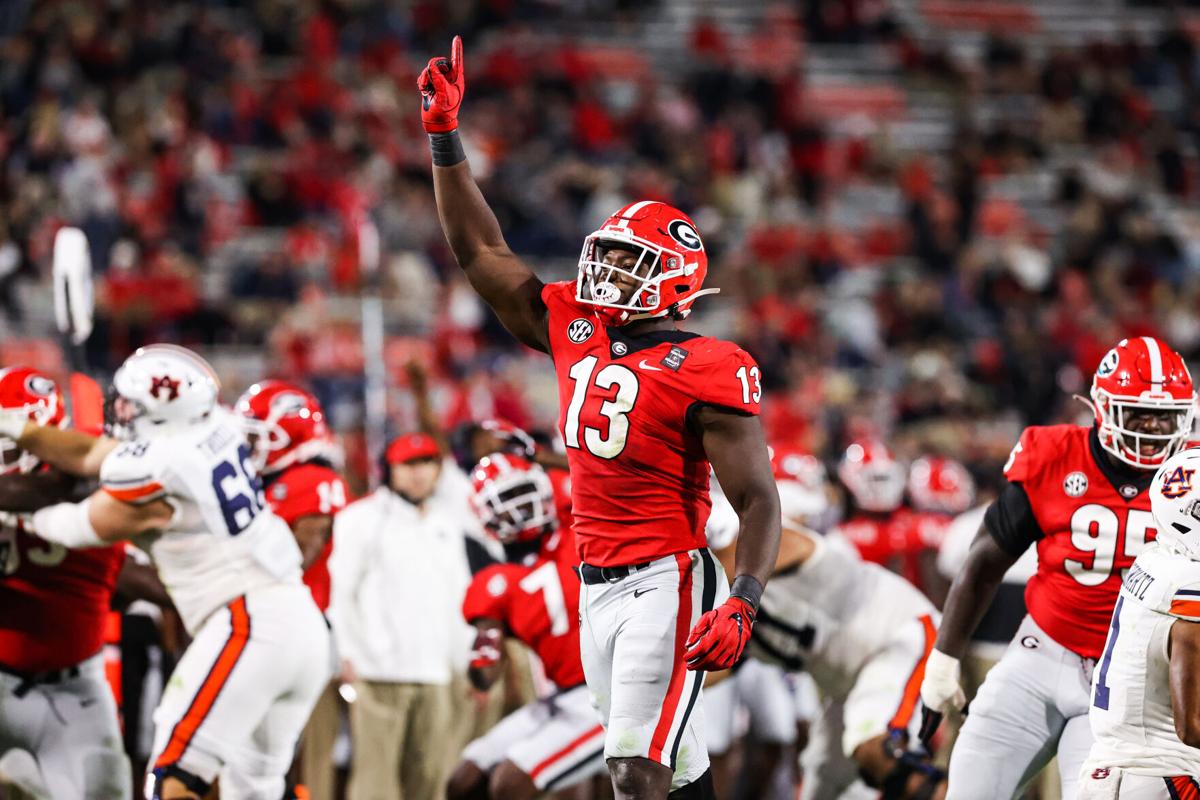 29. Green Bay Packers: DL Christian Barmore, Alabama
One weakness the Packers need to address is their defensive line. A healthy Kenny Clark helps, but outside of him, the Packers line is weak. Barmore blossomed late in the season, but is a bit of a reach as he still has some developing to do. Barmore has had limited college reps, but when he has played, he has proven that he can be a brute force on the interior of the defensive line. He will be a bigtime playmaker making plays in the backfield and pressuring the quarterback.
30. Buffalo Bills: OL Jalen Mayfield, Michigan
The Bills have a pretty solid team right now, but they could be losing a few pieces on their offensive line this offseason. Mayfield has shown nothing but improvement and can play most positions along the offensive line. This would be a big pick up for the Bills as they would ensure their franchise quarterback is protected.
31. Kansas City Chiefs: OL Creed Humphrey, Oklahoma
We all saw how the Super Bowl went. The importance of having a good/healthy line was on full display throughout the game. The Chiefs need some help on the interior of their line, and they haven't had an elite center in ages. Humphrey didn't allow a sack for two years and is a very smart and experienced blocker. This would smart pick for Kansas City as it would add some youth and reinforcement to the offensive line.
32. Tampa Bay Buccaneers: LB Nick Bolton, Missouri
The Buccaneers have a lot of defenders set to enter free agency, and a lot of them are in their front seven. Taking Nick Bolton here would be a wise pick for the Buccaneers to prepare for any departures and even to add some depth. Bolton was a standout enforcer at Missouri delivering big hits and holding his own in zone coverage. I think the Buccaneers are getting a future star here in Nick Bolton.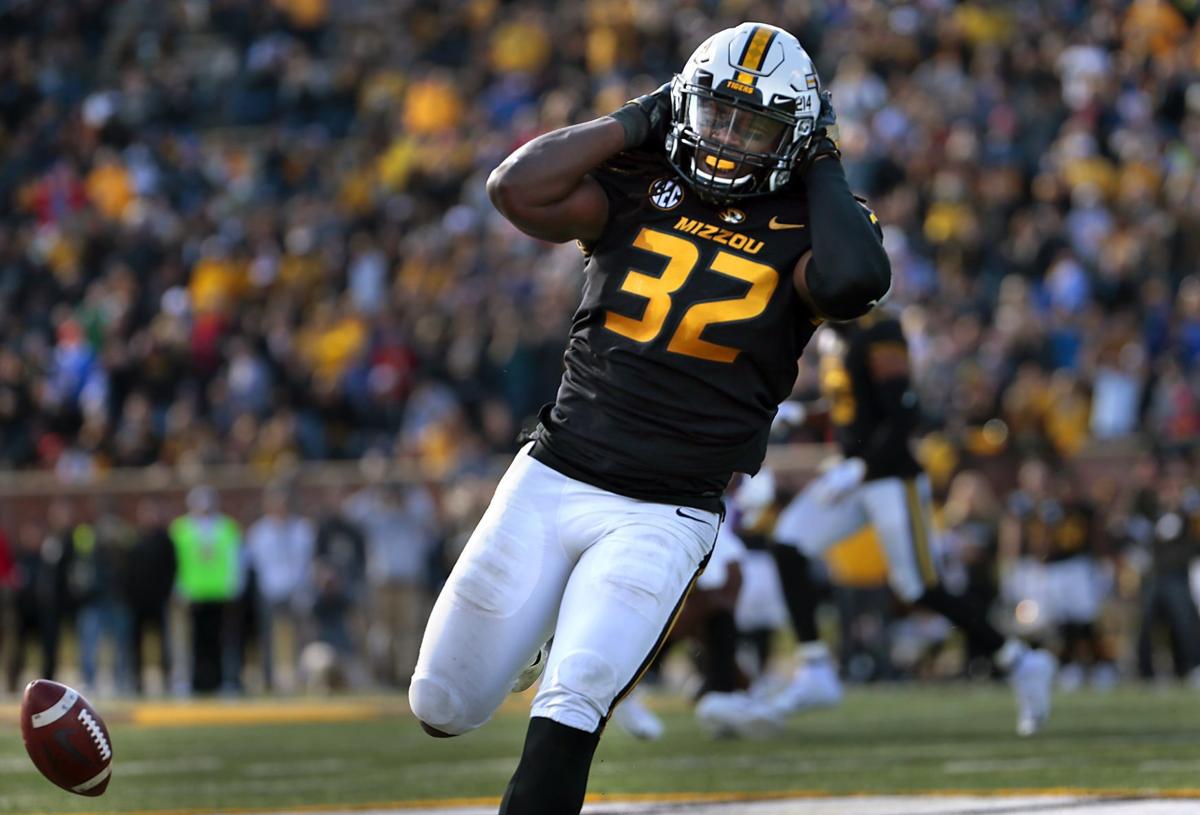 Thank you all so much for the view! Check out last weeks article on the return of NCAA video games, and follow me on Twitter and Instagram @noah2rich!