Tom Brady's Super Bowls turn out to be some of the most reoccurring events in sports history. Despite being 43 years old and in his 21st season in the NFL, Tom Brady makes the Super Bowl 47% of the time. If you think that's crazy, there is a greater chance that Brady makes the Super Bowl than Steph Curry making 3-pointer. One of the craziest statistics in sports that I've ever seen. Because there are so many case studies here, let's rank Tom Brady's Super Bowl wins from least impressive to most impressive.
Super Bowl 53 vs LA Rams: Tom Brady's Last Super Bowl with Patriots
This by far was Tom Brady's worst Super Bowl win, in fact, I'll go so far to say this was the worst Super Bowl of my lifetime. Yes, even worse than Seattle vs Denver because at some point that game just became hilarious.
This game turned out to be the lowest scoring Super Bowl ever as the New England Patriots defeated the Las Angeles Rams 13-3. The Pats didn't score their touchdown until seven minutes left in the fourth quarter.
Why is this Brady's least impressive Super Bowl win? Brady's stat line read 21/35, 262 yards and one interception. It wasn't terrible, but everyone started to get the feeling that the Brady-Belichick relationship couldn't continue anymore. This was the last Super Bowl of the Patriot's Dynasty.
Super Bowl 39: The First Time Against the Eagles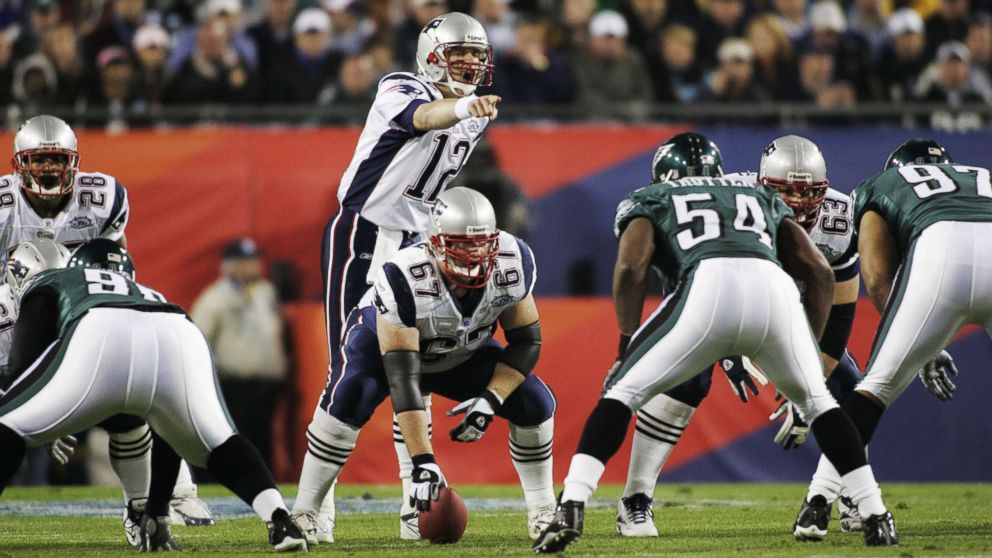 This one is pretty low on Tom Brady's Super Bowls not for any good reason except for the fact that every other Super Bowl was just more impressive for Brady.
In Super Bowl 39, the Patriots defeated the Philadelphia Eagles 24-21. The game was close throughout until the Patriots took a late 10 point- lead in the fourth quarter. New England forced four turnovers and Deion Branch won MVP with 11 catches for 133 yards.
The Patriots finished the season with a 14-2 record and became the second team ever to win three Super Bowls in four years. Again, Brady did nothing wrong here, his other Super Bowls were just way more impressive. But don't worry, the Eagles got their revenge a little over a decade later.
Super Bowl 38: The One with Vinatieri Again
Lots of important things happened in this game. The Panthers appeared in their first Super Bowl, Tom Brady won Super Bowl MVP again, Janet Jackson had a nip slip which led to a major FCC-crackdown, and a G.O.A.T was born. Fun stuff, right?
In this game, the Patriots beat the Carolina Panther 32-29. Believe it or not, the game was scoreless until 3:11 left in the first half. In the last 3:11, the teams combined for 24 points. What an offensive explosion! Then, a wardrobe malfunction! Then, Adam Vinatieri kicked a last second field goal to win the Super Bowl again and became the greatest kicker of all time!
Why does this game rank above the others? Well for starters, Super Bowl 53 against the Rams sucked. Just flat out. And Super Bowl 39 was a good outing, but again, Tom Brady had some crazy Super Bowls outings. Like I said before, a G.O.A.T was born that day, and his name was Adam Vinatieri.
Super Bowl 49: The Malcolm Butler Interception
The Malcolm Butler Interception will go down as one of my craziest memories in sports. Cris Collinsworth put it best: "I'm sorry, but I can't believe the call. You have Marshawn Lynch…" Pete Carroll said in this article "there's really no one to blame but me…" and that might be an understatement. What's even crazier is the play we forgot. The Jermaine Kearse catch somehow became the catch we never remembered.
Ok, enough about that. This is about Tom Brady. Why does this rank in the middle of the pack for Tom Brady's Super Bowls? After being tied at halftime, the Seahawks took a 24-14 lead in the fourth quarter until the Patriots took the lead with 2:02 left on the clock. Against one of the best secondaries of all time, Tom Brady threw 37/50, 328 yards, four touchdowns, two interceptions, and captured the game's MVP title. Sure, Tom Brady didn't have the defining moment of the game, but against the Legion of Boom, he put up an impressive performance.
Super Bowl 36: The First One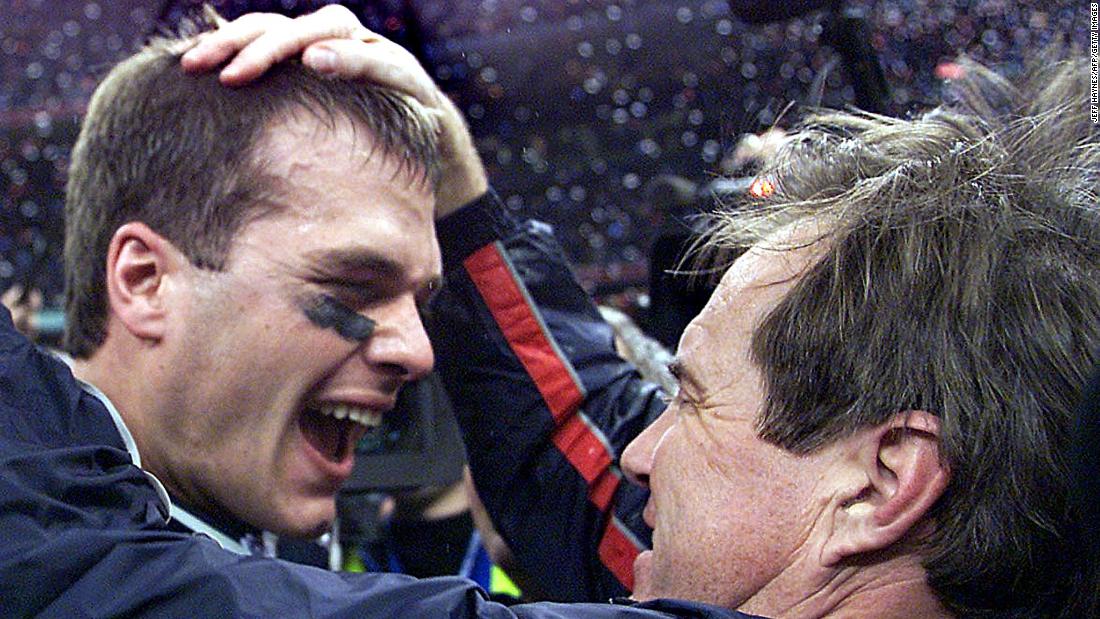 You always remember your first. While statistically this was one of Brady's dullest Super Bowls, this game still ranks third on my rankings of Brady's Super Bowl wins. Why? Well, buying a house is all about location, location, location. Sports history is all about context, context, context.
This game was David vs Goliath, Tom Brady played the role of David while the St. Louis Rams played the part of Goliath. This was the era of "The Greatest Show on Turf," when Kurt Warner and the Rams were an offensive juggernaut. Going into this game, the Rams were 14-point favorites.
Meanwhile, this was Tom Brady's second year in the league, but his first year as a starter. Brady became the starter after Drew Bledsoe's injury in late September. But, to help the offense out, the defense was sixth in scoring defense that year.
The game, to be quite honest, didn't go the way many expected. The Rams had 427 yards and the Patriots had only about half of that. So the Rams were killing the Patriots, right? Wrong. The Patriots had a 17-3 lead late in the third quarter due to several turnovers. Warner tied the game 17-17 with 1:30 left, and with 0 timeouts, Brady drove the ball down the field and Adam Vinatieri kicked a 48-yard field goal to win the game. Brady wins MVP thanks to the final drive, his numbers were 16/27 for 145 yards and a touchdown.
So you see, it's all about the context. The Patriots Dynasty hadn't begun yet, but it began with taking down a Goliath.
Super Bowl 55: The One Without the Patriots
We remember this one quite well because it just happened, but I'll quickly just go over why it was huge. With Tom Brady joining the Tampa Bay squad in free agency, Brady immediately led the Bucs to a Super Bowl victory. Incredible, insane, and immaculate. Brady won his 7th, so let's talk about why it was his second best.
All year, all TB12 heard was that he was too old, he was slowing down, and that he was the product of the system. So what'd he do? Brady went to a new team that was designed for him and proved all the doubters wrong. Look, I don't like the guy, but I can recognize greatness.
Now there's this video floating around of Tom just packing up his stuff, why? Because this year, it seemed like Brady didn't expect a Super Bowl, let alone winning it. He probably figured they'd win one next year after a year of becoming accustomed to the offense. He knows. He knows he will win an eighth ring with the Bucs.
Super Bowl 51: The Greatest Super Bowl of All Time
Yes, I believe this is Tom Brady's best Super Bowl, and yes, I believe this is the best Super Bowl of all time. The Atlanta Falcons choked a 28-3 lead and the Patriots won 34-28. This was the biggest comeback in Super Bowl history and the first one that went to overtime.
Tom Brady won MVP after putting on a stellar performance where he went 43/62, 466 yards, two touchdowns and one interception. If there is one thing I'm good at recognizing in a game, it's when there is a momentum change. And if you felt it in this game, you already knew that the Patriots were about to catch their fifth title.
Out of all seven of Tom Brady's Super Bowls, why is this one the greatest? Brady did the impossible. Tom Brady led the Patriots back after being down 28-3 and having no chance to win. He captured a fifth title, putting the Patriots at second place all time in titles. This was the best Super Bowl of all time, with one of the greatest players of all time.
If you enjoyed my article or want to fight me on my opinions, feel free to check out another article of mine, here!