Upcoming free agent quarterback Cam Newton has made the headlines once again. While at a football camp he was hosting, a young player decided to give Newton a little trash talk. You can view the video for yourself here:
Cam Newton shared a video from his football camp where he attempted to have a conversation with a young player who had heckled him earlier.

(via @CameronNewton) pic.twitter.com/pDwTiXKdlQ

— SportsCenter (@SportsCenter) February 22, 2021
This confrontation got me thinking as a follower of Patriots football and witnessing last years' catastrophe at the quarterback position. Wondering if a second year of Cam Newton would be such a bad thing.
I know the immediate reaction of most Patriots fans will be to move on from Newton. I don't believe this reaction is ill-willed (for the most part) by any means. Newton was one of the least productive starting signal-callers in the entire NFL last season. He passed for just 2,657 yards and eight touchdowns. Multiple times last season he posted passing efforts where he threw for under 100 yards and a passer rating of below 60.0. When you look at his one-season tenure with the Patriots broadly. The immediate answer is that Cam Newton was a failed experiment. Personally, I'm not pounding the table either for a Newton return. Though I think there's a case to be made to bring back Cam Newton.
Circumstances Surrounding Newton Were Awful In 2020
If we are going to be honest with ourselves about the 2020 New England Patriots offense, their problems went far beyond the quarterback. Fans can talk about Newton's poor performance until their hearts give out, but look at what he was working with. His leading receiver was Jakobi Meyers, an undrafted free agent from 2019 that barely made the roster this pre-season. Not to discredit Meyers by any means, he's a fine player. It's a long shot he's more than a number two option on any other team in the NFL.
As for the rest of the supporting cast? Damiere Byrd caught more passes this season than he did in his entire career with Carolina and Arizona. N'Keal Harry hasn't proven to be much more than an incontestable bust of a first-round selection through two years. Julian Edelman is turning 35 in May and is only getting more banged up as time goes on. He missed most of last season after surgically repairing his knee in October.
The tight end production from New England in 2020 was the lowest of any team in the NFL. After drafting two rookies in the draft with Dalton Keene and Devin Asiasi both being selected in the third round, they combined for a mere five catches and two touchdowns on seven targets combined. 2018 seventh-round draft pick Ryan Izzo was a fringe player on the roster and still amassed 13 catches for 199 yards. This passing offense was designed to fail, it's hard to imagine even the great Tom Brady being able to carry an offense as putrid as this on the talent scale.
Newton Is Loved by His Teammates
The admiration that Newton received from his teammates last season was undeniably positive. Every week you heard from guys like Devin McCourty, James White, Matt Slater, all longtime Patriots, express their love for their quarterback. This could be the biggest reason why Bill Belichick never looked to make the switch to backup Jarrett Stidham until it came to garbage time. In an obviously tough situation for the Patriots, the former MVP lit up the locker-room. Not once did Newton complain about the talent around him or throw his teammates under the bus.
Hell, following an 18-12 loss to the Denver Broncos, questions began about the Patriots possibly needing more weapons. When asked by the media, Cam Newton simply said "I believe the answers are in this locker room." Then he began listing off all of his teammates and what they provide to the offense. Truly a selfless player and a fantastic leader. Something that shouldn't go unnoticed, but often does with Newton.
Improving Morale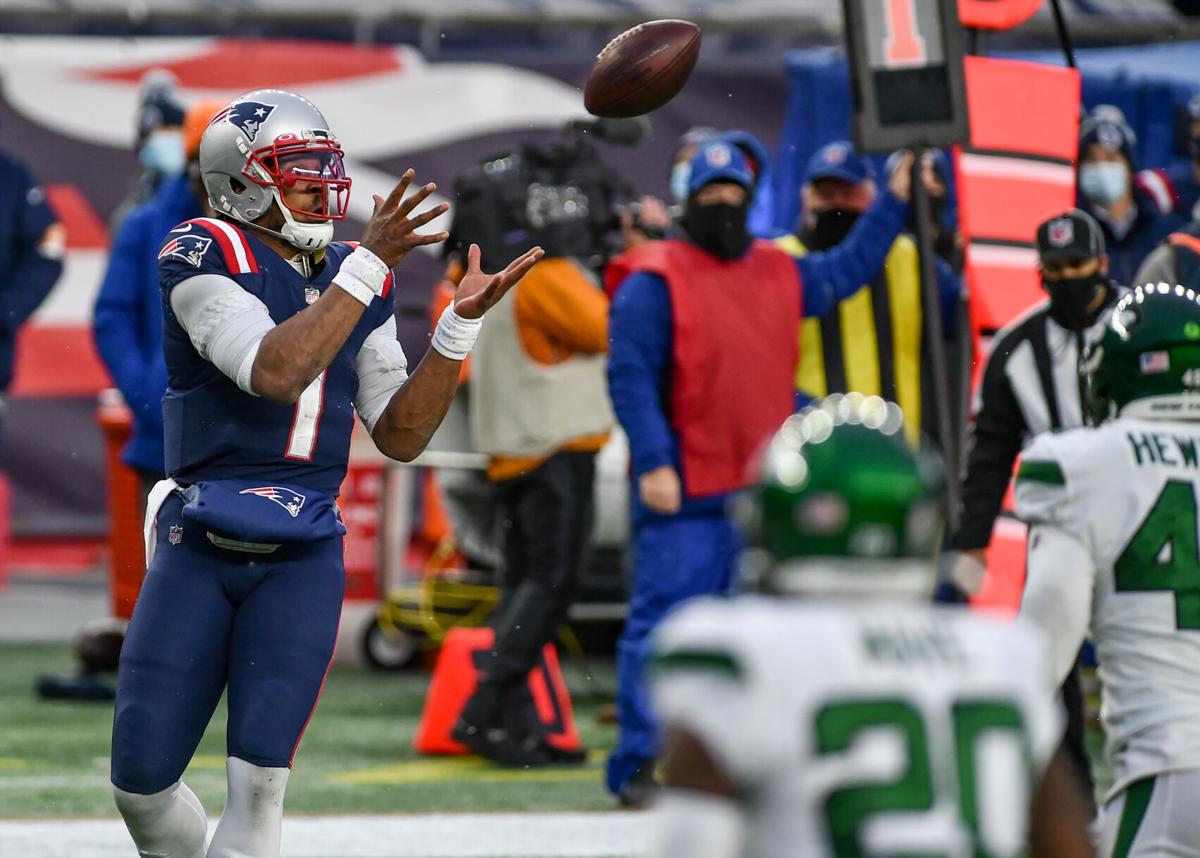 He single-handedly made a 7-9 season worth playing for his teammates. There was no quit at any point in this season. It was no more apparent than it was in the week 17 matchup with the New York Jets. The season had concluded two weeks prior after a loss to the Miami Dolphins, and the Patriots had nothing to win for. Coming off of a 38-9 loss against the Bills on Monday Night Football, the Patriots offense had one of their best days since early September. Newton passed for 244 yards and three touchdowns, even catching a touchdown from Jakobi Meyers on a trick play.
In a game that meant nothing, the Patriots played like everything was on the line. In any other situation, the Patriots might just pack it up, play the backups, and just hope for a better draft position. The morale of the Patriots was never altered by their record, and they gave it their all every down. It's hard to name too many other QBs who could've done that given the circumstances in Foxborough last season.
Are the Alternatives Really That Much Better?
Focusing strictly on the upcoming free agent quarterbacks this off-season, is there any significant improvement to be had? You can't tell me that Andy Dalton, Tyrod Taylor or Jacoby Brissett would have done much if any better than Newton did last season. In relief of Dak Prescott, Dalton had a pretty comparable year to Cam Newton with significantly better surrounding talent. Tyrod Taylor played a single game before having his lung punctured (possibly in a scheme crafted by Justin Herbert to get the starting job) by a team doctor. Meanwhile Jacoby Brissett played a Jameis Winston in New Orleans type role with Indianapolis behind Phillip Rivers.
It's hard to imagine any quarterback creating a ton of success in this off-season. Even fan favorite Ryan Fitzpatrick probably wouldn't duplicate the success he had in Miami in New England. From the sounds of it Newton isn't hard pressed for money, and will likely take the same type of incentive based deal that he received last season in order to stay in New England. Looking at the market, it just makes sense to keep the player that knows the system, and not try and start over again with somebody unfamiliar. Automatically having the same growing pains Newton did, in hopes for better talent. It just wouldn't make sense to bring in a veteran under the same circumstances Cam had last year.
Concluding Thoughts
Look, I'm not saying that the Patriots shouldn't look to improve. Multiple reports say that they've been on the phone with every team that could be moving a quarterback this off-season. Being pro-active with the position is something I strongly advocate for. Especially for a certain quarterback that you can read about in my off-season playbook released last week. But I don't think Patriots fans should dismiss Cam Newton immediately. There's something to be said about the attitude and energy he brought to the Patriots last season, and the circumstances he had to deal with. No real off-season or pre-season to work with his new teammates, being signed so late into the new league year, and of course, the surrounding talent being so bad.
Cam Newton and Bill Belichick obviously have a fantastic relationship. Look at how much Belichick stood up for his quarterback every time the media questioned his starting status. I would not at all be shocked to see Newton back in Gillette Stadium next season. It isn't necessarily a bad thing either. Who knows what this Patriots offense could be if invested in? Getting a real number one wide receiver, a true tight end that commands targets, amongst other things? Maybe Newton returns to a form worthy of confidence in the starting position.
Planning For The Future
I am definitely not saying to forget about a succession plan either. It's telling that Stidham couldn't beat out Newton at his worst points where he was throwing under 100 yards and posting quarterback ratings unseen in a starter since Trent Dilfer. Investing into the quarterback position should absolutely be on the to-do list this off-season, I just don't think that absolutely means getting rid of Cam Newton. Patriots fans shouldn't think it either. Looking to improve is certainly one thing, but getting rid of Newton at all costs is a foolish standpoint that is simply misinterpreting the real issues of the post-Brady Patriots.
If you enjoyed this content, or hate it and want to argue with me, follow me on Twitter @KalebEmcee! Feel free to check out the work I do on Foxboro Beat! Also, read up on the rest of the NFL content Belly Up Sports has to offer here!