One of the true greats of world sport announced his retirement recently, leaving a remarkable legacy of success that may never be matched. Dan Carter, the New Zealand rugby union player, had the Midas touch, bringing success wherever he played for both club and country. He made the legendary All Blacks almost unbackable in live sports betting, winning no less than 99 of his 112 international games, including two Rugby World Cup finals in 2011 and 2015.
Dan Carter started playing as an outside centre before moving to his now famous role as fly-half. He possessed staggering speed, a mesmerising side-step and an incredible rugby brain. Carter also had a deadly accuracy with the boot, which punished penalties and made the most of every try almost guaranteeing the extra two points for the conversion. Like Tom Brady, Carter can confidently claim to be the Greatest of All Time in his position.
Incredible club success
Carter's club career began at Canterbury Crusaders in 2003, where he inspired them to five Super Rugby finals in six years, winning three of them. He moved to French side, Perpignan, in 2008 and brought them the Top 14 Championship in his first year. He then repeated that achievement with Racing 92 in 2015 and Kobe Kobelco Steelers, in the Japan Top League, in 2018, picking up the league MVP in the process.
As he comes to the end of his 18-year club rugby career, Carter is the record points scorer in Super Rugby with 1708 points, 259 ahead of his nearest rival, Morne Steyn. This despite the fact that he struggled with injury in the 2014 and 2015, and also played abroad for several seasons.
World-class international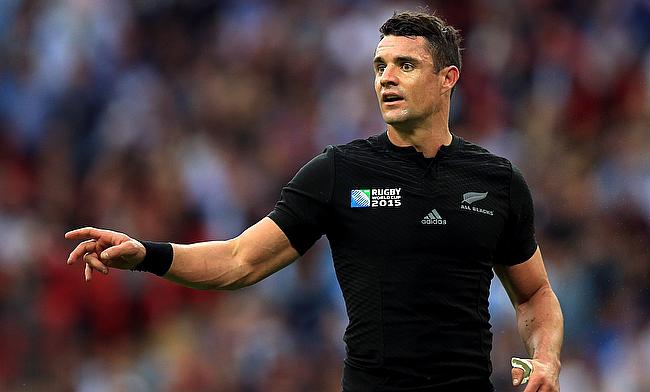 For all his club success, it was on the world stage that Dan Carter really shined. He made his debut for New Zealand in 2003, the same year he started playing for the Crusaders, scoring a try in his first game against Wales. By 2005, Carter was voted the IRB player of the year; a title he would also collect in 2012 and 2015.
His international career ran for an impressive 112 games, with Carter scoring 29 tries, 293 conversions and 281 penalties. His win percentage was an incredible 88.4%, losing just twelve international matches in the famous black shirt. By the time Carter took that shirt off, after winning his second Rugby World Cup, he had scored a record 1598 points, a full 352 points ahead of his nearest rival, England's Johnny Wilkinson.
An ambassador for the game
As well as inspiring both club and country to all-conquering success, Dan Carter has worked relentlessly to promote the game at all levels. His efforts earned him the respect of players and coaches around the world, with his ever-present smile and boundless enthusiasm for the game. He was rewarded for his 'services to rugby' in the 2016 New Year's Honour's list when he was named an Officer of the New Zealand Order of Merit.
Carter announced his retirement from professional rugby on Instagram, but he also made it clear that his contribution to the game is far from over. "Rugby will always be part of my life," he said in the statement. "I am excited about my next chapter in life and what it will look like". If it is anything like his playing career, that 'next chapter' from Dan Carter will be well worth watching, whatever form it takes.