The NBA trade deadline is less than two weeks away. Meaning, it's officially Woj vs. Shams Szn. The rumors are plentiful, and will soon bloom into real transactions. Transactions that can make, break, or have literally no effect on, the rest of your team's season. How are you feeling about YOUR team before the NBA trade deadline?
The trade deadline can feel so monumental at times, because it's the point in the season where most teams officially declare what their intentions are. Are you a buyer, making a final push toward the postseason? Are you a seller, keeping your eyes on the horizon? Or are you a bystander, watching every team around you get in on the action while you mull around with your directionless franchise?
Each scenario is a signed, sealed, and stamped endorsement of what your team's current identity is. That's what makes the NBA trade deadline so captivating for fans. With that said, I'd like to propose to you five trades. Four of which I would love to see. And one I would hate to see. From realistic to ridiculous, straight out of the rumor mill, your Belly Up trade deadline primer.
Realistic Moves for the NBA Trade Deadline
The first two trades I want to see happen involve players who are assuredly not going to be members of their current team come March 25th. They have both come to mutual agreements with their teams that they will be either traded or bought out to enter free agency. I've done my best to find an ideal trade partner based on the needs of the team and desire of the player.
1. PJ Tucker –> Phoenix Suns
The word out of Houston is PJ Tucker has grown increasingly frustrated he hasn't been traded yet. Tucker wants to play for a contender as he is 35 years old and only has so much elite basketball left in the tank. He's also… 35. And teams are hesitant to give up what Houston is asking in return for an aging role-player on an expiring contract. Houston wants a young player who can contribute to the rotation instantly.
There are a number of realistic landing spots for Tucker, including the LA teams, Miami, places that fit PJ's general aesthetic and vibe. But most of them can't, or won't, put together the type of package Houston is looking for. I offer you the Phoenix Suns. The Suns can say they don't want to part with young talent, specifically Cam Johnson, while at the same time leaning on 35 year old Chris Paul. Resulting in a 25-11 record and 2nd place in the WEST!
Admittedly, I don't know much about Cam Johnson. But, Phoenix fans are taking a victory lap for their 2019 first round pick. Which provokes me to ask the question, "would you rather the young players learn and grow with CP3 to prep for the future, or maximize the Point God's talent while you have him"? I say strike while the iron is hot.
My proposal brings a grizzled playoff veteran in PJ Tucker to further stabilize such a young team. And Ben McLemore, also drawing interest from contenders, can be added wing depth. The emergence of Mikal Bridges should make this an easier loss to swallow for the Phoenix Phaithful. The future of the Suns is Booker-Ayton-Bridges. The luxury of Cam Johnson nets you a player like Tucker to make a run at The Finals right now. I hope the folks at Bright Side of the Sun agree with me.
2. LaMarcus Aldridge –> Chicago Bulls
I want to start the LaMarcus Aldridge section with the caveat that I think he's more of a buyout candidate than a trade piece. He's making $24 million, requiring potential suitors to fork over a lot in return for a half-season of 35-year-old LaMarcus Aldridge. I'd imagine the top teams looking at him would find it more valuable to sign him to the veteran minimum for the rest of the year. But this isn't a buyout article, it's a trade article. Here's why it could make sense for both teams.
The Chicago Bulls
Chicago is in desperate need of frontcourt help. Starters Lauri Markkanen and Wendell Carter Jr. are far too inconsistent on both ends of the floor. Lauri is an absolute zero defensively. And Carter lacks aggressiveness and decision-making on offense. While Aldridge doesn't have the physical tools to provide on defense anymore he still has the mental tools to get guys in the right spot and call out sets and actions. Offensively he's simply better than WCJ, no more explanation needed.
Even though he's an upgrade in these areas, why would Chicago trade for someone on the decline like LaMarcus Aldridge? Here's why. It's strictly for the rest of the 2020-21 season. I believe he can help the young Bulls push for a spot in the play-in tournament and maybe even the playoff field. After that? He's an unrestricted free agent and can finish his career where he wants, on his terms.
Making a move for a former All-Star like LMA is Artūras Karnišovas telling his team and their fanbase they are here to compete and have a real desire to make the playoffs. In trading Otto Porter there is no ill will. He's a great guy and pro's pro. He just cannot stay healthy and on the floor. That does the Bulls no good. So why would the Spurs want him?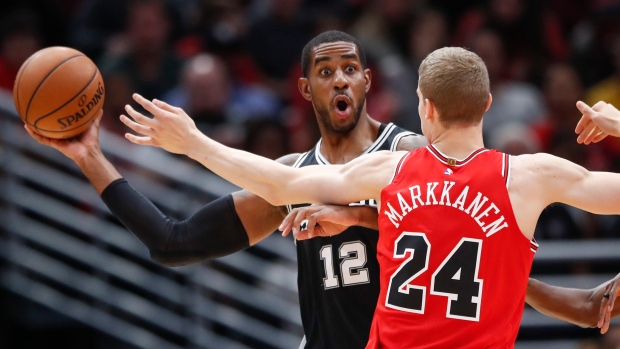 The San Antonio Spurs
Otto Porter is still only 27 years old. He's a legitimately talented basketball player who I believe can play for any team. Gregg Popovich is still one of the gold standards for coaching in this league. The Spurs want to do right by Aldridge, fully intending to do so. That could mean a buyout if necessary. But they also want what will help the team. This could be an easy choice between two teams who are clearly trying to move off these players.
"He's done everything we've asked," Popovich said. "At this point, we'd just like to do something that will work for him as much for our club, because he deserves that."

Tim MacMahon, ESPN
If Otto Porter can stay healthy for the back half of the season he's basically auditioning for a role in the Spurs organization (who doesn't want that?) and a new contract with them (who doesn't want THAT?). If they choose to keep him he would be replacing Rudy Gay, also on an expiring contract, for the coming seasons to grow with their younger core. This might not be a preferred destination for Aldridge, I just ask him to keep an open mind as he could really make a difference for the adolescent Bulls.
Ridiculous Trades
The time for reason is no more. The trades you are about to see will unapologetically benefit one team and not the other. And they're loosely based on unsubstantiated rumors. This is what the trade deadline is all about.
3. Porzingis –> Portland
Although head coach Rick Carlisle and owner Mark Cuban have publicly stated Kristaps Porzingis is not available, the thought among rival executives is that he is indeed available.
"Porzingis is available? Fire up the Trade Machine!"
So that's what I did. Why Portland, though? Portland is 21-15 at this point in the season, 6th in the West, and they've done it without CJ McCollum and Jusuf Nurkić for a large chunk of the season. Losing Zach Collins almost literally doesn't matter since he hasn't played one minute yet this season. Rodney Hood can still play but is a necessary loss to add a player like Porzingis. And Derrick Jones Jr. is a young, high-upside guy with a team-friendly contract.
The addition of Porzingis to Portland gives them a much-needed boost in the size department. Watching them try to get rebounds against the Lakers in The Bubble last August was demoralizing. His offensive prowess also gives them an all-gas-no-brakes, offense>defense identity that I think suits them well. It would also make for a hilarious cap-structure. The Blazers would have three guys making north of $30 million in the following years.
Following this trade the Blazers would need to rely heavily on three youngsters in Gary Trent Jr., Nassir Little, and Anfernee Simons in their core rotation. All of their injuries this season have already forced that hand but I want to see it pushed to its limits.
How does this help the Mavericks? It doesn't, really. Their return is "upside potential". They need wings and I'm sending them wings. Luka can figure out how to work with them. I told you it wouldn't be fair for both teams.
4. Trade Deadline Magic – A Change of Scenery
This one in particular is near and dear to my heart. For the past few years, I've held a strong belief in two things when it comes to the Orlando Magic. One, the Magic have at least five players I think could be really good. Just not for the Magic. For some reason, they don't work together. And two, Terrence Ross needs to be on a contending team.
Terrence Ross is a fox-hole guy that anyone would want to go to war with come playoff time. His nickname is the Human Torch! He provides instant offense and is the perfect glue-guy for Denver, a team having some trouble finding a go-to starting lineup to appease all their talent. If not to Denver, I hope Ross finds a role on a playoff team at the trade deadline.
Will Barton has been adamant he is a starter and would prefer not to come off the bench. That won't be a problem for the Magic. Barton would immediately be one of their best players. And the only reason I included Barton in this deal is that a few teams have inquired about his availability. The Magic weren't even one of the teams I just want Terrence Ross to take over Barton's role with Denver.
Will Barton and Gary Harris could work well together in Orlando, too, having played a number of years together already. They're a solid wing tandem to pair with Orlando's young point guards in Markelle Fultz and Cole Anthony while additionally, giving Nikola Vučević more adults to play basketball with.
As for Aaron Gordon, this guy just needs a change of scenery in the worst way. I really think there's a lot of untapped talent there. Mike Malone could bring him off the bench to spell Paul Millsap and save his legs for the postseason. Meanwhile, AG learns from one of the most respected vets in the league, potentially changing the way he plays to maximize his talents.
Hate to see it
This last category is one specific trade deadline move that has been brought up in recent days. One I don't understand and do not approve of.
Jerami Grant –> Boston
I don't have a Trade Machine hypothetical for this one because I assume Boston would be using that Gordon Hayward trade exception to make it happen. I do not know that works. But people can't stop talking about the trade exception. Not important. What is important is this. Boston has reportedly offered multiple first-round picks for Jerami Grant. Here's why this is a bad (dumb?) idea.
Jerami Grant turned down the same amount (allegedly) of money from Denver to sign with Detroit. His reasoning was simple. He wanted a larger role, his own team. And boy does he have it. Grant is averaging 23.7 points per game this season, a career-high. His previous career-high? 13.7 PPG two seasons ago in Oklahoma City. This is what he asked for and he is loving it. How's he going to feel being shipped up to Boston to be the third option again?
Now, you can say once Grant arrives he'll just have to adapt to his current situation. But there are still human beings involved here, this isn't NBA 2k. He's not going to be happy about it.
Plus, Boston is already confused, and they have been for a few years now. They still can't seem to figure out their own pecking order when it comes to offense. Between Tatum, Brown, and Walker, they're all just taking turns on offense throughout the game. How is it all the people watching Celtics basketball know Tatum is the man on that team and the Celtics still don't operate that way consistently?
Adding Grant to that mix won't be any different than things were with Gordon Hayward. No one knows the pecking order and their entire identity gets out of whack. Grant's strengths would be greatly diminished having to scale back his usage rate to role player levels again.
Just let the man be happy in Detroit. The only reason I'd be okay with this move is so Danny Ainge can finally stop telling us about all the times he "almost" got his guy at the trade deadline.
Get More Trade Deadline Content at Belly Up
For more content ahead of the March 25th trade deadline check out Belly Up Hoops for articles on individual teams and the league as a whole! For audio content subscribe to our new podcast the Midweek Midrange every Wednesday at 9 PM EST on YouTube Live. Lastly, throw me a follow on Twitter @JMacchitelli23 more sports thing and stuff as well as new articles.