With Justin Jefferson, Jerry Jeudy, CeeDee Lamb, Brandon Aiyuk, Chase Claypool, and others, last year's wide receiver draft class was historically good. This year, The NFL Draft receivers have a chance to be even better.
Not only does this class feature multiple stud receivers with superstar potential, but it is incredibly deep. Throughout the entire draft, many guys could become great players if they are given the chance. These are the top 20 receivers in the NFL Draft.
20. Seth Williams, Auburn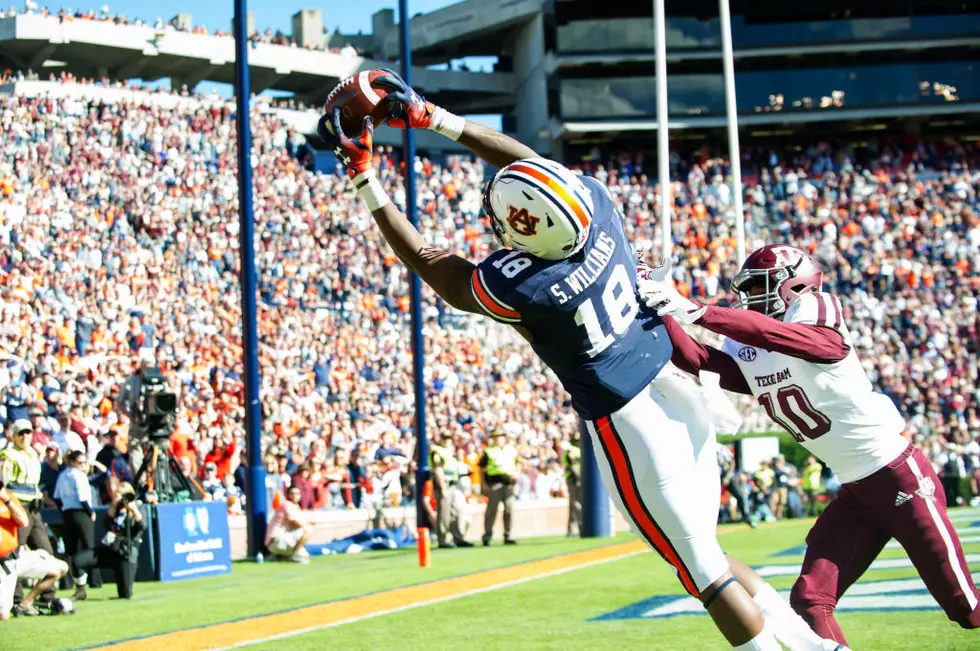 Strengths: At 6'3″ and 212 pounds, Williams has great size for a wide receiver. He has the ability to make spectacular catches. Seth Williams also has good speed and athleticism for his size.
Weaknesses: Williams has very inconsistent hands. Despite making some great grabs, he has a lot of bad drops. He has good speed but isn't quick, and it takes a while for Williams to get to his top speed. Seth Williams doesn't run very crisp routes and sometimes struggles to create separation. He probably won't see the field much as a rookie.
Seth Williams definitely has a lot of flaws. However, his size and athleticism still make him an enticing prospect. He has all the physical tools needed to be a great NFL wide receiver.
19. Dazz Newsome, North Carolina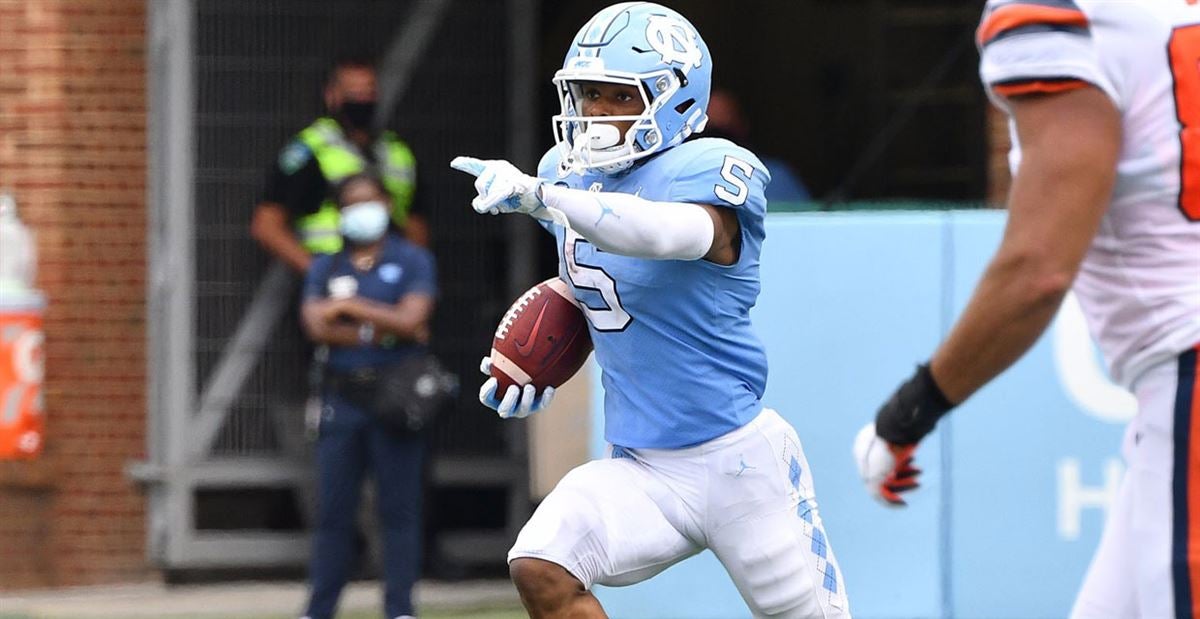 Strengths: Dazz Newsome is a good route runner who creates a lot of separation on his routes. He has the speed to get vertical and to gain extra yards after the catch. Dazz Newsome is also quick and can make defenders miss. He is a big-play threat as a kick returner.
Weaknesses: Dazz Newsome had a limited route tree at North Carolina and only played in the slot. Newsome could also add more strength. This would help him beat press coverage and break tackles more often.
Dazz Newsome is an exciting player who can make big plays whether you give him the ball on a vertical or a screen. If he develops his route tree, he could become a starting slot receiver and punt returner.
18. Cornell Powell, Clemson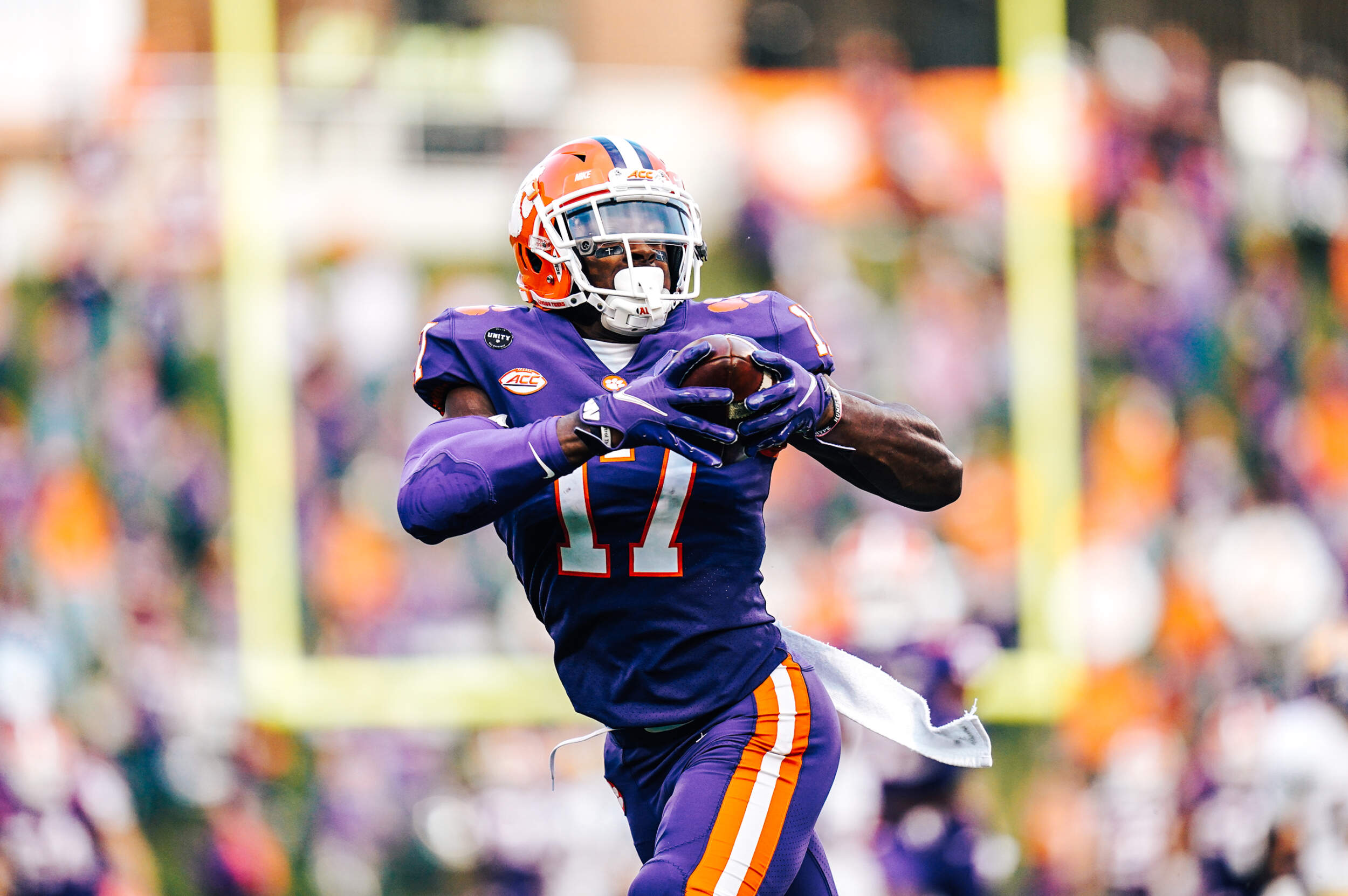 Strengths: Cornell Powell is a well-balanced receiver. He has a quick release off the line of scrimmage and creates separation with his route running. Powell also has reliable hands and does a good job of tracking down and getting to passes.
Weaknesses: Cornell Powell never had a 20 catch season until 2020. Although he played well last season, it's weird that he never made the field before then. Powell is also already 23 years old, so he is older than most rookies.
Cornell Powell looked good for Clemson last season and put up big numbers. However, the fact that he came out of nowhere makes it seem like a fluke. If he can play the way he was in 2020, he can be a starting-caliber receiver.
17. Tamorrion Terry, Florida State
Strengths: Tamorrion Terry is an athletic freak. Terry is 6'4″, and there are few receivers in this draft as fast as he is. His size and speed make him a dangerous vertical threat. Tamorrion Terry also uses his speed to gain yards after the catch, and he can make guys miss tackles too. Due to his size, Terry can make tough catches through traffic, and he is a very physical run blocker.
Weaknesses: Tamorrion Terry has bricks for hands. He drops way too many passes that should be routine plays. Terry route running also needs work. He can struggle to create separation sometimes. Tamorrion Terry is also a little skinny. Although he is a very physical player, it wouldn't hurt to add on some weight.
Tamorrion Terry is a very talented wide receiver. His combination of size and speed is rare, but he is a very raw player, and he isn't ready to make an immediate impact in the NFL. But if he lands in the right situation and is given time to develop, he could be scary.
16. Jaelon Darden, North Texas
Strengths: Jaelon Darden is one of the fastest receivers in the draft. He is at his best after the catch. His burst is great. He can accelerate to full speed in no time. Not only is he fast, but he is elusive, and he can break tackles. Darden also creates a lot of separation on his routes due to his quickness.
Weaknesses: Jaelon Darden has a small catch radius. His hands are fine, but he won't catch many inaccurate throws. Darden also faced poor competition in North Texas. He didn't play against many players who have a chance at making the NFL. Darden is undersized and rarely played against press coverage in college, so he may be limited to the slot in the NFL.
Jaelon Darden is a burner. He has a chance to do some damage if he's put in the right system. He has tons of talent, but taking an undersized receiver from North Texas is a big risk.
15. Tutu Atwell, Louisville
Strengths: Tutu Atwell is one of the fastest players in the draft, and it shows on the field. Atwell is almost always open on vertical routes and is dangerous in the open field when given just an inch of space. He didn't return kicks too often in college but was very effective when given the opportunity. Atwell is a versatile player. He's used on jet sweeps, screens, short routes, and downfield. Find creative ways to give Atwell the ball, and he will provide you with some exciting plays.
Weaknesses: At 5'9″ and 165 pounds, Atwell is much smaller than the average wide receiver. He won't bring in many contested catches or break many tackles. Atwell has also struggled with drops. He isn't the most reliable receiver.
Tutu Atwell is a dynamic playmaker and vertical threat, but his size and inconsistent hands will make him a risky draft pick. If a team can get Atwell the ball in creative ways, then he could be a game-changer.
14. Amari Rodgers, Clemson
Strengths: Amari Rodgers is a slot receiver built like a running back. He isn't very tall, but he plays bigger than his height. Rodgers makes quick cuts on his routes and has the ability to break tackles after the catch. He has reliable hands. He doesn't have many concentration drops. Amari Rodgers also has the speed to gain extra yards when given the ball in space.
Weaknesses: Amari Rodgers probably won't be a consistent deep threat in the NFL. He doesn't make contested catches very often and struggles at catching high passes. He also played almost exclusively in the slot. There isn't anything Rodgers is elite at.
Amari Rodgers is a reliable slot receiver who can break tackles and get yards with the ball in his hands. He doesn't have superstar potential, but he has a chance to be a solid player.
13. Nico Collins, Michigan
Strengths: Nico Collins is a big and fast wide receiver with endless potential. Collins is excellent at catching 50-50 balls. He has strong hands, and he doesn't bring up his hands until the ball is there, making it tough for the defensive back to contest the pass. Collins is also a good blocker and a strong runner after the catch.
Weaknesses: Nico Collins is a bad route runner. He struggles to create separation, and despite his size, he gets jammed at the line of scrimmage sometimes due to his poor release. Collins also drops too many passes that he's capable of catching
Nico Collins is a physically talented wide receiver with room to improve. The best-case scenario is that he is an NFL wide receiver one or two, but there's lots of risk with him as well.
12. Tylan Wallace, Oklahoma State
Strengths: Tylan Wallace is an incredible leaper and can make catches few other receivers can. He adjusts well to under-thrown passes and makes tough contested catches frequently. Wallace runs hard after the catch and breaks arm tackles. He is a pretty good route runner and can find holes in zone coverage.
Weaknesses: Despite running the 40-yard dash in 4.39 seconds, that speed doesn't show up on film. He doesn't consistently create separation on vertical routes, and there are times when he is behind the cornerback for the whole play. Tylan Wallace also struggles to create separation against press coverage.
Tylan Wallace has some of the best hands in the class and can get to passes that no one else can. However, his average speed and inability to consistently separate from cornerbacks might hold him back from being a true number one wide receiver.
11. D'Wayne Eskridge, Western Michigan
Strengths: D'Wayne Eskridge went to a small school, but he's a big-time player. Eskridge has great play speed. He can turn a five-yard pass into a 50-yard touchdown. He creates a lot of separation on his routes and can run a variety of routes. Eskridge has pretty reliable hands and can elevate to catch high passes, and he can break tackles after the catch. He's also a willing blocker.
Weaknesses: Because he played at a small school, Eskridge's competition wasn't as tough as the other top receivers. Eskridge is also already 23, so he is going to be older than most other rookies. He is also a smaller receiver, so he doesn't catch any 50-50 balls.
D'Wayne Eskridge isn't a well-known player, but he has the chance to become a household name in the NFL. His speed and ability to get open will make him a solid slot receiver in the league.
10. Amon-Ra St. Brown, USC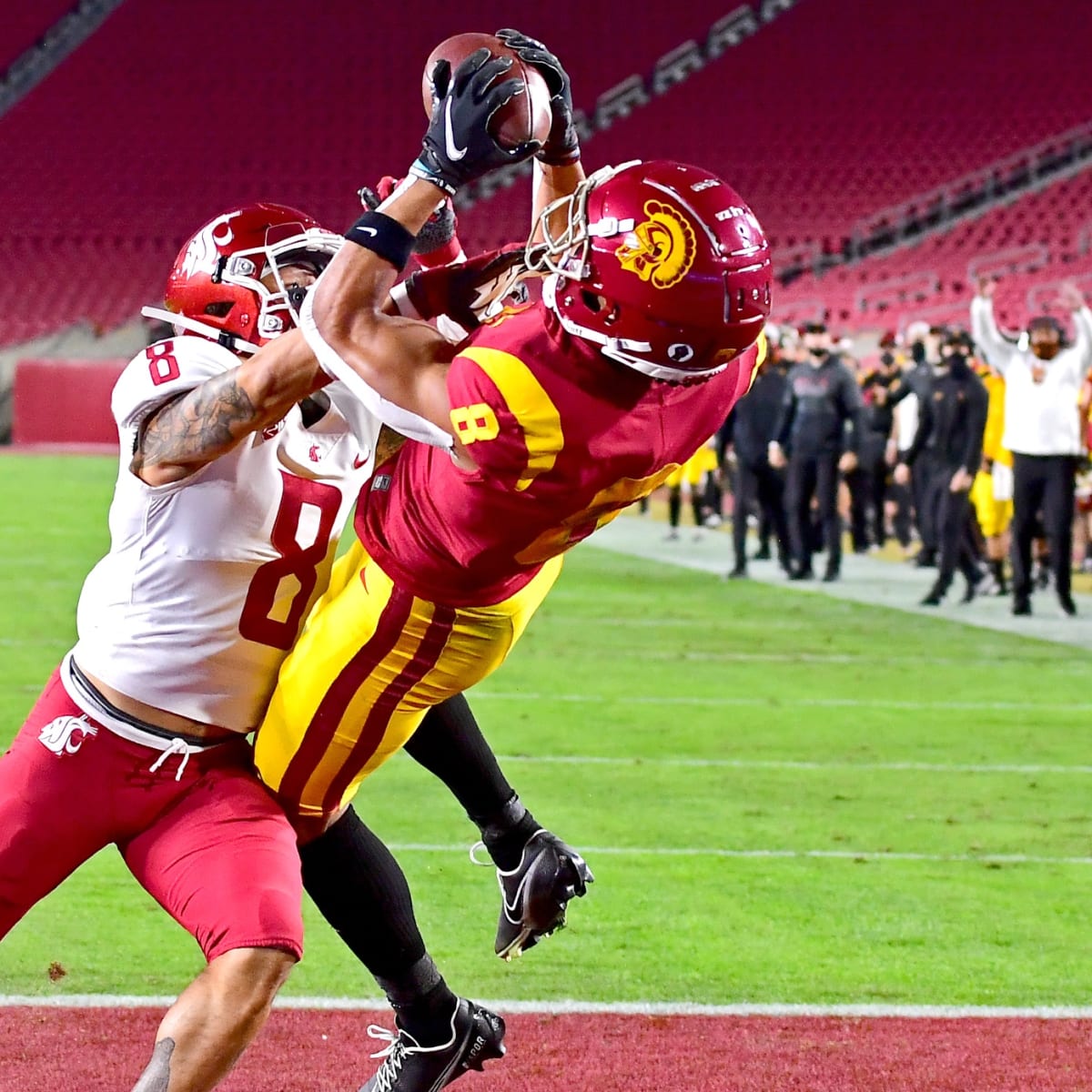 Strengths: Amon-Ra St. Brown is a tough and competitive receiver. He is seemingly always open and has reliable hands. St. Brown is great at finding holes in zone coverage, and because of this is a go-to target whenever the quarterback is in trouble. Amon-Ra St. Brown is also skilled at readjusting and tracking down back shoulder passes and fades, and he can make acrobatic catches.
Weaknesses: Amon-Ra St. Brown isn't a big-play threat. He has average athleticism and doesn't make guys miss very often after the catch. St. Brown also drops some passes he's very capable of making when he loses concentration.
Amon-Ra St. Brown is a high floor receiver who will likely play in the slot in the NFL. He isn't an exciting player, but he gets the job done at a high level.
9. Dyami Brown, North Carolina
Strengths: Dyami Brown is a vertical threat who put up huge numbers at college the last two seasons. He has good size for a receiver at 6'1″ and 195 pounds. Brown is an excellent deep route runner and creates a lot of separation on those routes. He has a good release off the line of scrimmage. Brown tracks down deep throws well. He has good straight-line speed as well, so when he beats his cornerback deep, he's gone.
Weaknesses: Dyami Brown sometimes tries to catch the ball with his body which leads to bad drops. He also ran a limited route tree in North Carolina. A large percentage of his routes were verticals. Brown is fast, but he isn't a burner. Brown isn't as elusive as he is fast. He can gain yards after the catch, but he doesn't usually break off big plays that way.
Dyami Brown is a very productive receiver who was reliant on vertical routes for lots of his yards in college. Due to his speed, size, and route-running ability, he should be able to do the same in the NFL. I think Brown will also prove to be more versatile than he showed in college when he gets the opportunity to run more routes.
8. Elijah Moore, Ole Miss
Strengths: Elijah Moore has great hands. In 2020, he caught 86 passes and barely dropped anything. Elijah Moore doesn't have elite speed, but he still has good speed, and he reaches his top speed quickly. Despite his size, Moore can make contested catches downfield. He creates yards after the catch too. Moore has good burst, quickness, and vision, and he doesn't give up on plays.
Weaknesses: Elijah Moore sometimes gets jammed at the line on his release. Due to his size, he can get knocked off his route by linebackers and other bigger defenders. Moore is undersized, which will probably keep him from playing outside in the NFL.
Elijah Moore is an undersized but skilled receiver with very reliable hands. Moore will probably play exclusively in the slot in the NFL, but he will still be a productive player.
7. Terrace Marshall Jr., LSU
Strengths: Terrace Marshall is a big and fast receiver with lots of potential. Marshall is a great contested catch receiver. His ability to make one-handed catches and bring in 50-50 balls is impressive. Marshall is also good after the catch. He is surprisingly quick, and he makes defenders miss often. Marshall's quickness also helps with route-running. He creates lots of separation with his quickness and burst.
Weaknesses: Terrace Marshall drops the ball a lot. There are times he takes his eyes off the ball when trying to make the catch. Marshall is also a poor blocker. He frequently gets overpowered when run-blocking. It also looks like Marshall doesn't play at full speed at all times.
Terrace Marshall is a physically gifted receiver with endless potential. He is a raw player, but if he goes to a team that can be patient and develops him, Marshall could be a fantastic receiver.
6. Kadarius Toney, Florida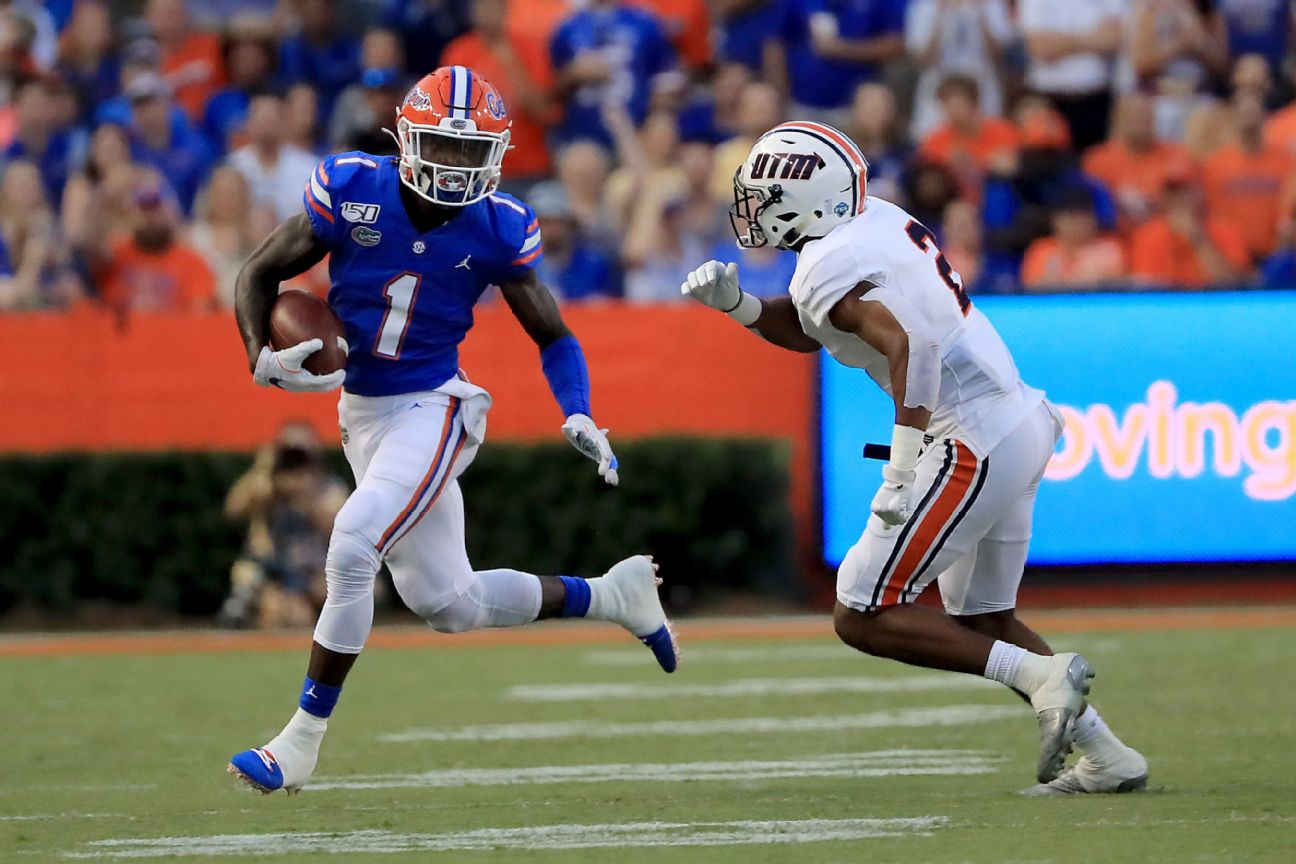 Strengths: When watching Kadarius Toney, the first thing you notice is his quickness and elusiveness. He routinely makes defenders miss with the ball in his hands. Toney is also dangerous when lined up in the slot. Toney burns defenders on slants and other short routes with his lightning-quick cuts. Kadarius Toney also has the speed to beat guys deep, and he is good at tracking down the ball when he does.
Weaknesses: Before last season, Kadarius Toney had little college production, so some worry that his success was a fluke. Although Toney had reliable hands as a senior, his catching was inconsistent over his college career.
Kadarius Toney is one of the toughest wide receivers to tackle in the class, and he is a very versatile offensive weapon. His college production is concerning, but I think he can start in the slot and be a big-play threat as soon as he enters the league.
5. Rondale Moore, Purdue
Strengths: Rondale Moore might be the most fun player to watch in college. He has incredible burst and is surprisingly strong for his size. Moore is electric after the catch. He makes guys miss, breaks tackles, and has lots of speed. His speed also makes him tough to handle on vertical routes. There are some plays where the defensive back did well, but he couldn't keep up. Moore is also a fantastic returner.
Weaknesses: Rondale Moore had a limited route tree at Purdue. He will need to be able to run a wider variety of routes in the NFL. Rondale Moore's catching isn't much of a concern, but it's definitely not a strength either. He has some drops and doesn't bring in many contested catches.
I normally think that comparing small and fast receivers to Tyreek Hill is lazy, but it's hard not to think of Hill when watching Rondale Moore. The size and strength combination is very similar. You can't expect Moore to have the same success as Hill has had, but if he can adjust to an NFL playbook, he will be a heck of a player.
4. Jaylen Waddle, Alabama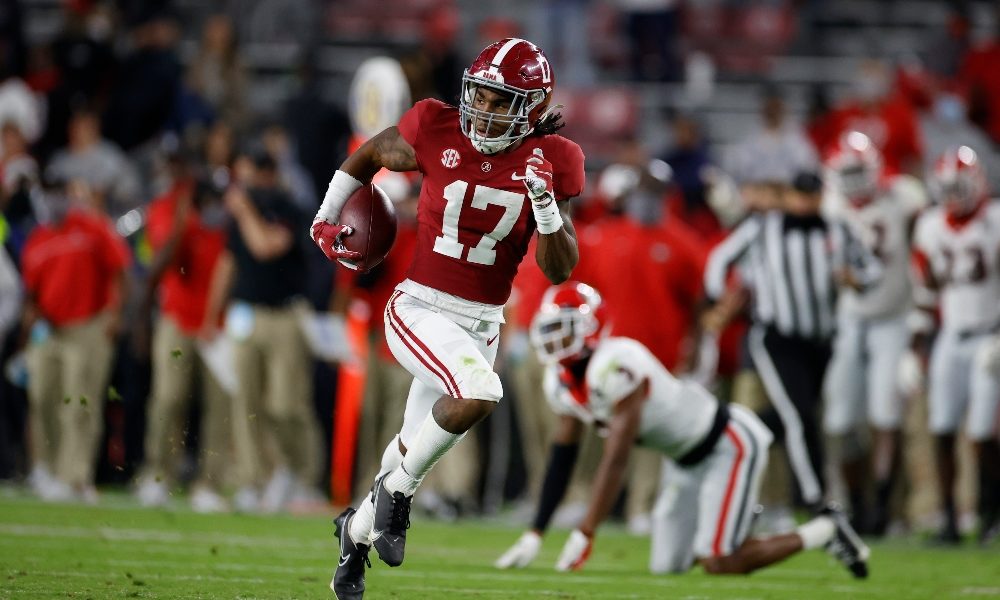 Strengths: If you want explosive plays, then Jaylen Waddle is your guy. Any time he touches the ball, there's a chance he scores. Waddle is excellent at creating separation on routes downfield. He is also surprisingly good at making contested catches for his size. He can leap over defenders and snag tough passes through traffic. Jaylen Waddle's best ability is creating extra yards with the ball in his hands. He can make tacklers miss, he has great vision, and when he gets in open space, it's over.
Weaknesses: Injuries are the main concern for Waddle. He was on a tear to start the season before an ankle injury kept him out for almost the rest of the season. NFL teams won't get to see how he recovers from that injury before drafting him. Waddle also never had a true breakout season in college, although he likely would have if he stayed healthy.
If he wouldn't have gotten injured, Jaylen Waddle would likely be looked at much differently right now. He started the season at a better pace than Devonta Smith, who ended up winning the Heisman. Waddle could end up as the better NFL player as well. But, his ankle will probably be a concern for NFL teams.
3. Rashod Bateman, Minnesota
Strengths: Rashod Bateman is a well-rounded prospect with few weaknesses. At 6'2″ and 210 pounds, he is the ideal size for a starting wide receiver. Bateman is also one of the best, if not the best route runner in the class, and he has a great release off the line of scrimmage. Rashod Bateman is a jack of all trades. He is a reliable security blanket and a go-to target on third down, and he can beat defenses deep. He burns cornerbacks on double moves, has fantastic hands, and tracks down off-target passes with ease. Bateman also breaks a lot of tackles after the catch.
Weaknesses: Rashod Bateman is a good athlete, but he is not an elite athlete. He has good straight-line speed but won't make guys miss very often. Bateman also occasionally has concentration drops.
Rashod Bateman is one of my favorite prospects in the draft. Bateman will make an impact immediately and has the potential to be great. He can play outside or in the slot and can run every route in the playbook. Bateman is a fantastic all-around player and a top-tier receiver.
2. Devonta Smith, Alabama
Strengths: Devonta Smith is a big-play threat every time he touches the ball. He has great speed and glides past defenders in the open field. Smith is one of the best vertical receivers in the draft, and he is also great at making defenders miss and turning short passes into long gains. Devonta Smith also has elite hands. He catches passes smoothly in stride, and can also adjust and make a spectacular catch if he has to. Smith's best attribute is probably his route running and acceleration. As soon as Smith gets off the line of scrimmage, he's at full speed.
Weaknesses: Devonta Smith is very skinny. Due to his speed, he doesn't face press coverage very often, but in the NFL, he will get jammed at the line unless he gains weight. Even though he stayed healthy in college, some people worry about his durability. Players his size normally break down quicker than bigger players when taking lots of hits.
Devonta Smith is a very polished wide receiver who will be a high-impact player as soon as he is drafted. His size is a concern, but any team that passes up on him just because of that is missing out on a fantastic player.
1. Ja'Marr Chase, LSU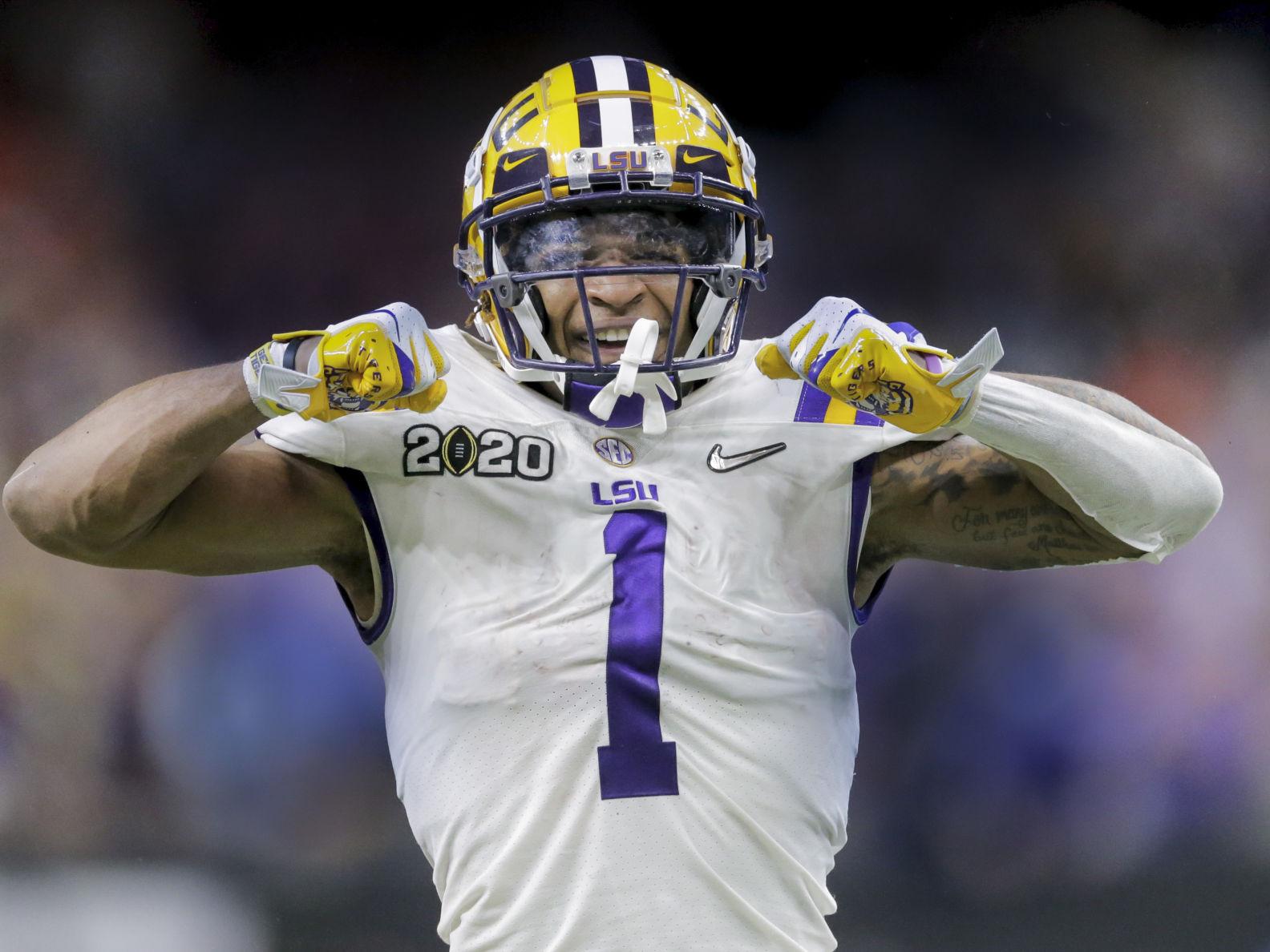 Strengths: Ja'Marr Chase is a strong and physical receiver who seems to win every 50-50 ball and contested catch. Chase's college production was ridiculous. In his last season with LSU, he put up 84 catches, 1,780 yards, and 20 touchdowns. Did I mention he did all of that as a sophomore against defensive backs who are now NFL starters? Chase also has the speed to beat defenders on vertical routes. His speed and strength also make him a threat after the catch, as he can make guys miss and break tackles. Ja'Marr Chase plays a lot bigger than he is. He is always in a position to make the grab even when tightly covered, and when Chase gets to a ball, he's not dropping it.
Weaknesses: You really have to nitpick to come up with weaknesses in Ja'Marr Chase's game. Some people think that he should create more separation on his routes than he does. Some others think that his college stats were inflated due to playing with Joe Burrow. I'm not concerned about either of those things.
Ja'Marr Chase is the best receiver in the draft, and he is one of the best players in the draft. He's good at pretty much everything and is almost guaranteed to be a star in the NFL.
Thanks for reading! If you enjoyed this article, check out other football articles by Belly Up Sports, and check out my Twitter @BStahlSports!