Another trade deadline has come and gone, and only a few prominent players were rumored to be on the move. It was shaping up to be relatively uneventful, but it's best to expect nothing and be pleasantly surprised. I, for one, was pleasantly surprised. Amidst all the action, I have three trades that I believe will have the most impact on the rest of the season.
Pre-Deadline
Coming into today, the most prominent names we projected to be moved at this year's trade deadline included Lonzo Ball, Aaron Gordon, and Kyle Lowry. Several teams have shown interest in Lonzo. The top prize for contenders to push their team over the top was Kyle Lowry. Neither of them was dealt with today, albeit not for a lack of trying by the Raptors and Lowry's suitors (namely the Sixers, Lakers, and Heat).
Other names, such as Andre Drummond and LaMarcus Aldridge, were also scheduled to be traded. No dice for them either, as they weigh their options as players who have been bought out of their contracts. The Miami Heat are currently the favorites to land Aldridge, and Drummond could land in New York. Both the Nets and Knicks have shown interest in the big man.
Stories on the top two soon-to-be in-season free agents.

LaMarcus Aldridge: https://t.co/eBxldmlpK3

Andre Drummond: https://t.co/SvLRMMv0Dz

— Chris Haynes (@ChrisBHaynes) March 25, 2021
Trades that didn't happen are not what you came here for, though. There were a few prominent trades that did happen! So here we go. In reverse order, here are three trades that went down today that I believe will have the most impact on the remainder of the 2020-21 regular season.
3. Trade Deadline Stealth: Bulls Snag Nikola Vučević
As recently as one week ago, the Orlando Magic were insistent that they were not interested in trading Vučević. Even if they were, they had set a steep price, but the Bulls were willing to pay it, and a starter and a first-round pick are what they got.
Here's the deal: The Bulls land Nikola Vucevic and Al Farouq Aminu for Otto Porter, Wendell Carter Jr., and two first-round picks. Huge addition for Chicago, who remains in pursuit of Lonzo Ball. The Magic are moving toward a rebuild now with Aaron Gordon deal on deck.

— Adrian Wojnarowski (@wojespn) March 25, 2021
The Magic get their starter(s) in Wendell Carter Jr. and Otto Porter. As well as Chicago's first-round pick in 2021 and 2023 (both top-4 protected). I wrote on this trade earlier today in minor detail as to why it's good for both teams. However, this section is meant to highlight how this acquisition will benefit the Bulls and thus how it will impact the Eastern Conference.
What Does This Mean for the East? Vučević wasn't supposed to go anywhere. He was supposed to toil away in Orlando where the war of attrition continues to be a losing battle. Contenders wanted him, but they couldn't get him. They pushed their focus, and subsequently our focus, onto the Lowry sweepstakes. We're nearing 11:00 am EST waiting for the first domino to fall. Turns out the first domino was one of the biggest. The Magic traded Vooch! WHAT?
The 30-year-old big man is having a career year. Averaging 24.5 points per game, Vooch is third amongst all centers behind MVP-hopefuls Joel Embiid and Nikola Jokić. He will now take over for recently-benched Wendell Carter Jr. and it cannot be overstated how big of an upgrade that is. Vučević raises the Bulls' floor significantly.
Chicago currently sits at 19-24, slotting them tenth in the East standings, the final spot for a play-in berth. It's also only 2.5 games out of the six-seed behind the Knicks, Hawks, Celtics, and Pacers.
Caris LeVert has rejoined the Pacers after successful surgery to remove a growth on his kidney. The Celtics are a mess but just added Evan Fournier. I'm hesitant to believe the Hawks can sustain their level of play (fourth in net-rating since March 1) considering it's been against a less-than-impressive group of opponents. It's dangerous to say, "I believe in the Knicks." Also… the Hornets are the four-seed right now?! The injury to LaMelo Ball will almost assuredly bring them down to earth.
Playoffs?!
The Bulls have some work to do, but adding Vučević could eliminate those nights where Chicago is outplayed by Cleveland. I expect more consistency having another proven player who can take over segments of a game, as well as provide literally any amount of resistance in the paint. A win-streak here, a win-streak there, and boom – Chicago Bulls are in the playoffs and looking dangerous.
2. Aaron Gordon Headed to Mile High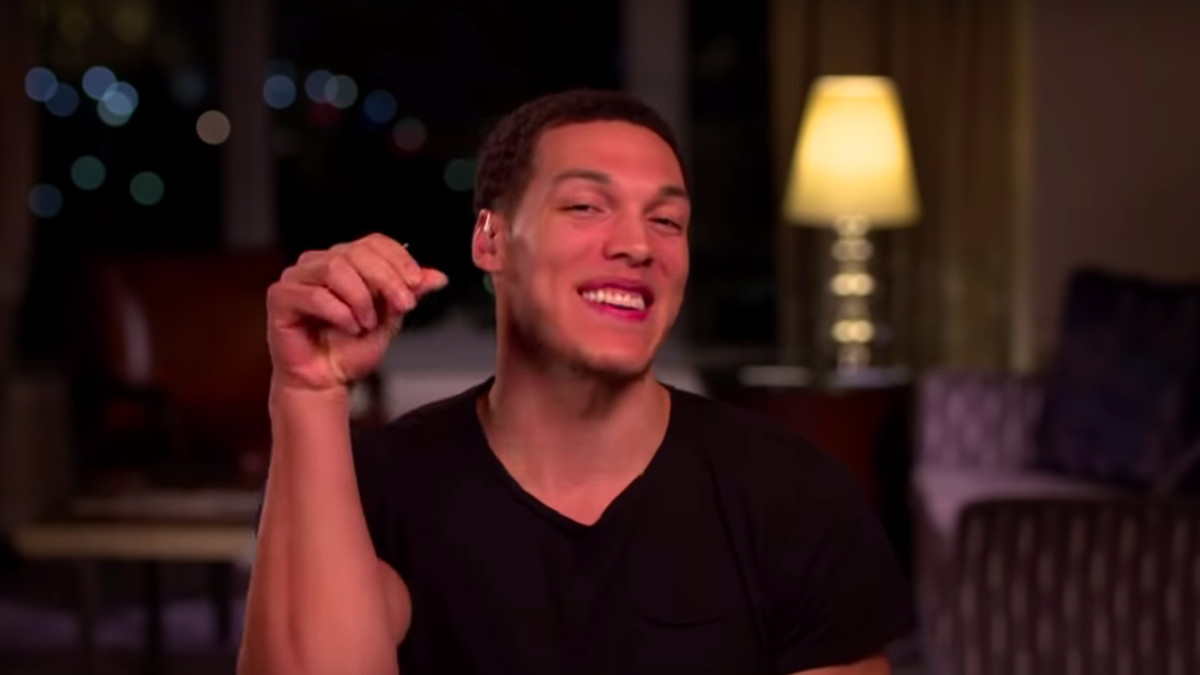 Aaron Gordon was expected to be moved by today's trade deadline. A few days ago, it became official that Gordon had requested a trade from the Orlando Magic. He had suitors (primarily Boston, Denver, and Portland) and a moveable contract. The perfect recipe for a successful trade. Denver won the bidding and AG is now a member of the Nuggets.
Gary Harris, RJ Hampton and a first-round pick to the Magic for Aaron Gordon, source tells ESPN. https://t.co/VWMUVCokeS

— Adrian Wojnarowski (@wojespn) March 25, 2021
Good for the Nuggets?
Midway through year seven of his career, Gordon hasn't exactly shown us what he's great at. What he has shown us is that he can do a little bit of everything. He can hit the spot-up three. He has young Blake Griffin levels of athleticism. He's big, long, and switchable on defense.
This year in Orlando, Gordon's usage rate is at 23.9%. The only players with a higher usage rate for Denver are Nikola Jokić and Jamal Murray. That number is coming down significantly and I assure you it will be good for Gordon.
This man will thrive on a team that will hold him accountable. I can feel it in my bones. He's not expected to go out and launch 20+ shots a night. His job will be that of a slasher, to work off the potential-MVP for backdoor dunks/layups and spot-up threes. Most importantly, give solid minutes on defense to cover for Paul Millsap's aging knees. This change of scenery is going to benefit Aaron Gordon and the Nuggets equally.
Bad for the West??
At 26-18, fifth in the West, and wins in seven of their last ten games, the Nuggets are coming. Jamal Murray, habitual slow-starter, is surging (22 PPG, 5.5 APG, 47 percent 3P last 15 games). With injuries to LeBron James and Anthony Davis, the Lakers are going to fall in the standings. While it may not be a death sentence for the Lakers, the Nuggets sure could use home-court throughout the playoffs.
The Nuggets are already a top-tier team. The addition of Gordon gives them a new wrinkle other West teams ahead of them weren't able to add at the trade deadline. The Clippers traded for Rajon Rondo, but that will only show its worthiness come playoff time. Gordon's length and versatility could come in handy in a matchup with the Suns should they meet in the second round of the playoffs.
This move won't vault Denver to the top of the standings by any means. But they've added a player who still has a lot of potential. Someone who can actually give them good minutes where they weren't getting any minutes at all (from Harris and Hampton).
1. Victor Oladipo, South Beach, Collision Course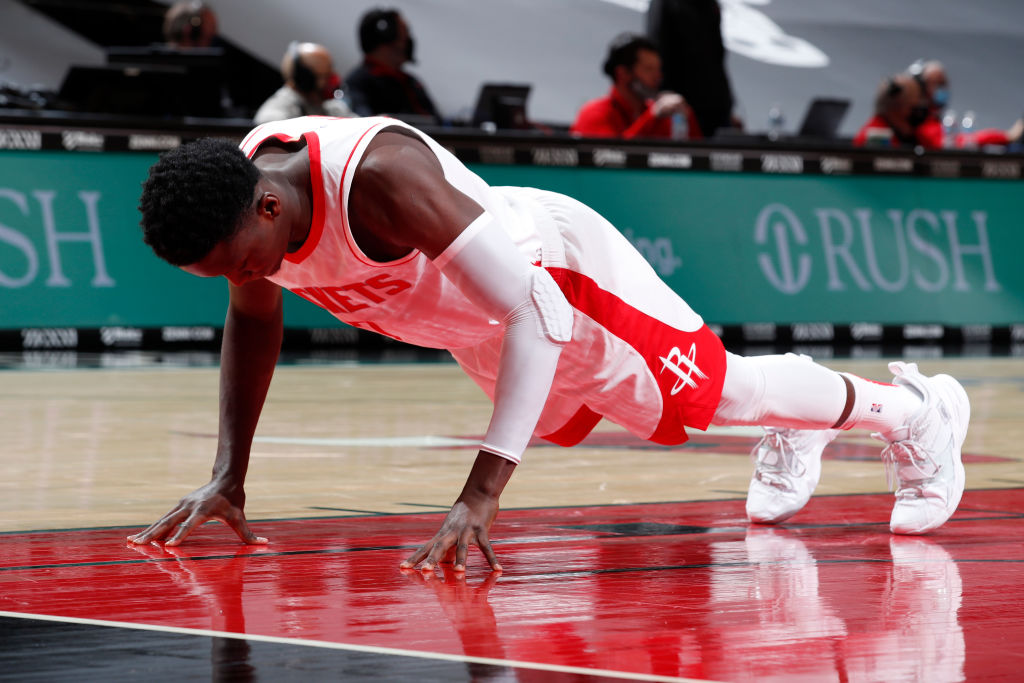 Since Jimmy Butler returned to the lineup on January 30th the Miami Heat are third in defensive rating, in elite company with the Lakers and Sixers. But their offense resides in the depths at 22nd in that same span, resulting in a Net Rating that ranks 11th. Not what you want. What you do want, is Victor Oladipo.
Acquired by the Miami Heat at the buzzer of the trade deadline, Oladipo is a proven offensive talent. He is able to score in a plethora of ways. Most notably for Miami, his ability to score on-ball is what I find most endearing. Jimmy Butler can be one of your team's primary ball handlers. However, it's not something you want to rely on. Jimmy is a basketball savant but even he needs a built-in excuse to work more off-ball and use his energy on the defensive end.
In nine games with Indiana and 20 games with Houston, Oladipo has averaged 21/5/5 on subpar efficiency (41 percent FG, 33 percent 3P). I attribute that to a lack of conditioning while recovering from his knee injury, as well as playing for a team on a 21-game losing streak and planning to clean-house.
Let the #Culture Do Its work
If we can get Vic on Pat Riley's conditioning program, I have high hopes for the young guard. He will take to the culture. I just know it. This is the same guy who was seen shooting form-shots in his hospital bed after knee surgery. It was largely for show… but the mindset is real.
I'm a die-hard believer in the culture. Heat Culture, to me, takes the words, "I want to win," and expects them to be turned into action. If they don't? You're out, Tom.
The addition of Oladipo's offense combined with Miami's team-defensive mentality will help keep them from falling behind in the East. At this point, it's unlikely they catch the Sixers, Nets, or Bucks. But they can cement themselves at the four-seed and force us to look at how their team has been since the trade deadline once the playoffs come around.
I put this trade at number one not because it will launch them to the top of the East. I think it has a chance to be the most impactful trade of the day because it has the highest upside for playoff success, independent of where they finish in the East standings. Magic agrees with me.
The Miami Heat won the NBA trade deadline acquiring Victor Oladipo and Nemanja Bjelica. The Denver Nuggets came in second acquiring Aaron Gordon and JaVale McGee.

— Earvin Magic Johnson (@MagicJohnson) March 25, 2021
The Brooklyn Nets and Milwaukee Bucks have already made their moves to solidify their teams. The Philadelphia 76ers were not able to. If they were to successfully trade for Kyle Lowry, I would have had that as my number one move. The Heat made their move. They're geared up and retooled for another run at The Finals.
Follow us!
The trade deadline has passed but that doesn't mean you have to quit the content. We've got a number of articles over at Belly Up Hoops for all your trade content needs. We've also got a great new podcast, The Midweek Midrange, live on YouTube every Wednesday at 9 PM EST. You can also follow me on Twitter @JMacchitelli23 for article drops and other #sports.