Get excited Patriots fans! For the first time since 2011, the Patriots pick in the top half of the NFL Draft. After a disappointing 7-9 season, there are plenty of needs to fill on this roster. Bill Belichick was uncharacteristically busy in free agency, signing some high-quality impact players when the new league year first began. Jonnu Smith and Hunter Henry look to bring a high amount of production from the tight end position, something the Patriots haven't had since Rob Gronkowski's retirement. They also brought in receivers Nelson Agholor and Kendrick Bourne to bolster the depth they didn't have last season, and look to fill the holes that Julian Edelman left open in his recent retirement. On defense, it only gets better. Bringing in edge rusher Matt Judon from the Ravens, as well as safety Jalen Mills from the Eagles.
They are also returning many key contributors after testing free agency. Center David Andrews re-signed with the team. As did running back James White. Defensive lineman Lawrence Guy also returns to New England to help stuff the run. In addition, they traded for offensive tackle Trent Brown, who was on the 2018 Super Bowl LIII winning Patriots team.
We're now in the home stretch of the off-season, and with the draft just less than a week away, mocks have been going around like wildfire. With 10 picks, the Patriots have a lot of ways they can go about this draft, and will likely be subject to trades. So here's my attempt at trying to predict just what Belichick will do. With PFF's Mock Draft Simulator, I will go through all seven rounds with trades. In an attempt to make the Patriots a force to be reckoned with in 2021.
Round 1, Pick 15: QB Mac Jones, Alabama
This wasn't my favorite selection, but if Mac Jones is sitting there at 15, who am I to say no? The Alabama senior is the prototypical Patriots quarterback. He's been dubbed as the smartest quarterback in this draft. he played under Belichick's close friend Nick Saban in a pro-style offense. He's touted as the most "pro-ready" of all the first-round quarterbacks outside of Trevor Lawrence. I could see Belichick and Josh McDaniels falling in love with Mac here at 15. Though if he isn't here, I'd keep my eyes on South Carolina defensive back Jaycee Horn or Michigan edge rusher Kwity Paye. Onto the second round, shall we?
Round 2, Pick 46: WR Elijah Moore, Mississippi
This would've been a place where the Patriots typically trade down, but the only team interested was the Dolphins. I'm not really one to cheese the system, so I went ahead and took one of my favorite receivers in this class. Elijah Moore at 46 would be an absolute steal for this offense. In just eight games at Ole Miss his senior year he caught 86 passes for 1,193 yards and eight scores. He was on the First Team All-SEC and broke the Ole Miss record for most receptions in a season. Although a bit raw, Moore can be developed into a solid wide receiver for the Patriots who are in immediate need of production in the post-Edelman era.
Round 3, Pick 98 (via NO): LB Jamin Davis, Kentucky
Trade Notes: I traded with the New Orleans Saints from pick 96. I acquired pick 105 while sending 122 (via Arizona). So we drop two spots and pick up an extra third-rounder in exchange for our late fourth.
Jamin Davis is just what the doctor ordered for this Patriots linebacker core. Davis broke out his junior year averaging 10 tackles a game and finishing with three interceptions. A quick thinker, he is hardly ever caught sleeping on a play and is pretty much ready to get in on the play at any given moment. A perfect future for the eventual post-Hightower era. I could see Davis wearing the green sticker on the back of his helmet calling plays in New England if this is the selection in the third.
Round 3, Pick 105 (via NO): S Jamar Johnson, Indiana
I love Devin McCourty just as much as the next Patriots fan, but it's almost time to prepare for the future. Jamar Johnson is one of the top coverage safeties in this class. A rangy ballhawk who collected four interceptions in eight games in 2020. He may have his problems in run defense, but those can be tweaked. In New England, he won't be rushed into a starting role, and he'll be learning under one of the best in the league. Patriots fans should be gleaming if this draft plays out how it has here thus far.
Round Four, Pick 120: DL Milton Williams, Louisiana Tech.
With the loss of Adam Butler, a versatile defensive lineman comes to the forefront for the Patriots. Milton Williams could very easily fit that role besides Chase Winovich, Lawrence Guy, and Josh Uche. He's a little undersized, but with plenty of room to fill out and a high motor, there's no reason why the Patriots shouldn't pick him up here. The Patriots have a history of developing solid defensive linemen and I could see Williams making a solid impact in the future as he continues to hone in on his skills. Though it's hard to project any real-time day one unless he beats out guys like Davon Godchaux and Deatrich Wise.
Round 4, Pick 139: OT Stone Forsythe, Florida
When you get to this level of the draft, you run out of options for immediate impact, and you start taking depth pieces or the best available players. Stone Forsythe was one of the SEC's best pass protectors after winning the starting left tackle job at Florida. I don't foresee him taking Isaiah Wynn's job outright, but Wynn does have an injury history. He could have a solid camp competition with Justin Herron for that backup left tackle spot with a lack of strong depth.
Round 6, Pick 188: CB Zech McPhearson, Texas Tech
Zech McPhearson is a solid built, plug-and-play corner with some versatility across the defense collecting four interceptions in 2020. Also could be a contributor on special teams. A solid mix of toughness and coverage ability, McPhearson could see some starting reps in the future, but probably not somebody you want covering the likes of Stefon Diggs in his rookie season.
Round 6, Pick 193 (via CAR): OG Aaron Banks, Notre Dame
Trade Notes: I traded picks 177 and 197 to the Carolina Panthers for picks 193 and a 2022 4th round selection.
The Patriots could use some depth across the offensive line, even with the return of Ted Karras. Aaron Banks could prove to be a solid backup with some starter upside behind Michael Onwenu at left guard. He has experience on both sides of the line and would be a fine selection this late in the draft.
Round 7, Pick 242: EDGE William Bradley-King, Baylor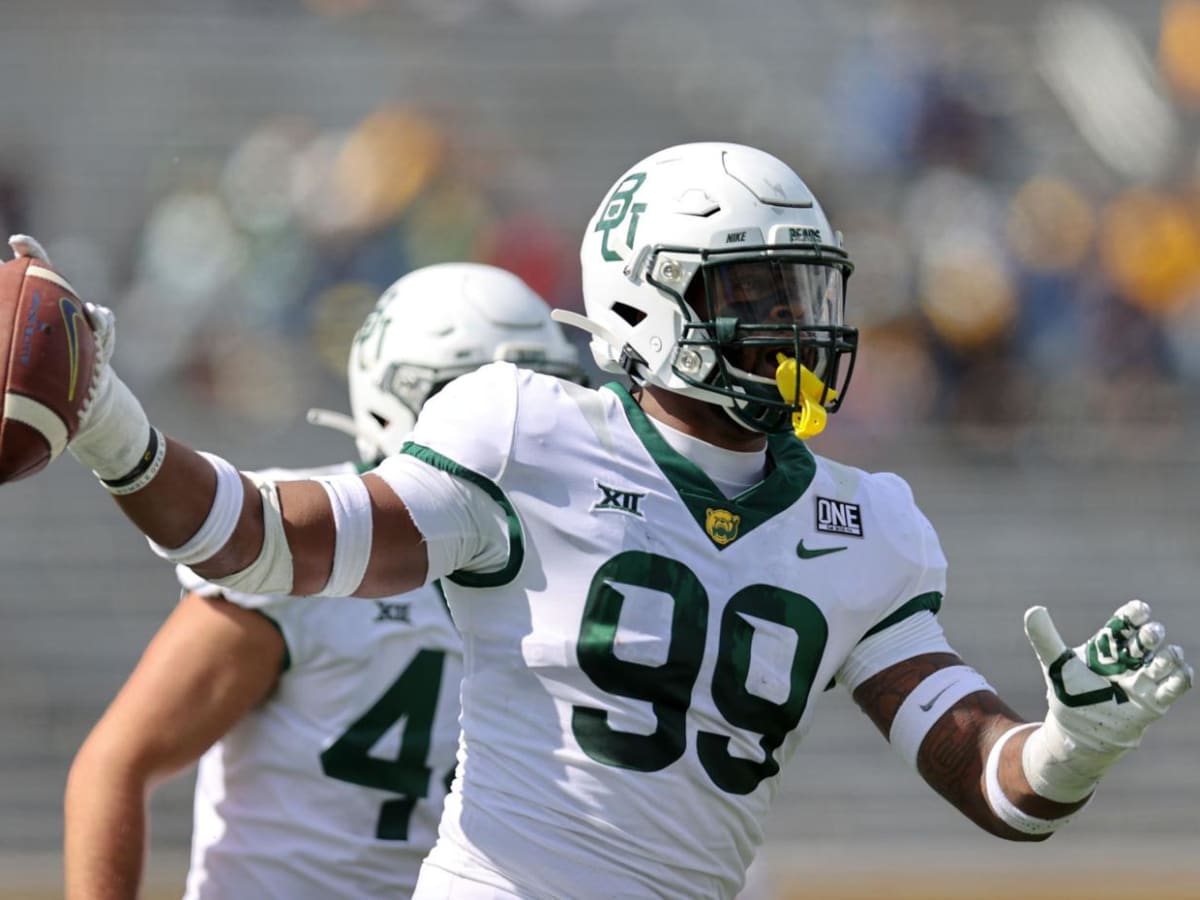 We got some really solid value here in the seventh round. William Bradley-King had some solid production in his three years at Baylor with a total of 18 sacks and 20 quarterback hits. He's a little undersized and raw but could flourish in a Belichick defense which seems to get the best out of most players. In the seventh round, you can't really complain about anything. So long as they don't become cancer in the locker room, which there is no evidence of here with Bradley-King.
Final Thoughts
Overall, PFF gave me an A- on this mock. The highest picks being Mac Jones, Elijah Moore, and Jamar Johnson. I'd personally be really happy with this draft class, though who really knows what happens in real life. Maybe Bill Belichick opts to trade up for Justin Fields or Trey Lance. Or he stays put and Jones isn't there at 15. The NFL Draft is strange like that, but that's why we all tune in every year. We'll see how close I got it to come Thursday.
If you enjoyed this content, or hate it and want to argue with me, follow me on Twitter @KalebEmcee! Feel free to check out the work I do on Foxboro Beat! Also, read up on the rest of the NFL content Belly Up Sports has to offer here!