With only a few days to go until the 2021 NFL Draft, so far, we don't know what's going on with the 49ers' draft pick. Back in March, the 49ers traded up with Miami in exchange for multiple future first round picks in order to move up to the number three spot. Presumably, the Niners draft a quarterback with this pick? But which one? Let's consider the options.
The 49ers Draft Pick Results in Mac Jones
Soon after the 49ers traded up to third overall, Adam Schefter on ESPN Radio said "Oh, it'll be Mac Jones." Because of this, the working theory's been that the 49ers will go with Jones. But why? Sure, Mac Jones is a serviceable option, but why not take someone with a more elite ceiling? Why not Justin Fields? Why not Kellen Mond, who no one is talking about? Nonetheless, the 49ers' draft pick might be wasted on Mac Jones. It's not that I don't like the guy, I just think there's better options out there.
Enter, Trey Lance
I never thought this would come up. According to Todd McShay for ESPN, the entire San Francisco scouting department wants Trey Lance while Kyle Shanahan wants Mac Jones. Wow. So here's the dilemma. We have an entire front office wanting one thing while the coach wants something else. That's a recipe for disaster, but I just John Lynch and Shanahan to work things out. This just seems like it's out of left field. Many people, myself included, thought that Trey Lance was not going to be a top-ten pick. People expect Lance to be a mid-first or early-second round pick. This draft really looks like it could be one of the wildest drafts of all time. Or we're all just bored and are fantasizing about what could be.
Meanwhile, Justin Fields…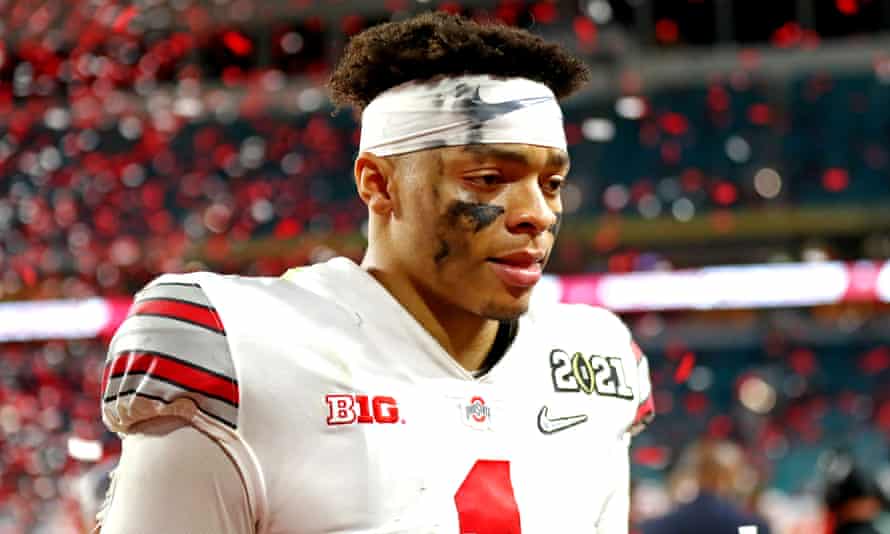 Meanwhile, Justin Fields sits in a corner, reading our mock drafts, reading what the media has to say. Fields sits there, listening to all of the hate and criticism, fueling his rookie campaign. Trevor Lawrence goes to Jacksonville and Justin Fields goes to New York, or so we thought. All of a sudden, Zach Wilson became to choice for the Jets. Then, San Francisco traded up for the third overall pick and we all believed that Fields is the pick. Wrong. Ian Rapoport cut the cord on that theory this morning, officially.
From last night: The #49ers appear to have narrowed their focus at No. 3 to two prospects — Mac Jones and Trey Lance.

Full story: https://t.co/Lsg60FJSlI

— Ian Rapoport (@RapSheet) April 26, 2021
How did it come to this? How is it possible that Jones and Lance are perceived to be better quarterbacks than Justin Fields? I'm not a draft scout, but I do like to theorize about situations I'm not involved in! Is it possible that this is just a ginormous smoke screen? Front offices like to throw teams off their scents, so what if the 49ers intend to draft Justin Fields and are trying to make teams think otherwise and and trade up to try and get him? It could be a lot of fun to watch.
If you enjoyed this article, make sure to check out some more of our draft content here!