With just under three weeks and approximately 10 games remaining in the 2020-21 NBA season, the playoffs are so close we can almost taste them. The dessert to this filling, at times grueling, five-course meal of an NBA season can't come soon enough. And just when you thought you didn't have room for dessert, your waiter (me) reminded you of the seasonal special – a super-sweet serving of play-in basketball.
Flashback to the Bubble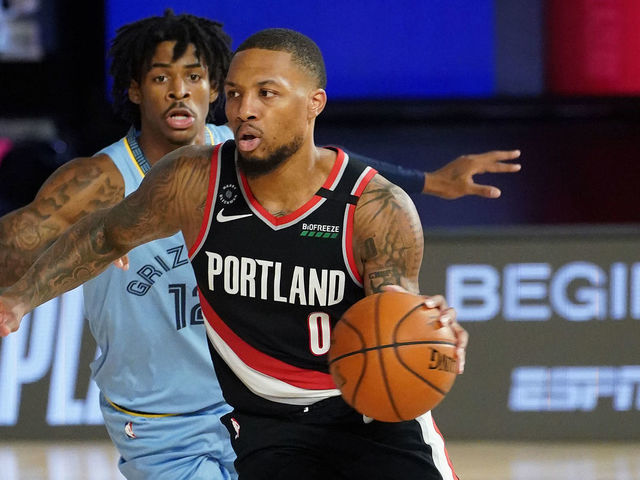 In 2020's Bubble Playoffs from last August, the NBA implemented the play-in game between the eighth and ninth-seeded teams should the ninth-seed be within four games in the standings of the eighth-seed. Only the Western Conference came to such a scenario, pitting the nine-seed Grizzlies, led by Rookie of the Year Ja Morant, against Damian Lillard's Portland Trail Blazers. And it did not disappoint.
Dame continued his run of scorched earth warfare from the seeding games into the play-in game, scoring 31 points and racking up 10 assists (and this dunk) in a 126-122 win and a playoff berth.
Four Blazers scored over 20 points, including Jusuf Nurkić hauling in 21 rebounds paired with his 22 points. CJ McCollum posted 29 points and a few daggers down the stretch. Meanwhile, Ja Morant led the game in scoring with 35 points and eight assists of his own.
The lone play-in contest of 2020 gave we the fans everything we could have asked for. The chance for a blossoming young superstar to lead his equally young, up-and-coming team to the playoffs. Topped off by the climax to a legendary "I will not let us lose" run from Damian Lillard.
With an expanded field and less-arbitrary format we can expect a lot of what we saw in 2020 and more.
How Does It Work?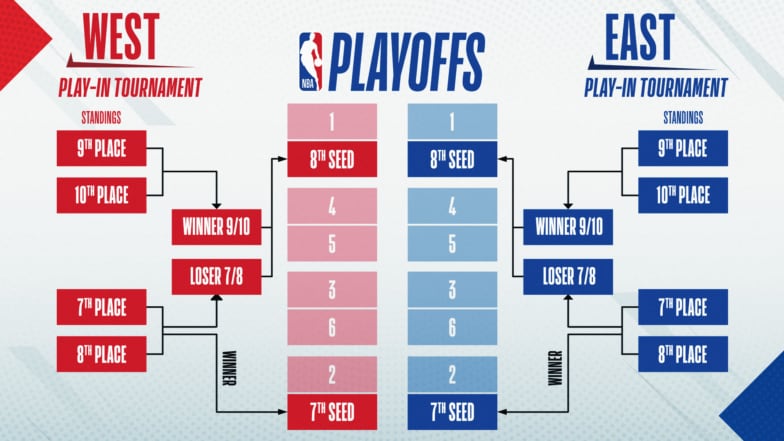 It's quite simple, really. And with the help of a little visual aid courtesy of NBA dot com, I can walk you through it quickly before we move on to potential matchups.
The top six seeds in each conference are guaranteed a spot in the 2021 NBA Playoffs. Therefore our focus is on seeds seven through ten. A standard NBA Playoff field has historically been the top eight teams in each conference. The play-in tournament has expanded the field to ten, ultimately resulting in the standard eight when it's all said and done. The format is as follows:
7-seed hosts 8-seed

Winner awarded 7-seed in Playoffs
Loser hosts winner of 9-10 matchup

9-seed hosts 10-seed

Loser is eliminated
Winner plays away at loser of 7-8 matchup

Loser of 7-8 plays winner of 9-10 for eighth and final spot in NBA Playoffs
Instead of adopting a standard bracket format (7-10, 8-9, winners advance), the NBA has elected for something new and fresh and I totally dig it. In the spirit of earning what you played 72 games for, this format allows for the teams who've secured a higher seed a double-elimination buffer. While the two teams who wouldn't normally be included in the playoffs are essentially required to "prove it". Gotta win twice if you want an invitation to the dance.
Once the play-in games have concluded and the dust settles, the playoffs will go on like normal. Now that we're caught up on the rules, start thinking of which matchups you would most like to see. I know what I want.
Keys to the Most Entertaining Play-In Possible
There are three essential factors for peak play-in intrigue. Each team should have at least one, any more is a plus. From most to least important: star power, polarity, and a puncher's chance in the First Round.
Don't overthink it. Star power is the driving force behind this whole tournament. At the end of the day, these teams are competing for the bottom two spots in the playoffs. What we really want is head to head, mano a mano, bucket for bucket battles like we saw last season between Dame and Ja. Head to head is all the rage right now. Just look at Godzilla vs. Kong (10/10 strongly recommend)! Watching two superstars go tit for tat on the basketball court is easily one of the coolest things sports have to offer.
There are a handful of polarizing teams every year. Usually because they're good and fans of other teams get jealous (guilty) and fans that do like them retaliate. But when we're dealing with the basement of the playoff field it helps to have a few teams and players who unleash the fanatic out of the fan. We need to make sure the casual NBA fan has some convoluted reason to root for or against a team to advance.
I don't think most fans care how any of the play-in teams fare in the First Round of the actual playoffs. It's easy for people to look past it and say, "they'll get swept anyway just let me enjoy this one game however it shakes out." Not so easy for me. A lot of what dictates who I root for is who might have the best chance in the next round. If Memphis won last season's play-in they would have been swept by the Lakers. Dame gave us Game One and that's all I needed out of that series.
Now that some of our fundamentals of entertaining play-in basketball are set here's what I want to see come May 18th!
Western Conference
(7) Dallas Mavericks vs. (8) Portland Trail Blazers
How we got here: As of April 28th, the Dallas Mavericks currently hold the 6-seed, Portland the 7-seed. According to Basketball-Reference, the Mavericks have the fourth-easiest remaining schedule, while the Grizzlies have the second-easiest. With Kristaps Porzingis continuing to miss time due to nagging injury issues, and the return of Jaren Jackson Jr. to the Memphis lineup, I have the Grizzlies leapfrogging Dallas for the 6-seed.
With that, we do lose Ja from the tournament. But in return, we add Luka Dončić. If you're going to be the guy openly complaining about the play-in tournament existing, you deserve to be in it. If you hate losing so much just don't lose two in a row, how 'bout that?
On the other side of the floor we get Dame Lillard. King of the play-in (only play-in win in NBA history, beat that). You could argue this game has all three essential factors. Big time star power with Dame vs. Luka. Both guys are going to pound the air out of the ball and make sweet sweet basketball music ring through your ears.
There's also a polarity element surrounding Luka. The golden boy is really rubbing fans the wrong way with his incessant complaining and pleading to the refs. Every. Single. Whistle. Just play ball, pal. But when he's making game-winning shots? Oh, we're all back on the Luka train, baby.
Whoever wins this game then becomes the 7-seed and will play the 2-seed in the First Round. In the West, the 2-seed will be one of Utah, Phoenix, or the Clippers. Both Dallas and Portland can hang with those teams and possibly take them to a Game Six. This play-in game would have real stakes and neither Dame nor Luka is going to go down without a fight.
In my scenario I have Dallas coming out on top, and they will host the winner of the 9/10 matchup.
(9) Golden State Warriors vs. (10) San Antonio Spurs
How we got here: This would just be jockeying for position as New Orleans is definitely not making a run at this tournament because they're pathetic and sad and Stan Van Gundy isn't a good coach and gives Zion the ball every possession in the fourth quarter.
As per the same Basketball-Reference tweet above, the Spurs have the second-hardest schedule remaining. The Warriors got waxed by Dallas the other night, so I'll just close my eyes and hope they edge out the Spurs. It's not all that important, I just like watching games in Golden State. It feels bigger and brighter. It's about aesthetics.
Spurs-Warriors really only has one of our essential factors and it's the possibility for Supernova Steph. In the month of April, Stephen Curry is averaging 37.3 points per game, has made 90 threes (NBA record for one month), and is posting shooting percentages of 52.7/47.6/90.1. FORTY-EIGHT percent from three.
Any one game Steph Curry plays in could possibly be the most absurd basketball thing you've ever seen. He is the most unique superstar the league has ever seen. And the Spurs get one game to hold him down. I do not see them doing so. I have Steph and the Warriors winning, and traveling to Portland for a chance at the eighth and final spot in the West.
Portland Trail Blazers vs. Golden State Warriors
Dame v Steph? Yes, please! Do I really need to sell you on this? The only player to come anywhere close to emulating what Steph does, and how he does it, is Damian Lillard. This was the matchup I had in mind when I mentioned star power.
Portland really should win this game. Their roster is healthier, deeper, and more experienced. They don't rely on just one guy to score all their points for them (he just chooses to sometimes). And, even though their defense is pretty bad, they just have to focus literally all of their defensive energy on one guy. And Steph might still be able to pull it off…
That's why you want to watch this game. Because Steph is never out of it. Who you would root for to win? That's a similar story, but I think it's still Portland. Golden State just can't hang with one of those top-three teams for a whole series. I'd prefer to see Portland get another shot with their longtime core.
Eastern Conference
(7) Boston Celtics vs. (8) Charlotte Hornets
No need to explain how we wound up with this matchup. Just some standard jockeying for seeding as the Heat overtake the C's for the 6-seed and Boston is forced to drag their underwhelming season into the play-in games. And who's that they see? No… it can't be! It's Scary Terry, Gordon Hayward, and Gordon Hayward's trade exception! And Kemba Walker is the key to stopping them!
Can any NBA fan in the world, other than Boston fans, tell me this wouldn't be the most hilarious matchup possible? Especially if the Hornets win?? For shame, Boston. For shame.
Boston will objectively have the two best players on the court in this game. But the way Charlotte plays as a team, and all the guys they have that can get a bucket when you need them to, could absolutely take down a dysfunctional Celtics team.
Charlotte has been one of the most fun teams to watch all season long and I just hope it continues in a playoff setting. I need to see LaMelo Ball whipping underhanded passes the length of the floor, Devonte' Graham and Terry Rozier heat checking back and forth, and Miles Bridges dunking dudes into next week. Spoiler alert, I have Charlotte advancing.
(9) Washington Wizards vs. (10) Chicago Bulls
How we got here: The Indiana Pacers, without Myles Turner, spiral out of control while the Bulls stay afloat until Zach LaVine returns from health and safety protocols and propels them to the tournament! It's a long shot but I do not want the Pacers anywhere near this thing. Try to list their starting five. Bet you can't.
Star Power! But on a smaller scale. In the battle of good-stats-bad-team lifers, LaVine and Bradley Beal will be going bucket for bucket and you won't want to miss it. Beal is in a battle with Steph Curry for the scoring title and LaVine sits in sixth place in points per game. The scoring will be fully on display.
Meanwhile, the Wizards also have Russell Westbrook and he looks explosive again. He's also quite possibly the most polarizing player in the league. There are a ton of fans who want to see him succeed with his new team. And there are an equal amount of fans who want to see Washington lose and blame it on some dumb thing Russ did in the fourth quarter. I'm here for the latter.
Bulls win. LaVine scores 50. Bring on the Celtics. Big market basketball!
Boston Celtics vs. Chicago Bulls
I already said it. It's big market basketball, baby! Boston. Chicago. TD Garden. Parquet floor. Fantastic jersey matchup. Let's party like it's 2009. It's the gauntlet of Drew Hanlen clients. LaVine already defeated Beal. Now he's up against Tatum. The buckets, they just don't stop getting got.
I really can't tell you how funny it would be for Boston to lose to Charlotte, given all their aforementioned parallels, only to lose to Chicago after a seemingly minor trade, sending Daniel Theis to the Bulls with a return piece being Luke Kornet.
With a win, the Bulls would make the playoffs for the first time since 2017, when they lost to the Celtics. They would then play as the 8-seed against one of Brooklyn or Philly, whoever wins the regular season, and likely be swept. Maybe Zach steals them a win. Unlikely.
On the other hand, if the Celtics win, they could potentially play Philly. And if recent history is any indication, the 76ers don't want any part of the Celtics in the postseason (insert looking eyes emoji). At this point it's all personal preference who you'd like to see advance. Would you prefer to wake the dormant Chicago fans? Or keep dealing with Boston fans thinking next year is the year it all comes together? And remember, death is not an option.
Buckle Up!
Tuesday, May 18th to Friday, May 21st. Clear your evening schedule. There's playoff basketball afoot!
Follow Us
Head over to Belly Up NBA for your basketball fix as we close out the season and throughout the playoffs. If you're more of an audio person, tune in to The Midweek Midrange on YouTube at 9 PM EST every Wednesday. Lastly, shoot me a follow on Twitter @JMacchitelli23 for article postings and other #sports tweets.