It will be a special weekend at Richmond Raceway, as the track will celebrate its 75th anniversary with the running of the Toyota Owners 400. The NASCAR Cup Series will race on the 0.75-mile, D-shaped oval. The race will be broadcast live Sunday, April 18, at 3 p.m. on FOX. It will consist of 400 laps, with stage lengths being 80-155-160 laps. Martin Truex Jr. will start on the pole alongside teammate Denny Hamlin.
Joe Gibbs Racing Duo Should be up front on Sunday
Denny Hamlin had the dominant car last week at Martinsville Speedway, leading 276 of 500 laps, but his teammate, Martin Truex Jr., passed him with 16 laps to win. Both drivers have had an excellent start to the 2021 season. Hamlin has seven top-five finishes in eight races and leads the point standings. Truex Jr. is the only driver to win multiple races this season and sits second in points.
Like their 2021 seasons, both have a ton of success at Richmond Raceway. Hamlin's three wins at Richmond Raceway are nothing to scoff at, but just one win since 2010 can be worrisome. He had a bit of a rough patch from 2012-2015, finishing outside the top 15 in five straight races. Since then, he's finished top five in six of the last 10 races at the track, including a win in 2016. Hamlin's strong 2021 season should continue at Richmond, and he may pick up his first win of the season at his home track.
Believe it or not, Truex Jr. was once seen as a guy who struggled on short tracks. After going 0-80 at short tracks to start his career, he has won five of the last 12 short track races, including both 2019 races at Richmond. His run at the track is much more impressive when you consider he's lead over 105 laps in six of the last eight Richmond races. That's over a quarter of each race! If not for some bad luck, he could easily have three or four wins at Richmond. Truex Jr. will look to make it back-to-back wins this Sunday.
Penske Racing Duo Looks to Top the Field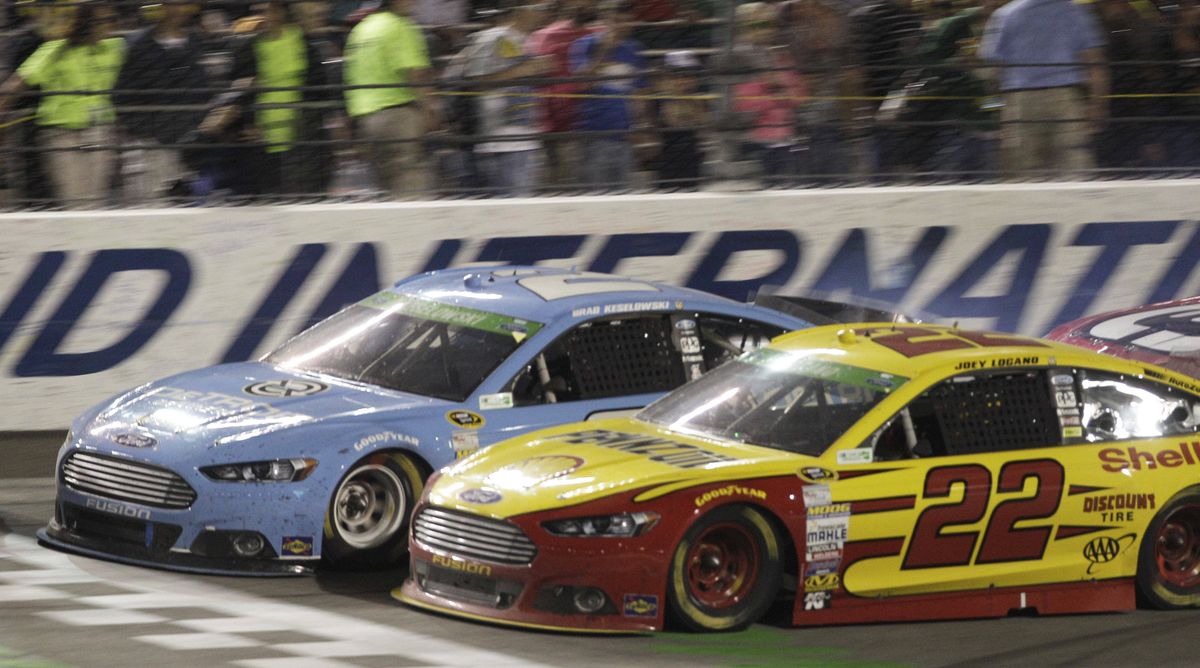 Brad Keselowski has been one of the best drivers at Richmond Raceway over the past few years. Since 2014, Keselowski has finished worse than 11th just once. He has two wins at the track, including last year's fall race. His first win at the track in 2014 was one of the most dominant in Cup Series history. He led 383 of 400 laps in a rout. He's led over 30 laps in the last four Richmond races and should be a threat on Sunday.
Joey Logano's Richmond record looks very similar to Keselowski's. He finished in the top 10 in 11 of the last 13 races at Richmond. A stretch that includes two wins and seven races of 25+ laps led. Logano looks to join Truex Jr. as a two-time winner in 2021.
Past Richmond Winners Look to Jump Start 2021
Kevin Harvick and Kyle Busch have both had a tough start to the 2021 season. The two have combined to lead just seven laps since the Daytona 500. Harvick sits eighth in the point standings, with Busch in 11th. That's not something you'd expect from two past champions.
Richmond Raceway is the perfect place for Busch to capture a breakthrough victory. His average finish of 6.8 is best at the track among active drivers. He also leads active drivers in wins, top-five finishes and is second in both top 10 finishes and laps led at Richmond. His most recent wins at the track came in 2018. If nothing else, Busch needs a top-five run to boost his confidence.
Harvick ranks top three in all the major stats among active drivers at Richmond, including the most top 10 finishes with 26 in 39 starts. While it has been eight years since Harvick last won at Richmond, he's been close to winning again. He's finished top-five and led laps in eight of his last 12 races at the track. Like Busch, he needs a strong run to show everyone he's a championship threat.
Final Thoughts for Richmond
Richmond Raceway seems to be one of those tracks that favor drivers with more experience. Tires can wear quickly at Richmond, so drivers that manage their tires the best will be up front when it counts. Joe Gibbs Racing and Penske Racing should be at the front but don't be surprised to see Hendrick Motorsports on top when the day is over.
For more great NASCAR content, follow me, and visit Belly Up Sports for more great sports content!