The day has finally come! We can all stop complaining (briefly) about the gaps in our rosters, in the hopes that our favorite GM makes a splash. People, it's NHL trade deadline season.
Now, there are a LOT of factors playing into both this NHL trade deadline and just the season in general. We are obviously – still – in the midst of a global pandemic; meaning that teams have faced significant roster woes with health and safety protocols, the season is shortened from 82 to 56 games, and the divisions are realigned. EVEN WITH THIS, we have seen some incredible competitiveness – and fans are eager to see some roster moves. Because of COVID-19 and it's financial ripple, the NHL salary cap will remain flat at $85.6 million next year. Meaning, teams will not have any ADDITIONAL money to re-sign players, or bring in additional talent. But, it could be worse…
It's ironic to see NHL fans complain about the league keeping a flat salary cap for a couple years while watching the NFL drop theirs for next season.

It could be worse, it could be so much worse.

— ⓃⓞⓅⓤⓒⓚⓢ (@afewpucksshort) March 10, 2021
Now, down to the dirty details. We are going to take a look at the realigned East Division (the MassMutual East that is). These teams are much more likely to consider trading within the US, because players must quarantine for two weeks to cross in or out of Canada. Some moves have already been made in the division, and some are pending. One good thing about the pandemic (and there aren't many), is that players who are likely going to be traded have been pulled from the lineup to quarantine. This gives us a great inkling into something coming. Let's dive in, shall we?
1. New York Islanders – 56 Points
The Islanders remind me a lot of the Brooklyn Nets or the Tampa Bay Buccaneers – they already HAVE a championship caliber team, but they do everything they can to bolster the roster until the last possible second. Earlier this week, they traded for Travis Zajac and Kyle Palmieri from the New Jersey Devils, and got an absolute steal.
It did not take long for Palmieri to make himself at home either. He and Zajac were seen on ice in Long Island the NEXT DAY, and Palmieri even had time to get a makeover.
Kyle Palmieri's Islander glow up truly is something #Lou pic.twitter.com/7yTShI235c

— Emily Kaplan (@emilymkaplan) April 8, 2021
It's safe to say Palmieri is happy with his new location, and a potential cup contender at that. But what should the Islanders do with the rest of the deadline? They are likely to search for any other cheap bolstering. It doesn't hurt Lou Lamoriello to make a simple phone call and check out an asking price, right? But, it's going to get VERY annoying if they sweep more top names off the NHL trade deadline market, knowing they don't have a huge need.
NHL Trade Deadline Verdict: (Desperate) Buyers
2. Washington Capitals – 56 Points
The Washington Capitals are an enigma. They're freaking OLD, but they are showing absolutely no signs of slowing down. They seamlessly transitioned to a new goaltending core following Braden Holtby's departure, and their offensive consistency is incredibly underrated. With that in mind? If it ain't broke, don't fix it. If you play fantasy sports, you know that roster tinkering can be the death of your team – in comes Brian MacLellan. The Capitals really don't have a ton of need, or cap space, to make significant changes. They just placed Richard Panik on waivers to make a little space, but they won't make a big splash like others. Hell, the Capitals are even making Chara look fresh right now.
NHL Trade Deadline Verdict: Stay Put
3. Pittsburgh Penguins – 54 Points
The Penguins being in third place is an absolute anomaly that we should not just sit back and ignore. They're on an offensive hot streak, but that's it. They, along with the Capitals and the Islanders, hold FOUR games in-hand on the Bruins, who sit in fourth. Although the Penguins have certainly proven that they can play with the big boys in the East, they have significant gaps.
The Penguins have allowed 15 goals in their past two games.

They allowed 15 goals in the nine games that preceded this wretched two-game stretch.

— Seth Rorabaugh (@SethRorabaugh) April 7, 2021
I should probably just flip a coin to decide whether I want Ron Hextall to get a new goalie or completely overhaul the defense, because he surely cannot do both. Realistically, the Pens can survive with Jarry and DeSmith if they get some help at the blue line. But, to get the help they need, they'll need to part with something on offense. The Penguins pride – their LIVELIHOOD – is built around Sid the Kid and that offense. But, imagine the return they get for shipping Malkin out the door. The NHL trade deadline market right now is actually primarily defensemen; its perfect for Hextall if he gets aggressive. Hextall hasn't been on the job long; if he's skiddish, Pittsburgh isn't going far in the playoffs.
NHL Trade Deadline Verdict: Buyers
4. Boston Bruins – 48 Points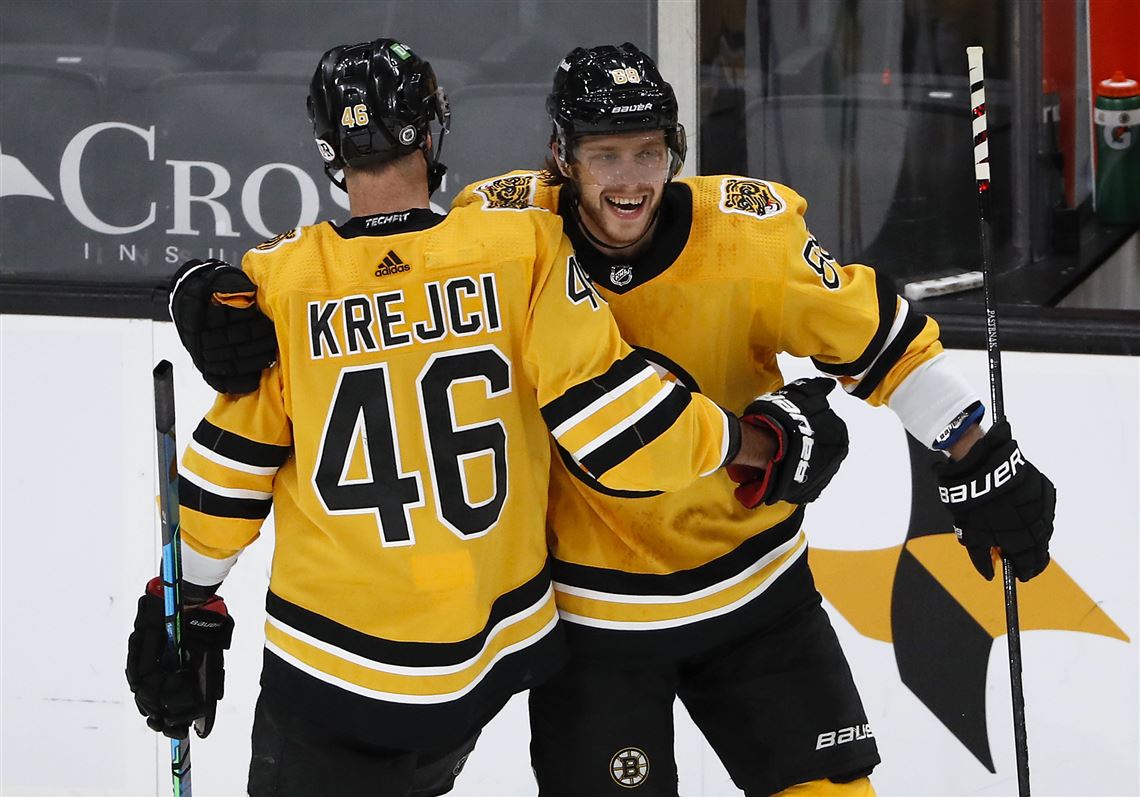 The Boston Bruins have SO much promise, but so much risk. After losing Zdeno Chara and Torey Krug to free agency, the B's blue line is incredibly young; they only have TWO defensemen on the roster over 30, and FOUR under 24. They have surprisingly held their own more than most expected, and a lot of their issues are more with regard to consistency than anything else. Patrice Bergeron is starting to show his age, David Pastrnak has not been as productive as last season, and the fourth line is a carousel of Providence Bruins prospects. The B's need Don Sweeney to be aggressive, no rentals and no "maybe" players. They have plenty of maybe players. I am about to enter hot take CITY, but hear me out.
Imagine if Don Sweeney wanted to cause ultimate chaos at the trade deadline lol pic.twitter.com/H7TWIVyLWe

— Petrov McGuire (@McguirePetrov) April 7, 2021
Rask has been a point of controversy since the failed 2013 cup run. His consistency is weak, and it's primarily mental. There have been retirement rumors swirling even BEFORE this injury sidelined him, and now Jeremy Swayman and Dan Vladar have come from Providence looking incredible. Granted, I don't want to call Swayman a star only two games in, but he's saved 71 of 75 shots in his first two ever NHL games. There is hope. Where am I going with this? It's time to shop Rask to a goalie-desperate contender. Keep Halak on the roster for emergencies, but Rask IS the big trade piece you need. I have argued in the past that I wouldn't mind seeing David Krejci head out either, but they won't get the return they need for Jake DeBrusk, who has been the point of trade rumors for weeks. Rask lovers, it's time.
NHL Trade Deadline Verdict: Big Buyers
5. New York Rangers – 43 Points
The Rangers are like the fly in your apartment you can't kill. They won't f***ing go away, and keep screwing with the standings. People didn't expect much from the Rangers this season, so their resurgence as a potential playoff team is a shock. With that in mind? The NHL Trade Deadline is an ABSOLUTE gamble for the Rangers. They are a young team, and will 100% be cup contenders in three or four years. But do they rush it now? I mean I guess if they could snag the fourth seed they could MAYBE beat the Caps in the first round with a stroke of luck, but it's literally roulette. If the Rangers can get some subtle moves to bolster what they already have, I'm fine with that. But, if they give up big assets to roster tinker, they're making a mistake.
NHL Trade Deadline Verdict: Buyers, ONLY if the opportunity is right.
6. Philadelphia Flyers – 42 Points
The Philadelphia Flyers are in a tough spot right now. Their roster really didn't change all that much since their hot streak last season, but they look awful. Like, really bad. They are letting up goals left and right, their consistency sucks, and their offense isn't anything to call home about either. So, where is Chuck Fletcher to start? Well, I am so glad you asked.
Continued criticism from many toward Carter Hart for this #AnytimeAnywhere season, while some supporters argue he's only 22 y/o.

Jeremy Swayman makes his 2nd ever #NHL start for #NHLBruins tonight, looking great. Many argue he and Vladar are the future for the B's, his age? 22. pic.twitter.com/fcxir15kfh

— Slapshot Sweethearts (@SSweetheartsPod) April 8, 2021
GOALTENDING IS NOT YOUR DAMN PROBLEM PHILADELPHIA. Phew – now that I've gotten that off my chest, your defense is pitiful and it was a point of concern even BEFORE Carter Hart regressed. It is so easy to blame the goaltender when your goals against is bad, because they are the last line of defense. The blue line needs help, and the Flyers need to move on from the Giroux/JVR/Voracek core.
Never forget: in 2017-18 – the season which Giroux had 102 pts, Voracek had 85 pts, Couturier and Provorov broke out, Ghost had 65 pts and Simmonds scored 24 goals – the #Flyers trade deadline acquisitions were Petr Mrazek and Johnny Oduya.#anytimeanywhere

— Anthony Di Marco (@ADiMarco25) April 5, 2021
It's not 2017 anymore folks! I'll preface by saying those three guys do lead the team in points, but with 30 points. Their pace is declining, and the Flyers core is feeling the decline. Giroux's cap hit? NINE MILLION DOLLARS. Get that off your bill. In terms of what they should look for, their defense is absolutely desperate for a revamp, and damn would Carter Hart love some SUPPORT at the blue line. Brian Elliott is facing the same issues as Hart, so it clearly isn't just him. Chuck Fletcher has a critical decision to make – do the Flyers want to make a push for that fourth seed and hope the Bruins decline, or sell off some assets? The latter makes more sense.
NHL Trade Deadline Verdict: Sellers
7. New Jersey Devils – 34 Points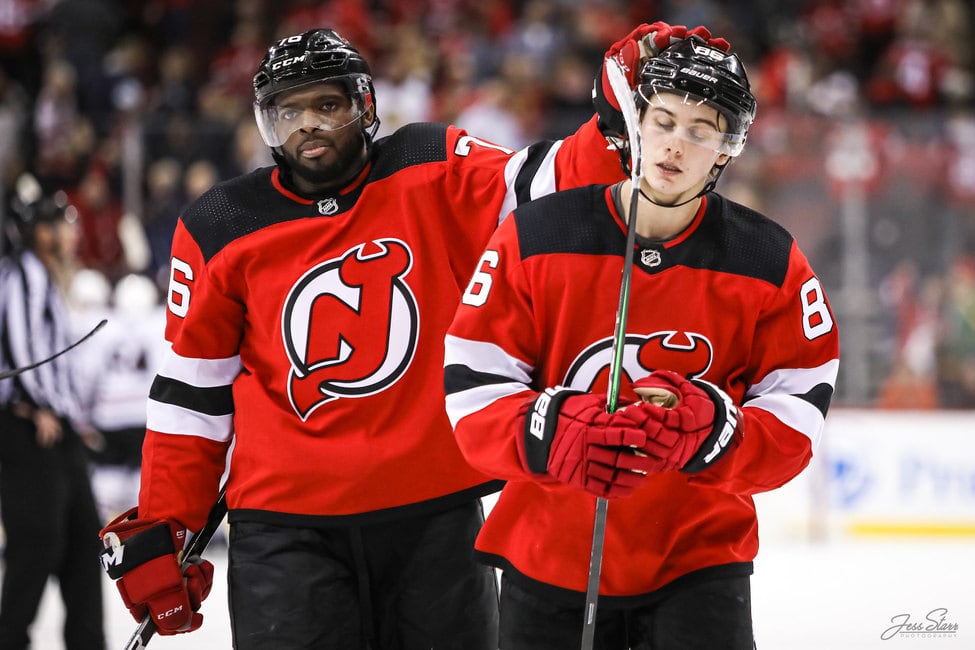 The Devils are so FRUSTRATING. This comes primarily from emotion, as I chose them to be my dark horse this season. But why are they frustrating? They, like the Rangers, are the pesky team the top East teams can't get rid of. The Bruins have won ONE of the four matchups against New Jersey so far this season. They showed signs of potential, and then couldn't keep it together. The only consistency in their competition is the Twitter war between the NJ Devil and Gritty.
It no longer him

hashtag magic #NJDevils pic.twitter.com/qN54FzaxjU

— NJ Devil (@NJDevil00) January 27, 2021
All kidding aside, the Kyle Palmieri trade with the Islanders really showed that they aren't ready to get out of their rebuild. If I am Tom Fitzgerald, I am selling off a few more things that I can get a return for before their value dissipates. Prime example? PK Subban. PK hasn't been the same since Nashville, but I don't think its a lack of talent – he really needs the motivation of a strong team, fan base, and winning energy. All of which the Devils are still trying to develop. He is not the leader the Devils hoped he would be, so they should be shopping him and others for a return before PK is old and costs too much.
NHL Trade Deadline Verdict: Sellers
8. Buffalo Sabres – 24 Points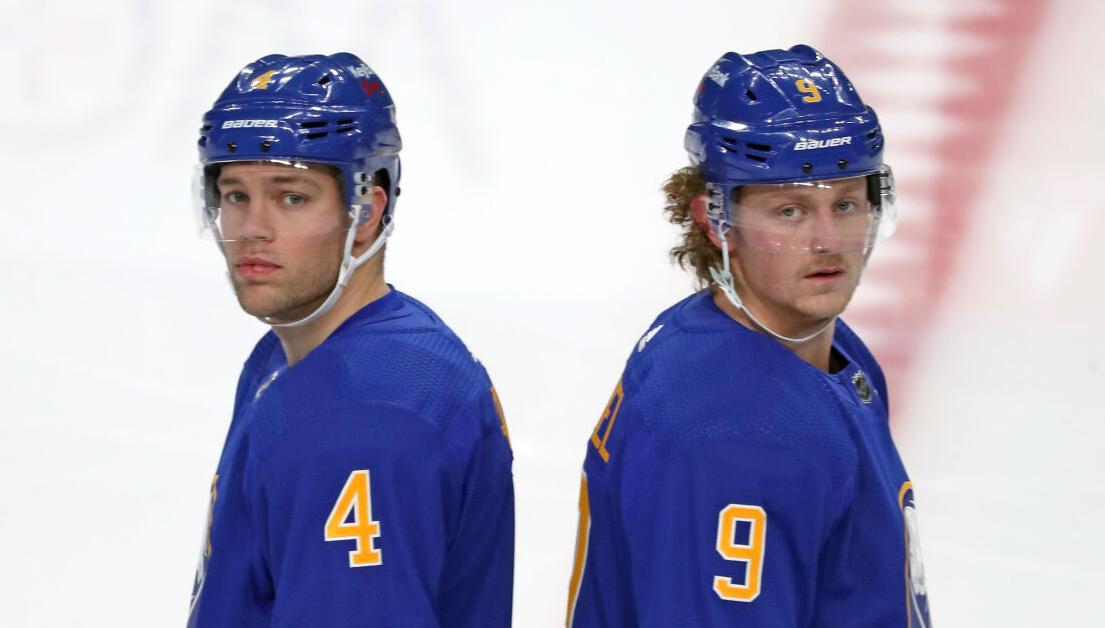 I saved the best for last! The Buffalo Sabres are like the trash reality tv we watch to get embarassing entertainment. They HAVE talent on their roster, but its not meshing together. At all. Jack Eichel, Taylor Hall, Sam Reinhart – you see these names and are befuddled at their 24 points this season. The Sabres will be selling at LEAST Taylor Hall at the deadline, he has been sidelined for quarantine and injury protection. Jack Eichel has also been shopped, but Buffalo is almost putting themselves on a pedestal they don't deserve; asking ASTRONOMICAL prices for these players.
Hearing that the initial asking price for Taylor Hall involves a first-round pick… Probably going to be tough to get that in this buyer's market but it's the right place to start two weeks out if you're Buffalo. @TheAthletic @TSNHockey

— Pierre LeBrun (@PierreVLeBrun) March 26, 2021
Who the hell do you think you are, Buffalo!? The asking price for Jack Eichel was rumored to be even higher, but analysts seem to think they'll hold off on Eichel until the offseason. The Sabres have SAID they will be trading Hall at the deadline, and they're out here asking for first rounders?! If I am Buffalo with my measly 24 points, I am selling off whatever I can to get prospects and picks. Does it need to be a first rounder? NO. You aren't going to get a freaking bidding war for Taylor Hall, there are plenty of other forwards to look at.
NHL Trade Deadline Verdict: Sellers
Well folks, we made it. The trade deadline is just days away, and the shoe could drop on your team's move at any moment. Make sure that you put your Twitter GM cap on and let me know who you want your team to look at before Monday.
Want more piping hot takes from the hockey world?! Be sure to give me a follow @swalshy63 on Twitter and follow my hockey podcast @SSweetheartsPod!