It's been a really poorly kept secret that Patriots coach Bill Belichick has been staring down quarterback Jimmy Garoppolo this off-season. Dating back to early in the new league year, the Patriots had been actively pursuing the 49ers signal-caller. After a 7-9 season with Cam Newton under the helm, who could blame the Pats?
On paper, this is a fantastic move for New England. Jimmy Garoppolo was an effective starter in 2019 and has been hampered by injury two of the last three seasons. It's clear that Kyle Shanahan wants to move on. It was made ever more clear to the public after they traded a king's ransom to move up to the third selection in the first round of tonight's NFL Draft. They're expected to take one of the remaining quarterbacks on the board when they're called on at about 8:30 PM EST. Since that move, Jimmy G's name has circled the NFL trade rumor factory, and there seems to be a consensus that Belichick would like to rekindle his long-lost love. Though a deal hasn't been agreed upon just yet.
The sources are conflicting all over Twitter. Last night there were reports that the Pats were working on a new contract for Garoppolo and a deal would take place soon. Later on, Jeff Howe of the Athletic and Mike Reiss of ESPN Boston claimed that there was nothing going on between the two teams. The smoke screens have become almost unbearable for Patriots fans who just want to get their former prodigy back in Gillette Stadium. They've been left without a future since he was traded in 2017 for a second-round draft choice.
Is There Real Interest?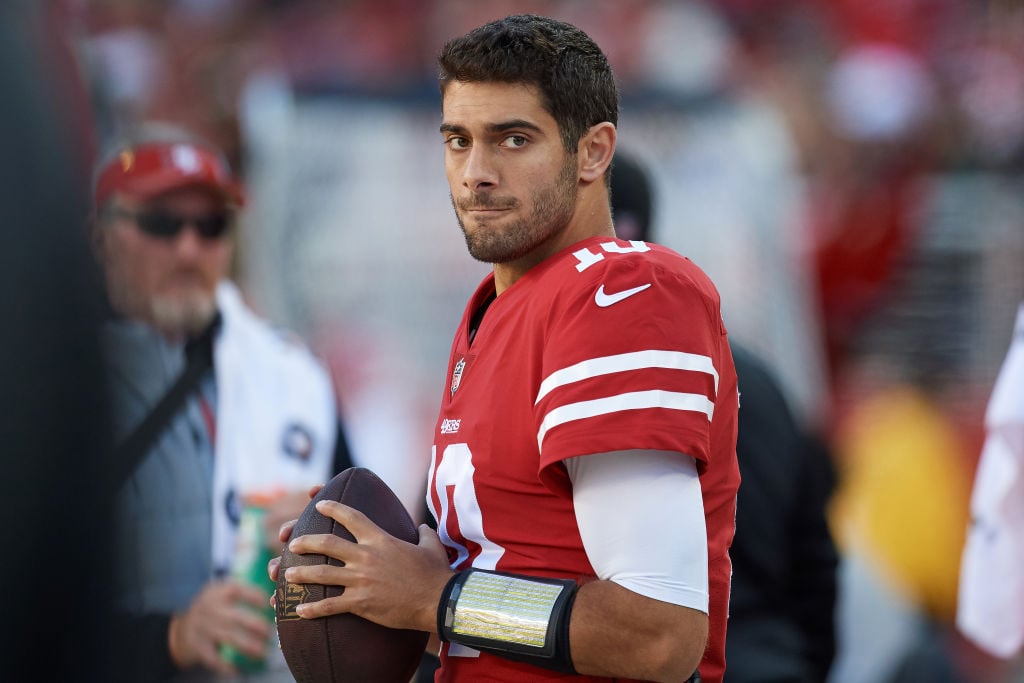 As of right now, it seems as though there's definite interest from Belichick's party. But they aren't going to give up their 15th overall pick for a 29-year-old quarterback who has had an ACL tear and an aggravated sprained ankle in his three full seasons in the Bay Area. Hell, their second-round selection (46) may be asking for too much. The Patriots have been rumored to be calling teams in the top ten to even trade up, possibly for Ohio State QB Justin Fields.
As for Shanahan and the 49ers, they aren't desperate to move off Garoppolo. Even with taking one of the top quarterbacks in this draft. As it stands today, they're reportedly unlikely to trade or release Garoppolo any time soon. Pending of course a deal that cannot be refused. It seems as though if the Patriots want to get their former heir apparent, they will either have to overpay or remain patient. And I think the latter is the best choice for the future of the Patriots franchise.
Why They Should Stay Patient
Listen, I've been as big of an advocate for the reunion of the Patriots and Jimmy Garoppolo as anybody in this sports world. I'm sure you could do some rummaging on my Twitter and find at least a dozen tweets in the last three months calling for it. Though it wouldn't be wise to give anything more than a third-round selection and some change today for Garoppolo.
The Patriots aren't as desperate as they may seem. As poorly as Newton played last season, that could be chalked up to several different variables. He was signed in July and didn't have enough time to get acclimated to the offense. He caught COVID-19 just ahead of a week four matchup with Kansas City. The wide receiver and tight end talent were absolutely unbearable last year. A second chance for Cam Newton is absolutely in play for New England. Jimmy Garoppolo would absolutely be an interesting change of direction, but it's not necessary.
Final Thoughts
If Belichick is hellbent on bringing back his former prized possession, I say do it. Just not now at the price that the 49ers have on him. They can remain patient for the 49ers to decide that they're ready to move off of the former Patriot. There's no real market for Garoppolo, as the Patriots seem to be the only rumored trade partner. If Jimmy G is going to be moved, it's going to be back to Foxboro. It certainly is a long time coming, but better late than never if it is to be. But the Patriots don't need to be guns blazing.
It also doesn't mean that they should not pursue trading into the top 10. If Belichick loves Justin Fields and he slips like it's been rumored? Throw the Garoppolo plan out the window and make the moves necessary. But we never truly know what the Patriots will do. This off-season has been very much against the Belichick normality. Instead of being frugal and cheap with spending, Belichick bought in. The Patriots were huge spenders this off-season, and it wouldn't shock me if it was capped off this weekend at the NFL Draft. But Garoppolo shouldn't be the big buy, not for the gold that the 49ers are asking.
If you enjoyed this content, or hate it and want to argue with me, follow me on Twitter @KalebEmcee! Feel free to check out the work I do on Foxboro Beat! Also, read up on the rest of the NFL content Belly Up Sports has to offer here!