The New England Patriots are in a situation they haven't been in since 2011, they're picking in the top half of the NFL Draft. They hold a roster that has only recently obtained its offensive star-power. In free agency, the Patriots went all out and signed the two top tight ends on the market in Hunter Henry and Jonnu Smith. They also bolstered their wide receiver depth bringing in Nelson Agholor and Kendrick Bourne. It also seems like they kept the best part of their offense, for the most part, intact in the offensive line. Trading for offensive tackle Trent Brown and re-signing center David Andrews gives this unit flexibility, which would allow Joe Thuney to cash in on a 5-year, $80M contract with the Kansas City Chiefs. Also keeping running back James White will prove to be huge for this Patriots offense.
Their defense remains relatively intact as well, only losing one key starter in safety Patrick Chung to retirement. Otherwise, they brought back plenty of names such as Lawrence Guy and Kyle Van Noy. As well as witnessing a return of Dont'a Hightower to bolster the linebacking unit. New signings include edge rusher Matt Judon from the Ravens, linebacker Raekwon McMillan from the Raiders, and defensive back Jalen Mills from the Eagles.
There aren't a whole lot of holes on this Patriots team that weren't filled with attention through free agency, but there are still needs to be met and talent to be added. There are plenty of options for the Patriots at pick 15, just where will they attack first?
Spoiler Alert: It Won't Be A Quarterback
I know the Patriots fans are punching the air when it comes to the quarterback situation. Cam Newton has been re-signed on a similar 1-year incentive-based contract that he had last season when first coming to New England. Although they did make a push at soon-to-be Alex Smith'd Jimmy Garoppolo of San Francisco. Though it didn't pan out how the folks hoping for a reunion had foreseen. I am a firm believer that Newton will be the Patriots signal-caller come week one.
There are a few reasons. For one, the first three selections of this draft are all but locks for a quarterback. Then come the Falcons at four who are looking to trade to a quarterback-needy team. Plus the Broncos are ahead of us at pick nine. The Patriots will need to leapfrog to at least pick seven (the Detroit Lions) to get their hands on even one quarterback. That's not usually Belichick's mantra when it comes to the draft. Though this entire off-season hasn't exactly been typical Bill Belichick. So we can't really count it out, but I'm pretty comfortable saying we won't have a chance at any of Mac Jones, Justin Fields, or Trey Lance.
Option 1: EDGE Kwity Paye, Michigan
What's up with the New England Patriots and Michigan edge rushers and linebackers? Chase Winovich in 2019, Josh Uche in 2020, and now they may bring the whole gang back together with a potential selection of 22-year-old senior Kwity Paye.
A New England native, Paye is a gadget front seven player who can play both inside the tackles and out on the edge. He's a solid pass rusher and he can set the edge of the run game, something the Patriots desperately lacked in recent years boasting bottom half rush defenses two seasons in a row. Paye had a team-leading 12.5 tackles for loss and 6.5 sacks in 2019. He was also named team captain of Michigan in 2020, although only playing four games (missed two due to injury). Winovich has been solid and Uche has shown some decent upside that could be untapped in his second year. If the well ain't dry, don't stop going to it.
Option 2: Cornerback Jaycee Horn, South Carolina
The only thing that's unfortunate about drafting Jaycee Horn from South Carolina, is that it signals the end of fellow Gamecock, former defensive player of the year Stephon Gilmore. Though if you're getting somebody like Horn, you can't complain. Horn is a 21-year-old three-year starter and son of former NFL player Joe Horn of the New Orleans Saints. He collected two interceptions last season and led the team in passes defended in 2020 for South Carolina. As well as being named on the Second-Team All-SEC. Horn is a fantastic pick at 15 should he fall and will instantly remind fans of Stephon Gilmore. A competitive and physical corner who will set up the Patriots secondary for years to come alongside J.C. Jackson if he is re-signed.
Option 3: Wide Receiver Jaylen Waddle, Alabama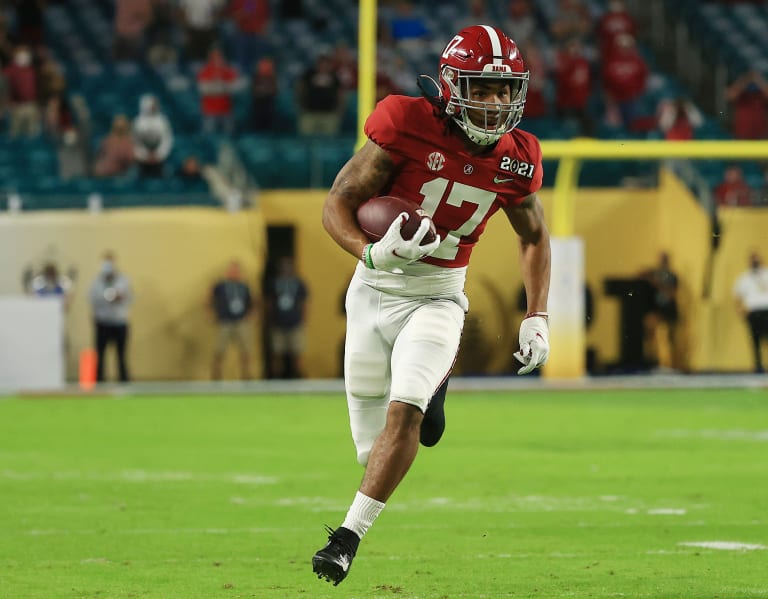 I know most may prefer Jaylen Waddle's counterpart in Devonta Smith, and I can't blame them. The Heisman Trophy winner is everything you want in a big-play wide receiver, but Waddle was no slouch either during his time at Alabama. The speedster was buried on a deep 'Bama depth chart for most of his tenure but exploded when given the opportunity. If Mac Jones needed to send a bomb to somebody deep, Waddle was just as likely to burn his man with just outright speed and acceleration as Smith with his route running savvy.
Waddle is certainly a project type. His route running has room for improvement and his size certainly is put into question, but do you say no to a prospect if his ceiling is comparable to Tyreek Hill? I'm sure Patriots fans are put off by the notion of Belichick taking a wide receiver early. It hasn't worked out since Deion Branch in 2002. But Belichick hasn't had this opportunity yet and is reportedly trusting his scouts to do the work. Waddle is a fine player at 15 if his ankle is fully healthy, and will provide a big-play element this Patriots team hasn't had since Brandin Cooks flashed in the pan during his one-year stint with the team in 2017.
Option 4: Linebacker Zaven Collins, Tulsa
Zaven Collins is a prototypical Patriots linebacker. A consistent, versatile player who can play in both a 3-4 or a 4-3 set up who hardly left the field during his time at Tulsa. He collected 11.5 tackles for loss and 4 sacks in 2020 and was named AAC Defensive Player Of The Year. He's also not too bad at snagging the occasional interception as seen here in the photo above. Though he may be a slight reach at pick 15, draft experts say he's sneaking his way up draft boards as time goes on and has been a semi-popular selection for the Patriots. If the Patriots are at all considering a Dont'a Hightower replacement for the future, Collins could be the guy.
Option 5: Wide Receiver Rashod Bateman, Minnesota
If I couldn't sell you on Waddle, let me try with the other outside receiver on the board. Rashod Bateman is an extremely polished route runner that can do just about anything the coaches ask. Though not a guy you want to be throwing jump balls, Bateman can get himself open through his speed and savvy. He catches well in stride and is another big-play type of receiver, just not in the same way as Waddle is as the route running is the strength with Bateman.
In his three-year career in Minnesota, he caught 147 passes for 2,395 and 19 touchdowns. 2020 was a down year obviously due to COVID and he only played five games. But in 2019 he boomed for 60 catches for 1,219 yards and 11 scores. Bateman is another guy who needs some fine-tuning. He lacks the burst needed at an NFL level and should develop his ability to catch those contested balls with corners draped all over him. But his route running savvy alone makes him a worthy selection at pick 15.
In all honesty, I truly believe it's more likely than not the Patriots trade out at 15 and either give up the premium to go up to pick seven and maybe take the last quarterback left or trade down in Belichick fashion. Either or these are some of the prospects I feel the Patriots should consider if they stay at 15. But what do you think? Who are some of your favorite prospects for the Pats at 15? I'll be reading your comments.
If you enjoyed this content, or hate it and want to argue with me, follow me on Twitter @KalebEmcee! Feel free to check out the work I do on Foxboro Beat! Also, read up on the rest of the NFL content Belly Up Sports has to offer here!