Boxing is one of the world's oldest and historic sports. It has provided endless moments and memories that have shaped our lives as fans. While boxing is a science that is sweeter than Sunday morning, each bout can take years off your career. A pugilist career expectancy is not long. Boxing is definitely a young man's game. Recently, that has been evident with all the young stars that are making a name for themselves. Usually, young fighters are considered up and coming. They are usually brought along slowly and protected until they feel they are ready for the tougher competition. I guess someone forgot to tell Teofimo Lopez, Shukar Stevenson, Devin Haney, and David Benavidez. That is why I am crowning them leaders of the new school.
Teofimo Lopez, 23
Teofimo Lopez isn't an up and comer. He isn't the future. Teo is the now. He is the youngest four-belt champion in history. His ring name is "The Takeover," and boy, does that name fit. If you don't believe me, ask Vasyl Lomachenko. Lopez has been on fans' radar for a few years. As the New York native was making his ascent to the top, he was known for his flash after the fight with his backflips. You knew he could fight, but he really caught everyone's eye with what he did to Richard Commey.
Then the young buck did the unthinkable. He called out the most feared man in boxing at that time, Vasyl Lomachenko. In October 2020, they met, and he dominated the pound-for-pound, best fighter on the planet, and he did it convincingly. I will admit that I was shocked that night. Now that he is the man who beat the man, he has a new opponent. He is currently at odds with his promotion, Top Rank Boxing. His next fight will be on June 19th on Triller. That decision created a bigger riff with Top Rank. No matter where Teo lands, I hope we can see him on a three-time-a-year basis.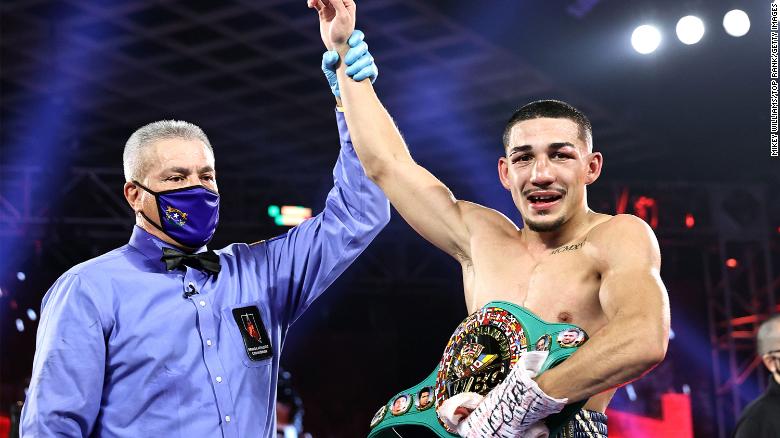 Shakur Stevenson, 23
Shakur Stevenson is a star. Stevenson has it all. He has the skill, he is a great talker, and he has a million-dollar smile. Shakur also has an amazing mentor with one of the best in Andre Ward. Stevenson exploded onto the national and global stage during the 2016 Olympic games. In Rio, the New Jersey native capture the silver medal. Since turning pro, the 15-0 fighter has captivated the boxing world with his fearlessness of tough competition. He wants to fight the best and isn't shy about letting you know. He, too, called out the feared Lomachecko when others were afraid of him. This young phenom is also signed to Top Rank. I hope they mend the relationship with Teo Lopez, and we get this fight ASAP!
Devin Haney, 22
This Bay Area beast has taken the lightweight division and boxing by storm. His first few fights as a pro were in Mexico because he was only 17 when he became a pro. Haney, is that fighter we always talk about when wondering, will he get that big fight? We may continue to talk about it because nobody is signing up for that drama in the ring with him. Eventually, someone will have to see him, but not sure who wants to be first.
Known as "The Dream," he has been more of a nightmare to his opponents, with 15 of his 25 wins coming by knockout. We all know the political landmine of boxing when it comes to making the best fights possible. Haney is signed with Matchroom Boxing, so getting that "dream" bout with Lopez may not happen soon. Money talks, so eventually, that fight will have to be made. His next fight is against a credible Jorge Linares on May 29th. I know where I'll be that night.
David Benavidez, 24
What more can you say about David Benavidez. This Phoenix breed fighter is a walking highlight reel. 21 of his 24 wins have come by knockout. He is already a two-time super middleweight champion, and he is only getting better. Like the other fighters mentioned, there isn't a long line to fight him. Known as "Bandera Roja," Benavidez often makes his opponent's face, eyes, and mouth rojo after fighting him.
Because of his power and huge Mexican fan base, Benavidez is on pace to be a box office draw and pack out arenas and stadiums for years to come. Canelo Alverez is on a mission to dominate everything above 160 pounds. If he plans to do that, he will have to see this young man. I personally can't wait. The undefeated star's biggest opposition will be his lack of discipline out of the ring. I enjoy Benavidez, so let's pray he can stay focused and be the megastar we know he can be.
Conclusion
The landscape of boxing looks bright for years to come, with these fighters leading the way. I am excited about all the potential matchups. American crooner Keith Sweat once coined the lyrics "you may be young, but you're ready," and these young men are definitely ready for destruction!
Several other young fighters were left off my list, like Ryan Garcia, Vergil Ortiz, Jarron Ennis, and Elwin Soto, to name a few. I fully expect to hear from my boys Perry C and Kell S to shoot holes in my selections. I purposely left Tank Davis off, and I know my father will have words for me on that. Leaders of the new school are what these fighters are. If you disagree, please leave a comment, and we can further discuss. I figure I'll have to write a part two on this subject.
Don't forget to follow me on Twitter https://twitter.com/cboyd0, and take a look at more in-depth analysis https://bellyupsports.com/ has to offer!