The NFL Draft has come and gone. 259 players' dreams have come true and they are going to be able to compete for an NFL roster spot. Even more will get the opportunity as undrafted free agents as the weeks go by until training camp begins in July. The Patriots selected eight total players in this draft, making only one trade. A jump in the second round with the Cleveland Browns to select defensive tackle Christian Barmore. It was certainly an uncharacteristically aggressive draft for Bill Belichick and company. Though after a 7-9 season and an aggressive free agency, this was the only way to top it all off. Let's evaluate how they did, shall we?
Round 1, Pick 15: Quarterback Mac Jones, Alabama
I spoke a little more in-depth on the Patriots heir apparent on Friday morning after he was selected with the Patriots' first-round selection. But I'll happily repeat the same thoughts I had in that piece. He's a solid value selection at the 15th pick. It also helps that it seems like Mac Jones was Bill Belichick's guy from the jump. It's hard to see him starting his first season, Coach Belichick even said "Cam is our quarterback" emphatically for the 300th time after selecting McCorkle Thursday night. But he could turn out to be a really solid 10-15 year starter for the team with the right development.
Final Grade: B+
Round 2, Pick 38 (via CLE): Defensive Lineman Christian Barmore, Alabama
Some might argue his scheme fit, but Christian Barmore should provide instant relief from the loss of defensive tackle Adam Butler for the Pats defense. He's an athletic pass rusher and should be able to get after the quarterback, even if inconsistent at times. With development and patience, the Patriots could develop the top defensive lineman in this class into a player worthy of the trade-up they gave to the Browns to get to this selection. He'll play alongside Lawrence Guy in the trenches, and hopefully, take notes to become a top-end defensive tackle.
Final Grade: B
Round 3, Pick 96: Edge Rusher Ronnie Perkins, Oklahoma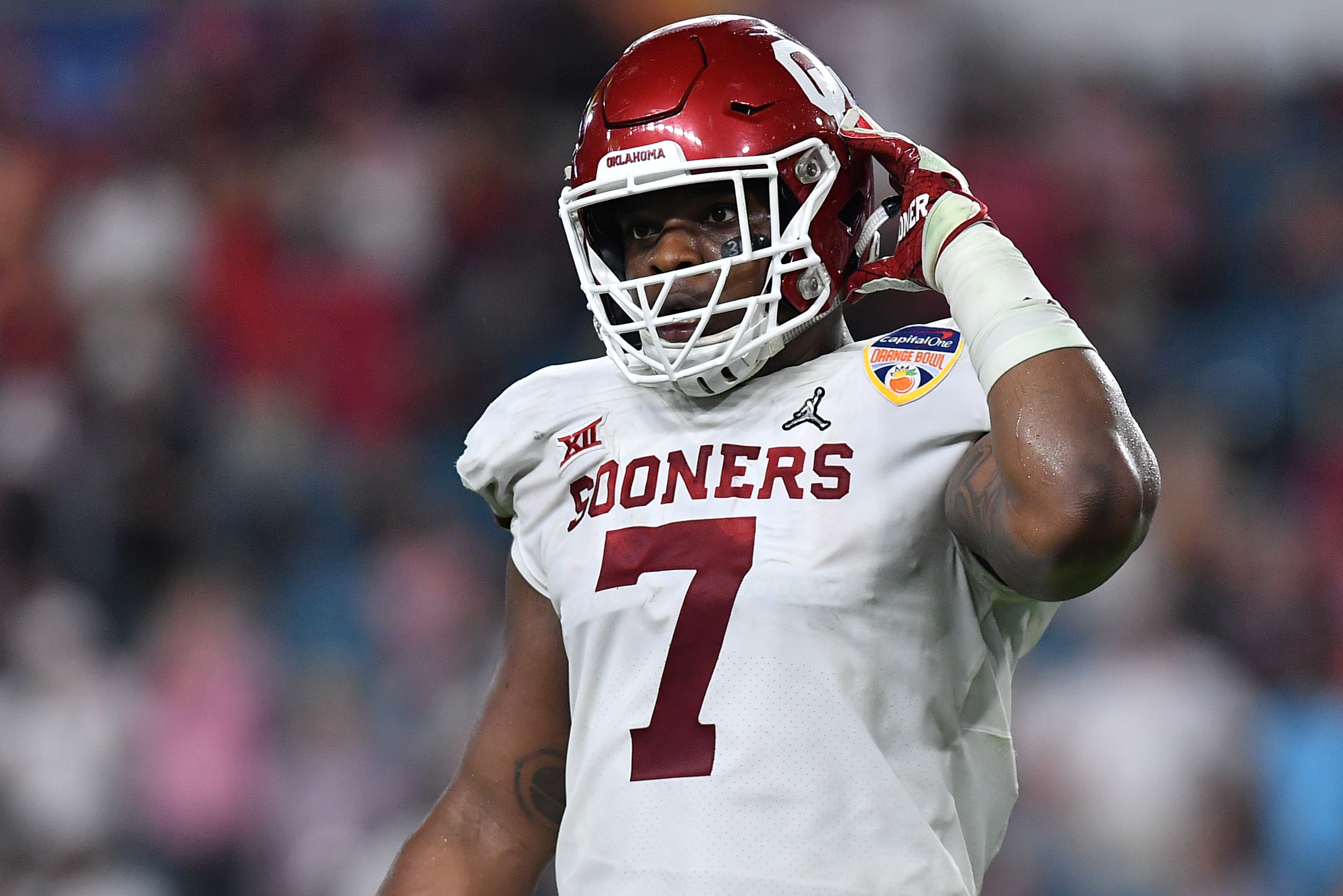 This was an absolute steal. A 2nd round talent in Ronnie Perkins slipped all the way to the end of the third and for once it felt, Bill Belichick finally saw some value in a player that was slipping. Perkins is an explosive pass rusher that is going to give signal-callers hell for years to come with proper development. Recorded 32 sacks and 16.5 tackles for loss in his time at Oklahoma. The Patriots' edge is now fully operational if Perkins is able to fully embrace his potential and will be a monster alongside the rest of the up-and-coming front seven.
Final Grade: A
Round 4, Pick 120: Running Back Rhamondre Stevenson, Oklahoma
At first, I scratched my head at this selection. The Patriots go for Rhamondre Stevenson in the fourth round, even though running back is a deep position on their depth chart. With Damien Harris, Sony Michel, James White, and Brandon Bolden all ahead of him, it'll be tough for Stevenson to see day one playing time. But he does offer something the rest of the backs can't; he's huge. Stevenson, if the Patriots get the most out of him, will be a whole lot like LeGarrette Blount in the backfield when he came here in 2013 and won two Super Bowls.
Stevenson rushed for 1,180 yards in his time at Oklahoma, and if it wasn't for a failed drug test it probably could've been a whole lot more. If Stevenson can learn to use his size to his advantage and stop playing so small, he'll be solid value here in the fourth round. He's just going to need a ton of work and wasn't exactly the slam dunk pick we all had hoped for.
Final Grade: C
Round 5, Pick 177: Linebacker Cameron McGrone, Michigan
A big part of why Cameron McGrone is still here is because of his knee injury. McGrone suffered a torn-ACL in November of 2020, but Belichick selects the Michigan man anyway saying; "We're prepared certainly to not have him available this year, but we'll have to wait and see how that goes. There are no false expectations here." McGrone was a solid defender on Michigan. He moves all around the field and he is quick in his decisions. The only problem is that McGrone has suffered two season-ending knee injuries in the past and for a smaller linebacker, that could be detrimental to his transition into the NFL. He's an interesting selection here and will help out a thin linebacker core, but he's going to be overcoming a lot of odds if he turns out to be more than just solid depth for the Pats with his injury history.
Final Grade: B-
Round 6, Pick 188: Safety Joshua Bledsoe, Missouri
Joshua Bledsoe is a safety with the mentality of a linebacker. It's hard to understand why Bledsoe is the pick here given the type of safety that he is. I was more expecting a Devin McCourty successor here with the upcoming Kyle Dugger taking the role of Patrick Chung. But Bledsoe is an interesting player nonetheless. He's a great communicator pre-snap and gets teammates lined up where they should be. He plays with fantastic timing and he doesn't panic during the play. Bledsoe projects as a nickel safety in the NFL and will likely compete for reps against Dugger and Jalen Mills. He only had one interception during his time at Missouri, so he's not exactly a rangy ball hawk. Bledsoe is not the type of safety we all had projected the Patriots taking. But he should find some sort of role here in New England if he pans out.
Final Grade: C+
Round 6, Pick 197: Offensive Tackle William Sherman, Colorado
To keep it short, William Sherman can play all across the offensive line. Though playing most games between the tackles, Sherman has the size of a guard and some upside at center. It'll take a little while for him to get used to the NFL, but that's valid across the board here in the late rounds. Nothing to scream about with this pick, just the reminder that Dante Scarnecchia is no longer our offensive line coach.
Final Grade: C+
Round 7, Pick 242: Wide Receiver Tre Nixon, UCF
Meet your possible next Julian Edelman folks. Though an inch or two taller, Tre Nixon plays with the same attitude and quickness as the prototypical Patriots slot wide receiver. His route running is solid but he does have an issue with drops. 13 in his final year is a concerning number. But Nixon has some impressive ball-catching ability and could develop into a Devin Lucien type receiver that hopefully makes the roster with a solid pre-season and developing a relationship with McCorkle in his rookie campaign. It sucks to see Nixon be the only receiver we took, but he's a solid value here in the seventh round.
Final Grade: B
Final Thoughts
This was a solid draft overall. I feel really good about this class. Which is a positive sight to see after the recent years of coming out scratching my head year after year. There was a whole lot of value to be had in these later rounds and you could tell it wasn't just Coach Belichick making the selections. It felt the whole organization was in on this draft. It also feels like there's some potential everybody in this class finds a role on the team. Overall I'd give the draft a solid B+ with an A upside. We just need to see what's to come on the field. Onto training camp everybody!
If you enjoyed this content, or hate it and want to argue with me, follow me on Twitter @KalebEmcee! Feel free to check out the work I do on Foxboro Beat! Also, read up on the rest of the NFL content Belly Up Sports has to offer here!