For many seasons during Ryan Kerrigan's career in Washington, it was on the losing end. It is heartbreaking to know that the greatest pass rusher in Washington Football history never won a playoff game in D.C. We thank Ryan Kerrigan for what he did for this franchise, this city, and, more importantly, my love for what he did on the field for this team.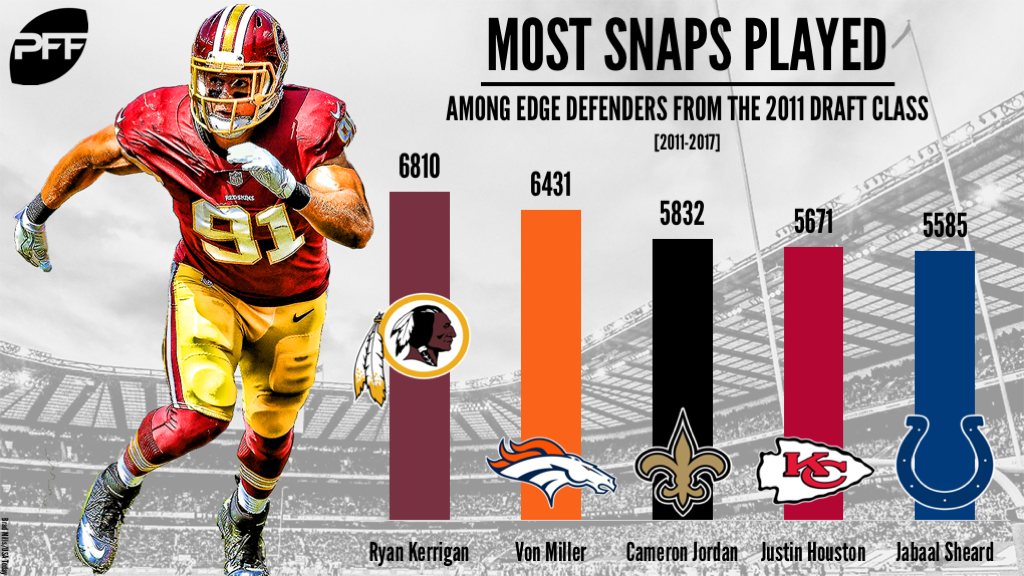 Ryan Kerrigan was drafted in 2011, which saw a load of talent on the defensive line go in the first round. The likes of Von Miller, J.J. Watt, and Aldon Smith. At 16, The then Washington Redskins selected Ryan Kerrigan from Purdue, and many thought it was a reach. But with 7.5 sacks his rookie season, you could tell this guy was going to be great. His motor and work ethic drove his success and proved to many that he belonged in that class with the great pass rushers of the 2010s.
My favorite Ryan Kerrigan moment was back in 2011, his rookie season. Tied early 3rd quarter against the New York Giants, Ryan Kerrigan showed his all-around skills by timing Eli's throw perfectly, jumping up to tip it in the air, then had the awareness to intercept it. That was not it. He then took it to the house! FedEx was rocking, and it was his welcome to the NFL moment.
From not missing a snap all season to becoming the franchise all-time leader in sacks this past season, Ryan continued to prove his worth on and off the field. His impact on this community was even greater. Being named the NFLPA Community MVP, he was always a fixture in helping the people from this region.
Final Farewell
So, to Ryan Kerrigan, I say this. For many years I have been a fan of this team. We have had some ups but a lot of downs. However, you made the game fun to watch with your Shawn Michaels celebrations. Your work ethic and motor are something I will never forget, and I hope the young bucks that you leave behind remember that too. Hard work outshines talent, and I believe you are the epitome of that. An underrated prospect that ended up being an NFL Franchise's all-time sack leader. Your jersey will be hanging in our basement, it will be hanging in FedEx, and it should be hanging in Canton one day. Thank you. See you in Philly, my friend!
Don't forget to catch all your sports news at Belly Up Sports! And catch our weekly Podcast to fill your boring lunch sandwich! Intercept Your Lunch on Youtube.