It seems as though with each passing day, we see a new update about the Patriots' quarterback room. It's never any positivity or clarity either. We hear about how first-round pick Mac Jones has impressed coaches, sure. But lately, it's been more of debating who's going to be the starter week one. Or who's so far behind on the depth chart that the Patriots had to bring back infamous journeyman Brian Hoyer, who had one horrid start in 2020 against Kansas City after current starter Cam Newton contracted COVID-19.
The odd man out at first glance is Jarrett Stidham. The 2019 fourth-round pick was basically propped up as the heir apparent to Tom Brady's throne at Gillette Stadium all last off-season following Brady's departure. In the early stages of camp in 2020 though, he suffered a hip injury and lost his place on the depth chart. Forcing the Patriots' hand to sign Newton, who had just been released from the Carolina Panthers. Newton was basically handed the starting position. As we all know he was underwhelming, to say the least. Newton passed for under 10 touchdowns and under 3,000 yards. Posting some really awful quarterback ratings in the process. The Patriots finished 7-9, missing the post-season. They responded with an aggressive off-season and a really good draft on face value. Using their 15th overall pick on the aforementioned Jones.
The questions now remain; what's actually going on? Who will be the starter? Why did the Patriots bring back Hoyer? What's up with Stidham? I'll attempt to answer these questions here, as well as give my input on how the Patriots should handle this dilemma as we get into the 2021 season.
Why did the Patriots bring back Brian Hoyer?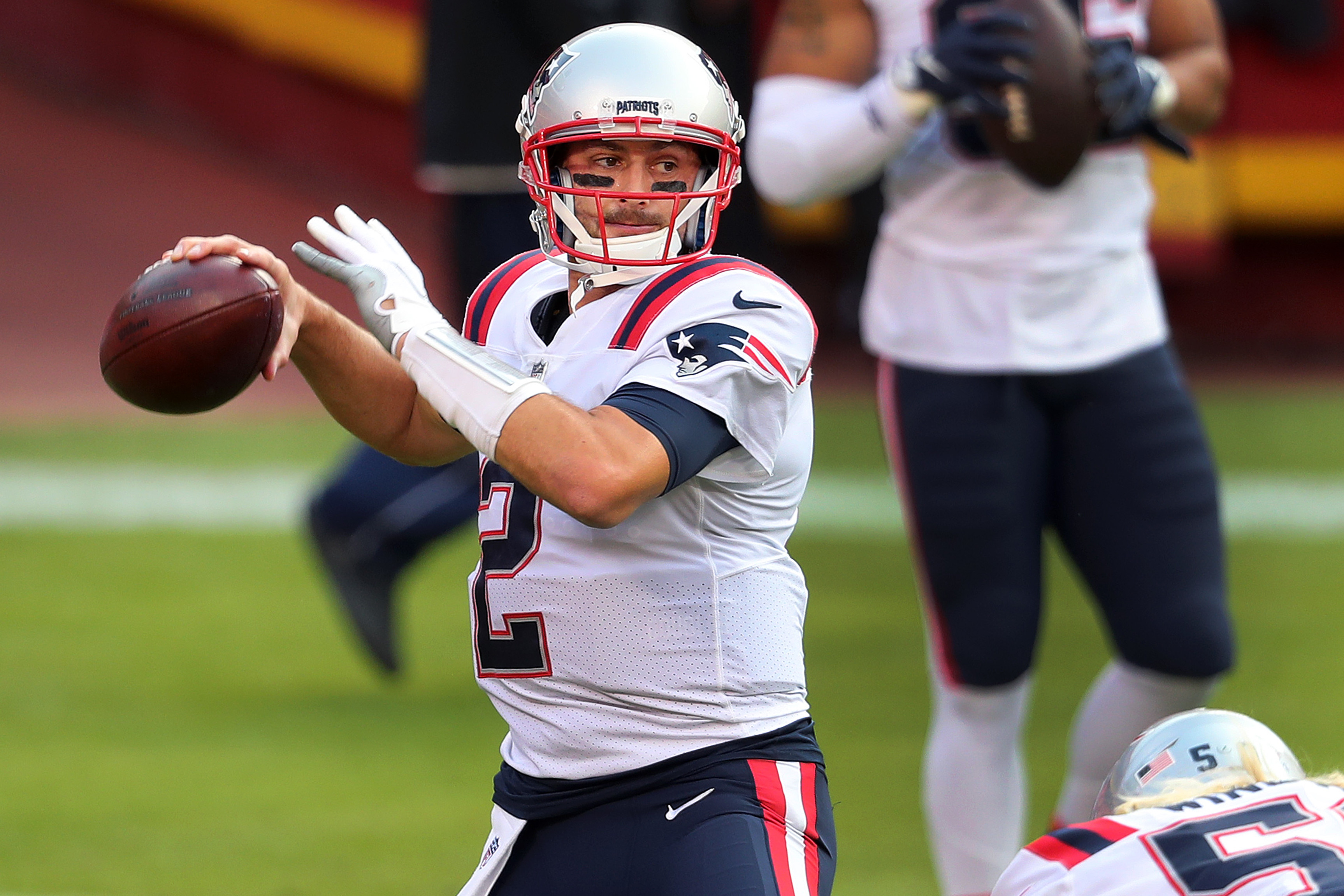 Some people will tell you there's a big conspiracy here. That Newton is "intimidated" by the Patriots' current quarterback room, so they needed insurance. I for one, don't buy this nonsense. The most educated guess I could give you is that they brought back the 12-year veteran because of his brain. He knows the current Patriots' offense better than anybody on the roster. He'll serve as a fine mentor to McCorkle Jones when it comes to understanding the McDaniels system.
The only theory that I think is passable, is that they signed Hoyer not because of Newton, but because of Stidham. Here, in my shiny tinfoil hat, it would make sense to bring back Hoyer if Stidham still isn't improving. It would be ideal for the former Auburn quarterback to pick up the playbook and have a Hoyer-type service to the Patriots. Serving as solid depth and a good brain for the offense, not expected to play. If Stidham is still lacking, he may be on the hot seat. So that's the real justification for the Hoyer stuff. I wouldn't expect it to change much of anything if you're Newton or McCorkle. But just maybe I'd be concerned if you're Stidham.
What's Stidham's role in 2021?
To be brutally honest, I don't really even think Stidham should have a set in stone spot on this roster. I've recently seen comments, tweets, and articles passionately clamoring for the third-year signal-caller to get a chance to start. Hell, my good friend Spike King on Twitter says that he's actively competing for the starting job! Personally, I have no idea how on earth he managed to put himself in that situation.
Sure, you can point to the one good touchdown pass he had in relief of Hoyer in Kansas City. I'll even give you that he looked alright against the Chargers in that 45-0 blowout. But outside of that? I'm sorry, Stid the Kid has looked terrible. In his five appearances last year, Stidham completed just 50 percent of his passes on 44 attempts. He threw two touchdowns and three interceptions. His total quarterback rating for 2020 was 54.7, 30 points worse than Newton's. His passing PFF grade in 2020 finished at 42.6, compared to Newton's mediocre 67.8. Small sample size sure, but he's playing against garbage time defenses who have long but since given up on the game and are still struggling.
Never mind his overall lack of competitive nature after the signing of Newton last July. Stidham basically rolled over and handed the former Panther the starting gig that Boston media was hyping him up to take on all off-season. It's the whole reason the Patriots weren't aggressive in the pursuit of a quarterback after Brady's departure to Tampa. To me, it's foolish to think Stidham has a shot in the dark at this starting job. Pending he corrects all of his flaws overnight, I don't see him starting in the NFL. There's a reason Belichick didn't go to him at the end of last season, and there's a reason the Patriots selected Jones 15th overall. Stidham is not the future, nor has he proven to be an NFL starting-caliber quarterback.
Does Mac Jones start in his rookie year?
I've written about the year one expectation of McCorkle here at BellyUp Sports previously. I don't really expect Jones to start his rookie season unless the season explodes in Belichick's face. They wouldn't have brought back Newton so early in the process if the expectation was for Jones to come in and take over. Though I'm sure Stidham not being able to be a serviceable bridge quarterback doesn't help the cause.
The offense was invested in heavily this past off-season. The additions of tight ends Hunter Henry and Jonnu Smith and receivers Nelson Agholor and Kendrick Bourne, tell me that the Patriots don't expect to have a 7-10 season. They're ready to compete again immediately. The only way I see the Patriots' first-round selection starting is if Newton truly doesn't have anything left, and he fails to improve in 2021. With a full off-season to prepare, and rehab injury, and no COVID, I think he improves drastically. Though he'll be on a much shorter leash if Jones continues to show out in mini-camp as early reports indicate.
If this Patriots team shows no sign of improvement this season and Newton continues to circle the drain, I'd look for McCorkle to start week 5 at Houston. But I don't think it'll be necessary because the 2015 MVP will have a big bounce-back campaign.
Who is the starter?
I've said it before on Twitter, on my page Foxboro Beat, and in my articles here; it's Cam Newton. He was given an unfair task in 2020 and performed as such. Judging Newton-based upon the 2020 season would be foolish, and the easy way out of just admitting you don't like him. Sure, his flamboyant confidence isn't for everybody. The old grumpy Patriots fans don't enjoy anything that doesn't just scream intensity and strictly follow the typical militaristic standards of a Bill Belichick-led team. From what I can tell, Newton never had a fair chance of becoming a fan favorite here in New England. Especially after the gold standard of twenty years took off for greener pastures.
I wrote about all the statistical arguments and why Patriots fans are wrong on Cam Newton last week. So I won't regurgitate what I said there, you can read it yourself. The most I can say is that you are lost if you cannot get behind Newton's second try as Belichick did. For the past twenty years, Patriots fans have chanted "In Belichick we trust". Except for now, when it comes to the assessment of his quarterback.
2021 is a new season, and the quarterback room is still as confusing and unsolved as ever. But I do hope I've answered or given enough thought as to what's to come of this jammed quarterback depth chart. Let's hope some clarity comes in the near future with training camp and pre-season just around the corner. I'm starting to think we took the days of consistency for granted here in New England.
If you enjoyed this content, or hate it and want to argue with me, follow me on Twitter @KalebEmcee! Feel free to check out the work I do on Foxboro Beat! Also, read up on the rest of the NFL content Belly Up Sports has to offer here!