The NFL schedules released on Wednesday evening, and the New England Patriots were one of the most talked-about schedules among the NFL. They have so many interesting games with very interesting storylines that follow suit. Patriots fans should be pumped for the season ahead. In this piece, I will be breaking down the Patriots season week by week. Analyzing just what makes each game so interesting, and maybe what significance it could hold down the stretch. As well as give a way-too-early prediction of just how far I see the Patriots going in 2021. Without further ado, let's dive right into this season we all are just dying to see kick-off.
Week 1: VS Miami Dolphins (4:25 PM EST, CBS)
That's right, for the second straight season we will see Bill Belichick versus Brian Flores to kick off the season. The Dolphins last season were just a couple of wins out of the final wild card position in the playoffs. The New England Patriots went 7-9 and had their playoff dreams shattered by the Phins in week 15 of last season. Obviously, inter-division matchups are always so meaningful down the stretch, with playoff lives in the balance.
There's also an aspect of a revenge game here for linebacker Kyle Van Noy. He was surprisingly released by the Dolphins this off-season and the Patriots quickly picked him back up once the pro-bowler hit the market. There's also a strong element of future versus present with Belichick and Cam Newton (so long as Mac Jones doesn't turn into 2007 Tom Brady overnight) squaring off against Flores and Tua Tagovailoa. There are so many interesting storylines here, and it should be your typical divisional dogfight, but I like the Patriot's odds here as a 2.5 point favorite.
Prediction: 24-20, New England (1-0)
Week 2: @ New York Jets (1:00 PM EST, CBS)
This rivalry hasn't really regained the spark it had back in the early 2010s in the days of Rex Ryan versus Belichick. The Patriots and Jets used to go back and forth constantly and were once considered the biggest rivals to the Patriots in the AFC East. Though since 2016, the Patriots have swept them every single year. The Jets have gone through three head coaches since the firing of Ryan in 2014, and not once have they made the playoffs. They're actually coming off their worst season as a franchise since Ryan's dismissal. Yet they still screwed themselves out of #1 overall pick quarterback Trevor Lawrence from Clemson and had to settle for late riser Zach Wilson out of BYU.
Though the Jets have made some major improvements. Hiring former 49ers defensive coordinator Robert Saleh to be their head coach is certainly a start. Also addressing the offensive youth heavily in the draft investing their first four selections into the unit. The Jets may still have a ways to go, but now out from under the Adam Gase era, they won't be the pushovers of the AFC East as they have been for the last five seasons plus. It'll be Belichick versus a rookie quarterback, and a young head coach looking to make a statement early against the NFL's best. I'll take the Patriots again, but it could be really close and may rejuvenate a once very interesting divisional rivalry.
Final Score: 31-27, New England (2-0)
Week 3: VS New Orleans Saints (1:00 PM EST, FOX)
The last time these two teams met in Gillette Stadium, it was a classic. Tom Brady led one of the most iconic game-winning drives in 2013. Sean Payton VS Bill Belichick brings a matchup that pits one of the best offensive minds in football against probably the best defensive mind in NFL history. With the recent retirement of Drew Brees, and the since the departure of Brady, this doesn't have the same quarterback focus as this matchup used to have. It'll likely be Cam Newton versus the infamous Jameis Winston, two quarterbacks trying to reclaim their status as starting-caliber signal-callers in this NFL.
Belichick also hasn't seen what Taysom Hill has to offer firsthand yet. So it'll be interesting to see just how these two new-look teams will scheme against each other. It'll be football's equivalent of a chess match, but I'll give the Patriots the benefit of the doubt at home. The Saints will likely still be working out the kinks of Brees no longer being the steady signal-caller and learning about their new starter in Winston at full capacity.
Final Score: 23-21, New England (3-0)
Week 4: VS Tampa Bay Buccaneers (8:20 PM EST, NBC, Sunday Night Football)
This matchup needs little introduction, but dammit it's too juicy to not talk about the obvious. This matchup is easily the most anticipated game of the season. It could possibly the most anticipated regular-season matchup in NFL history. Tom Brady versus Bill Belichick, a game we all never saw happening. Brady and his new band of friends (including the familiar Rob Gronkowski) march their way back to the Super Bowl MVP's old stomping grounds.
These two teams had very different seasons in 2020. Belichick's Patriots started out hot, but collapsed after a COVID-19 outbreak and finished the season 7-9. They missed the playoffs for the first time since 2008 when the aforementioned Brady suffered a torn ACL. As for Brady's Bucs, they started out slow. But finished winning eight straight games on their way to a Super Bowl LV championship, Brady's seventh. He now sits just one shy of Bill Belichick's total (six as a head coach, two as a defensive coordinator).
The talent certainly lies in Tampa's favor as they are on paper the best team in football currently. But I feel as though Bill Belichick's knowledge of Tom Brady could almost make that a non-factor in some aspects. I think the Buccaneers get the win, just because of how complete of a football team they are in comparison to the work-in-progress Patriots. But I could see a universe where the Patriots pull out the win.
Final Score: 35-27, Tampa Bay (New England falls to 3-1)
Week 5: @ Houston Texans (1:00 PM EST, CBS)
Last year when these teams met, it was a bit of a catastrophe. The New England Patriots were holding a 4-5 record and were becoming frustrated offensively. The Houston Texans were even worse sitting at 2-7 and just a little over a month removed from the firing of Bill O'Brien. The game would go back and forth but the Patriots would choke a game-winning drive away giving Houston their third win of the season, and the Patriots would fall to 4-6 as they let Deshaun Watson throw for 344 yards and two touchdowns.
Though in the off-season, the Patriots got extremely better. They have a respectable cast of weapons now for Cam Newton and they are getting most of their opt-out casualties back. The same can't be said for the Texans. Houston lost a whole lot of star-power in the off-season. Defensive end J.J. Watt was released ahead of the new league year and signed with the Arizona Cardinals. Wide receiver Will Fuller signed with the Miami Dolphins in March.
Though no loss is bigger than the disgruntled superstar quarterback Deshaun Watson. After the hiring of new general manager Nick Caserio (a former Patriot) and head coach David Culley, Watson was reportedly furious. He didn't feel as though he had any input on the coaching decisions, despite being paid a handsome contract last off-season. Now Watson's trying to get out of Houston. As well as dealing with a sexual assault fiasco the size of a mountain. With over 20 allegations against him, it's hard to see Watson starting the season anyways. Regardless if he makes it out of Houston. With a roster depleted of talent and a toxic locker room, this should be an easy win on the Patriots' schedule.
Final Score: 28-10 New England (4-1)
Week 6: VS Dallas Cowboys (4:25 PM EST, CBS)
This game was added as the season was extended to 17 games by the new CBA. We get the prize of playing the Dallas Cowboys, who were ruined by the season-ending injury to quarterback Dak Prescott last season. If fully healthy, the Cowboys are probably an easy favorite to win their division, especially with the addition of linebacker Micah Parsons in the draft.
Much like the Buccaneers matchup, I just wonder if the Patriots have the offensive firepower to keep up with the Cowboys. On paper, the talent just doesn't match up between the two teams. It will be a close game just because the defense is good for keeping a game in reach. Hell, the Pats D was the only reason this team didn't go 3-13 last season. But I'm gonna give this matchup to Dallas. Though I won't rule out Belichick being able to scheme up a game plan to stuff the Cowboys and get the offense in a position to do just enough to get the win.
Final Score: 24-10, Dallas wins (New England falls to 4-2)
Week 7: VS New York Jets (1:00 PM EST, CBS)
We already discussed earlier in the piece what makes the Jets an interesting team to keep an eye on this year. So there isn't too much to add here besides the fact Belichick doesn't lose back-to-back home games very often. This should be a nice rebound for the Patriots, as the Jets still try to figure themselves out. The growing pains with Zach Wilson and the rest of the new additions should be evident by this point. Expect the typical Belichickian domination here in week seven, as they get their first divisional sweep of the season.
Final Score: 33-13, New England (5-2)
Week 8: @ Los Angeles Chargers (4:05 PM EST, CBS)
It was utter domination last season when these two teams met. The New England Patriots showcased excellent special teams play and the ability to dismantle one of the hottest young quarterbacks in the league with Justin Herbert. They took home the win 45-0, and I promise you that won't happen again.
The Chargers have one of the best young teams in the NFL. Herbert should continue to progress from his rookie of the year-worthy campaign in 2020. Their offensive line was drastically improved through the draft and free agency with the additions of Rashawn Slater and Corey Linsley. They also boast a very powerful secondary with Asante Samuel Jr. and Chris Harris Jr. with hopefully the return of all-pro safety Derwin James.
I still think the Patriots have the upper-hand though. The Chargers are working with a new head coach, and though Herbert should only progress, he's still young. I think the Patriots squeak out a big win against one of the best up-and-coming rosters in the league. A huge confidence boost.
Final Score: 28-24, New England (6-2)
Week 9: @ Carolina Panthers (1:00 PM EST, CBS)
Another revenge game on the schedule, quarterback Cam Newton makes his return to Carolina to take on his former team of nine seasons. The Panthers boast a new-look offense with the acquisition of Sam Darnold, and hopefully the return of running back Christian McCaffrey who underwent a plethora of injuries in 2020. They also drafted cornerback Jaycee Horn who many believed to be the best the class had to offer.
This game should be a fun offensive spectacle, but I'm more willing to bet on the Patriots' defense making the stops necessary to pull out the win than I would be with Carolina. I don't expect a blowout by any means. Nor do I expect Sam Darnold to relive his 2019 Monday Night Football nightmare by seeing ghosts. But I'm comfortable saying the Patriots return back to the east coast and collect another victory to continue a strong season.
Final Score: 30-28, New England (7-2)
Week 10: VS Cleveland Browns (1:00 PM EST, CBS)
Well, these certainly are not the Cleveland Browns of old. The used to be perennial losers of the NFL have taken some massive steps forward in recent years, and it accumulated to their first playoff win since Bill Belichick was their head coach in the 1990s. Baker Mayfield, if flawed, has turned out to be a solid starter in this league. They also boast a running back duo of Nick Chubb and Kareem Hunt, who compliment each other perfectly. Their defense may be a little suspect, but they can keep up with the best the NFL has to offer.
I think the Patriots drop this one, but more so because of fatigue more than anything. They are coming off a long road trip going west to east and with a bye still four weeks out, they can afford to drop one here to a more talented team. Not too many squads can keep up with an offensive core of Jarvis Landry, Odell Beckham Jr., Austin Hooper, and the duo of Chubb and Hunt.
Final Score: 27-21, Cleveland wins (New England falls to 7-3)
Week 11: @ Atlanta Falcons (8:20 PM EST, FOX, Thursday Night Football)
Anytime you see these two teams' matchup, the first thought that comes to mind is probably "28-3". I doubt that this Thursday night matchup between the Falcons and Patriots will be as thrilling as Super Bowl 51, but it should be a solid game anyways. The Falcons hold an offense still led by 2016 MVP quarterback Matt Ryan and all-pro receiver Julio Jones with Calvin Ridley. They also picked up a generational talent in tight end Kyle Pitts from Florida in the draft. This Falcons offense should be as scary as ever, especially after the hiring of Arthur Smith. Who was a key part in turning Ryan Tannehill into the fantastic starter that he is today. It's possible he could revive Matt Ryan in his 13th year in the league.
The big problem for Atlanta is their defense, who couldn't stop a runny nose if they tried last season. Their secondary is extremely raw, and they have so many unplugged holes that the Patriots will probably score on them at will with their new tight end duo of Jonnu Smith and Hunter Henry. I expect a rare Patriots shoot out, and the defense will pull out a clutch stop at the end to leave Atlanta with a win.
Final Score: 38-32, New England (8-3)
Week 12: VS Tennessee Titans (1:00 PM EST, CBS)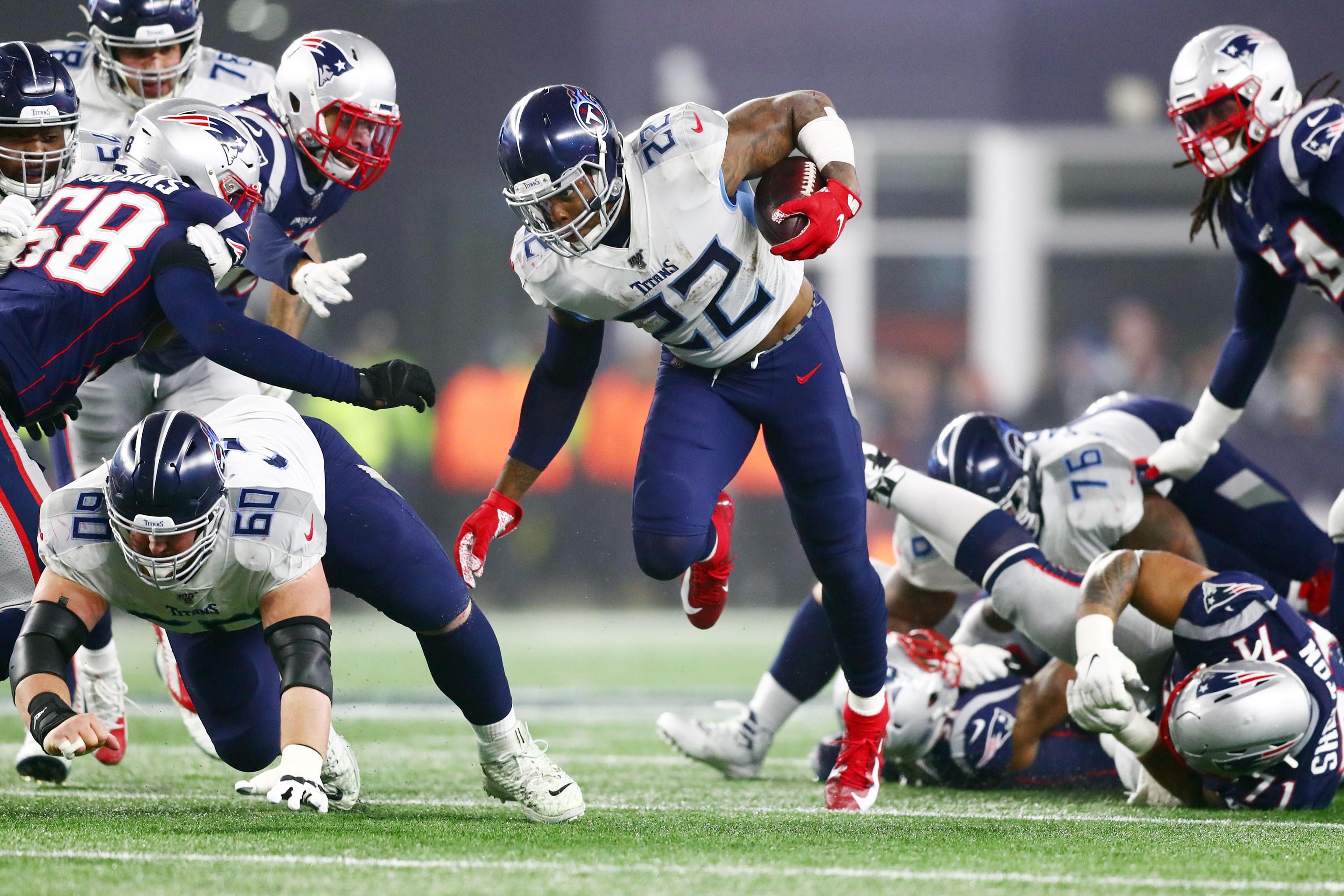 It's natural if you're a Patriots fan to feel some sort of disliking towards this team. They're the ones who effectively put the Patriots in the coffin two seasons ago in the wild card. Ending Tom Brady's illustrious Patriots career. The Titans still hold one of the best running backs in the NFL with 27-year-old Derrick Henry, and the aforementioned quarterback Ryan Tannehill has been fantastic in his career revival. They also have one of the best young receivers in the NFL with A.J. Brown, whom the Patriots passed on for N'Keal Harry in the 2019 NFL Draft.
I see this game being tough for New England to hang around in. Their run defense has been an achilles heel for them in recent seasons, and their offense, if improved, is still unproven in the grand scheme of things. If they're unable to stop Derrick Henry as they were in the 2019 Wild Card game, this is going to be a long day in Gillette Stadium. Head Coach Mike Vrabel may just have Bill Belichick's number.
Final Score: 20-16, Tennessee wins (New England falls to 8-4)
Week 13: @ Buffalo Bills (8:15 PM EST, ESPN, Monday Night Football)
The Patriots finally meet up with the new top dog of the AFC East just one week ahead of their bye week. The Buffalo Bills were absolutely electric last season going 13-3. Witnessing a sudden growth spurt from quarterback Josh Allen who passed for 4,544 yards and 37 touchdowns last year with the support of Stefon Diggs and Cole Beasley. They swept the Patriots last season, something that hadn't happened since before the Bill Belichick era.
The Bills are simply just a better put-together roster top-down than the Patriots right now. There are no real holes on the team outside of running back anymore. They look to be a dominant force in the AFC next year, and with the Patriots probably as gassed as humanly possible, will take the loss in primetime. Going 1-2 under the lights. Though this won't be the last the Pats see of the Bills.
Final Score: 34-20, Buffalo wins (New England falls to 8-5)
Week 15: @ Indianapolis Colts (CBS, Time TBD, CBS)
Through the early 2000s, this would be a rivalry matchup for the ages. Since the days of Brady vs Manning, this meeting hasn't met the hype that it used to have, and how could it? With countless playoff matchups between the two, it's hard to maintain a rivalry like that outside of the division. It doesn't help that both of these teams have undergone some heavy renovation in recent years.
The Indianapolis Colts are coming off of a solid year behind the since retired quarterback Phillip Rivers, a year in which they made a playoff appearance before being bounced by the Bills in the wild card. They haven't quite bounced back since the sudden retirement of former number one overall pick Andrew Luck. Though it seems they are on an uphill trend. They boast a defense that was top-end in virtually every category last year, and they look to have a complete offense. They just acquired former Eagles signal-caller Carson Wentz, and with a running back committee as good as you'll find in this league with Jonathan Taylor, Marlon Mack, and Nyheim Hines? They're a scary matchup.
This is another tough game for the Patriots. I won't rule out a win, and this late in the season it's hard to project, but I can't give them the win at face value here. They're close though. With development through the season, they could swing the odds back in their favor.
Final Score: 27-23, Indianapolis (New England falls to 8-6)
Week 16: VS Buffalo Bills (1:00 PM EST, CBS)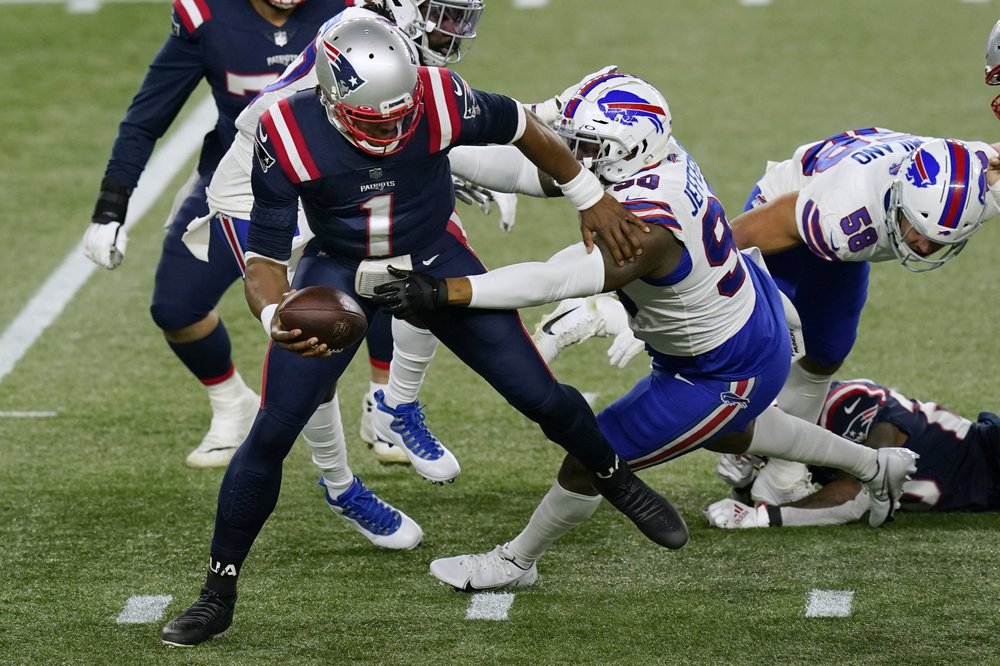 The Pats meet up with their bitter foe just two weeks after their much-needed bye week. This time in their house just a day after Christmas. Like I said with the Colts, this late into the season the two teams can take on an entirely different identity. The Patriots could be world beaters and this won't be close, or the Bills will prove to be the best team in the NFL and the Pats can't keep up. But we're judging these all at face value here. The Bills are still the better team, and the Patriots haven't showcased what they're truly capable of with all of the new pieces coming in. So I can't give the Patriots a win, but I'll figure it won't be a two-possession game like back in week 13.
Final Score: 24-19, Buffalo wins (New England falls to 8-7)
Week 17: VS Jacksonville Jaguars (1:00 PM EST, CBS)
This is a game where the Patriots can get right back on track. After losing three straight, they get a tune-up game against the young and rebuilding Urban Meyer-Trevor Lawrence-led Jaguars. It's been almost four seasons since the Pats ended their short rise to fame in that 2017-18 AFC Championship game. The Jaguars have gone under a heavy re-image period to the point where none of the team is recognizable from the days of "Sacksonville". The Patriots should roll right through this match-up before ending the season on the road in Miami. Is anybody going to cash in on the prop bet of tight end Tim Tebow catching a touchdown against his former team of one preseason?
Final Score: 34-12, New England (9-7)
Week 18: @ Miami Dolphins (1:00 PM EST, CBS)
This game could very well be the deciding game for both of these teams. With the Buffalo Bills likely wrapped up the division comfortably and resting starters versus the Jets, the Dolphins and Patriots will be duking it out for a final wild card position. Last season in Week 15 it was the Dolphins who emerged victorious, ending the Patriots playoff hopes just two weeks before the season was over. Both of these teams will have gone a full season's worth of development since their first meeting in week one, which makes this week 18 game so much more enticing.
For this article's sake, I'll take New England here. As good as this Dolphins roster is, there are too many uncertainties with Tua Tagovailoa. I'm certain Miami will know just if Tua is their quarterback of the future by Thanksgiving. So let's just say in this simulation he makes little improvement, and the Dolphins consider moving on from him in the coming off-season.
Final Score: 27-25, New England (10-7)
Concluding Thoughts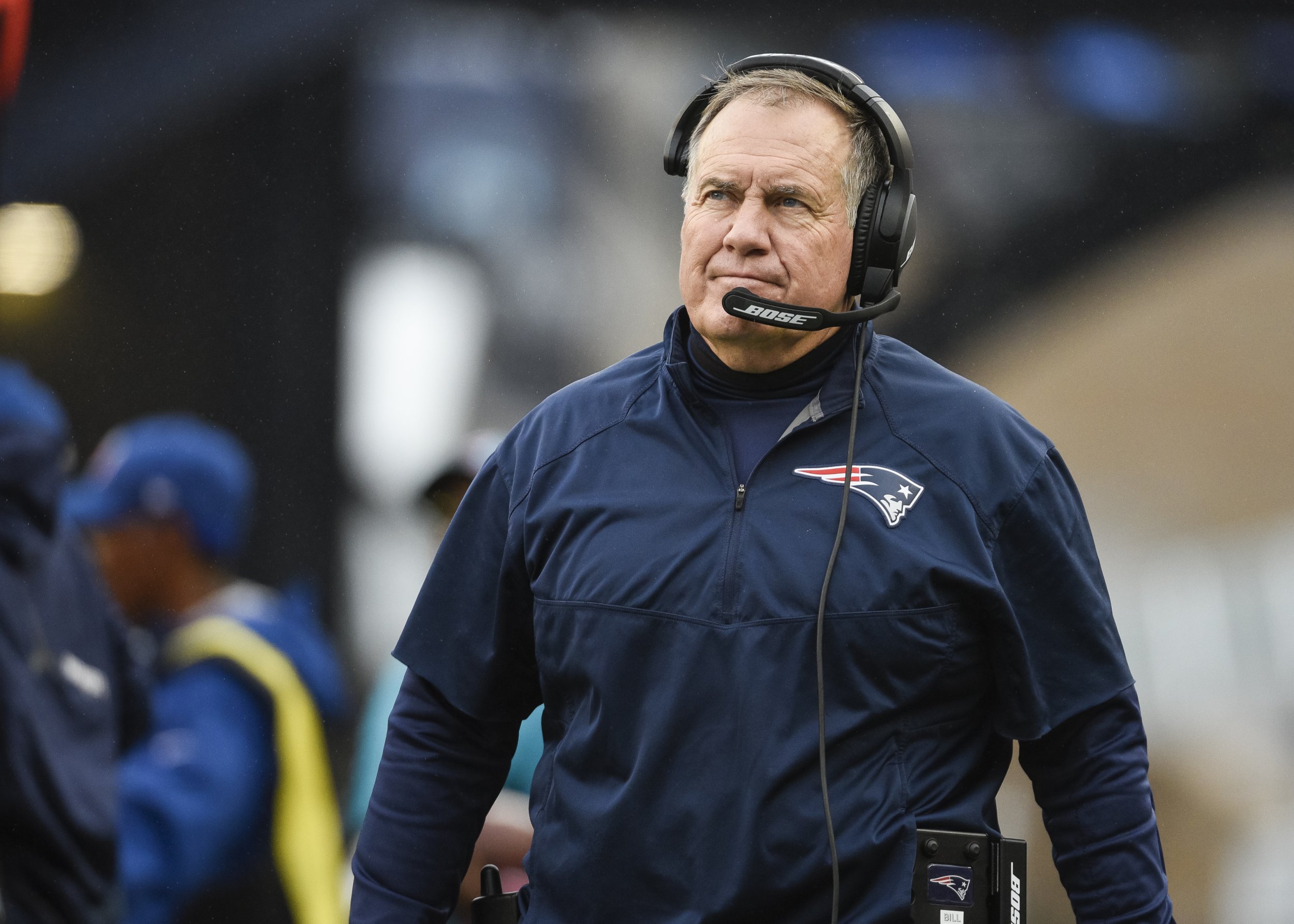 As for the Patriots, they make a drastic improvement over their 2020 campaign. Surrounding Cam Newton with weapons proves to be worthy of the shopping they did in the off-season, and the Pats may just clinch a wild card berth after just one year in the dumps. Finishing the season at 10-7, with probably the sixth or seventh seed in the AFC playoff picture. After that, we can't predict. It's not a schedule yet. But Patriots fans should be ecstatic to see this team in action. As well as being optimistic for the future. Who knows how first-round quarterback Mac "McCorkle" Jones develops in his rookie season behind Newton. There's plenty of stories to follow and games to look forward to, and I hope I've made you just as excited as I am for this upcoming year.
If you enjoyed this content, or hate it and want to argue with me, follow me on Twitter @KalebEmcee! Feel free to check out the work I do on Foxboro Beat! Also, read up on the rest of the NFL content Belly Up Sports has to offer here!