It was January 13, 1991. President George H. W. Bush was in office. Macaulay Culkin's Christmas classic Home Alone is spending its ninth consecutive weekend at number one in the box office, pulling in $9.8 million in ticket sales. The Material Girl spent her second weekend at Billboard's number one spot with the single "Justify My Love". And a junior golfer from Arizona State University left his first mark on the PGA Tour with his first-ever victory – AS AN AMATEUR NO LESS – at the Northern Telecom Open in Tuscon, Arizona, a mere 90-minute drive from campus. Already an accomplished golfer with a U.S. Amateur Championship, numerous individual collegiate wins, back-to-back individual NCAA titles, and one team NCAA title under his belt, the 20-year-old Phil Mickelson would launch a golf career most would only dream of having. Thumbs up, amirite?
Phil the Golfer
Although he's not going to be challenging Sam Snead or Tiger Woods for the all-time PGA Tour wins record, Phil Mickelson has amassed himself quite the career in the 30 years between that first victory and his latest victory at Kiawah. He's won majors (three Masters, two PGA Championships, and one Open Championship), he's won The Players Championship, he's won World Golf Championships, he's won Tour Championships, he's won international tours' events, and heck, he's even won PGA Tour Champions events. He's been on teams that have won Walker Cups, Ryder Cups, and Presidents Cups. When you look at golf resumes, there aren't that many better than his from amongst his peers.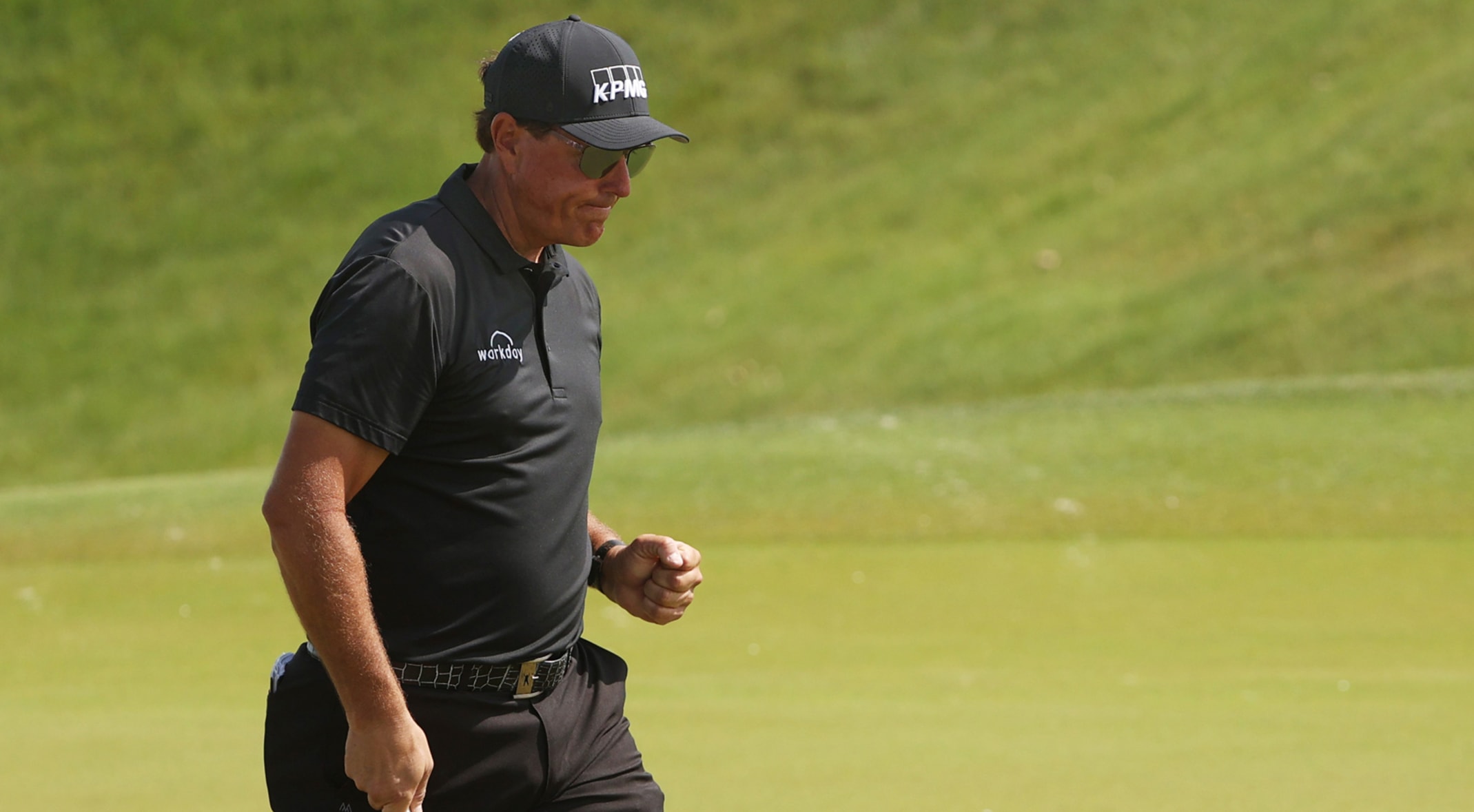 Even with all those awards and accolades, success is not guaranteed. Phil hadn't won on the PGA Tour since 2019 when he became the oldest winner of the AT&T Pebble Beach Pro-Am at a spry 48 years of age. Coming to The Ocean Course at Kiawah Island for the PGA Championship, not many would have had him as the betting favorite. The course, while pristine and picture-perfect, is infamous for its wind as it is situated right off the ocean. It is not uncommon to face winds upwards of 20-25 MPH. Not only that, but they often switch from day to day and round to round. What's good on Thursday may mean nothing on Friday. A friendly tailwind may turn into a brutal headwind overnight. This is enough to eat even the most skilled golfers' lunch.
So what does all that say for a guy who's known for taking somewhat risky approaches on the course? Well, what it says is that anyone can win on any given weekend. You may not hit every fairway or every green (he only hit 31 of 56 fairways and 46 of 72 greens in regulation), but if you can manage your composure, play your game, and minimize mistakes, you can tame the course. His challengers on Sunday are no slouches themselves. With names like Brooks Koepka (his playing partner), Louis Oosthuizen, and Paul Casey among the names lurking – all of whom finished in the top 10 – you can take nothing for granted. Especially when you consider that Mickelson, Koepka, and Oosthuizen all finished over par for Sunday's round. But ultimately, the scene at Kiawah last Sunday afternoon became reminiscent of 2019 at Augusta on Sunday.
The man who has become known for his thumbs-up gestures throughout the course of play got the last say amongst a sea of competitors younger than him. We've all heard the old adage, "Old age and treachery will always overcome youth and skill", or some variant thereof. Ultimately, Phil proved that to be correct. Even the Golden Bear himself had to give credit where it was due.
Hey Phil, 50 years old is older than 46. Congratulations, my friend. pic.twitter.com/drb8PzftaB

— Jack Nicklaus (@jacknicklaus) May 24, 2021
Phil the Character
In this age of social media, forums like Twitter and Instagram provide unique access into one another's lives as we've never had before. At the top of this list come celebrities, athletes, and/or public figures. We get to see sides of people that you wouldn't otherwise… save for maybe TMZ.
But seriously, Phil Mickelson has taken to Twitter and Instagram like a fish to water. Whether he's posting about his Adonis-like calves, his knack for hitting bombs, or just about anything else that comes to his mind. The best part about this is that it's not an act. When he interacts with fans on the golf course, what you see is what you get. He's a man of the people.
Phil at 50
Let's face it, when most people hit their 50s, they're starting to hear creaks and cracks in their joints that they previously hadn't (or they chose to ignore). They may do the muttered moaning thing that comes with moving to or from a sitting position. They may even be starting their retirement countdown calendar. Not Phil Mickelson, though. Having turned 50 in June 2020, he's been doing anything but acting like he's starting the back nine of his life, to use a golf metaphor. Earning a couple of top-five finishes on the PGA Tour, including a second-place finish at the WGC-FedEx St. Jude Classic, Phil was doing things at 50 that some guys can't do at 30. But that was just the beginning.
By virtue of his half-century of existence, he was now eligible to play for PGA Tour Champions. So what did ol' Lefty do? He went out and won the first event he played in, the Charles Schwab Series at Ozarks National, becoming the 20th player to win their debut tournament. Not only did he win, but his score of -22 with 191 strokes also tied the all-time record on Tour for a three-day event. How did he follow that up? He only won his second event on that Tour a couple of months later, too, at the Dominion Energy Charity Classic. Then, of course, he went and bested a field of 20, 30, and 40-somethings and won the aforementioned 2021 PGA Championship. In other words, he's not slowing down. After all, he's 50… 50 years old!
What's Next?
The Match… 'nuff said. Well, OK, the PGA Tour season technically continues, but that's not nearly the draw that this newly announced event will be. After the three prior iterations, this July live from Big Sky, Montana, we'll have Phil Mickelson reunite with his pal, Tom Brady, as they look to defeat Bryson DeChambeau and his partner, Aaron Rodgers. As they say, "Get your popcorn ready", because the trash-talking is bound to be off the charts. And if the opening salvo from THE GOAT on Twitter is any indication, we're in for a good time. Buckle up and get those thumbs up and ready.
May 26, 2021
Like what I have to say? Hate it? Indifferent? Come follow me anyway on Twitter for my sports takes, opinions, and occasional thoughts I throw out for general consumption. You can also see my latest article here. Please also check out more Belly Up Sports content and see what we've got in store for you.