This headline will certainly come off as confusing for many of the Patriots' fanbase. To most, Bill Belichick is unquestionably the greatest head coach in NFL history. Winning six Super Bowls, playing in nine, and making the AFC title game 13 times (including eight times in a row from 2010-18) will mark you in NFL history as one of the best. Belichick's legacy by no means has anything massive to prove. If he retired today he'd be a first-ballot Hall of Famer come 2025. But there is one lingering chip on his shoulder; winning without the other GOAT, Tom Brady.
The Brady-Belichick dynasty is possibly the greatest in sports history. Together they made for an unmatched duo. Winning 17 AFC East championships, missing the playoffs just once in Brady's second season as a starter, and all of the aforementioned accolades mentioned in Belichick's head coaching career. They did it all together. Until St. Patrick's Day of 2020. Brady made it official that he would be leaving the New England Patriots to sign with the Tampa Bay Buccaneers. It had been a really poorly kept secret that the relationship was coming to an end. Brady had reportedly grown tired of Belichick's "no player is irreplaceable" mantra. Belichick was ready to move on to the next best thing in 2017 when Jimmy Garoppolo was still on the roster. Owner Robert Kraft forced Belichick to keep Brady, and they won one more Super Bowl together before Brady's departure in 2020.
2020 was rough for Belichick
2020 was a tale of two seasons for Belichick and Brady. The new-look Tampa Bay Buccaneers were a dominant team down the stretch of the 2020 season. Making the playoffs as a wild card and beating the New Orleans Saints and Green Bay Packers. They would square off against the Kansas City Chiefs in Super Bowl LV and beat them convincingly in Raymond James Stadium 31-9. Brady would win his 7th Super Bowl title and his 5th Super Bowl MVP.
The New England Patriots came nothing close. They started off the season hot, looking like there would be a seamless transition from the Brady era. Their new quarterback Cam Newton looked particularly excellent in a 35-31 loss to the Seattle Seahawks week two throwing for a season-high 397 yards. Unfortunately, he would catch COVID-19 ahead of a pivotal matchup against the Kansas City Chiefs. This COVID-19 outbreak would force the Patriots to take an early bye week, and start a five-game losing streak. Despite some inspirational wins, the Patriots never recovered. New England finished 7-9, the second-worst record of Bill Belichick's tenure in New England. Leaving fans beyond frustrated with everything. From the play of Cam Newton to the build of the roster altogether. It seems as though the narrative was already built that Belichick needed Tom Brady and not the other way around.
Fighting the narrative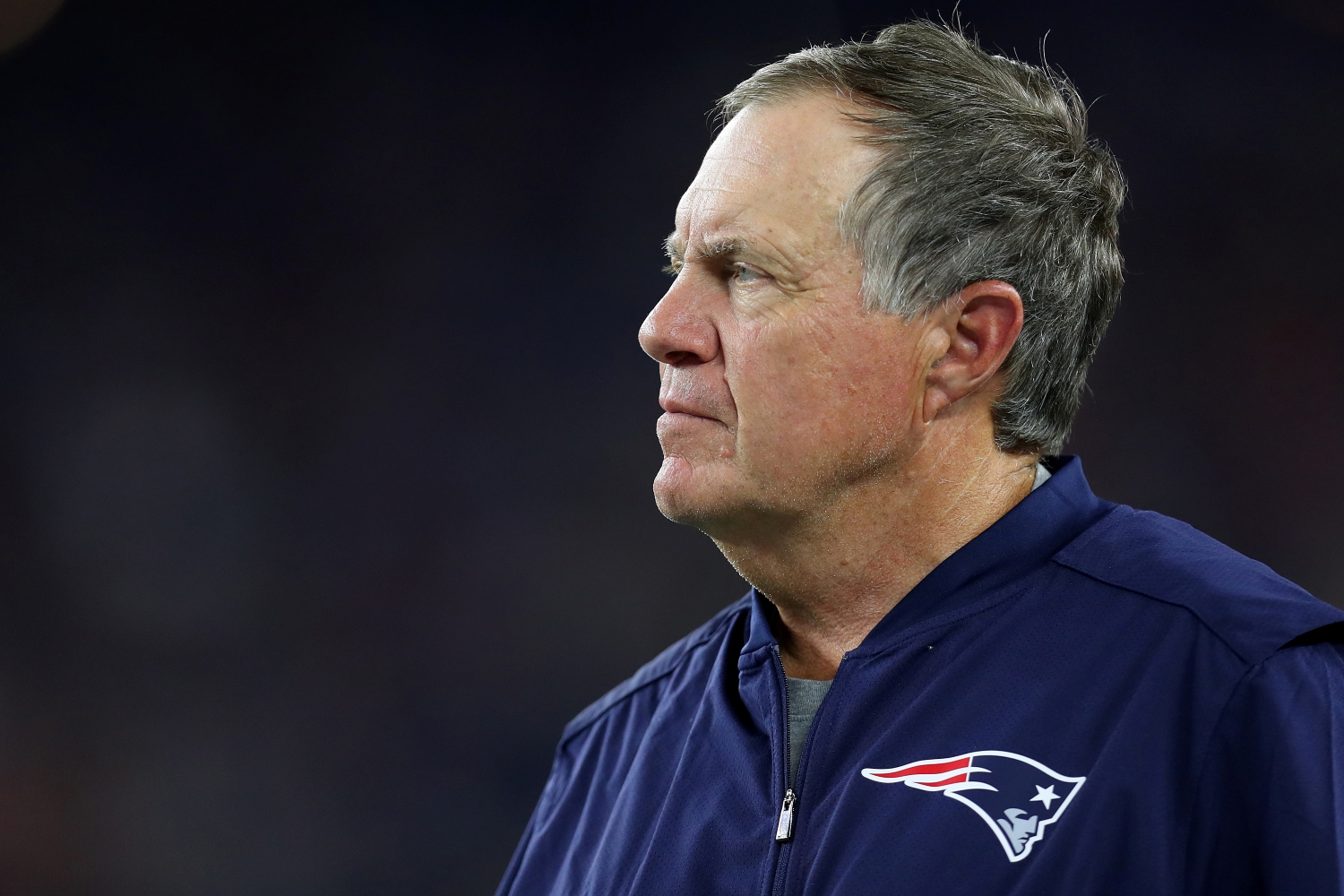 You all can say "Bill Belichick doesn't listen to the media" all you want. It's been the Patriots mantra for basically my entire life to "ignore the noise". But let's not pretend that Belichick doesn't have an ego. If he didn't, Tom Brady might still be here. It's Belichick's confidence that is both his rise and his downfall. His belief that he can make anything work no matter the position has led him to make some fantastic roster decisions. Whether it be to move on from Wes Welker before regression, opening up a position for Julian Edelman. Or acquiring players for pennies on the dollar just for them to prove their worth in a New England scheme (ex. Kyle Van Noy).
It's also been disastrous in the case of Tom Brady. He clearly proved that he has little to no signs of regression as he approaches age 44. Also showing that Belichick couldn't just replace him with anybody off the streets, with Jarrett Stidham's apparent fall from grace, and Cam Newton's evident struggles last season with a roster depleted of talent.
Bill Belichick has definitely heard the rumblings of the media questioning his greatness. He was uncharacteristically aggressive this off-season. He even drafted quarterback Mac Jones with his first-round selection, acknowledging that he can't just make anything happen under center. With a basically refreshed roster, the Patriots are now in a decent position to make the magic happen.
What are the expectations for 2021?
With the explosive off-season the Patriots had, to just say "be better than 2020" is the expectation would be outrageous. Behind closed doors, Belichick might slap you himself for thinking that's the best he can do. Going .500 should be the bare minimum for this team. I'm not saying that this roster is ready to beat up on the NFL's best, but they should at worst contend. They hung around with the best of them last season with a far worse roster. People forget that with probably one of the worst on paper rosters in the entire league, the Patriots almost beat the Kansas City Chiefs, Buffalo Bills, Seattle Seahawks, and had some life against the Los Angeles Rams before the game slipped away.
I think the expectation for Bill Belichick is to prove that he can beat anybody in the NFL and be a formidable playoff opponent. I don't want to make Tom Brady the central point of contention of this piece, but that's ultimately the narrative that Belichick is fighting. As it stands today, there are so many flaws to a Belichick offense and roster build that a quarterback as great as Brady was able to mask for many years. Brady was able to win despite having minimal stars around him. Very few teams are able to win a Super Bowl with just one pro-bowler at a time, never mind multiple. I'm not saying that a Super Bowl championship is the end-all-be-all of this debate, but it certainly evens the playing field again.
I think if the New England Patriots make yet another appearance in an AFC Championship and play competitively, Bill Belichick will be looked upon favorably again. PFF had him ranked as the sixth-best head coach in the NFL. After just one bad season people are hopping off the Belichick train. I'm sure he'll be waiting to make those who doubted him eat their words, as Brady did in Tampa Bay last year. We'll get to see that journey begin in just three months and three days from now. Though I'm sure everybody has the week five matchup of the Patriots and Buccaneers circled on their calendars. Think there'll be any extra motivation for those teams to win on Sunday Night Football? I sure do.
If you enjoyed this content, or hate it and want to argue with me, follow me on Twitter @KalebEmcee! Feel free to check out the work I do on Foxboro Beat! Also, read up on the rest of the NFL content Belly Up Sports has to offer here!