Yes, the NBA has reached the end of the season. The Houston Rockets suffered through an abysmal year that ended much earlier, and now the entire league is wrapping up. The NBA Finals features the Milwaukee Bucks and the Phoenix Suns, two small-market teams who haven't had this much success in 47 and 28 years respectively. Young stars like Giannis Antentokounmpo and Devin Booker have a chance to get the first championship of their bright careers. This is exciting and new for basketball. 
Unless you're a Rockets fan. Flatly, Houston stunk this year. While it was exciting to see the growth of Kevin Porter Jr, Jae'Sean Tate, and Christian Wood, the long-losing streaks wore down a fanbase in a short whirlwind of a season. But the Houston Rockets have had several "alumni" sprinkled across the NBA Playoffs. Several fans just chose to root for their former 'ket instead of a whole team. However, the NBA Finals have made that very difficult. Two former Rockets are facing off for the Larry O'Brien Trophy. When in Houston, they were both "fan favorites." Now they're in one another's way. Chris Paul and PJ Tucker brought their respective swag, toughness, and style of play to help put Phoenix and Milwaukee over the top. 
In Phoenix, the team's development was inevitable. Phoenix went undefeated in the NBA's Bubble Restart last August and Devin Booker had several "coming of age" moments. Paul brought leadership and grit to a blossoming roster at just the right time.
In Milwaukee, the Bucks needed an edge after two disappointingly short Playoff runs. Something was missing. They had a two-time MVP, they had size, and they had shooting. When he arrived, PJ Tucker brought a competitive edge and toughness. He proudly claims the toughest defensive assignments, only shoots when he is open, and will dive across the floor and over the front row for each and every loose ball. As great as Milwaukee has been under Coach Budenholzer, the "lead by example" swagger of PJ Tucker is visible. 
Chris Paul spent the 2017-18 and 2018-19 seasons in Houston. PJ Tucker also arrived in Houston in the summer of 2017 and was traded this year at the trade deadline. Their friendship dates back much earlier to their time growing up in North Carolina. Paul and Tucker went to high school roughly 100 miles away from one another and both graduated in 2003. Paul stayed home and spent two seasons at Wake Forest; Tucker headed west to spend three seasons at the University of Texas. Paul was North Carolina's "Mr. Basketball," Tucker was named North Carolina's Player of the Year. Paul even has joked about how the two almost played in college together once they were on the same Houston Rockets roster.
From childhood friends to playing each other in the NBA Finals 😎@CP3 (via @DTGoteraKHOU) pic.twitter.com/kEo3BkHeSi

— Overtime (@overtime) July 4, 2021
Houston Rockets' fans surely wish they were in the Finals and both wearing red and black. But in the current situation, Rockets' fans have to ask themselves: who should we root for?
The Argument for Phoenix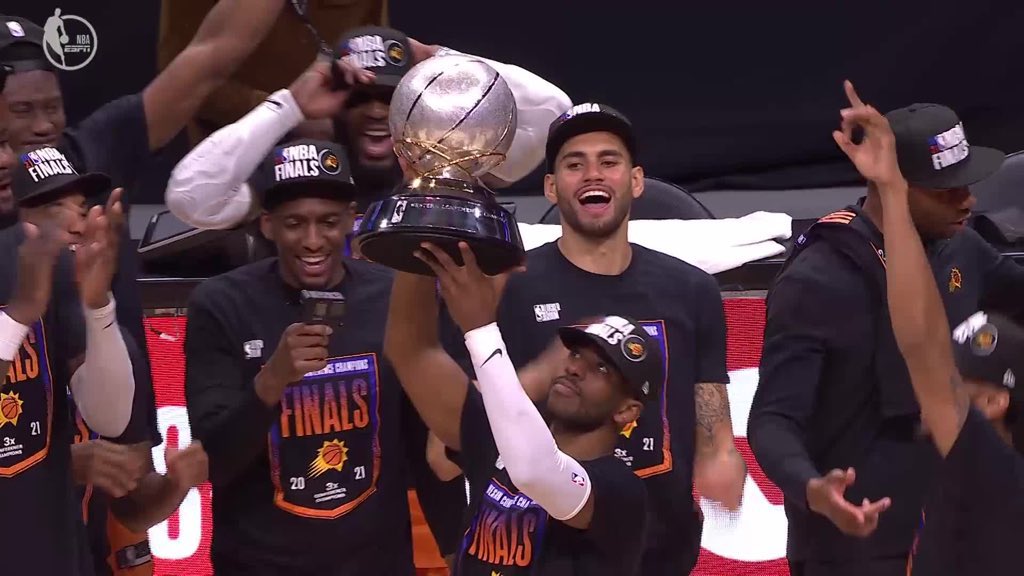 The Phoenix Suns and head coach Monty Williams run an organization that looks familiar to Rockets fans. Though their pieces are (predominately) younger players, they operate in a similar fashion to the 2018 Rockets. The same 2018 Rockets that made it to the Western Conference Finals.  
At Center, the Suns have a rim running big that operates best as a roll man on the screen. Much like Rockets Alum Clint Capela, DeAndre Ayton operates well on the deep roll to the rim and on the short roll as a passer to the opposite wing. Both Capela and Ayton also are good rim defenders on the opposite end. They are explosive enough to recover from the opposite short corner to the front of the rim to contest while also being long enough to close out on most shooters standing along the perimeter. 
At the forwards spots, the Phoenix suns use a handful of mix-and-match "three-and-D" wings. Guys like Jae Crowder and Torrey Craig bring toughness while Cameron Johnson and Mikal Bridges bring length and athleticism. As a unit, they all bring the ability to shoot and distribute the ball from outside the three-point line while defending players much bigger than them on the other end. The 2018 Houston Rockets? They used PJ Tucker, Eric Gordon, Trevor Ariza, and Luc Mbah a Moute in a similar fashion. Tucker and Gordon's strength helped them where their height did not, Ariza and Mbah a Moute's length made them a nightmare for opposing offenses. 
At shooting guard, the Suns use a young All-Star caliber guard in a multitude of roles. He can score from any spot on the floor, does a great job of finishing through contact, and is impossible to guard one-on-one in space. In Phoenix, this guard's name is Devin Booker. In Houston, it was James Harden. Obviously, Booker is younger and developing where 2018's Harden was the league MVP. But the comparison stands. Both are hyper-efficient scorers that drive defenses nuts. Both play off the ball and with the ball well. Phoenix puts Booker off the ball much more than Houston did Harden, but both teams have found success doing both styles of offense over the course of a game. And being able to switch from one to another leaves defenses unable to truly game plan what to stop. That switch? It hinges on having Paul at point guard. 
And yes, both teams have Chris Paul playing point guard. At the core of each team is Chris Paul playing point and keeping the pace. The 2017-18 Rockets played at a pace of 97.6 possessions per game. The 2020-21 Phoenix Suns play at 97.2. The driving force for both has been Paul's control of the tempo, and the way he's orchestrating the similar pieces around himself. He runs the show like he's directing a play. Both the 2018 act and the 2021 act have been Tony-worthy
Why Does That Mean Rockets' Fans Should Root for Phoenix?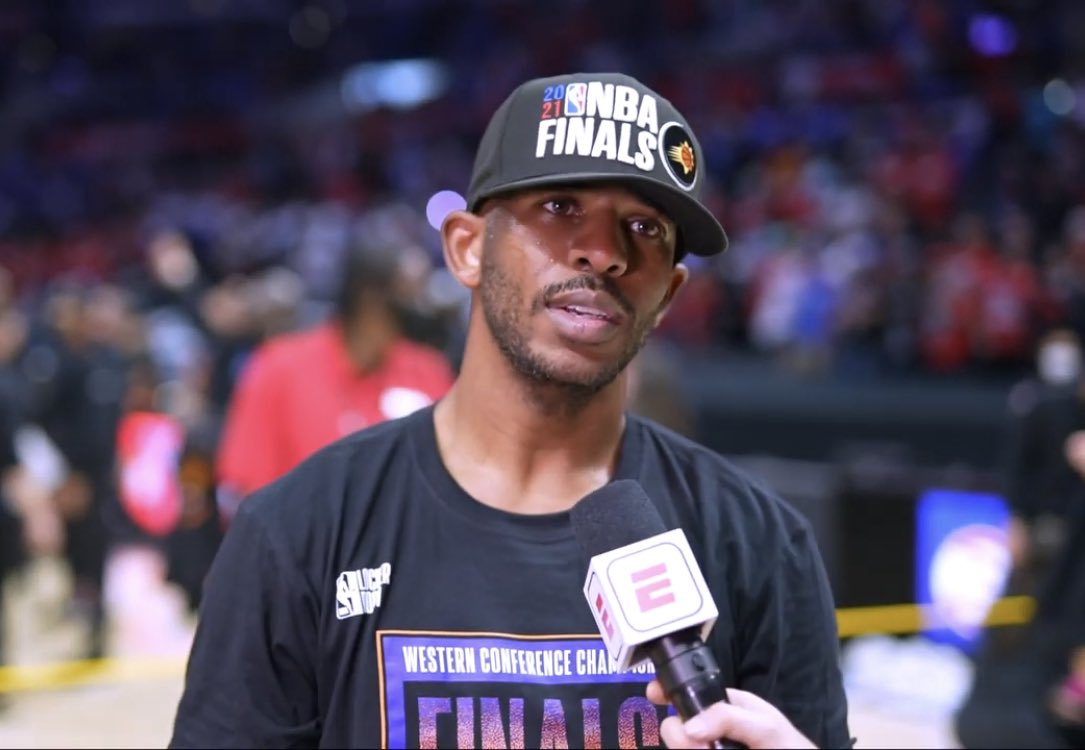 Health plagued the Rockets in 2018-19 and gambles went awry in 2019-20. But the Houston faithful feel confident that they were a "hamstring away" in 2017-18. When Paul went down at the end of Game 5, Houston was closing out a 3-2 lead over the defending champion Golden State Warriors. Houston lost Game 7 of that series, at home, by just nine points. The game featured a historically "off" shooting night from three and a physical game with few to no fouls called at the rim. Chris Paul, who notoriously dominates the midrange, was absent. It stands to reason that Paul, who had a +/- of more than 10 in seven different playoff games that year, could have helped. The Warriors went on to sweep the Cleveland Cavaliers in the NBA Finals. The Rockets had beaten Cleveland five of their previous six matchups, including both times in 2017-18.
The Western Conference Finals were the de facto NBA Finals, and Houston's "hamstring away" theory is not farfetched. The Rockets were 53-7, counting the playoffs, with a healthy Clint Capela, James Harden, and Chris Paul in the lineup. That win percentage (88-percent) lines up with the 1995-96 Bulls and 2015-16 Warriors for the best of all time, and it includes the playoffs, in which you're playing more difficult opponents. 
Chris Paul winning a title the same blueprint, albeit with a younger roster around an older Paul, only benefits the "hamstring away" case. It makes it very clear that with even better pieces (an MVP at the two-guard, a Sixth Man of the Year in Gordon, a younger and statistically better Paul, etc.) the 2017-18 Rockets really were good enough, just unlucky. That's as good as a Rockets fan could hope for from this season. 
The Argument Against Milwaukee
For whatever reason, there's been an odd rivalry between Milwaukee and Houston since the 2018-19 season. During that season the two lead MVP candidates were Giannis Antentokounmpo and James Harden, and the daily discussion of "who's the MVP?" seemed to be on every NBA talk show. Giannis was a two-way phenom that had finally arrived. He was putting up 27.7 points and 12.5 rebounds in just 32 minutes per game. Antetokounmpo was second in the NBA in Defensive Player of the Year voting, and his Bucks held the top seed in the Eastern Conference.
Harden averaged 36.1 points per game. The only two players to ever average more in a season were Michael Jordan and Wilt Chamberlain. Harden also had a 32 game streak of scoring over 30 points. That included a streak of five consecutive games of over 40. He shouldered a Usage Rate of 40.5%. The only player higher in NBA history was Russell Westbrook in 2017, his MVP season. The player comparison, and thus rivalry, really boiled down to defining the MVP award.
Antetokounmpo and the Bucks were as good a regular-season team as there was in the NBA. They won any number of ways and had a great year. Houston was riddled with injuries. Paul struggled to ever really recover from the previous year's hamstring injury (and missed more than a month midseason after reinjuring it). Capela playing only three-fourths of the season with heel problems. Eric Gordon Houston resorted to calling up and relying on former  G-League players (though Danuel House panned out, he was required to bounce back and forth to Rio Grande Valley) and signing players who were waiting for someone to call (like Austin Rivers at Christmas). Houston even had to send out assets to bring in and start bench players from other teams, like Kenneth Faried from Brooklyn.
The offensive game plan became "hope Harden bails us out." Houston finished fourth in the Western Conference after losing a tie-breaker.
While this lead to lots of Twitter arguments between Brew Town and Clutch City, the players themselves added fuel to the fire over time. Giannis Antentokounmpo famously avoided picking Harden in the All-Star draft of 2020 because he wanted someone who "passed the ball" more. Harden, in a sit down with Rachel Nichols, once said he wished he could "just be big and fast and dunk the ball all the time," claiming the way he plays takes "actual skill." Perhaps no stronger fuel was thrown on the fire than when, upon receiving the 2019 MVP award, the official Houston Rockets Twitter handle took a moment to tweet out that they "respectfully" disagree, in a string of tweets with Harden's accomplishments that has since been deleted. 
Milwaukee winning with Giannis Antentokounmpo on the court gives them the last laugh. The entire dispute stems from team accomplishments and their correlation to an individual award… but if Milwaukee secured both, it may invalidate Houston's arguments. In 2019, both the Rockets and the Milwaukee Bucks lost to the conference champions. Neither made it to the NBA finals. In the Orlando Bubble of 2020, both teams again lost to the conference champions. Milwaukee appears to have gotten over the hump while Houston has had to start over from scratch. A loss would mean another dent in Milwaukee's armor as well as a small victory for Houston. A victory would bring back the 2019 MVP arguments, the 2020 All-Star commentary, and all of the yuck that came with it.
A Caveat for Milwaukee
PJ Tucker could have been a forever Rocket, and he will always be a beloved and honorary Houstonian. Until the wheels began to fall off in November of 2020, Tucker built life-long relationships with teammates, staff, and the city of Houston. Much like the trucks a stereotypical Texan drives, Tucker's game was Texas Tough. He balanced walking through the entrance tunnel with swagger like a Paris Fashion Week model and wearing exclusive sneakers worth thousands of dollars with a playing style developed by scuffed knees and a large chip on his broad shoulders. PJ Tucker was a fan favorite, and his successes weirdly feel like successes for the Rockets' fans too. 
But we'd be remiss to not point out that if Tucker wasn't "your guy" as a Rockets fan because he was a Texas product, Milwaukee's Khris Middleton is the most successful Texas A&M Aggie to play in the NBA. If Tucker and his burnt-orange blood could never have been your guy, Khris Middleton likely was. 
At the core, Milwaukee looks like the team the Houston Rockets could become. They feature a roster full of traditionally big players like Giannis Antetokounmpo, Brook Lopez, and Bobby Portis who all play outside of the three-point arc. Houston did the same with Christian Wood and Kelly Olynyk this season. They very well could be drafting young big man Evan Mobley of USC or the long wing Jalen Green of the G League Ignite this summer with the same ideas in mind. 
While they struck gold with Giannis, what Milwaukee's built around him appears otherwise attainable. They scouted well and found their franchise's cornerstone in the middle of the first round of the 2013 NBA Draft. Once they knew what they had, they surrounded him with complimentary players via trades, smart drafting, going all-in on the here and now. Houston is a bigger city than Milwaukee but could learn from the mid-sized market approach. Much of Daryl Morey's tenure in Houston was based around signing or trading for big star after big star… and while it led to eight straight postseasons, a few Western Conference Finals, and a pair of "what if no one got injured?" runs in 2009 and 2018, Milwaukee's blueprint is also working. 
The Suns represent what Houston could have been, but the Bucks represent what the Rockets could be. Houston has a plethora of draft picks in the near future, including the number two pick this summer. In a strong NBA Draft class, Houston will have three first-round picks to play with. The Rockets also have a handful of promising young players with high upsides. If they can find the next "cornerstone guy," the path Milwaukee took after that seems very achievable. And if that's the case, it's encouraging to see that blueprint work out so quickly.