Unfortunately for only a few people, the Los Angeles Clippers are out of the NBA Playoffs. The Clippers fell to the Phoenix Suns last night in game six and sent Chris Paul to his first NBA Finals. However, offseason drama began to brew for the Clippers before they even arrived in the offseason. Let's do this. Who leaves the city of angels first- Paul George or Kawhi Leonard?
My Bet: Kawhi Leaves the Clippers
Now, I'm not a betting man- wait, yes I am. Before the playoffs, I bet that the Suns would win the title because FanDuel gave them +1900 odds. Great value and Chris Paul is my favorite player. Anyways, I can't bet on player futures in Virginia, but I would bet that Kawhi Leonard leaves the Clippers.
No one really knows Kawhi so I'm not going to pretend that I have any idea what "fun guy Kawhi" is thinking. Let's start with the facts. Fact: Kawhi's contract is up. Fact: He is eligible for the super-max. Additionally, Kawhi wants to stay in Los Angeles.
Knowing what we know, we can assume Kawhi wants to sign again with the Clippers? What if he doesn't? What if he decides that he can make his super-max money somewhere else? We can't predict what Kawhi wants to do. He is terrible at conveying when he is unhappy. Look at what happened between him and Pop. Kawhi is one of the only players to ever have issues with Gregg Popovich and it took forever for his thoughts to come out.
Like I said before, I think Kawhi leaves the Clippers. But who would take the guy who wasn't telling his teammates what was wrong with his knee? Apparently, there are suitors. According to an article by Kevin O'Connor from The Ringer, the Heat and the Mavericks are going to make strong pushes for Kawhi. So, if Kawhi keeps acting secretive, I can expect to see him out of LA. Maybe he heads to the 305, maybe he heads to the lone star state.
Paul George Traded?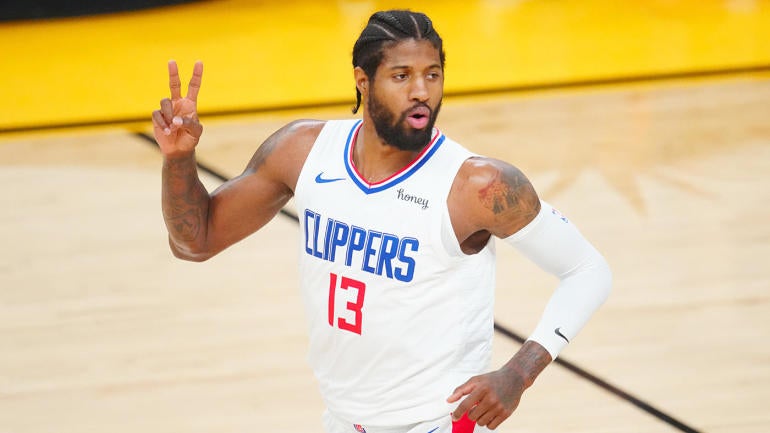 Between Kawhi and Paul George, I see this is as the less likely option. When PG signed his four-year extension, this was a sign that the Clippers undoubtedly wanted to keep him. However, what if the Clippers could flip him for something better?
This theory doesn't have a lot of traction, however, it's fun to think about. I first started to think about it today when I was listening to a podcast from The Ringer. What if Portland traded Damian Lillard for Paul George and some picks? Seems ludicrous, but it makes you think, right? It's starting to sound like Dame wants out of Portland, so what if Dame wanted to stay on the west coast? The Clippers are in a much better position than the Trailblazers are right now, so Dame could win a title with LA. Imagine how wild that would be to see.
I don't see the Clippers getting rid of Paul George, especially after that contract extension, but anything in this league is possible. When do you think Kawhi leaves the Clippers? So much drama is coming to this offseason, and I can't wait for it to start.
Want to check out more of our NBA content? Check out this article here about the Ben Simmons saga!