John Elway hasn't had any success trying to find a franchise quarterback in the franchise's post-Peyton Manning Era. Many quarterbacks have tried, but few have had any moderate success. From first round bust Paxton Lynch, to emergency quarterback Kendall Hinton, Denver's quarterback room in recent years has been a mess. Now, with the 2021-2022 season rapidly approaching, Denver is once again in predicament at the quarterback position. The Denver Broncos quarterback competition is one of the few in the entire league. The franchise will have to choose between incumbent starter Drew Lock, or the recently acquired Teddy Bridgewater. Both players have their pros and cons, but overall the Broncos are in a better spot than they have been in years.
Drew Lock's Strengths and Weaknesses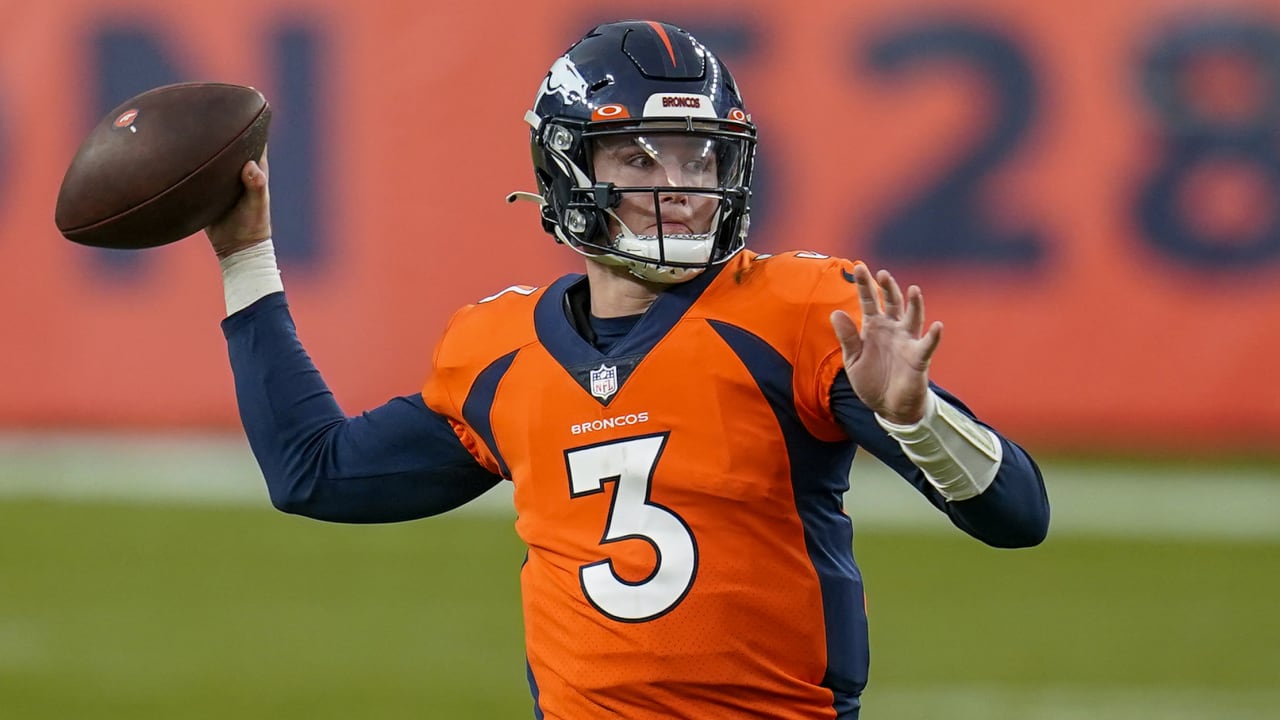 The Denver Broncos selected Drew Lock with the forty second pick in the 2019 NFL Draft. It wasn't until Week 13 of the season that Luck got his first NFL start. Joe Flacco's season was ended due to injury, and Brandon Allen was benched after Week 12. Drew Lock would go on to play the remaining five games of the season. In his five starts he compiled 1,020 passing yards, seven touchdowns, and three interceptions. He didn't put up gaudy statistics, but he did demonstrate the ability to win games. The team went 4-1 with Lock under center.
The franchise and it's fans had newfound hope at the quarterback position, something they haven't felt in years. Unfortunately, Lock's performance in the 2020 season diminished some of this hope. Lock would start thirteen games, but would only manage 4 wins, equaling his season prior. Lock would throw for 2,933 passing yards, sixteen touchdowns, and fifteen interceptions. His fifteen interceptions led the league.
Drew Lock's career so far has been a bit of a mixed bag. Leading the league in interceptions isn't great. However, there's been plenty of great quarterbacks who struggled with turning the ball over early in their careers. Lock has a few strengths that lead me to believe that there is a franchise quarterback potential. He's a gunslinger, he's aggressive, and has a very strong arm. He has a good frame, and his athletic enough to make occasional plays with his feet. He also plays with a lot of moxie. Lock plays with confidence and swagger. On the flip side, a lot of these strengths are also weaknesses. The confidence he has in his arm has led to turnovers and inaccurate passing. In this day in age the clock for a quarterback to prove himself has rapidly accelerated. If Lock doesn't show progression this season, he could find himself elsewhere.
Teddy Bridgewater's Strengths and Weaknesses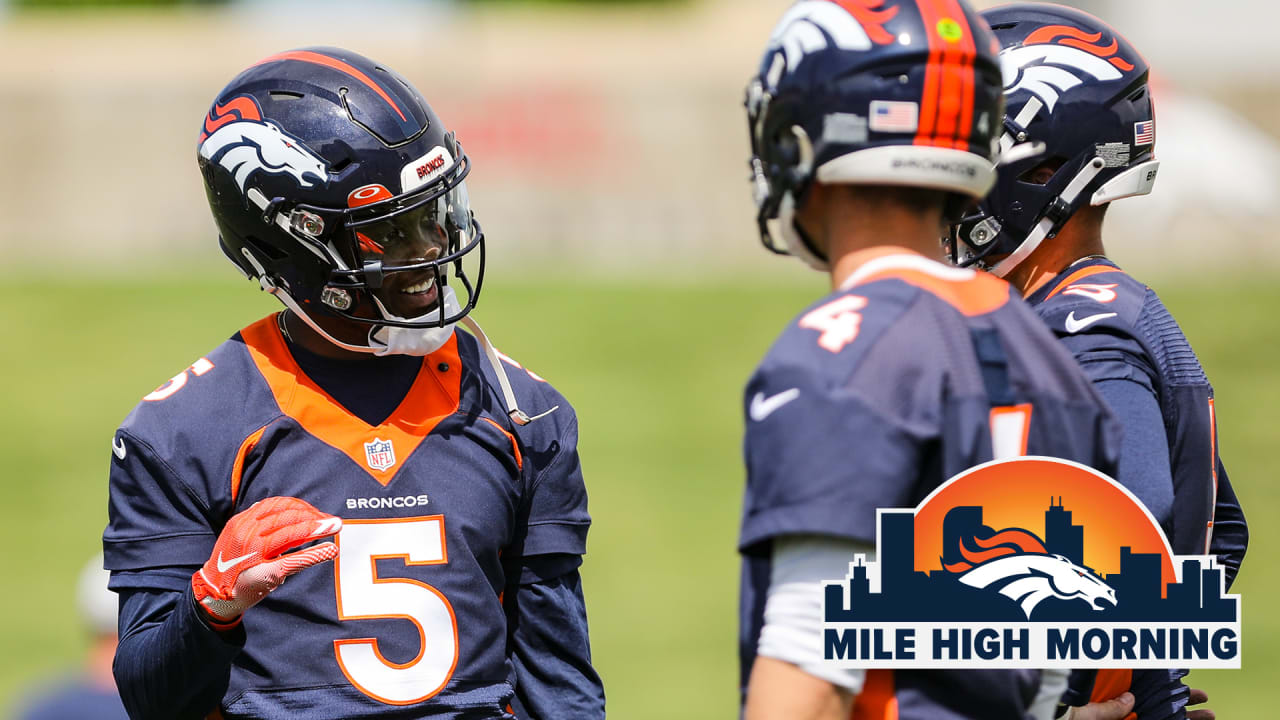 During the offseason the Broncos acquired Teddy Bridgewater from the Carolina Panthers for a sixth round pick in this past draft. Bridgewater's coming off his best year statistically. Bridgewater had 3,733 passing yards, fifteen touchdowns, and eleven interceptions during the 2020 season. The passing yards were solid, but the touchdowns to interception ratio wasn't great. Bridgewater has been on winning teams in the past, but overall his abilities as a quarterback are limited. While Lock is a true wild card, one of Bridgewater's main strength is his consistency. While Lock has the higher ceiling, Bridgewater provides a known commodity. He might not be the most exciting to watch, but for the most part you will get the same player every single game.
If their young offensive weapon core materializes into what they think it can be, and the defense plays at a high level, Bridgewater may be just what the franchise needs. While Alex Smith was a better quarterback, he was the epitome of the consistent "game manager" quarterback. There's no questioning the resiliency of both Smith and Bridgewater, and they've both won games throughout their careers. Smith was more athletic, but overall they're very similar quarterbacks in both playstyle and seemingly character. Bridgewater doesn't have the ceiling or arm talent of Lock, but he provides reliability and consistency. A truly incredible comeback story, and a great pick up for this franchise.
Denver Broncos Quarterback Competition Verdict
Overall bringing in Teddy Bridgewater was a great move by new General Manager George Paton for several reasons. Bridgewater will push Lock to play better, and smarter. With a veteran on his heels, Lock will have to play well in order to avoid finding his way to the bench. The competition itself could push Lock to become a better quarterback. That being said, competition aside, a player like Bridgewater could also be a great mentor for a young quarterback. He's made a pro bowl, he's played for multiple franchises, and he's overcome adversity. I don't know Teddy personally, but he seems like the type that would offer advice to young players.
If the competition results in Lock improving and player better, that's a huge plus for the organization. If the competition results in Bridgewater winning the job, then the franchise will be provided with a consistent option under center. More importantly, they will then realize that they once again have to commence the search for a franchise quarterback. I'm pulling for Drew Lock, though it seems he's been inconsistent in camp thus far. With his arm and confidence, I think there's something there. I just hope it shows through before it's too late. Overall the Denver Broncos quarterback competition is great for the franchise, and I'm eager to see how it plays out.
Like this article? Don't forget to follow me on Twitter (@jthomann16) and check out all of the other great Belly Up Sports content!