On a special weekend of racing at the Brickyard in Indianapolis, Will Power drove to his first win of the season. This weekend is the crossover of IndyCar and NASCAR as both championships race at the Indianapolis road course. Saturday, the IndyCar drivers grabbed the headlines as a dramatic race unfolded and created more drama in this year's 2021 season.
Will Power Loves the Brickyard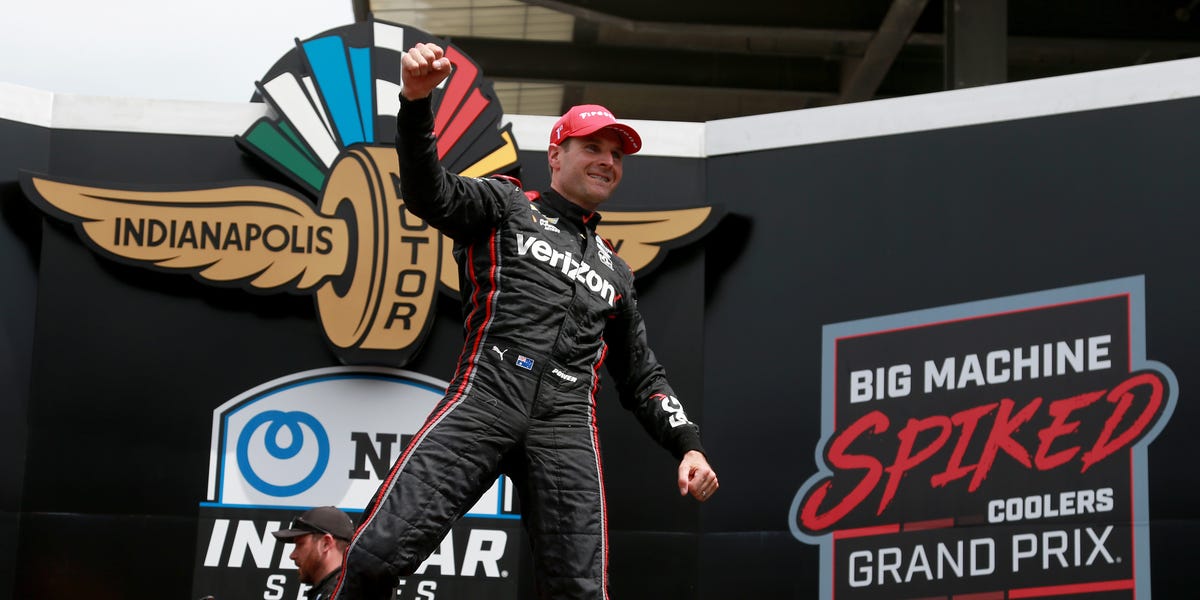 When IndyCar rocks up at the Brickyard for the Indy 500, the race gets serenaded by the singing of 'Back Home Again in Indiana,' well Will Power must sing that to himself every time he drives through the sleepy streets of Indianapolis when there is a race on the road course. The Aussie had four wins on the track; yesterday, he made it a fifth after overtaking pole position man Pato O'Ward in the early stages. Power withstood everything and put all the frustration behind him for a long-awaited victory despite several late caution periods and the pressure of Romain Grosjean and Colton Herta.
The Europeans Are Coming
For many years, European drivers didn't consider racing in IndyCar. The lack of TV coverage, understanding, and the dominance of F1 meant many racers didn't care about IndyCar. That mentality began to change after Fernando Alonso's valiant attempt at the Indy 500 in 2017. In 2021, F1 veteran Romain Grosjean is highlighting all the positives of racing in IndyCar. After another gutsy drive, he excelled on track; the Frenchman grabbed second place in Saturday's race. His success is helping other European drivers look to IndyCar as a viable career option. Young F2 racer Christian Lundgaard made his IndyCar debut this weekend. And despite fighting the ails of food poisoning (Indianapolis is a great city, just don't buy a burger from a truck stop), Lundgaard displayed plenty of promise.
To add to the good news, former Red Bull F1 driver Alex Albon made a trip to the Brickyard to get up close to an IndyCar. He is another driver looking to secure a race seat in IndyCar. Moreover, with news breaking last week that McLaren wants to run a third car and that manufacturers like Ferrari are considering an entry, IndyCar is booming in Europe.
The Championship Battle Shifts
After an incredible comeback drive in Nashville, championship leader Alex Palou felt the violent shift of IndyCar's tectonic plates at the Brickyard. An engine mapping problem plagued Palou for much of the race until, predictably, his engine opted to take the rest of the day off by blowing up. With McLaren's Pato O'Ward taking a top-five finish alongside his pole position, the championship gap between the top two is just 21 points.
Josef Newgarden also came home in a solid eighth-place finish. The Tennessee native bounced back from a disappointing weekend in Nashville to snatch decent points finish. Conversely, it was a bad day for reigning champion Scott Dixon as he finished 17th. His championship charge is fading.
Where Next?
IndyCar's summer triple-header concludes next weekend with a night race in St Louis. The World Wide Technology Raceway is a fast, flowing oval that tests drivers. If any of these drivers wish to lift the Astor Cup, they must survive Gateway. The sheer speed and dangers push them to the limit. On a slick, tight raceway, the championship fight could get spicier. In fact, it definitely will.
Race Highlights
Final Race Result
1
Will Power
12
2
85
01:49:38.0811
56
Running
53
113.458
3
2
Romain Grosjean
51
3
85
01:49:39.1953
–
Running
40
113.438
3
3
Colton Herta
26
5
85
01:49:40.4309
2
Running
36
113.417
3
4
Alexander Rossi
27
10
85
01:49:41.5193
–
Running
32
113.398
3
5
Pato O'Ward
5
1
85
01:49:42.1863
16
Running
32
113.387
3
6
Jack Harvey
60
7
85
01:49:43.4044
–
Running
28
113.366
3
7
Graham Rahal
15
16
85
01:49:43.9364
–
Running
26
113.357
3
8
Josef Newgarden
2
20
85
01:49:44.3308
2
Running
25
113.35
3
9
Marcus Ericsson
8
11
85
01:49:45.0891
–
Running
22
113.337
3
10
Takuma Sato
30
15
85
01:49:46.0260
–
Running
20
113.321
3
11
Conor Daly
20
8
85
01:49:47.4407
–
Running
19
113.297
3
12
Christian Lundgaard
45
4
85
01:49:47.9190
2
Running
19
113.288
3
13
Felix Rosenqvist
7
19
85
01:49:48.7045
–
Running
17
113.275
3
14
Ed Jones
18
17
85
01:49:50.2010
–
Running
16
113.249
3
15
Sebastien Bourdais
14
14
85
01:49:50.6592
–
Running
15
113.241
3
16
Simon Pagenaud
22
12
85
01:49:54.4980
7
Running
15
113.175
3
17
Scott Dixon
9
26
85
01:49:55.2735
–
Running
13
113.162
3
18
Ryan Hunter-Reay
28
13
85
01:49:55.4084
–
Running
12
113.16
3
19
Jimmie Johnson
48
22
85
01:49:56.2396
–
Running
11
113.145
3
20
Max Chilton
59
18
85
01:49:56.8300
–
Running
10
113.135
3
21
Helio Castroneves
06
23
85
01:49:57.6262
–
Running
9
113.122
3
22
James Hinchcliffe
29
24
85
01:49:58.9261
–
Running
8
113.099
3
23
Scott McLaughlin
3
21
85
01:49:59.0926
–
Running
7
113.096
3
24
Rinus VeeKay
21
9
85
01:50:00.5757
–
Running
6
113.071
3
25
Cody Ware
52
27
83
01:50:04.5253
–
Running
5
110.345
4
26
Dalton Kellett
4
28
81
01:50:12.2303
For More Awesome Content From Belly Up, Click Here or Follow Us on Twitter @BellyUpSports