The $196 Million Dollar Man
On August 17th, Joel Embiid of the Philadelphia 76ers signed a 4-year, $196 million supermax extension. That extension will keep the Cameroonian with the only NBA franchise he has ever known. Embiid recently finished 2nd in MVP votes before he participated in 2nd round playoff collapse by the Philadelphia 76ers. He was also selected All-NBA 2nd team and NBA All-Defensive 2nd Team, his third such selection for both teams.
With those accolades up to this point in his career, Embiid is clearly on the shortlist for best center in the league. His unique blend of size, footwork, and touch makes him truly unique among centers. This skillset allows him to stake a claim as the center who best combines offensive and defensive prowess. However, this does not necessarily mean he is the best center in the league. Nor does it mean his game doesn't have holes.
While Embiid is undoubtedly worth the contract he signed, there are valid questions about his future. Fans wonder if he ultimately lead his team to the promised land as contract of this magnitude suggests he should. Namely, will the Sixers be able to take the next step and compete in the NBA Finals?
There's no place like PHILADELPHIA!!! Excited to continue working towards bringing a title home and eventually retire here #PHILLY pic.twitter.com/V7YLAbRxAD

— Joel "Troel" Embiid (@JoelEmbiid) August 17, 2021
Causes for Optimism: Size Advantage
We can start with Embiid's number one skill since he entered the league. He is one of, if not the best, defensive center in the league. Plain and simple, Joel's combination of size (7'2" and 280 lbs.) and nimble footwork is unmatched in the league. He swallows up bigs, wings, and guards alike as they test him at the rim. No single player can attack Embiid in the paint without difficulty executing their shot. 
Throughout Embiid's career the Sixers have utilized drop coverage in the pick and roll to accentuate Embiid's size. Ball handlers are forced to dribble into him lest they get harassed by their primary defender from behind. This scheme has its drawbacks but Joel is usually able to cover those up mainly in the mid-range and high paint areas. The big man reacts quickly and forces shots a tad earlier than the offensive player is comfortable with.
Offensive Production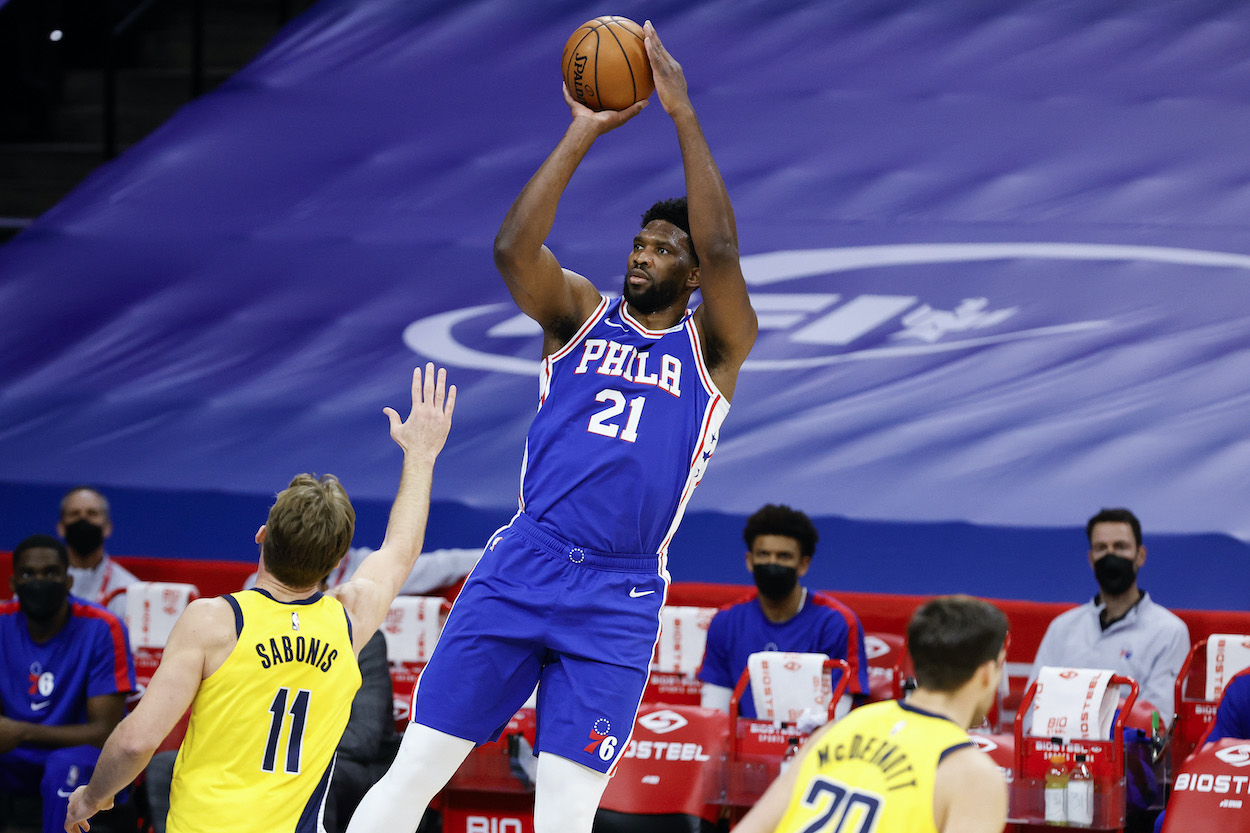 While Embiid's defensive prowess has never been questioned his offense is more of a mixed bag. With a player who has only been played basketball for 10 years this was always to be expected. Post play became more difficult in the NBA over the last decade and a half due to rule changes. What Embiid did this past year should give the Sixers confidence going forward. They have a star with a good balance between post-ups, face-ups, range.
According to Basketball-Reference shot data, Joel has significantly cut down on his three-point attempts. He trades those attempts in for major upticks from the 3-10 foot range and 10-16 foot range. Anyone who watches Embiid has undoubtedly cringed when he jacked up a three, feeling he was wasting a possession. Less three-point shooting allows him to focus more on utilizing his soft touch from the mid-range. Additionally, his uncommon quickness lets him leverage his skills into higher percentage shots.
Joel Embiid saw this change have a two-fold impact on his scoring this season. First, the center shot over 50% for the first time in his career. His effective field goal percentage was 3% better than his career average. Second, Embiid also showed a noticeable uptick in his free throw rate to a career-high .610 (Free throw rate is free throw attempts divided by field goal attempts). Finally realizing his go-to moves to tip his efficiency to above average will help Embiid sustain a higher level of offensive production. Hopefully, this production can carry the Sixers into deeper playoff runs.
Still Searching for the Right Fit
Lastly, Joel is a net positive for every season he has played in the league, both regular season and playoffs. I wont't mention the debacle of a bubble playoffs in 2020. For what seems like Embiid's entire career the Sixers have hoped to break even when he sits which creates some perilous situations in the playoffs where series losses could be directly tied to the minutes that Embiid sat. This is made more impressive due to the clunky roster fit that Embiid has been surrounded by his entire career.
No sideswipe at Ben Simmons, but having your point guard not be willing or able to shoot isn't the best fit when your go-to offensive player is at his best in the mid-range and in. Add in that other top wings for the Sixers have included Jimmy Butler and Tobias Harris, both best working in the mid-range, and you can see why Joel might have taken those threes early in his career. On top of this, the Sixers have typically had one knockdown three point shooter in Embiid's career, and that's it. 
The Sixers have simply had trouble finding the best mix to maximize some of the unique talents on their roster. Joel Embiid's ability to thrive and get better on offense, all while anchoring top tier defenses while having limited space to operate is a testament to his overall talent. Daryl Morey now has pressure to work his roster magic to continue to find a more cohesive blend around Embiid, Harris, and Ben Simmons, should the latter not get traded.
Causes for Pessimism: Defensive Limitations
As mentioned earlier, this extension isn't a slam dunk despite the many pluses that Embiid brings. As great as Embiid's defense is there are still certain situations where the modern NBA can work to put Joel on a defensive island and take advantage of his few limitations. Namely, stringing out a switch and forcing Embiid to defend in space. The 76ers are keen to play drop coverage as much as possible. Great pick and roll initiators, however, can still control this dance to get the precise matchup they desire.
Sometimes this is a switch that forces Joel Embiid to have to move his feet quick and cut off driving lanes. As a result, he leaves cracks for the ball handler to traverse as well as open up the step back. Other times opposing teams use drop coverage against the Sixers and setting the screen 30 feet from the hoop. Joel has shown a reluctance to set his feet higher than the three point line and this gets him burned against the association's best marksmen.
These defensive limitations don't rear their head often but typically when they do, it hurts. Deep playoff competition will take advantage of this. In the last decade or so we have seen an increased focus by NBA offensive scheme's in the playoffs to ruthlessly target defensive weak links. This can extend to a certain weak link in a great defender's game and something the Sixers will continually have to scheme against. Individually, Embiid will have to make marginal improvements to not have it become an annual fatal flaw.
Wing/Guard Dominance
In recent decades the team that has won the Finals is led by a scorer who is either a wing or a guard. Giannis put a dent into this pattern as we watched his game transform more and more into center style attack. Still, he had his fair share of possessions starting with the ball in his hands outside the three-point line. Embiid will never initiate the offense, nor should he, and it's questionable if that puts a ceiling on his and the Sixers' offensive ceiling in the playoffs.
As mentioned earlier, the league prioritized post play less through various rule changes. The rise of the importance of star wings is evidence of this. This particularly hurt Embiid and the Sixers in his first 3 playoff appearances as he didn't have a counter to the increased defensive focus in the post. Incorporating the face-up game this year gave him a new way to attack the defense but it still requires someone passing him the ball to start the initiating. 
This is just one more thing that needs to go right for the Sixers offense to hit peak efficiency in ways other top tier playoff teams don't have to worry about. As the margins become slimmer deeper in the playoffs, both Embiid and the Sixers offense will need to find ways to address this obstacle. They must do so through the scheme, personnel, and mentality.
Physical Woes
The final reasons for pessimism has little to do with the on-court skill and talents of Embiid and his teammates. First, you have the injury concerns that will forever follow Embiid. He consistently misses games throughout the regular season, never having played more than 64 games. You can safely write off 15-20 games a season where Embiid will not suit up. This extends to the playoffs as he has missed time with various ailments in three of his four playoff appearances.
Anthony Davis is the only contemporary who runs into similar skill type and injury questions. We all watched Davis and his team ultimately succeed once he was slotted as the 2nd best player on the roster. With Embiid's injury history, all those involved with the 76ers will be hoping Embiid can break free from this bug at least long enough for one or two deep playoff runs.
Mental Woes
The other main worry with the big man is the mental aspect of the game. The flow of the game and the actions of his opponents work to diminish Embiid's dominance at times. Many times, Joel Embiid has shown that questionable officiating or challenging defense can take him out of his focus.
When Embiid loses this focus, you start to see him force shots, try and draw fouls, and falter defensively. This problem will be felt in the playoffs, when possessions are at a premium. Outside factors derail his game which worries the Sixers organization as much as the injuries. Embiid does not have to be on top his game but frustration only compounds the effect of inevitable bad games. The difference between one or two bad games in a series by the superstar could be the difference between a series win and loss.
The Verdict
Yes, the 76ers had to sign Joel Embiid to this extension. He is a top 2-4 center, and someone who can anchor a team to 45+ wins simply by appearing in 65 games a season. If you have Embiid, you are making the playoffs with a top tier defense, at a minimum. The onus is on both Philadelphia and Joel to make tweaks that allow them to reach the heights they envision.
If I had to bet on a Finals appearance, with the present trajectory of Joel Embiid and the team, I'd bet no. However, some mental changes and roster tweaks can quickly make that bet look foolish. These next six years will be fascinating to watch play out.
For more basketball coverage from Belly Up Sports, check out The Midweek Midrange show on YouTube on Wednesdays and @HoopsBellyUp on Twitter. Read additional coverage at Belly Up Sports.