Let's take a trip back to 2019. Cody Bellinger is finishing up a monster MVP season. His only major competition, Christian Yelich, is struck down with a devastating knee injury. There's nothing but open field ahead of him. All Bellinger has to do is run. That he does, taking home 19 first-place votes while picking up a Gold Glove and a Silver Slugger on the way.
Bellinger is the only player in Dodgers history to win the awards Triple Crown, proving he was all-around the league's best player. On offense, he ranked fourth overall in OPS+, and in the field, he was third in UZR/150. At the time, it was totally justified to say he was a top-five player in the sport along with the runner-up Yelich. Nobody could've predicted the collapse that would befall the Dodgers star.
You can argue the fall from grace began in 2020. Bellinger had an underwhelming season by his lofty standards, slashing only .239/.333/.455 in 56 games. Yet, the bottom really fell out in 2021. To date, his OPS+ sits at 44, by far the lowest of his career and a number that sits among the worst in the league. For sure, injuries haven't helped Bellinger's case, but there may be something more concerning beyond his ailments.
Is it Injuries or Something More Causing Cody Bellinger's Downfall?
Before diving into the underlying numbers, it's fair to underscore this with the myriad of injuries Bellinger has suffered lately. During the 2020 NLCS, he dislocated his shoulder during a home run celebration which required surgery. This year, both a hairline fracture in his fibula and some hamstring tightness have limited him to a mere 81 games. All are concerning injuries and the shoulder issue is what Dave Roberts cited as the root of Bellinger's troubles to this day.
It's not a perfect explanation for what we're seeing though. Bellinger's decline can actually be traced back to his 2019 MVP season. Much of that monster campaign was carried by an unreal first half that overshadowed the second half by over 200 points of OPS. It wasn't a bad second half, but still nowhere near the stratospheric highs of the first.
The decline has only worsened since that second half. In 2020, the hitting percentiles per Statcast were still solid, though noticeably worse than in 2019. He saw massive drops in hard-hit percentage, average exit velocity, all expected batting stats, whiff percentage, and walk rate. The biggest drop of all, one that marks Bellinger's change in approach, is the chase rate. Bellinger rated in the 82nd percentile in chase rate in 2019 but dipped to the 46th percentile in 2020. This is all before injuries factor in and before the bottom falls out in 2021, indicating a trend rather than a sudden drop-off.
2021 is the Culmination of Some Troubling Trends for Bellinger
Perhaps the most damning stat is the expected batting average. Between 2019 and 2021, Bellinger's percentile ranking in xBA plummeted from 100th to second. Yikes. He holds an xBA of just .203 with an xSLG of .345. A look at the Statcast page shows a lot of blue which is never a good sign. The most concerning of all the blue, though, is the strikeout and walk rates, both waaaaaay worse than previous years. His strikeout rate, which once sat at an elite 16.3 percent, has ballooned to 26.8 – a career-worst. The walk rate has done the same, dropping to a low of nine percent.
There's an argument that some of that is due to the recovering shoulder and injuries in general and that's understandable to an extent. It could explain away the low hard hit numbers, BA, and xSLG for sure. Unfortunately, a lot of the decline seems more in line with the change in approach Bellinger has made. That increasing chase rate which, surprise surprise, also hit a career-high by far in 2021, would certainly explain those fluctuating strikeout and walk rates. It just seems like he's having trouble seeing the ball altogether.
Let's look at how his ability to hit the fastball specifically has degraded. From 2019 to 2021, the decline has been massive. The slugging against fastballs dropped from .704 in the first half of 2019 to .603 in the second, to .358 in 2020 before cratering at .305 in 2021. Again, this is a trend that started in the back half of 2019 when pitchers adjusted by throwing Bellinger more elevated fastballs. That change sparked the decline as he'd change his swing not once but twice in an effort to combat the rising heat. Needless to say, it didn't work.
A Worrying Future Ahead for the Dodgers Star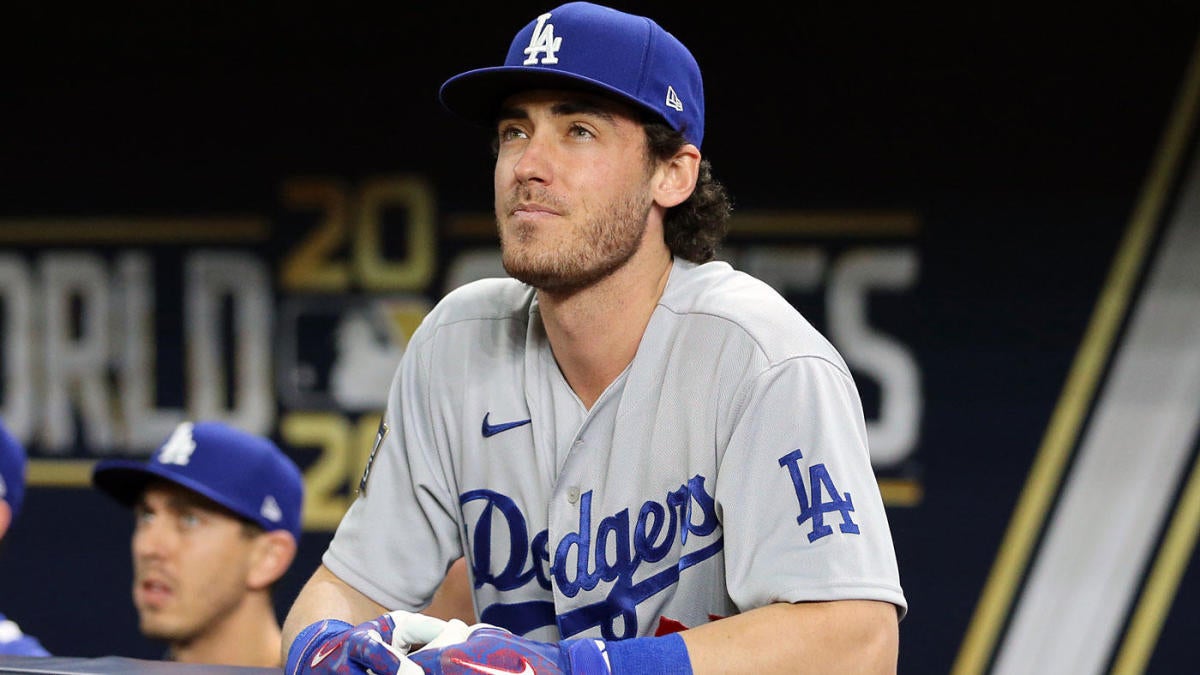 I'm not at all suggesting that it's time to hop off the Bellinger bandwagon, but these are concerning signs. If this were an injury, the drop-off would be less dramatic and it would be a sudden decline rather than sustained struggles. There's something whack about his approach at the plate right now and it's rough to watch.
With the massive decline in production, it'll be hard to argue for Bellinger's placement on the postseason roster, let alone as a starter. Barring injuries, there's simply no argument for starting him over AJ Pollock, Chris Taylor, or Mookie Betts right now. It's genuinely disheartening to see for a guy who used to have one of the sweetest, and most violent, swings in the game. A guy who just had such natural power and became the X-factor in a Dodgers lineup full of talent.
CODY BELLINGER, YOU ARE RIDICULOUS. pic.twitter.com/AvDKVDk5SM

— Los Angeles Dodgers (@Dodgers) July 4, 2019
Hopefully, an offseason of R&R and a new approach at Spring Training next year are enough to get Bellinger back to at least some semblance of himself. Until then, maybe throw the former MVP on the backburner and accept the lost season.
Thank you for reading! Check out Belly Up's MLB content for more baseball coverage. If you want to keep up with me, follow me on Twitter.