In last week's post-game press conference, New York Jets head coach Robert Saleh said it was okay for quarterback Zach Wilson to play "boring football." Little did he know that his entire offense would be boring as the Jets were shutout by the Denver Broncos, 26-0. It was the third time in three years that the Jets have been shut out. The Jets only managed only 162 yards total offense and managed to break Denver's 50-yard line twice all afternoon. It was a terrible, no good, very bad day for the Jets.
Wilson Gets No Help
Week 1 of Zach Wilson's career was okay. He struggled in the first half against Carolina, but finished strong as he got some help from his receivers and offensive line. Last week against New England, a lot of his mistakes were self-inflicted. He threw three interceptions in the first half in his first ever game at MetLife Stadium. This week against Denver, Wilson didn't do himself many favors, but his offense didn't do much to help him overcome a stout Broncos' defense. The pass protection was horrid. Several of Wilson's receivers dropped sure catches. This includes Corey Davis, who dropped a pass that would have put the Jets inside the Broncos' 10-yard line in the second quarter. The drop became a field goal that was called back due to a delay of game penalty, which forced the Jets out of range. Speaking of penalties…
Shooting Themselves in the Foot
The Jets are a team with a bad reputation of accumulating penalties. After committing only five penalties in Week 1 in Carolina, they racked up eight against New England. This week, the Jets' discipline was lacking again as they committed eight additional penalties. Some of these penalties were avoidable ones. The first was the delay of game penalty on a field goal attempt that saw Matt Ammendola's kick go through the uprights. The penalty pushed them back five yards and the Jets elected to punt instead. Another penalty came after the first possession of the second half when Justin Hardee inexplicably committed a taunting penalty. The Jets' frustrations culminated in the fourth quarter when Shaq Lawson hit Broncos quarterback Teddy Bridgewater late. It was another sloppy, undisciplined effort from the Jets.
Enough Talk About Practice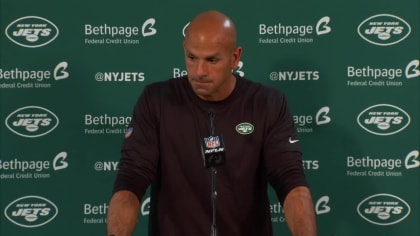 In post-game press conferences last season, former head coach Adam Gase constantly talked about having to 'watch tape' following every loss. This season, Saleh's modus operandi has been about having good practices the week of the game. He mentioned that Wilson had a great week of practice, probably his best ever. But the 'best week of practice' didn't translate into a win against the Broncos. The disadvantage of having a rookie head coach paired with a rookie quarterback to go along with a rookie offensive coordinator is that there are going to growing pains. The problem is, an impatient fan base is growing more impatient. They are waiting for the excuses to stop and for the wins to happen.
Not Happy
During the Jets Post-Game show on SNY, Jenea Coakley talked to defensive lineman Quinnen Williams. Williams had a good day: four tackles, 1.5 sacks, and two quarterback hurries against the Broncos. Coakley tried to keep it positive with Williams and talk about his good day; Williams didn't want that noise. He looked clearly disappointed and furthermore, angry. Williams is in his third season as a Jet and he won't be an unrestricted free agent until 2024. If the Jets continue their losing ways, will one of their best players want out of New York? Losing – consistent losing – will make anyone want out real quick.
(Oh yeah, and has anyone seen Denzel Mims?)
Next Game: back home against mighty Tennessee. Preview later this week.
I'm Ryan McCarthy and I cover the New York Jets beat for Belly Up Sports. We have a lot more to offer in our NFL coverage. If you want to chirp at me regarding the Jets, life, or other topics, hit me up on Twitter: @whoisryanmcc. Thanks for reading.