The Miami Dolphins, like always, are a dumpster fire. The defense has, seemingly, taken a step back this year, the offensive line is still terrible, and their quarterback play hasn't quite lived up to expectations. While people have been pointing at Tua Tagovailoa as a scape goat, is he really to blame? Or has the Necronomicon ex Dolphis* claimed another quarterback?
*It's October and I'm watching Evil Dead II while writing this, let me make my bad puns.
Was Tua the Wrong Pick?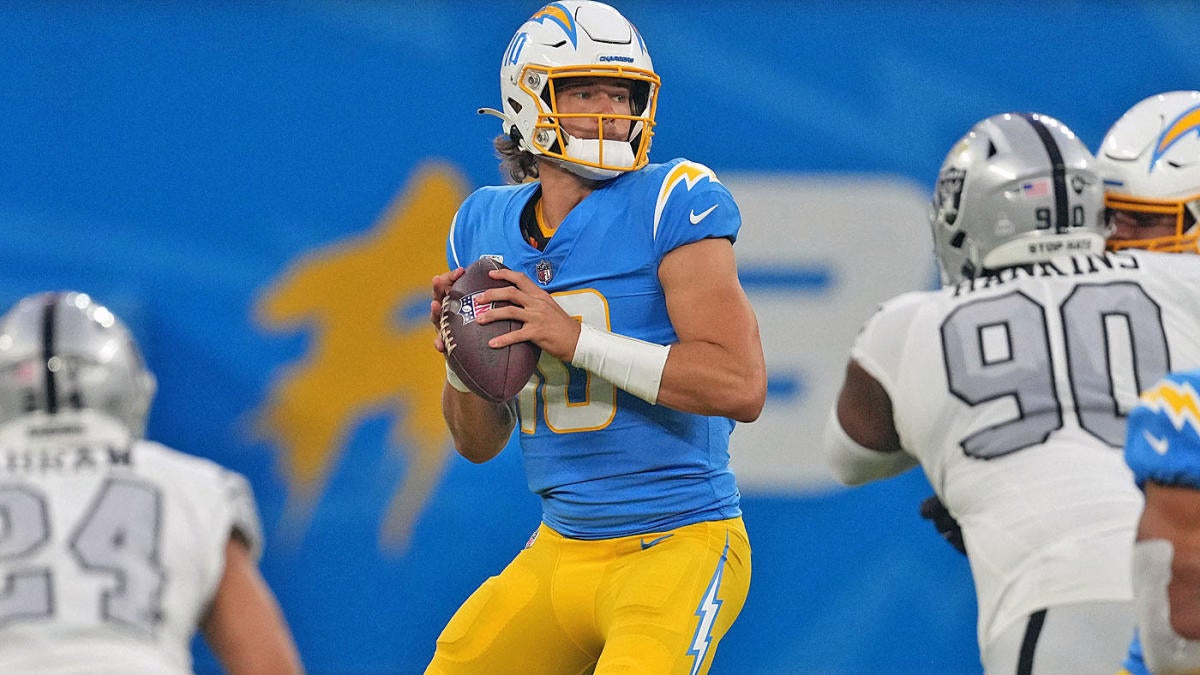 There is a good chance Tua wasn't the right pick for Miami. After the ankle injury his sophomore year and the hip injury his junior year, I would want him wrapped in bubble wrap every time he steps on the field. Unfortunately, that Dolphins offensive line is about as far from bubble wrap as you can get. Tua was going to struggle while recovering from a potentially career ending hip injury, especially behind a subpar offensive line. Not a knock on Tua, it's just the way it is. So who was the right pick?
There Was no Right Pick
The Miami Dolphins seemed deadset on taking a quarterback with the fifth overall pick, and with Joe Burrow off the board, that left either Tua or Justin Herbert. While some think Herbert would have been the right call (Brian Flores included), that makes no sense. We are looking at Herbert with Keenan Allen, Mike Williams, Hunter Henry, and Austin Ekeler. Those are some good weapons. But people actually think Justin Herbert would have done just as well with DeVante Parker, Jakeem Grant, Mike Gesicki, and Myles Gaskin? If you legitimately think that, stop reading because you won't listen to anything that doesn't praise Herbert.
While Miami did draft Austin Jackson with the 18th pick, trading back and getting Jedrick Wills or Mekhi Becton would have been the optimal move. Putting any QB behind that line with those weapons was just setting them up for failure.
What About Free Agency?
I know I'm hammering the Dolphins draft strategy, but they did spend money in free agency. Unfortunately, the offensive spending went towards Ted Karras, noted bust Ereck Flowers, and Jordan Howard (with a Matt Breida trade). All of those guys are gone now. That defense was bad in 2019, and I get a chunk of spending needed to go there. However, that only emphasizes the need to draft weapons and protection in the 2020 draft.
Well, Tua is There Now, so 2020 Doesn't Matter
Not so fast my friend. Tua also had to deal with being put in too early, and then get benched, to start again, to get benched again. That is horrible for a rookie QB's development, and is an indicator of poor coaching. "But Tua didn't know the playbook!" some will yell. First off, any quarterback who isn't trying to learn the playbook doesn't say they don't know it. Exhibit A through Z: Jamarcus Russell.
Secondly, do you know what you do with a rookie quarterback? Either give them a year, or simplify the playbook/reads. Given the Dolphins strategy last year with Tua was "limit his passing" (signaled by Tua throwing 114 fewer passes than Burrow in one less start), they seem to struggle with this concept. You simplify the reads while relying a bit more on the run, not "abandon the pass altogether."
Now We Can Talk About 2021
🚨 2021 NFL Draft | Team Grades
💡 UPDATED version with 26 total evaluations

Now including the grades by:

Bucky Brooks & Lance Zierlein
John McClain
Ryan O´Halloran
Pete Prisco
Adrian Franke 🇩🇪
Eric Edholm
Thomas Psaier 🇩🇪
DK Nation

Thanks for your work – much appreciated 🙏🏻 pic.twitter.com/04OOZQu7ko

— René Bugner (@RNBWCV) May 3, 2021
The 2021 Draft was, by all accounts, great for Miami. Jaylen Waddle gave Tua a weapon he was familiar with, and Liam Eichenberg was expected to help out the offensive line. Unfortunately, the Dolphins didn't do much else. Yes, they signed Will Fuller, but after finishing his six game suspension for PEDs (after his best year), he appeared in two games and then went to IR. That's not a huge knock on the Miami front office, but signing a guy to be a major contributor while he's serving a PED suspension is never a good idea.
Free Tua
Tua Tagovailoa is emphatically a product of the Dolphins ineptitude, and will potentially have a Ryan Tannehill-esque bounce back once he gets out of South Beach.
What do you think? Is Tua to blame for Miami's struggles, or is he simply a product of their ineptitude? Let me know on Twitter, and be sure to check out some other great NFL blogs on Belly Up.