Last week in Foxborough, the New York Jets' 2021 season reached the lowest of lows. Following a bye week, the Jets had the clunker to end all clunkers in a 54-13 blowout to New England. This week, things don't get better as the Jets face a surprising Cincinnati Bengals team in Week 8. The Bengals are 5-2 and soundly defeated Baltimore last week, 41-17. Quarterback Joe Burrow is having a fantastic bounceback season following a knee injury in his rookie campaign. The Bengals' defense has also improved, currently sitting in ninth in the NFL in rushing yards allowed. What are some of the keys to this game?
Contain Burrow and Chase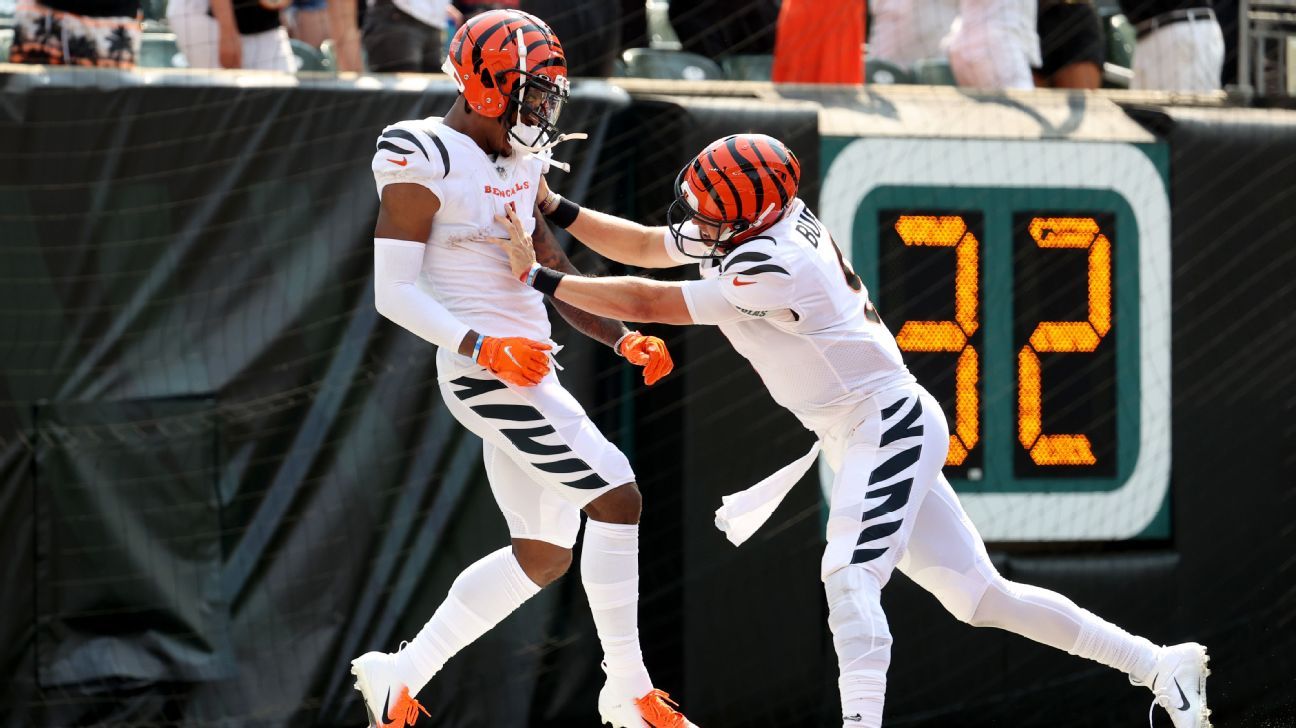 The Bengals selected wide receiver Ja'Marr Chase as their first overall pick in this year's NFL Draft. The pick was highly panned by lots of football people, including me. Considering how much abuse Burrow took in his rookie campaign, the Bengals should have selected a lineman. But the Bengals may have stumbled onto a great combination when they selected Burrow's teammate at LSU. Chase leads the team in receptions, yards, and touchdowns. For the Jets to win in Week 8, they'll have to contain the Bengals' dynamic duo and limit their big play ability. (By the way, the Jets are the only team in the NFL without an interception this season.)
Stop Mixon
Running back Joe Mixon is third in the NFL in rushing yards with 539. He's been an important part of the Bengals' offense this season. His ability to eat up yards keeps the Bengals on the field and allows Burrow to do what he does well. He's also adept at catching out of the backfield with 13 receptions for 90 yards and a touchdown. The Jets' defense has largely kept the running attack of opposing teams at bay. Their effort the last two weeks, though, has been mediocre at best. If the Jets want to be competitive against the Bengals in Week 8, they'll need to stop Mixon.
Will Mike Cook?
After years riding the pine, Mike White made his first appearance on an NFL field in the regular season. White came in relief of Zach Wilson, who injured his knee in the second quarter of last week's game. White threw two touchdowns, but also threw two interceptions. What will we see this week from White? We're not entirely sure. He won't have Corey Davis or Tevin Coleman (both will be inactive), which means we'll have copious amounts of Michael Carter II getting carries and maybe we'll get to see Denzel Mims finally have a big game. Will the Jets let Mike cook against the Bengals in Week 8? Hopefully, the Jets' offense will get off to a faster start than in previous weeks.
Prediction Time
Let's face facts: it's only Week 8 and the Jets are already playing for pride. If you consistently read my articles on the Jets, you know how I feel. In their six losses this season, the Jets haven't been close to competitive in the first half. They need a strong first half to stay competitive in the game. I don't see that happening for the Jets against the Bengals in Week 8. Unless the Bengals suffer a hangover from last week's win in Baltimore, it'll be another notch in the right column. Bengals 31, Jets 10.
I'm Ryan McCarthy and I cover the New York Jets beat for Belly Up Sports. We have a lot more to offer in our NFL coverage. If you want to chirp at me regarding the Jets, life, or other topics, hit me up on Twitter: @whoisryanmcc. Thanks for reading.