The New England Patriots in 2021 were a mixed bag at times. To start the season, they were a baby giraffe stumbling through. Kicking off the campaign with a 2-4 record. Keeping it close in most games, the Pats left much room for optimism for the future. Though something clicked after an overtime loss to the Dallas Cowboys in week six.
Rookie quarterback, Mac Jones and company went on a seven-game win streak. Outscoring opponents 225-73 over that span. Free-agent additions Kendrick Bourne, Hunter Henry, and Matt Judon all turned into key contributors. Meanwhile, rookie running back Rhamondre Stevenson found a role in this offense as not only a backup to Damien Harris but a stand-alone option on the New England rushing offense.
Their peak of the season came when they went into Buffalo against the Bills, and took, granted only temporarily control of the AFC East, and the entire AFC. They held the first seed and as they closed in on the final month and a half of the year, the Patriots were making significant progress by the week. Unfortunately for them, they ran out of gas in the final month of the season.
The Patriots got destroyed by Jonathan Taylor and the Colts, despite clawing their way back into the game late. They then got crushed by Josh Allen, Isaiah Mckenzie, and the Bills on Boxing Day. Although picking up a win versus the Jaguars the following week, they lost in a similar fashion to the Dolphins to close the regular season. Finishing 10-7, with a rubber match against the Buffalo Bills as the sixth seed in the AFC playoff picture.
You can read about that disastrous finish here in my column from Saturday night. But this piece is to more summarize what happened for the Patriots in 2021 and what makes the 2021 campaign a step in the right direction.
Mac Jones Showed Some Real Potential
The Patriots have had some rough drafts in recent seasons. The Georgia duo of Isaiah Wynn and Sony Michel, one traded and the other unlikely to see a second deal. N'Keal Harry being undoubtedly the worst early receiver taken in that draft. And the countless amount of other misses in recent Patriots history. Though they didn't miss with quarterback Mac Jones. He impressed immediately after taking the job from a former MVP winner in Cam Newton in training camp and pre-season. Then following it up with a great case for runner-up rookie of the year based on statistics alone. Jones tossed for 3,801 yards and 22 touchdowns and just 12 interceptions while completing 67.6 percent of his passes. Behind an offensive line that at points was extremely inefficient, with receivers who knew just as much or less about the offense than he did.
Jones certainly wasn't perfect. His physical limitations and typical rookie mistakes weren't something he was exempt from. But he did all you could ask of him in year one. He worked his butt off and wasn't ever THE reason the Patriots lost. Could not have asked anything more of the young Alabama product. Here's to a big leap in year two.
Solid Production In Unlikely Places
Who would've thought that Kendrick Bourne would be the best free-agent acquisition for this squad? Or that Rhamondre Stevenson, a fourth-round pick, would carve out his own role in a rushing attack previously bell-cowed by Damien Harris? Or that Kyle Dugger would take a huge leap in year two and Adrian Phillips would turn out to be a real ball-hawk for the Pats defense? Even at the end of the year, we got a chance to see what Kristian Wilkerson was made of. I think it would be fair to say that he's not just some one-time pre-season wonder. Christian Barmore is another rookie that made a strong impact. He was probably the best interior pass-rusher the Patriots had in 2021. A really solid campaign for Mac's college teammate and fellow member of the Pats' 2021 Draft class.
There are plenty of younger Patriots on this team that is ready to take on the task of filling the shoes of some of the older veterans getting ready to leave. A solid year of roster building for the Pats and another year of development will do the team a whole lot of good moving forward.
Always Finished Strong (Except for the Wild Card of course)
The Patriots never quit. That's one thing you can't take away from this team. In the games, they won, and especially in the games they lost, New England refused to give it anything less than their best in crunch time. It was evident in the loss to Tom Brady and the Buccaneers in his return to Gillette Stadium. And even in the final stretch of the season where the Patriots shot themselves in the foot with slow starts and stupid mistakes, they played their best football in the fourth quarter.
The team for the most part was extremely resilient. Their slow starts would often cost them and stupid mistakes would bury their chances at a win in the final month of the season. But they always put themselves in a position to win if something went their way. Even in the homestand against the Bills after Christmas, they didn't force a punt once. But if they had, the Patriots had a chance to take the lead or tie and make it a game. Ultimately we can't put too much stock in "would've, could've, should've". But they did fight. You can't complain when the team at least does that. They were rewarded for their efforts in a 10 win, playoff-caliber campaign. Even if the season ended in a disastrous fashion.
Looking Forward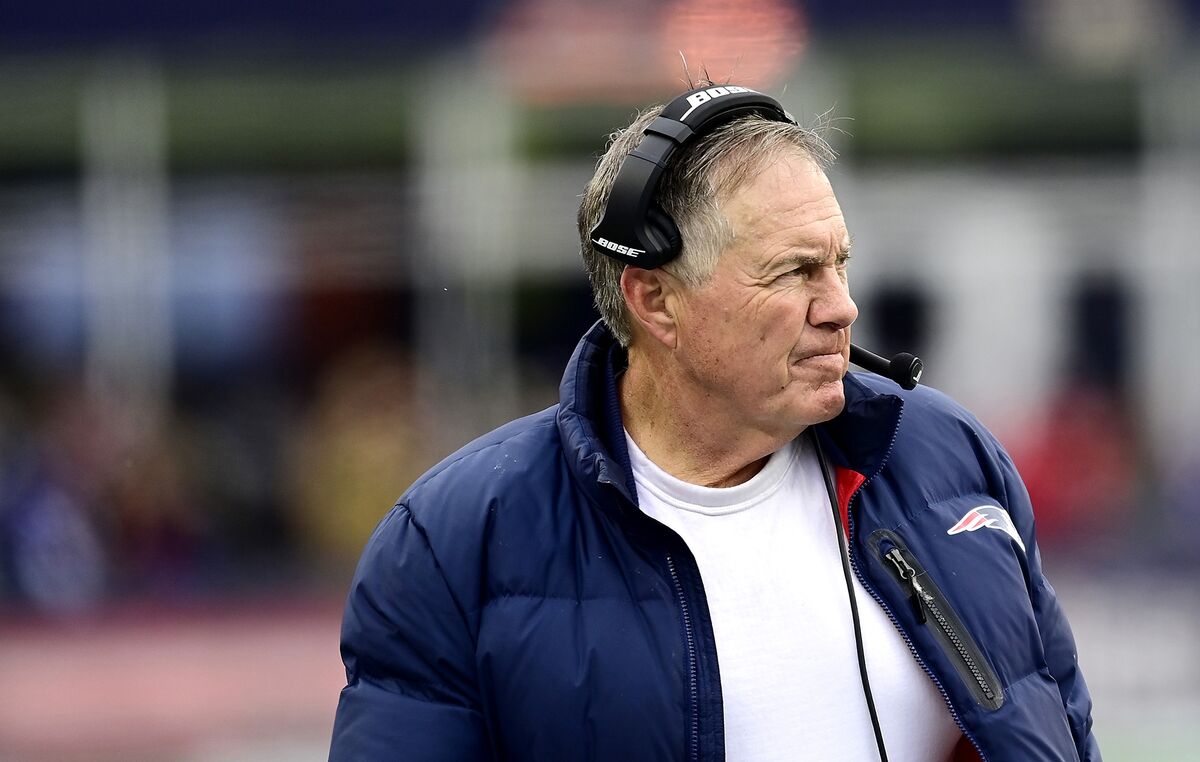 It's no question that the New England Patriots will be seeing some bumps in the road in the coming off-season. Players like Devin McCourty, Matt Slater, James White, and Dont'a Hightower are approaching the end of their careers. All pending free agents, the Patriots could be losing the last pieces from the Super Bowl XLIX team. They also stare at a big situation with defensive back J.C. Jackson, who is an unrestricted free agent and will be commanding a great payday. One the Patriots might not be able to afford with just between $3M and $17M in expected cap-space this coming free agency period.
The Patriots can't afford all of the players they want like they did last year. They chose their time to strike, and some deals worked out signficantly better than others. So the way to improve this roster in 2022 isn't the route of the free-agent market like it was last season. The Patriots will need to rely on a route that they haven't had a whole lot of recent success; the NFL Draft.
New England owns the 21st overall pick. And they have a need in several different areas of the field. A cornerback is going to be the top priority if J.C. Jackson departs. Youth at linebacker is already a concern with the aforementioned departure of Hightower, along with Jamie Collins and Ja'Whaun Bentley also being unrestricted free agents. As well as wide receiver still, as a true number one threat continues to elude this Patriots offense. Mac Jones needs a dependable playmaker. As much as we all love Jakobi Meyers and Kendrick Bourne, they're not the playmaker that the Pats need. Without that top receiver, the Patriots' run-first offense becomes one-dimensional, and Mac Jones will continue to come up short.
Concluding Thoughts
The Patriots took some fantastic strides in 2021. A quick turnaround for a 7-9 team last season. But they're not out of trouble yet. They're in a division with the electric Josh Allen and the Buffalo Bills. A conference with loaded rosters just as hungry as them. The road back to glory will not be easy. But nothing worth having in sports ever is.
Bill Belichick confirmed he would return to coach this team in 2022. With him at the helm, the Patriots are never out of the race. Even if de-facto defensive coordinator Jerod Mayo takes one of the open head coaching vacancies in this round of coaching carousel. There will be a lot of speculation over the Patriots' short-term potential. But one thing is for sure, they're moving in the right direction. The question is just how long until they're a true contender for a Super Bowl run. They're a little further than their seven-game win streak might've indicated. But certainly, things are looking up for a post-Brady world in Foxboro.
If you enjoyed this content, or hate it and want to argue with me, follow me on Twitter @KalebEmcee! Feel free to check out the work I do on Foxboro Beat! Also, read up on the rest of the NFL content Belly Up Sports has to offer here!