For the eleventh consecutive season, the New York Jets did not make the NFL Postseason. That's about the only negative taken away from the season ending press conference last Tuesday afternoon. The consensus by media and fans is that management has their work cut off for them in the offseason. As the 2021 season ends and we go into the offseason, is there a positive in which both fan and media alike can take away from the New York Jets? I can think of three.
Zach Wilson's Development
The first positive for the New York Jets is the development of Zach Wilson. The number two overall pick in the 2021 NFL Draft rode the struggle bus for the majority of the first half of the season. In seven of his first eight NFL games, Wilson threw at least one interception. In fact, his first interception-free game was in Week 7 against New England – only because he exited the game with a knee injury. Said injury knocked Wilson out for four weeks, but it seemed to only help Wilson's development. Why? Because he could see watch the game and how it developed from the sidelines. Wilson had only two interceptions in his final seven games. Though the Jets won only two more games, Wilson helped keep the Jets in those games by extending drives and limiting mistakes. Many of those games were without his projected starting offense.
Skeleton Crew Steps Up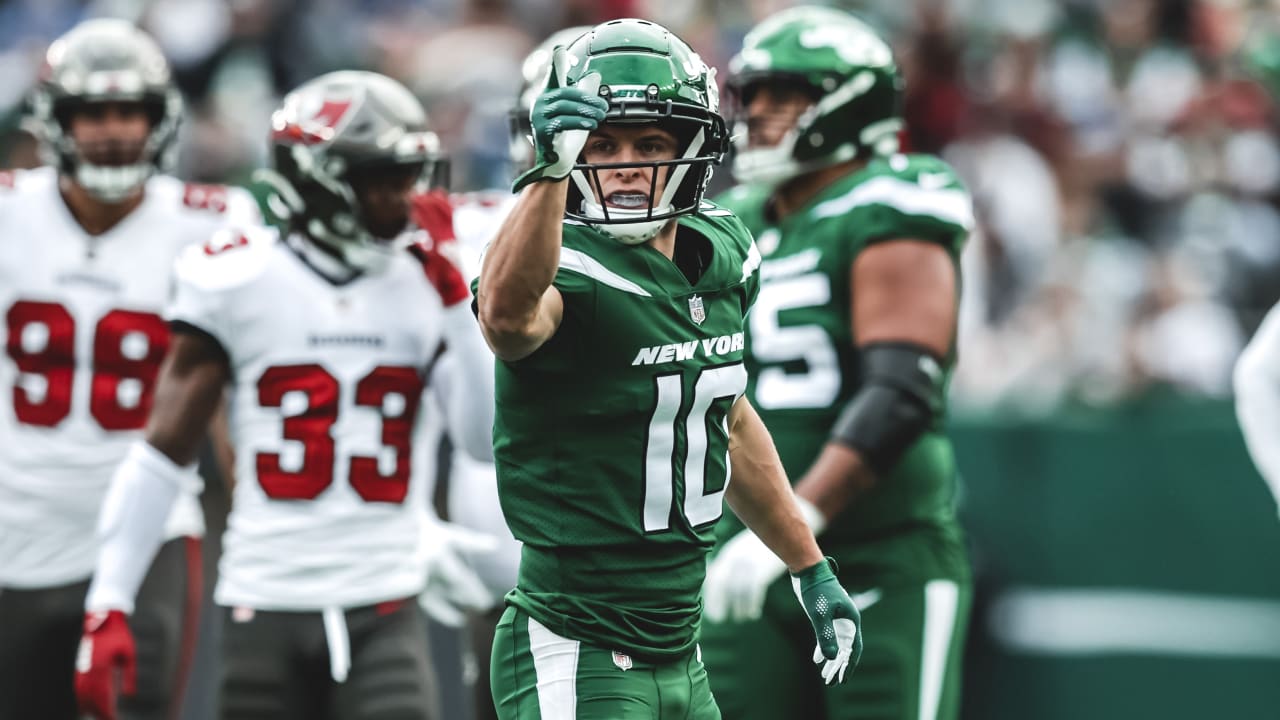 The second positive for the New York Jets was the depth of the team stepping up. Once again, the Jets were among the teams to lose the most man games in 2021. In fact, the Jets lost nearly 300 team total games missed by players due to injury according to ManGamesLost.com.
NFL end of 2021 regular season injury plot. Games missed to injuries versus team wins. Bubble size represents cumulative quality of players lost (Lost-av metric) https://t.co/ILv7Y4ZcaH pic.twitter.com/z0oPcldiW2

— Man Games Lost NFL (@ManGamesLostNFL) January 13, 2022
Carl Lawson's Achilles tear during the Jets' preseason scrimmage with Green Bay could have been an omen of what was to come. More important names were added to said list as the season went on.  But rather than worry, it was next man up. In a lost season, benchwarmers and rookies alike were pushed to the forefront. On offense, it was Braxton Berrios: he put up his best numbers when Jamison Crowder went down with injury. On defense, it was rookie Brandin Echols; one of the Jets' sixth-round picks, Echols suited up in 14 games and finished with 63 tackles, 9 passes defended, and two interceptions. As more and more bodies were lost to injury, the Jets played with a thinner lineup. But even on the losing end, the Jets showed fight later in the season.
A Busy Offseason
The final positive for the New York Jets is a busy offseason. General manager Joe Douglas has done a fantastic job swindling other teams for draft capital. He turned Jamal Adams into two first-round pick. One of which became Alijah Vera-Tucker and the next will be the number 10 overall pick in this year's draft. He traded Leonard Williams into a fifth-round pick which turned into Michael Carter II. He flipped Sam Darnold for what will be second and fourth-round picks in this season's draft. The Jets will have five picks in the first 69 in the draft. And what a better way to see some of the best talent coming into the draft by coaching the National Team in this year's Reese's Senior Bowl? Because that's what Robert Saleh and his coaching staff will be doing on February 5.
In addition to draft capital, Douglas will have an estimated $54.6M in cap space coming into free agency. Names like Davante Adams, Brandon Scherff, Stephon Gilmore, and Chris Godwin will be available for the Jets to possibly sign. The thought of the Jets adding some elite talent already gives Jets fans hope. This means having to part with players like Crowder and Marcus Maye. But fans are restless for a playoff appearance, let alone a Super Bowl championship and fans might have to put their loyalty aside in free agency. (Hopefully, Douglas won't be subjected to the "Jets Tax" which has seen the team overspend on a big free agent only to have said free agent underperform on the field.)
New York Jets fans approach this offseason – like every offseason – hesitantly positive. But if the Jets hit on the draft and nail it in free agency, that hesitancy might be dropped. Here's to hope.
I'm Ryan McCarthy and I cover the New York Jets beat for Belly Up Sports. We have a lot more to offer in our NFL coverage. If you want to chirp at me regarding the Jets, life, or other topics, hit me up on Twitter: @whoisryanmcc. Thanks for reading.