The New York Jets had their old nemesis – Tom Brady – down through the third quarter against the Tampa Bay Buccaneers in NFL Week 17. But their old nemesis led the Buccaneers back from a 14-point deficit to defeat the Jets, 28-24. There were a few big storylines which came from this game, and I'll break them down for you.
Zach Wilson Almost Beats the G.O.A.T.
A month or so ago, I pondered whether quarterback Zach Wilson was starting to grow up. Coming into NFL Week 17 against the Buccaneers, the Jets rookie had not thrown an interception in three games. That trend not only continued this week, but Wilson arguably had his best game of the season. Though the statistics are kinda meh – 19/33, 234 yards and one touchdown – Wilson led the Jets to touchdowns on their first two possessions. In the second half, Wilson guided the offense to another touchdown as the Jets took a 24-10 lead. The next two possessions were 3-and-outs, but it was their drive in the fourth quarter which should have sealed the game I'll talk about next.
Rookies Gonna Rookie, Even as a Head Coach
Similar to Wilson, Robert Saleh has been through his own ups and downs in his first season as an NFL head coach. In NFL Week 17, his Jets had the chance to put up a monumental upset on the Buccaneers. With 7:36 remaining in the game, the Jets took over following a Buccaneers field goal. The Jets drove the field, getting inside the Buccaneers' seven-yard line. On fourth-and-2 from the Tampa Bay 7-yard line, Saleh called a time out to talk things over with Wilson. I'll let Saleh explain in this soundbite courtesy of @SNYJets:
Robert Saleh talks about the QB sneak at the end of the game:

"We did a very poor job as a coaching staff communicating that in the huddle… Zach executed the playbook as it's designed" pic.twitter.com/rVIaKhscKP

— Jets Videos (@snyjets) January 2, 2022
But there were some pundits who disagreed, including SNY's Leger Douzable, Willie Colon, and Bart Scott. All were critical of Wilson – and not the coaching staff – and accused the rookie of being selfish by trying to be the hero. It's another terrible take from three former Jets who have had virtually nothing good to say about Wilson all season long.
#BerriosSZN Continues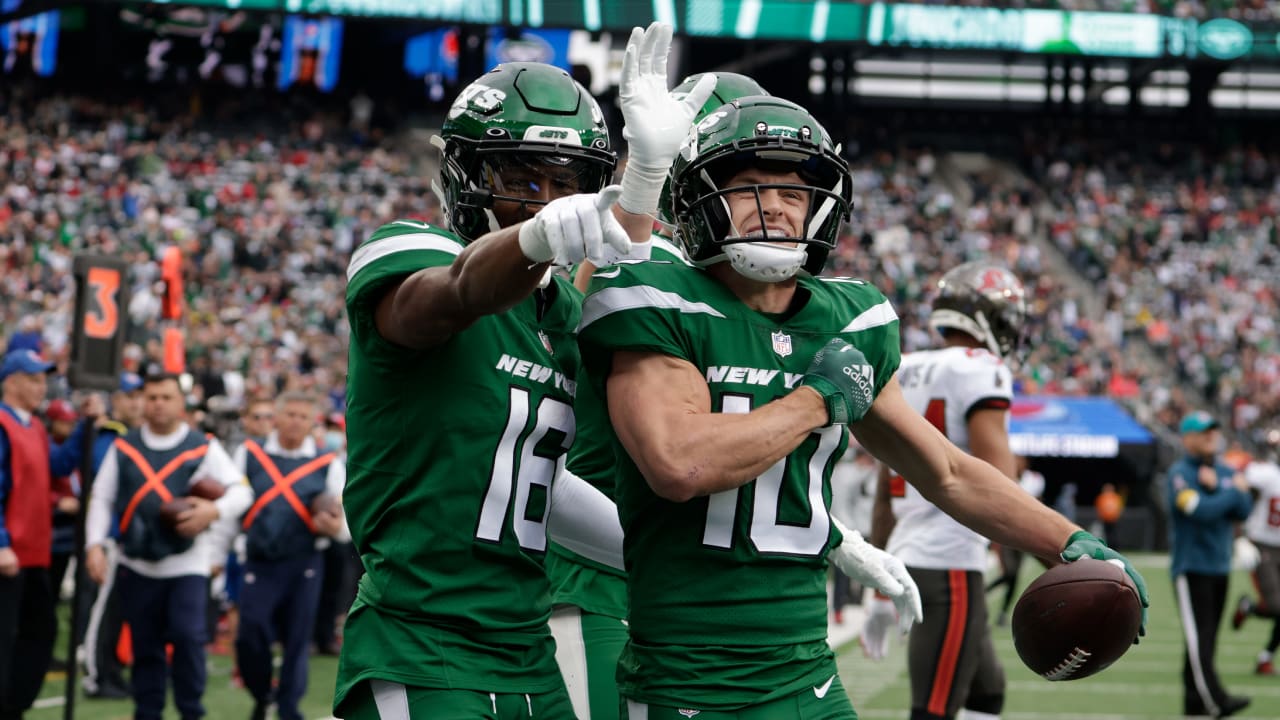 The Jets' wide receiver room has been thin the last few weeks. NFL Week 17 against the Buccaneers was no exception for the Jets. Last week, Braxton Berrios became Zach Wilson's primary receiver by default with five receptions on six targets. He also contributed with a kick return for a touchdown. This week, #BerriosSZN continued as the receiver continued to make big plays for the Jets. He became the first receiver in Jets team history to score both a rushing and receiving touchdown. Considering the long list of receivers who have played over the sixty-plus seasons of this franchise, it's shocking that Berrios is the first to do this. Fans have raved over his play over the last six weeks and are clamoring for Jets management to grant Berrios an extension. Given this fun fact about Berrios courtesy of @TheJetPress, it's hard to argue against the idea:  
Since Week 10, Braxton Berrios has been a top-6 WR in the NFL, per PFF.

84.2 grade from Weeks 10-17.

Only players with higher grades are Cooper Kupp, Justin Jefferson, Davante Adams, Gabe Davis, and Tee Higgins.

Once again, PAY THAT MAN. 💰

— The Jet Press (@TheJetPress) January 3, 2022
The Ballad of Antonio Brown
While there were plenty of prevailing storylines from Jets-Buccaneers in NFL Week 17, the biggest headline came from what happened on the sidelines. In the third quarter, Buccaneers wide receiver Antonio Brown was spotted taking off his shoulder pads. Brown was then caught on camera throwing his undershirt and gloves into the MetLife Stadium crowd. Then, Brown flashed deuces as he walked into the locker room. Following the game, Buccaneers head coach Bruce Arians told the press that Brown was no longer a member of the team. Brown defended himself, stating that he had a sore ankle and didn't feel the need to go back out. Given Brown's checkered past of issues on and off the field, it wasn't a shock that Brown was released. Will we ever see Antonio Brown in an NFL uniform again? Given this latest outburst, it's highly doubtful.
(And if you're gonna strip in an important game, Antonio, at least do it while winning a championship.)
Next Week: the Jets conclude the 2021 season next week with a trip to Buffalo to take on the Bills. Could the Jets spoil the Bills' chances of a second consecutive AFC East title? Preview article to come this week.
I'm Ryan McCarthy and I cover the New York Jets beat for Belly Up Sports. We have a lot more to offer in our NFL coverage. If you want to chirp at me regarding the Jets, life, or other topics, hit me up on Twitter: @whoisryanmcc. Thanks for reading.