You know what season it is: it's #MockDraftSZN. This is a football nerds paradise. The thing about the draft is that it's so subjective. No one will ever get a mock draft right because so many curve balls can be thrown. The New York Jets have one of the most unique paths in the 2022 NFL Draft. They have four picks in the first 35 draft selections and five picks in the first three rounds. Overall, they have 10 picks in this draft. How, then, should the Jets draft?
First Round (4th Overall)
Kayvon Thibodeaux, Edge (Oregon)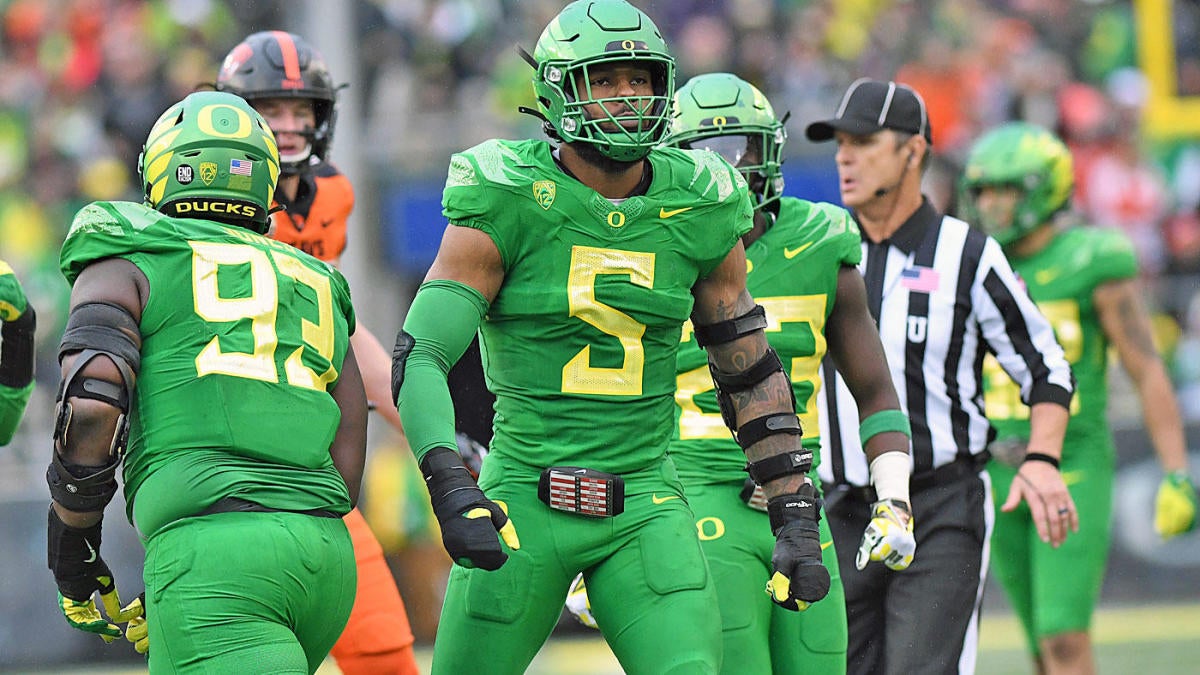 The first pick the New York Jets should select in the 2022 NFL Draft is Kayvon Thibodeaux. The two best defensive players – Aiden Hutchinson and Kyle Hamilton – will likely be gone when the fourth pick comes along. That might not necessarily be a bad thing. One thing the Jets lacked last season was edge presence. Carl Lawson never made the field last season after tearing his Achilles tendon in a preseason scrimmage. The Jets thought they found a diamond in the rough in Bryce Huff. And, like so many Jets last season, Huff went on season-ending IR in November. Drafting Thibodeaux would give the Jets sack threats both on the interior (Quinnen Williams and John Franklin-Myers) and at Edge.
Alternate selections: Tyler Lindenbaum, Derek Stingley, Jr., Evan Neal.
First Round (10th Overall)
Drake London, Wide Receiver (Southern California)
The second pick the New York Jets should select in the 2022 NFL Draft is Drake London. General manager Joe Douglas assured fans he would get help for quarterback Zach Wilson. Like all other areas in 2021, the wide receiver position saw so many personnel drop like flies (as I mentioned in my previous Jets-related article). The Jets are rumored to be in the running for Calvin Ridley and might take a run at Amari Cooper if the Cowboys cut him. If they can't land either, I expect them to take arguably the best receiver prospect in the draft in London. London played in eight games before suffering a broken ankle, but had 88 receptions (88!) for 1,084 yards. Could he be what Denzel Mims should have been?
Alternate selections: Charles Cross, George Karlaftis, Garrett Wilson.
Second Round (35th Overall)
Jordan Davis, Defensive Line (Georgia)
The third pick the New York Jets should select in the 2022 NFL Draft is Jordan Davis. The Jets already have Williams and Franklin-Myers as their interior studs, but depth at the position could be affected in free agency. Foley Fatukasi – one of their best run stoppers – will likely test the free agency market. Sheldon Rankins is likely going to be released and Nathan Shepherd is also a free agent. Therefore, the Jets are going to need some help with another run-stopping interior lineman. Davis was one of the most dominant linemen in the nation last season and was part of Georgia's national championship team. The one knock on him was his speed, but in the combine, he ran a 4.82s 40-yard dash… at 6'6" and 341 pounds!
Alternate selections: Leo Chenal, Jaquan Brisker, Skyy Moore.
Jordan Davis just showing off at the NFL Combine with an unofficial 4.82 in the 40.

Nobody 340+ should be able to run that fast…pic.twitter.com/F4XkFb3Zq8

— Matt DeBary (@MattDeBary) March 5, 2022
Second Round (38th Overall)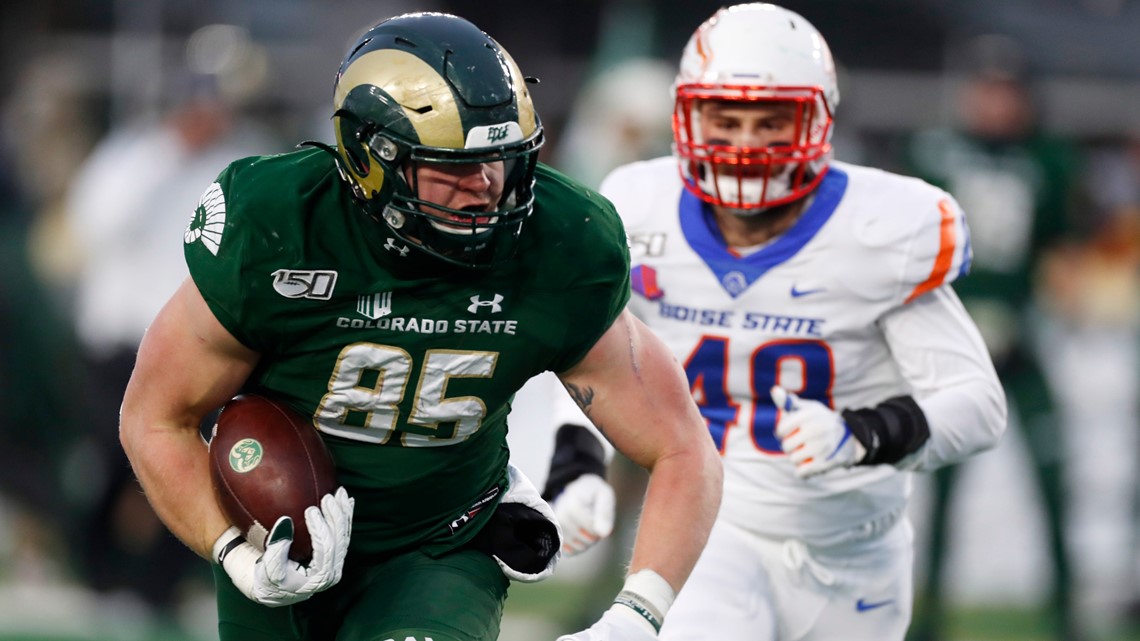 Trey McBride, Tight End (Colorado State)
The fourth pick the New York Jets should select in the 2022 NFL Draft is Trey McBride. The Jets haven't had a franchise tight end since… well, ever. Jets fans want these two at tight end in the 2022 season: free agent tight end Dalton Schultz and McBride. The Colorado State prospect had 91 receptions for 1,125 yards and he's the top tight end prospect in the draft. Best of all, he was on tight end coach Ron Middleton's team in the Reese's Senior Bowl and the Jets got to see him up close. He's ranked 63rd in PFF's Big Board, but if the Jets love him enough, they'll probably take him here. Don't believe me? Check out these tweets from Jets Twitter.
Alternate selections: Troy Andersen, Brandon Smith, Breece Hall.
With the 38th pick, in the 2022 NFL Draft, the New York Jets select: Trey McBride. Tight End. Colorado State https://t.co/b54N5mwlOf

— NYJ MIKE (@NyjMike) March 4, 2022
👀👀

🗣 Trey McBride to the #Jets
pic.twitter.com/DjDdWbpKk2

— Harrison Glaser (@NYJetsTFMedia) March 3, 2022
Please bring me Trey McBride #Jets

— Adolfo Lopez (@lominatti) March 6, 2022
If Trey McBride isn't a Jet we riot https://t.co/QvDuuRbcW8

— Will Hansen ✌️ (@whansen_) March 4, 2022
I need Trey McBride to be a Jet. pic.twitter.com/RojcW3mDGU

— Matt Weiss (@weissy33) March 3, 2022
Third Round (69th Overall)
Dylan Parham, Right Guard (Memphis)
The fifth pick the New York Jets should select in the 2022 NFL Draft is Dylan Parham. The most problematic position on offense last season was right guard. Greg Van Roten was wildly inconsistent; terrible one week, great the next, and then terrible for two weeks. Eventually, he was supplanted for Laurent Duvernay-Tardif, who was solid in his seven starts. Depending on what happens in free agency, the Jets could always use more depth at offensive line. Parham gives the Jets versatility on the right side of the ball. He moved to right guard in 2021 and earned a 78.8 rating on his way to first-team AAC honors. Parham could give the Jets some versatility and swing between right guard and center.
Alternate selections: Josh Paschal, Christian Watson, Darian Beavers.
I'm Ryan McCarthy and I cover the New York Jets beat for Belly Up Sports. We have a lot more to offer in our NFL coverage. If you want to chirp at me regarding the Jets, life, or other topics, hit me up on Twitter: @whoisryanmcc. Thanks for reading.