It's draft season, Patriots fans! Mocks fill the timelines on Facebook and Twitter (check out mine here). Random people on the internet decide to knock a player down a few spots because he didn't run a fast enough 40-time. It's one of my favorite parts of the off-season.
The Patriots have only just recently started to make an impact at the NFL Draft. From 2016-to 2020 the classes were brutal. The impact that other teams saw from their picks didn't happen in New England. Picks like Derek Rivers, Toni Garcia, Cyrus Jones, Duke Dawson, Sony Michel, N'Keal Harry, Joejuan Williams, amongst others just didn't live up to the NFL expectations. The Patriots suffered for it, and are in the rebuilding state they are now because they didn't sufficiently bring in youth to replace the older veterans on the team.
In the past few years, their drafts have seen much more success. Players like Kyle Dugger, Michael Onwenu, Mac Jones, Christian Barmore, and Rhamondre Stevenson have all shown so far to have great long-term value. If they keep on this trajectory, we could have some great faces of the future for the New England Patriots.
In this piece, I'd like to shed some light on players that kind of fit this Patriots mold. There's a lot of top-end talent in this draft. Especially at positions of need for New England. Will they take any of these players? Who knows? But these are the top five players I think Patriots fans should be hoping to get their name called by Roger Goodell next week in Las Vegas.
Wide Reciever Jameson Williams, Alabama
If Jameson Williams didn't tear his ACL in the national championship, it's likely the Bama product goes in the top ten picks. With his injury though, Williams could be a target for New England at 21. They don't need help right away. With the addition of DeVante Parker, the Patriots can be patient for Williams's return. Maybe even red-shirt him the first year of his collegiate career.
The bottom line is Mac Jones needs somebody to grow with. The second-year quarterback throwing the ball to aging veterans whose upside has already been met isn't a key to success. Sure, there's value to Jakobi Meyers and Kendrick Bourne, but they're not number one receivers on any other team. Somebody like Williams if he falls down to 21, or even in striking distance for the Patriots to move up, would be smart for the Patriots.
If drafting a receiver isn't the move in round one, I love the value of John Metchie III, Williams's teammate as well as Jones's former teammate at Bama, in round two. Skyy Moore, Jahan Dotson, or even Calvin Austin III would be suitable prospects beyond the first round.
Defensive Back Andrew Booth Jr, Clemson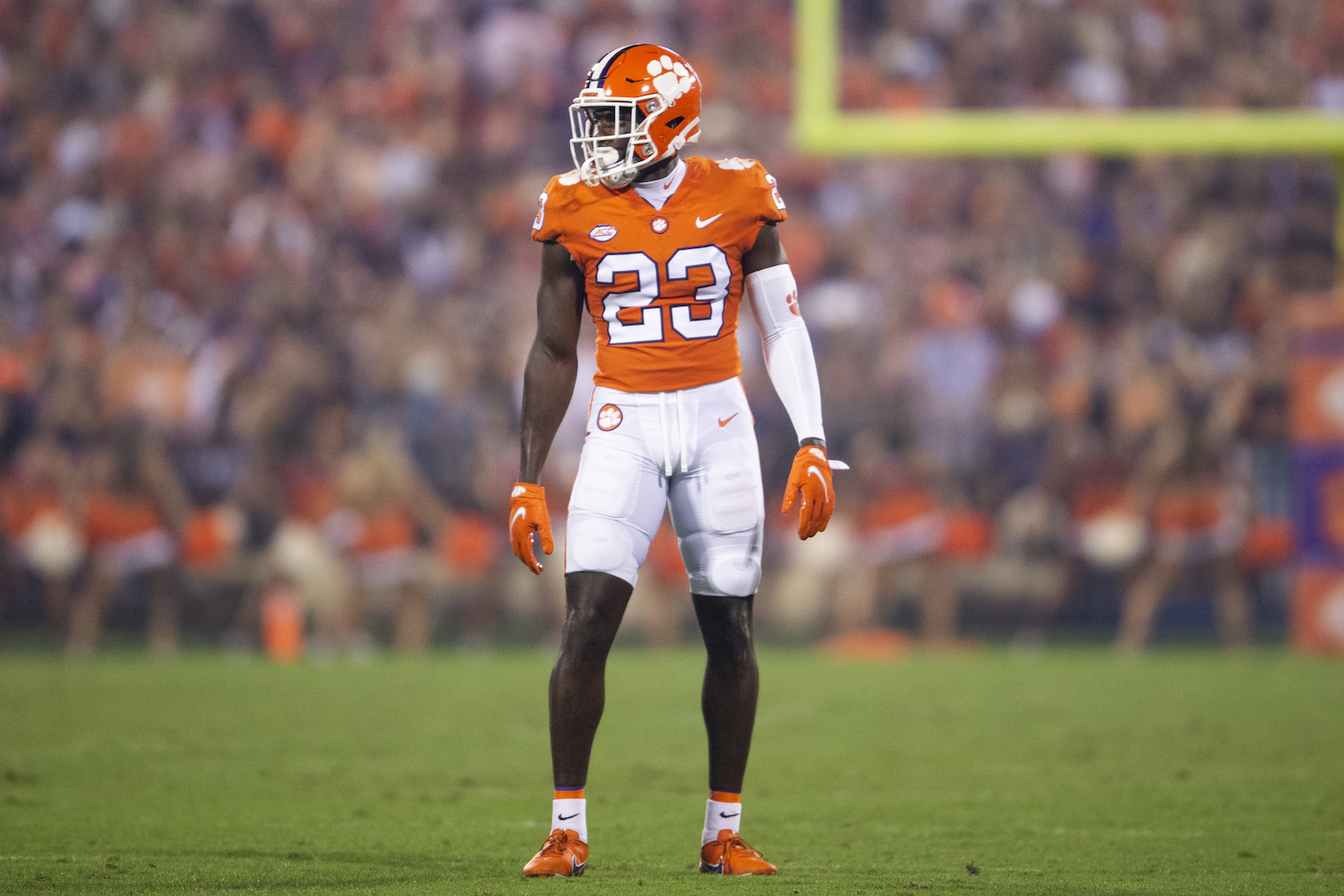 The Patriots need help at corner, desperately. After losing the likes of Stephon Gilmore and J.C. Jackson via free agency or trade the last two seasons, the Patriots are looking dry at that spot. They signed Terrance Mitchell and brought back Super Bowl XLIX hero Malcolm Butler this off-season, but that's hardly enough for me to consider the Patriots adequate at the position.
Andrew Booth Jr out of Clemson is a physical corner who can excel at both man and zone coverage. He's aggressive and as much as he might bite on a pump fake or a double move, he hardly ever gets beat up by the receiver. He's a prototypical Patriots outside the corner. Maybe not the ballhawk that Jackson was for the Pats, but Booth can excel in his own way. He's an energetic personality, and a will be a nice shot of youthful competitiveness this Patriots team is desperate for. If Bill Belichick is looking to rebuild his secondary, Booth would be an excellent first step to promise.
Linebacker Nakobe Dean, Georgia
The Patriots' linebacking core has undergone a major overhaul this off-season. Through the release of Kyle Van Noy, and choosing not to re-sign Jamie Collins and Dont'a Hightower, the Patriots are looking at a real makeover of this position. They brought in Jabrill Peppers, who can play an excellent hybrid role of safety and linebacker when needed, as well as re-signed Raekwon McMillan and JaWhaun Bentley in hopes that they can man this core for years to come. Sure those are all solid moves but adding Nakobe Dean would only further establish their idea of having a youthful linebacker core for the future.
Dean has fallen down the draft board because of his size. NFL teams are terrified of having a smaller linebacker on their team. Players failing to live up to the NFL like former Arizona Cardinal Deone Bucannon not really working out has scared off the idea of having faster, but lighter linebackers. But Dean is a fantastic football player. He's adequate in just about any area you need him to be. He'll blow up pass protection in a blitz, he'll tackle running backs in the backfield before they have a chance to make a move. He destroys screen passes to the running back if he knows they're coming, and he's fast enough to recover if he makes a mistake in coverage. He's a smart player and would be an absolute steal for the Patriots at 21.
Defensive Tackle Jordan Davis, Georgia
A bit of an unorthodox selection here, and maybe a bit of a reach to actually happen, but Jordan Davis at 21 would be an amazing selection if he falls like mocks have been trending for him to do. He's a massive run stuffer at 6'6 and 341lbs. He might not have the pass-rushing ability of smaller defensive tackles, but he will be of great service when it comes to stopping the run, which is something the Patriots have struggled with over the last handful of years.
Lawrence Guy, as great of a presence as he's been for the Patriots, is getting old. He can't be the only defensive lineman on the roster that specializes in run-stopping. Teaming up Jordan Davis and Christian Barmore would give the Patriots a dominant front. Allowing for some flack in the linebacking core as they grow and develop.
Davis being there at 21 might be a bit of a stretch, but his draft stock has taken a bit of a tumble in recent weeks. If that trend continues as we sit just two weeks away from the NFL Draft, the Patriots would be wise to scoop him up if this massive behemoth of a defensive lineman is available when they're called on the clock.
Offensive Guard Zion Johnson, Boston College
It wouldn't be a good piece without one local kid, right? Zion Johnson will be everything the Patriots are looking for in a Shaq Mason replacement. A New England native, Johnson will fit right into what the Patriots need along this offensive line. He has a bit of versatility to him with a history of playing both the tackle spots, but mainly playing as a left guard. He allows Michael Onwenu to play the right guard spot. While taking over for Ted Karras in the hole that Joe Thuney left in the 2021 off-season.
He's an extremely talented blocker. He can knock defenders off the line of scrimmage and open up the holes necessary for the run game. As well as be an anchor for the pass-game, and help protect Mac Jones better than they did early on last year. Johnson doesn't take a whole lot of penalties either. Totaling just one flag in the 2021 season.
He's also got the personality that Bill Belichick looks for in his first-round draft picks. He was twice a captain for the Eagles during his time at Boston College. He's been reported to interview well and has a personality that will fit right into the Patriots' locker room culture.
If you enjoyed this content, or hate it and want to argue with me, follow me on Twitter @KalebEmcee! Feel free to check out the work I do on Foxboro Beat! Also, read up on the rest of the NFL content Belly Up Sports has to offer here!