Jimmy Garoppolo didn't have long in San Francisco as soon as the Trey Lance pick was made. It was made pretty clear that 2021 was expected to be the last of the Jimmy G era in the Bay Area. It hasn't been all bad. The 49ers have returned to the forefront of the NFL as one of the most competitive franchises out there. They made a Super Bowl appearance in 2019, and they made it to the NFC Championship in 2021.
Unfortunately, the key detail as to why there wasn't more success for the 49ers has been health. Garoppolo has missed 25 total games since being traded to San Francisco from New England. 13 games in 2018 with an ACL tear, 10 games in 2020 with multiple ankle sprains, and two in 2021 due to a torn thumb ligament (which he played through) and a calf injury. Jimmy G's bill of health isn't quite as handsome as his physical attributes. His unavailability has cost the 49ers two years of competitive football.
What's Jimmy Garoppolo's value?
When he's been healthy, he's been a quality NFL starter. In 2019 Garoppolo threw for 3,978 yards and 27 touchdowns in his lone 16-game season. He was the top passer on third-down in the entire NFL and he led the 49ers' charge to the Super Bowl. Unfortunately, a second-half collapse left them one throw away from their first title since 1995. And in 2021, where he was mostly available, even if injured, he about replicated his 2019 season with 3,801 yards and 20 touchdowns, completing 68 percent of his passes.
Garoppolo dealt with the Trey Lance pick with grace. He didn't throw a fit. He played his best ball and did his best to upgrade his value and make it feasible that another team would be interested in the off-season. The 49ers finished with a 10-7 record. As mentioned before, they were one game away from a Super Bowl trip. Any quarterback-needy team looks at Garoppolo's 2021 season and should be intrigued. Teams like the Cleveland Browns who wanted an "adult at quarterback" (though, maybe they meant "adultery" with Deshaun Watson now being their man) would look at his maturity with endearment.
Jimmy Garoppolo won't be anybody's "long-term answer". The days for that are far behind as he's going to be 32-years-old in November. But Jimmy G is an easy plug-and-play option that makes any team with an un-established quarterback better. With a supporting cast, he can take you places. We've seen just how well he worked with Deebo Samuel, George Kittle, Brandon Aiyuk, and Emmanuel Sanders in 2019, as well as if he has adequate pass protection. Sure, he's not the superstar potential signal-caller that Justin Fields might be. But you can do so much worse than Garoppolo if you're in flux at the position.
Why hasn't he been moved?
Unfortunately, what kills Jimmy Garoppolo's trade value is again, injury. But not because he gets injured a lot. But specifically one injury. Garoppolo required shoulder surgery at the end of the 2021 season, and with that surgery, there's a chance he's unavailable for OTAs and the start of training camp. This will turn down any franchise that is looking into a change at quarterback. The Indianapolis Colts were reported to be in on Jimmy G, but the timing of his surgery turned them off, as he's going to need as much time as possible to work with new faces. They instead dealt a third-round pick to the Atlanta Falcons for former MVP Matt Ryan.
There's also a good chance that John Lynch is asking for way too much. These rumors/theories are supported by how they dealt with this situation last year. Reports say that Bill Belichick called up the 49ers and offered a second-round pick for his former heir to the Tom Brady-vacated throne. Fair value, maybe even an overpayment by the Patriots after Garoppolo's 2020 season. But the 49ers demanded a first. Is it possible that Lynch and/or Kyle Shanahan are asking far too much from NFL teams in compensation? Also very possible, but let's open ourselves to one more theory, shall we?
Is Trey Lance ready?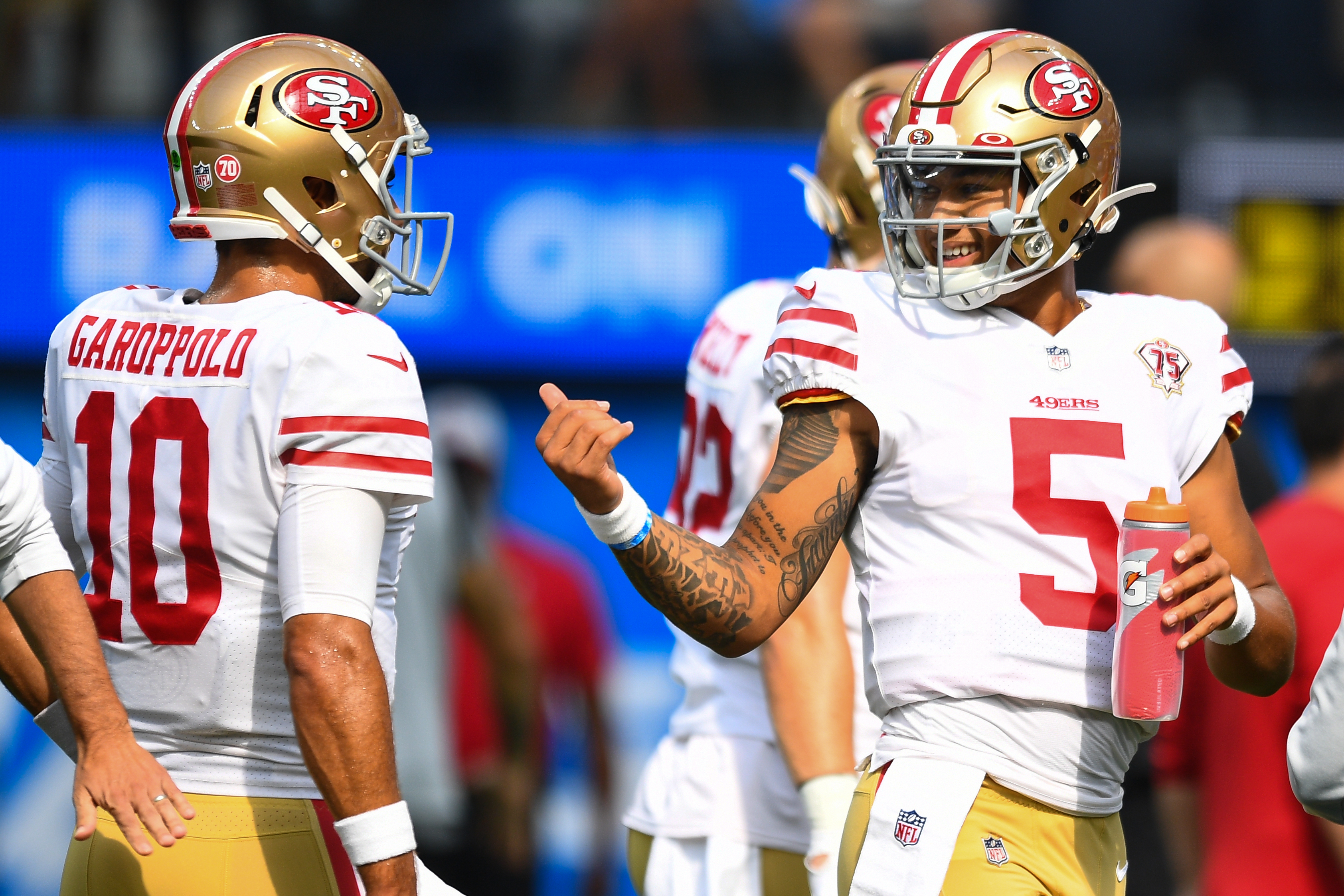 Is it possible that the 49ers overestimated their evaluation of Trey Lance? I mean, Jimmy Garoppolo was clearly banged up and far from his best self after tearing a ligament in his thumb in their week 15 loss to the Titans. An argument could be made that he was hurting more than he was helping by playing through that injury. But Shanahan kept Garoppolo in the lineup.
It was obvious that Trey Lance wasn't the most pro-ready quarterback the 49ers could've taken. He was extremely raw, playing just one season at North Dakota State. The 9ers banked on that raw talent and hoped that he could learn with a season under Jimmy G. But I feel like there might be a whole lot to judge from the decision to not play Lance when Garoppolo was clearly not at his best. Is the former third-overall pick not even half of what his predecessor is?
If the 49ers aren't sold on Trey Lance's ability to come in and take over the offense, that's fine. You still have Jimmy Garoppolo for a season and then he's an unrestricted free agent in 2023. But it's not a great look that you traded the farm for him and he won't be starting until potentially halfway through year two or even year three of his career.
Closing thoughts
The NFL Draft is just hours away, this is the perfect time to be shopping around for a trade partner. Teams looking for quarterbacks might not get one, and there'll be a need to get somebody serviceable to keep the organization afloat. Teams like the Carolina Panthers are going to be looking for somebody of Jimmy Garoppolo's caliber. But the 49ers are evidently in no rush to move him. Does this mean anything? We may never know, but it's fun to connect the dots, isn't it?
Here's to an interesting NFL Draft this weekend, where the 49ers don't have a selection until the back end of round two thanks to last year's trade. I wouldn't hold my breath for a Jimmy Garoppolo trade, 49ers fans. You missed the ship and it doesn't look like Lynch is just handing him out for "pennies". But I can't imagine Lance sits for long. That would be terrible optics, to trade everything for a guy that never sees the field. But for one reason or another, it looks likely that Garoppolo is here to stay for the 2022-23 season.
If you enjoyed this content, or hate it and want to argue with me, follow me on Twitter @KalebEmcee! Feel free to check out the work I do on Foxboro Beat! Also, read up on the rest of the NFL content Belly Up Sports has to offer here!