After the draft lottery, the order is now set. With only a month left, teams are narrowing down their boards. Here is a NBA mock draft of the lottery.
1.) Orlando Magic: SF/PF Jabari Smith Jr (Auburn)
Jabari Smith is the best player on my board. It is rare to see players of his stature shoot the ball at such a high clip from three (42 percent) and defend as he does. His length, effort, and instincts will allow him to come in and be a great defender that will be able to guard one through four. Franz Wagner has that same versatility. This will allow the Magic to be creative on the defensive end. The Magic can also be patient. It may take a little longer for Smith to put it all together than other prospects, but he will help a team that was 28th in three-point percentage last season and fit in nicely with the core in place.
2.) Oklahoma City Thunder: C Chet Holmgren (Gonzaga)
This situation feels like a good fit for both sides. The Thunder find their big man of the future, and Chet gets to play alongside Shae and Giddey. Chet will give them the much-needed rim protection the Thunder desire. The Thunder can still run a lot of the same offense because of Chet's ability to play in transition and allow the guards to get downhill and make plays happen.
3.) Houston Rockets: PF Paolo Banchero (Duke)
The Rockets managed to stay in the top three, ensuring they get one of the top-tier players in this class. Banchero adds another dynamic scorer alongside Jalen Green. Banchero will have to learn to impact the game without the ball in his hands, but he is still incredibly skilled. He will get downhill with ease with the Rockets' spacing and can find shooters as he's always playing off two feet. The Rockets will need to add defense and playmaking to surround these players, but this is an excellent start for the Rockets' rebuild.
4.) Sacramento Kings: SF/PF Keegan Murray (Iowa)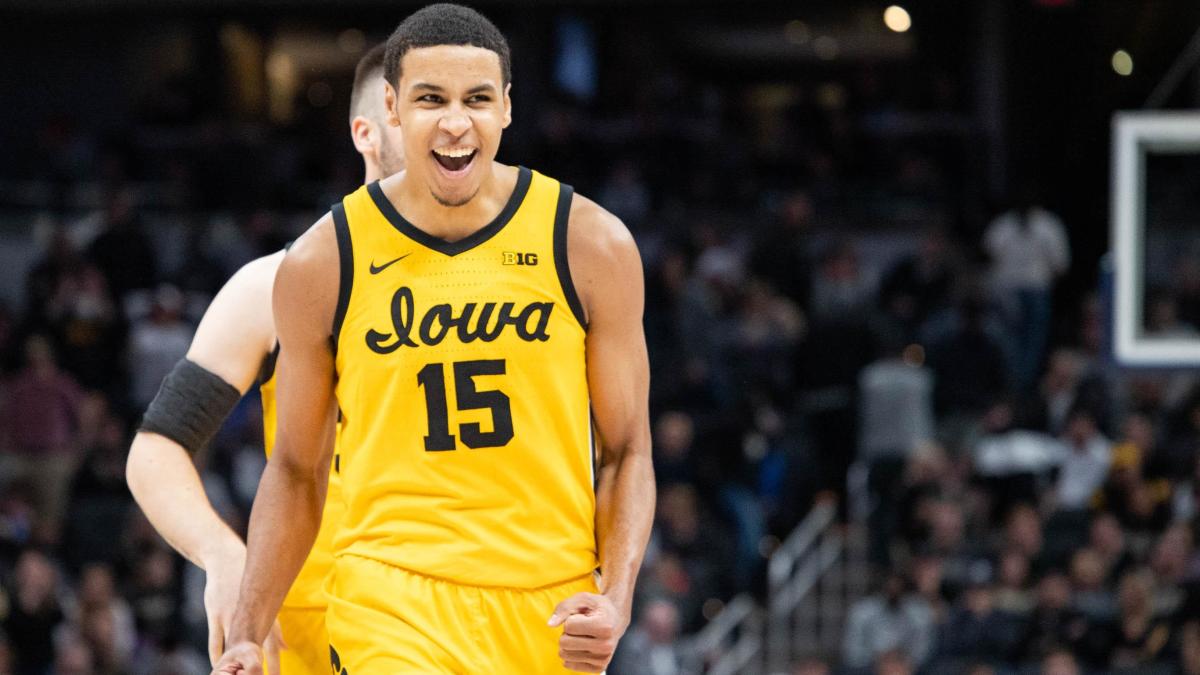 This is an odd spot for the Kings. Two of the higher upside players are guards that are volume-scoring SGs. The Kings have been adamant about buying into the analytics and the Warriors' brand of basketball (bringing in a former Warriors coach for the third consecutive time). Keegan Murray fits the mold. He's a tall forward, plays smart, knows how to play without the ball, and can stretch the floor from three. He would make a nice complimentary piece. Murray is a player who's worked his way into becoming a complete offensive player and will be a starter for a long time in this league.
5.) Detroit Pistons: SG Jaden Ivey (Purdue)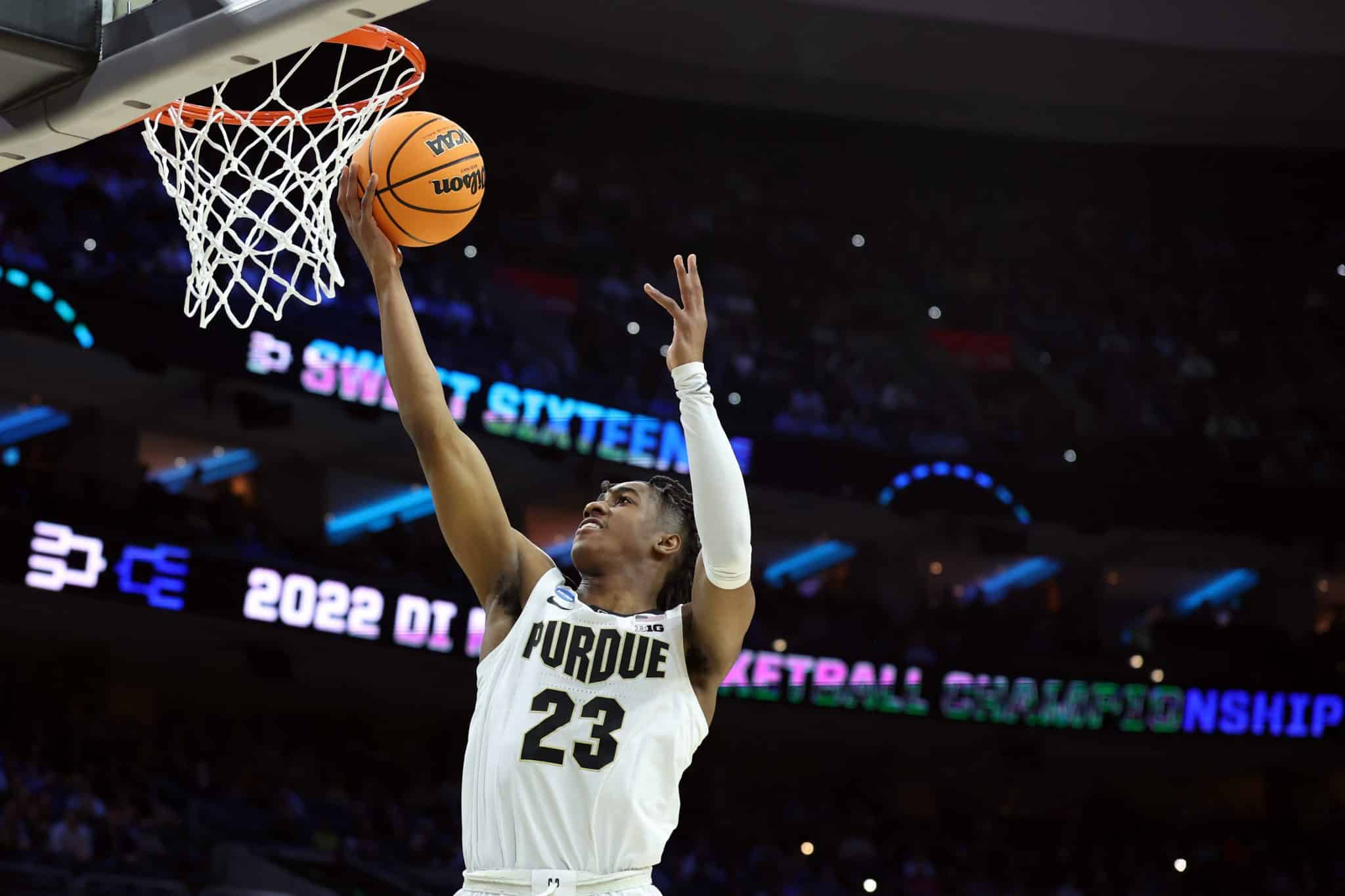 Ivey appears to be the safer pick between him and Sharpe. Ivey is a quick-twitch guard and will be a force attacking the rim. The Purdue guard does need to improve in many other areas though. Ivey needs the ball in his hands more to be successful right now, and that can work next to Cade. He will need to cut down on the turnovers and improve his decision-making. Overall, having two guys that can get you a bucket and are such explosive scorers is a nice tandem for Detroit.
6.) Indiana Pacers: Shaedon Sharpe (Kentucky)
Not playing a single minute of college ball, Sharpe is one of the bigger unknowns. Despite that, he has great size at 6'6" with a 7'0" wingspan. He uses that length to get in the passing lanes and projects to be a plus defender with his athletic tools. Sharpe will be a great cutter, playing in transition, and is making strides as a shooter. His mechanics were terribly inconsistent, but there's a reason this guy was the number one rated player in ESPN's top 100 for the 2022 class. Sharpe will need time, but the Pacers should swing for the fences.
7.) Portland Trail Blazers: SG/SF A.J. Griffin (Duke)
Griffin will come in right away and serve as a nice three and D player. He's also incredibly athletic, a solid defender, and young. Now workouts will showcase his handles if he has the potential to play in a ball-dominant role, but at the very least, he will be a great addition for Portland and a potential asset if they decide to make a move for a star later.
8.) New Orleans Pelicans (via Lakers): PG/SG Dyson Daniels (G League Ignite)
Dyson Daniels has been a riser as teams are really buying into the intangibles. He's an intelligent player, a good passer, and a solid defender. Playing in the pick and roll could be an issue until he develops the jump shot. Daniels will be able to help the Pelicans' core of scorers. He will be a nice complementary guard, fits the timeline, and will add size to the backcourt.
9.) San Antonio Spurs: PG/SG Jaden Hardy (G League Ignite)
I'm higher on Hardy than most. He came in highly touted and it took him a bit to get going, but Hardy can score. After trading Derrick White and deciding whether or not to pay Lonnie Walker this free agency, they have holes in the backcourt. Having Hardy come off the bench who could play behind or alongside Murray makes sense. Primo is another guy they have been developing, which could form a decent backcourt. Hardy can learn to make some better reads as a passer, but the idea of him playing behind Murray and being coached by Pop is intriguing.
10.) Washington Wizards: PG/SG TyTy Washington (Kentucky)
For years I feel like I've been waiting for the Wizards to take a point guard, and we'll see if this is the year. TyTy is not the best player on my board, but the Wizards need to find some juice at that position. They have a plethora of forwards, and TyTy will give them another shot-creator. He has a nice floater, spot-up, and competes defensively. This pick could be a possible trade-out scenario for the Wizards if they don't love any of the point guards available.
11.) New York Knicks: SF Benedict Mathurin (Arizona)
The Knicks could go center here, but I'm lower on the centers than most. Mathurin is someone who I thought could've been a first-rounder last year if he declared. He came back and improved his game. Whatever direction the Knicks decide to go, whether it's playing through the young guys or sticking with the old, Mathurin is someone who can impact the game without being a focal point and play his role. Classic Thibs guy.
12.) Oklahoma City Thunder (via Clippers): SF/PF Jeremy Sochan (Baylor)
Sochan is someone who's going to give the Thunder versatility. Defensively he is uniquely gifted, which will allow him to guard one through four. He also plays the game smart. The Thunder seems to value IQ highly, and he should fit in well with the current core. The three-ball will be a work in progress, but he should establish himself early on as someone who plays winning basketball.
13.) Charlotte Hornets: C Mark Williams (Duke)
The Hornets have been looking for a center for a long time. Now, this could easily be a trade-out scenario if a Christian Wood becomes available. But assuming no trades, Williams is the choice. Many have Jalen Duren ahead of Williams, but IQ, lob threat, and ability to protect the rim favor Williams. It depends on who they plan to bring in as the coach. If they plan on having someone like Mike D'Antoni, then Duren could make more sense as he's more versatile defensively as he can play in a switch-heavy scheme.
14.) Cleveland Cavaliers: SG Malaki Branham (Ohio State)
As the Cavs don't have many needs, they will take Malaki Branham. He is the highest player on my board. He is a freshman, 6'6", and can score. Malaki has a nice mid-range pull-up and will be a project pick for the Cavs, but Branham has a high upside and can be a nice asset for the Cavaliers.
Thank You for Reading
To stay connected to my future content, follow me on Twitter. Don't forget to take a look at Belly Up Sports for all your sports content. If you enjoyed this article, take a look at my last article "2022 NBA Draft: Who's the Best Prospect?"