If you're a Metro New York sports fan, you're more than likely listening to WFAN. The station has had its share of luminaries in 35 years on its airwaves. Some of those names Suzyn Waldman, Greg Gumbel, Mike Francesa, Christopher "Mad Dog" Russo, Steve Somers, and Joe Benigno. In recent years, WFAN has added former New York Jets quarterback Boomer Esiason and former New York Giants running back Tiki Barber to its lineup. The latter is the subject of this article because of what he said on Thursday about current Jets quarterback Zach Wilson. So, what exactly did Tiki Barber say about Zach Wilson?
Wilson's Most Interesting Week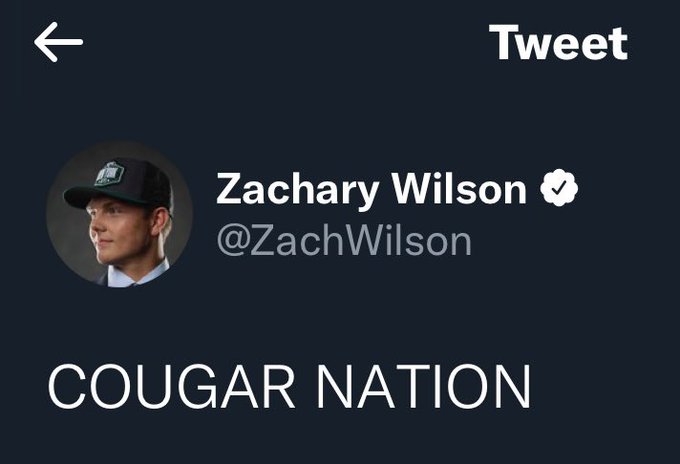 Zach Wilson has had… let's just say an interesting week. An ex-girlfriend of Wilson alleged that Wilson had – ahem – relations with his mother's best friend. Said ex-girlfriend thought this would turn Jets fans against the quarterback, but this plan has backfired. Wilson's status has risen to folk hero status and will be – dare I say, god-like – if he delivers a playoff berth this season. Wilson played off the media circus with a cheeky Instagram post on Wednesday.
The news surrounding Zach Wilson's galivanting romantic encounters weren't all that set off Tiki Barber, though.
What's Stuck in Tiki's Craw?
In a clip taken from Thursday's "Tiki and Tierney" show, Tiki Barber and co-host Brandon Tierney talked about Zach Wilson's eventful week. Barber argued with the notion that Wilson had a reputation of being a "workaholic." Here's the clip from WFAN's Twitter account:
.@TikiBarber wonders what happened to the narrative of Zach Wilson being a workaholic? pic.twitter.com/j8YCtp9ARu

— WFAN Sports Radio (@WFAN660) July 14, 2022
If I'm to presume what Barber is saying, he contends that despite the reputation of being a hard worker, he's only seen Wilson in his social life. Barber even admits that he hasn't seen Wilson at work this offseason, only at play. Barber has become, like many of his peers in the Metro New York market, a prisoner of the moment. He's only talking about what's happened with Wilson this week.
Zach Wilson's Nationwide Journey
Despite Tiki Barber's assertions, Zach Wilson has been traveling all over the country working with his teammates this offseason. In March, he traveled to Tennessee to work with Corey Davis and future teammate C.J. Uzomah. Wilson later traveled to Miami to work with Braxton Berrios and Michael Carter. After a brief stop in Provo, Utah, he was in Scottsdale, Arizona working with Elijah Moore and Denzel Mims. The Jets had OTAs and mini-camp and Wilson got to work with draft picks Garrett Wilson and Jeremy Ruckert. And before training camp starts later this month, Wilson worked with his teammates in Idaho. In addition to his travels, Wilson has put on 10-15 pounds of muscle. Is that enough proof for you, Tiki?
The Ultimate Proof
Perhaps Tiki Barber meant to put in those words to motivate Zach Wilson or he's a prisoner of the moment. Regardless of what Barber says, Wilson has seemingly embraced the media spotlight as Jets quarterback. Jets fans only hope that Wilson doesn't wilt under the same spotlight this season.
I'm Ryan McCarthy and I cover the New York Jets beat for Belly Up Sports. We have a lot more to offer in our NFL coverage. If you want to chirp at me regarding the Jets, life, or other topics, hit me up on Twitter: @whoisryanmcc. Thanks for reading.