Going into the winter, I didn't think that Jackie Bradley Jr.'s departure would hurt as it has. When the season ended, it appeared that Bradley was saying his goodbyes to the media and staff. This week, Bradley signed a 2-year 24 million dollar contract with the Milwaukee Brewers. This was acceptable for most of Red Sox nation because they did not anticipate the departure of Andrew Benintendi in addition to that. The formerly great outfield, known as the Killer B's, Bradley, Benintendi, and Mookie Betts, are now gone with these two moves.
Thank You, Jackie Bradley Jr.
Jackie Bradley Jr. was the first of the Killer B's to make the major league roster. When he made the opening day roster in 2014, he was the first prospect to come up in the post 2013 World Series era. Red Sox fans have been indulging in his defensive highlight reel ever since. According to Baseball Savant, Bradley was in the 95th percentile in Outs Above Average in 2020. Bradley made numerous Spiderman-Esque catches in centerfield every season. As a lifelong Red Sox fan, I will never stop being impressed with this man. This does not, however, mean that he's worth $12 million a year.
Bradley's offensive deficiencies often overshadow the defensive superpowers. He's currently slashing .231/.321/.412 with a 94 OPS+ for his career. Fans who regularly watch Red Sox games know that it is a more interesting story than the numbers show. Bradley has made a career of either the hottest hitter in the league for two weeks or the coldest over a month stretch. That's hardly an easy offensive style to coach. Looking closer at the numbers, he only has three seasons where he's had an OPS+ over 100 (2015, 2016, 2020). Additionally, 2016 is the only season that he's had an OPS+ over 100 and played more than 100 games.
Spiderman's offense is the entire reason he isn't worth it for Kingpin John Henry.
Why the Killer B's Were Special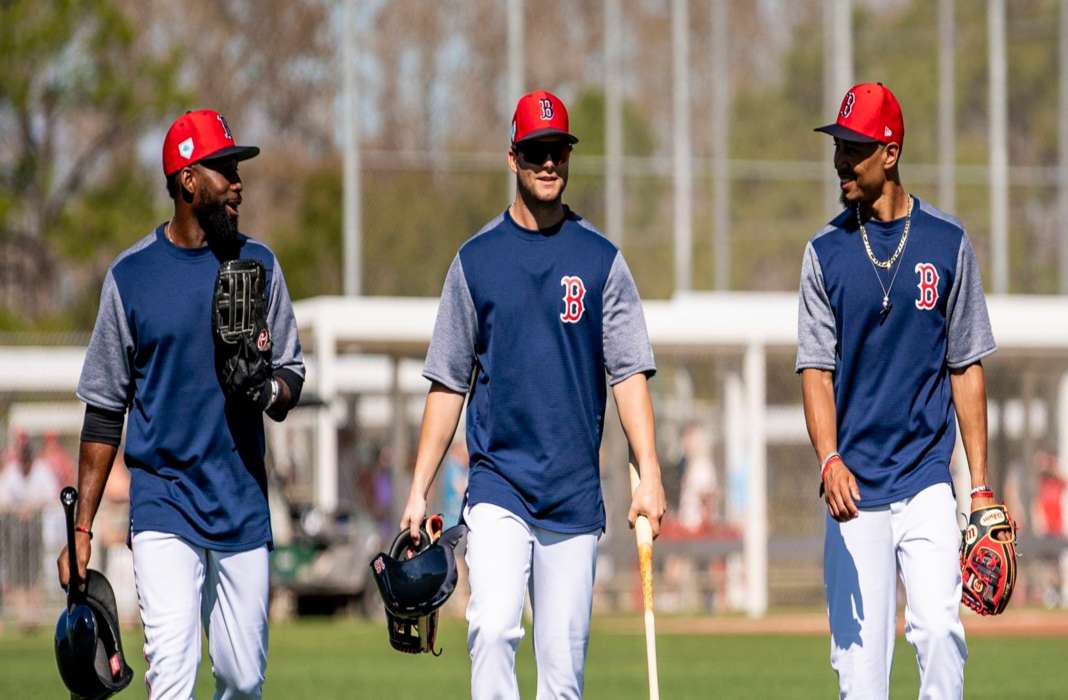 Boston's Killer B's were at one point the most magnetic group of players in baseball. Is it partially because of their part on the best Red Sox team ever? Perhaps, but there is so much more to it.
The first thing that needs to be looked at is the three players' talent level. Betts and Benintendi, in particular, were top-of-the-line offensive talents when they were in Boston. In 2018, Betts and Benintendi had a 186 and 123 OPS+ respectively, and a combined 48 HR and 51 SB. It should also be mentioned that they were batting first and second in the order for most of the season. This group's defensive capabilities were unparalleled at the time. All three of the outfielders are athletically capable of starting in centerfield and have experience doing so.
But what makes the Killer B's so special is how fun they made baseball. Whether it was their charismatic smiles or postgame dances you wanted to root for these guys. If they were a movie, I would love to see it. They were refreshing for the game.
Rounding Third
When Bradley made the roster in 2014, few would have thought that a crew like the Killer B's would be built. Betts joined the roster later in that season, and Benintendi had not even been drafted yet. We wouldn't want to live without them now. They riled up a World Series team, helped kids fall in love with the game, and gave us all some unforgettable memories.
As much as I wish they got to spend their whole careers in Red Sox uniforms, it wasn't meant to be. Betts was traded to the Los Angeles Dodgers in 2020 because the Red Sox could not pay him the money he is worth. They then traded Benintendi in February 2021 for multiple prospects and major leaguer Franchy Cordero. The most expected departure in the group, Bradley, was the last piece to fall.
The Killer B's might be from a bygone era, but you'll never be forgotten.
If you enjoyed this piece, please view some of my other articles and our other Baseball Content. You can also keep up with my work by following me on Twitter and Tiktok.