Nearly two years after Winnipeg smashed Hamilton in the Grey Cup in Calgary, the Canadian Football League is BACK! And with the return of the CFL beings CFL Fantasy. The CFL runs its own fantasy contest and every user gets a $40,000 salary cap to construct their team. Knowing that we haven't had a season in nearly two years, it's anyone's guess how teams will do. But there are some familiar faces that every CFL fan knows. Here's who I'm selecting in Week 1 of CFL Fantasy.
Quarterback: Trevor Harris (EDM – $9,805)
If you're going to spend a large part of your cash on a quarterback, it might as well be Trevor Harris. Harris will start the season facing the Ottawa RedBlacks' defense, which surrendered nearly 31 PPG in 2019. He'll have plenty of options at wide receiver, including Derel Walker and Greg Ellingson. Harris also has receiving options out of the backfield such as Terry Williams and James Wilder, Jr. He's the third most expensive receiver in CFL Fantasy, but he's worth the cap hit this week.
Running Backs: Terry Williams (EDM, $3,918), Brady Oliveira (WPG, $3,000)
When it comes to running backs, you can find value in some cheap options. Two of them are Terry Williams and Brady Oliveira. Williams signed with the Elks from Calgary during a frenetic 2020 free agency. He'll offset James Wilder, Jr., who returns to the CFL after missing the 2019 season. Oliveira is a native Winnipegger who comes back after missing the 2019 season. Why is he an option? With the uncertainty of Andrew Harris' status in Week 1, Oliveira could get the majority of the carries if Harris isn't available.
Wide Receivers: Shaq Evans (SSK, $6,809), Greg Ellingson (EDM, $7,488)
The Canadian Football League is a passing league and if you have quality receivers, your team can benefit. While there are some more expensive receivers out there, you can get yourself some points for value. Evans was teammate' Cody Fajardo's favorite target in 2019 and enjoyed a career year with 1,334 yards and five touchdowns. He'll be Fajardo's number one target again in 2021, but we'll see if Fajardo will have time to throw. Ellingson has been quarterback Trevor Harris' favorite target since their days in Ottawa. While he won't be the feature receiver, he'll benefit from Harris' expert precision.
Flex: Lucky Whitehead (BC, $4,749)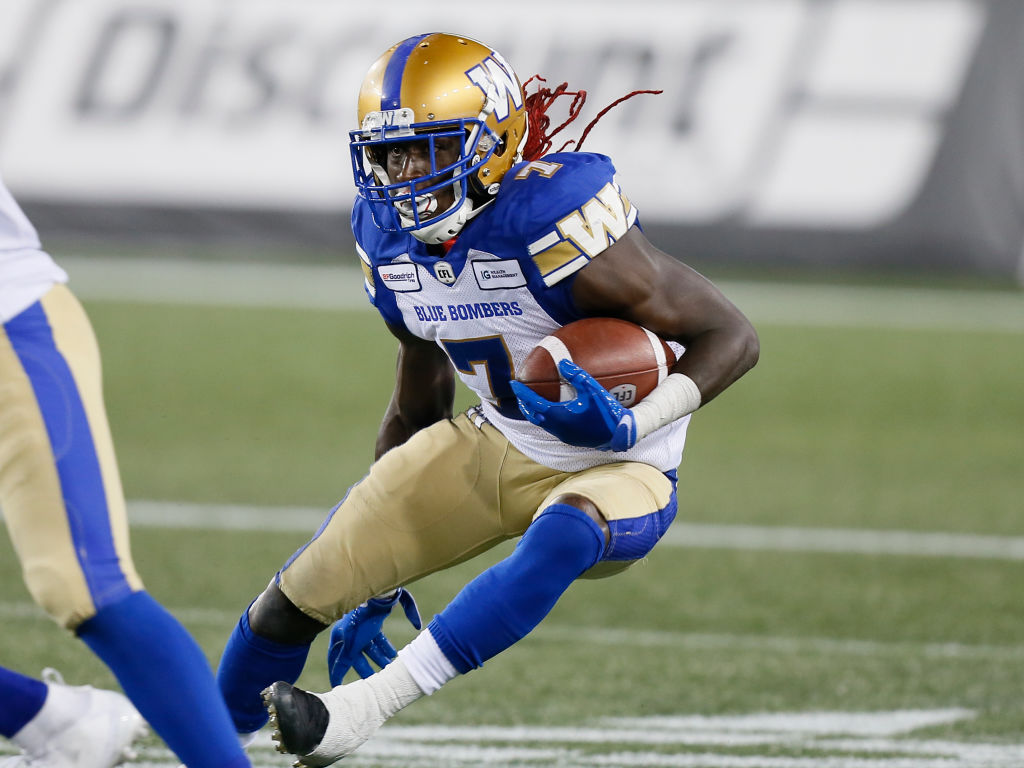 Looking for a player who can do it all for the right price? The former Dallas Cowboy has the ability to be the cheat code that puts you over the top. Whitehead was one of the components of a Winnipeg team that won the Grey Cup last season. He can do a little bit of everything: line up as a running back or wide receiver and ignite your return game. Whitehead has big-play ability and got lost in the shuffle of a talented Blue Bomber squad, but he might benefit from playing with quarterback Michael Reilly.
Defense: Calgary Stampeders ($4,119)
There are questions to be answered on the Stampeders defense, most notably in the secondary. However, the Stampeders will start their 2021 campaign in the friendly confines of McMahon Stadium. The Argonauts may have signed a lot of stars to their lineup, but they also feature a first-year head coach in Ryan Dinwiddie. While the Argos will have a lot to figure out, the Stampeders have one of the best coordinators in the CFL with Greg Monson. The Stamps defense is always a good option in CFL Fantasy and this week is no exception.
Cap Space Remaining: $112
I'm Ryan McCarthy and I'm a three-headed hydra for Belly Up Sports (writer, live-stream host, podcaster). This is my first dive into fantasy, so I hope you enjoyed my analysis. Want to talk CFL, sports, or life in general? Hit me up on Twitter at the link here.