The 2019 NASCAR season is going to be one filled with plenty of changes. Other than the sport and teams having a difficult time holding onto sponsors, there are plenty of driver changes that fans can expect to see for next season.
As I mentioned before, Rousch Fenway Racing announced that Scott Graves, who previously left the No. 19 JGR team with Daniel Suárez, will be serving as the crew chief for their No. 6 car in 2019. That was one of many changes that have already been confirmed in NASCAR for the 2019 season.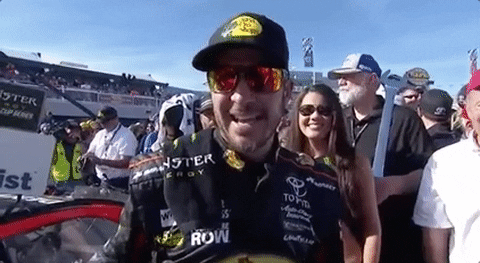 Joe Gibbs Racing announced on Wednesday that Martin Truex Jr. will be officially joining their team and will bring his crew chief Cole Pearn along with him. Truex Jr. won the NASCAR Championship last year in 2017 with Furniture Row Racing, who is closing their doors at the end of the season. Truex Jr. will be replacing Daniel Suárez, most likely in the No. 19 car but could possibly keep the No. 78 car if the team decides to purchase the rights. This is purely speculation on my part however.
This announcement solidified the rumors that NASCAR fans, as well as myself, have previously stated. With this big announcement, here is the updated list of 2019 NASCAR driver changes, rumors and confirmations.

Martin Truex Jr. | #78
Current Team: Furniture Row Racing
2019 Team/Car: Joe Gibbs Racing #19 (possibly #78)
Years in Cup: 15
Cup Series Wins: 19 | 2017 Champion
Best 2018 Cup Finishes: 1st in Auto Club 400, Pocono 400, Toyota/Save Mart 400 at Sonoma and Quaker State 400 at Kentucky
2019 #78 Replacement: FRR closing, possibly keeps number

Daniel Suárez | #19
Current Team: Joe Gibbs Racing
2019 Plans: TBD (Rumored: Stewart-Hass Racing #41)
Years in Cup: 2
Cup Series Wins: 0
Best 2018 Cup Finish: 2nd in Gander Outdoor 400 at Pocono
2019 #19 Replacement: Truex Jr.

Kurt Busch | #41
Current Team: Stewart-Haas Racing
2019 Plans: TBD (Rumored: Chip Ganassi Racing #1)
Years in Cup: 19
Cup Series Wins: 30 | 2004 Champion
Best 2018 Cup Finish: 1st in Bass Pro Shop NRA Night Race at Bristol
2019 #41 Replacement: TBD (Rumored: Daniel Suárez)

Jamie McMurray | #1
Current Team: Chip Ganassi Racing
2019 Plans: TBD (Proposed: team leadership position)
Years in Cup: 17
Cup Series Wins: 7
Best 2018 Cup Finish: 2nd in Bank of America 500 at Charlotte Roval
2019 #1 Replacement: TBD (Rumored: Kurt Busch)

Ryan Preece | #18 Xfinity Series
Current Team: Joe Gibbs Racing (Xfinity Series)
2019 Team/Car: JTG Daugherty Racing #47
Cup Series Starts: 5 (2015)
Cup Series Wins: 0
Best Cup Finish: 32nd in 2015 Sylvania 300 at New Hampshire

AJ Allmendinger | #47
Current Team: JTG Daugherty Racing
2019 Plans: TBD
Years in Cup: 13
Cup Series Wins: 1
Best 2018 Cup Finish: 3rd in Coke Zero 400 at Daytona
2019 #47 Replacement: Ryan Preece

Daniel Hemric | #8 (#21 Xfinity Series)
Current Team: Richard Childress Racing (Part-time)
2019 Team/Car: Richard Childress Racing #31 (possibly #8)
Cup Series Starts: 2
Cup Series Wins: 0
Best Cup Finish: 23rd in 2018 Bank of America Roval 400 at Charlotte

Ryan Newman | #31
Current Team: Richard Childress Racing
2019 Team/Car: Roush Fenway Racing #6
Years in Cup: 19
Cup Series Wins: 18
Best 2018 Cup Finish: 6th in Foxwoods Resort Casino 301 at New Hamphsire
2019 #31 Replacement: Daniel Hemric

Trevor Bayne | #6
Current Team: Roush Fenway Racing
2019 Plans: TBD
Years in Cup: 9
Cup Series Wins: 1
Best 2018 Cup Finish: 11th in Bass Pro Shop NRA Night Race at Bristol
2019 #6 Replacement: Ryan Newman

Matt DiBenedetto | #32
Current Team: Go Fas Racing
2019 Team/Car: Leavine Family Racing #95
Years in Cup: 4
Cup Series Wins: 0
Best 2018 Cup Finish: 7th in Coke Zero 400 at Daytona
2019 #32 Replacement: TBD

Kasey Kahne | #95
Current Team: Leavine Family Racing
2019 Plans: Retiring from full-time Cup Racing
Years in Cup: 15
Cup Series Wins: 18
Best 2018 Cup Finish: 4th at Daytona 500
2019 #95 Replacement: Matt DiBenedetto