Monday Night Raw took place tonight live from Portland, Oregon!
Becky Lynch is Suspended Indefinitely
Stephanie McMahon opened Raw tonight and immediately got interrupted by Becky Lynch. They replay Ronda Rousey's promo from last week and Steph points out Becky's leg injury. Lynch says she will face anyone anywhere but she won't let the doctors check her out. McMahon says she cannot let Becky fight Ronda until she's cleared by WWE medical staff.
Steph says this is one of the biggest matches in WWE history and everyone wants to see it. She says all Becky has to do is see the doctor and if she doesn't, she'll be suspended. McMahon suspended Lynch and Becky attacked her. She sucker punches Stephanie and puts her on the ground. Lynch's knee doesn't hold up and walks away with a heavy limp.
Lynch and Ronda Rousey crossed paths backstage. Rousey tells Lynch that she better rest up before she gives Lynch the beating she deserves at Wrestlemania. Rousey then walked to the ring, where she proceeded to defeat two thirds of the Riott Squad.
The Revival Are the #1 Contenders For the Raw Tag Titles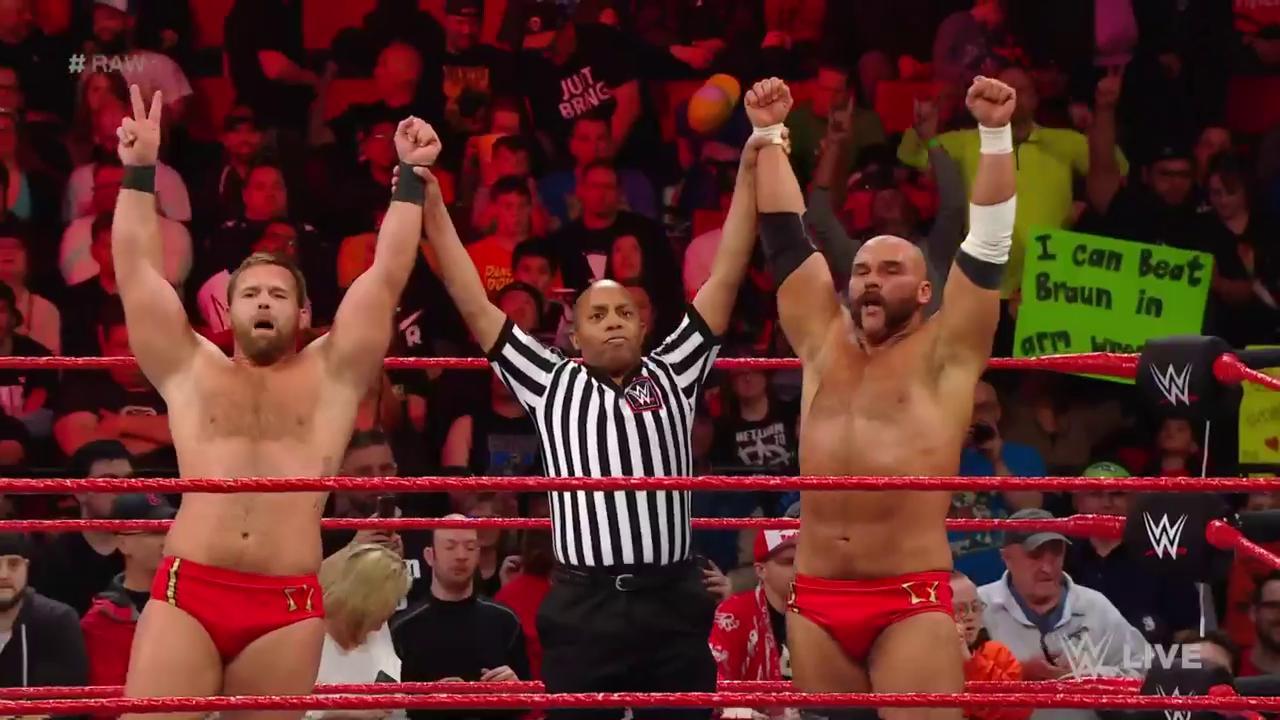 The Revival defeated Lucha House Party, the B Team and pinned Heavy Machinery in a good four corner match. Dawson & Wilder will get a future title match sometime soon. If the rumors are true and the Revival have asked for their release from WWE, they'll lose this match. If not, they have to win the titles here.
Kurt Angle's Not So Retirement
Kurt Angle came down to the ring. He relives his greatest moments and that he appreciates the crowd for always saying he sucks. He says his last two matches weren't good enough. Despite that, he's beaten the best of the best in this industry and has even won an Olympic gold medal with a broken freakin' neck. But the one opponent he cannot defeat is father time.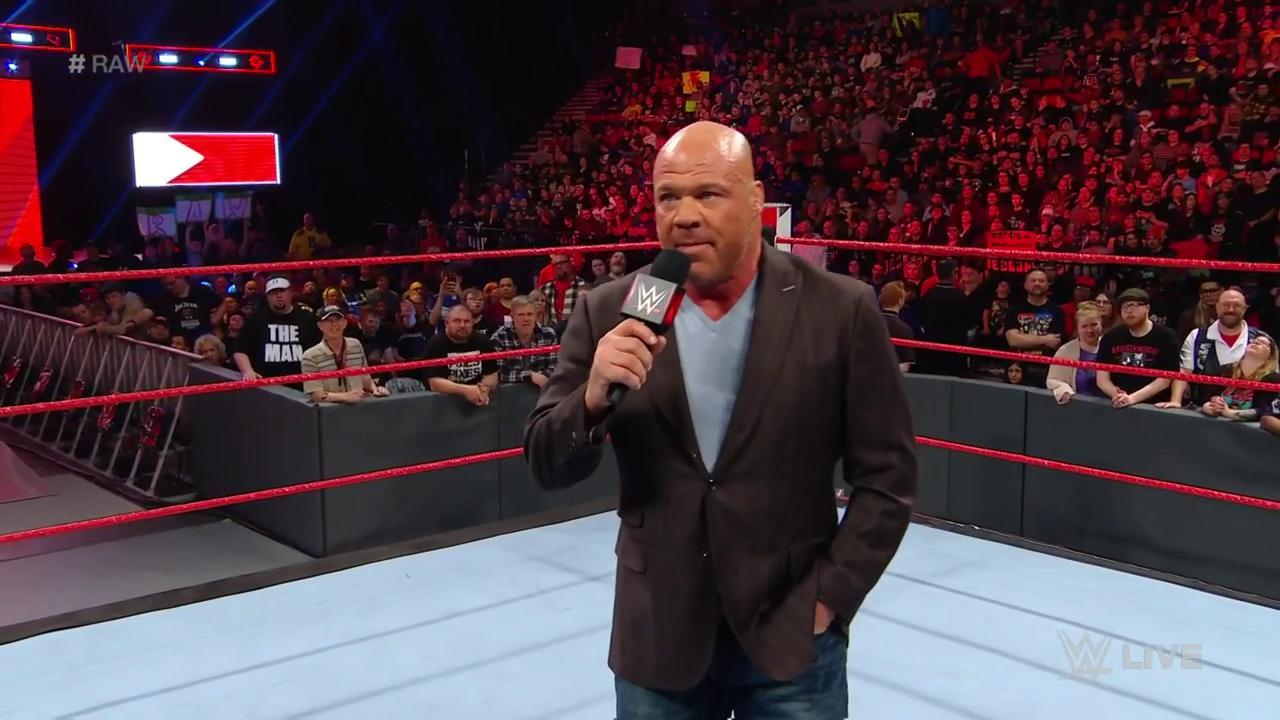 Baron Corbin's music hits and runs down Angle, calling him a shadow of a man. Angle says he'll snap his ankle in two. Drew McIntyre comes out and agrees with Corbin. He tells Portland to get their cameras ready because they're going to put Angle down for good.
Braun Strowman marches down to the ring and attacks McIntyre and Angle gets the upper hand on Corbin. Corbin & McIntyre run away through the crowd as Angle's music plays while him and Strowman stand in the ring together. These are a couple of odd pairings but they announced that the four will have a match later tonight.
Strowman & Angle vs Corbin & McIntyre was the main event of the evening. This was a solid main event and the crowd was really into it. Corbin & McIntyre won by DQ as well. Corbin & McIntyre beat down Angle after the match before Bruan came back in the ring and took out both men. Angle & Strowman stand tall as Raw ends.
Jeff Jarrett Wrestles on Raw For the 1st Time in Two Decades
Double J took on Elias tonight. Road Dogg comes out and introduces Jeff Jarrett to the ring. I've been a wrestling fan my whole life and never thought i'd see the day when Jarrett wears a WWE shirt to the ring on Monday Night Raw. The pair begin the patent duet before being interrupted by Elias. Elias says he mistakenly took the booking for Raw tonight instead of doing the Super Bowl halftime show.
Jarrett and Elias had a decent match but that wasn't the point. Elias won the match and Road Dogg and Double J beat him down after the match. Double J hit Elias over his back with his guitar and laid Elias out. Jarrett is signed with WWE but I wouldn't expect him as much as we've seen him the past couple weeks going forward.
A Moment of Bliss
Alexa Bliss' guest this week's 'A Moment of Bliss" is new NXT call-up, EC3. Bliss says EC3 is a hot prospect and wants to know if he'll choose Raw or SmackDown. Nia Jax interrupts and Bliss isn't happy that her show gets interrupted every week. Jax & Tamina take over the show and talks about all of her accomplishments over the past couple of weeks.
Dean Ambrose is out now and says Jax has a crush on her and something about sexual magnetism? Ambrose asks EC3 several questions. EC3 decks Ambrose and they head to the ring. Ambrose was great in this segment and it looks like WWE is finally giving him a little freedom, even though he's leaving in a couple months time.
EC3 vs Dean Ambrose proceeded after this segment. The two worked a quick match and EC3 picked up the victory with a jack-knife cover. EC3 appeared to favor his left arm during the bout. Hopefully it's nothing too serious and he'll be back next week!
Overall, this feels like an early road to Wrestlemania show. Nothing incredibly surprising or crazy happened tonight but many story lines are coming together for Elimination Chamber and Wrestlemania. A decent show and here's to another great week of wrestling!