Bellator 262: Mohegan Sun, Uncasville Connecticut
After climbing the mountain to become a champion, Juliana Velasquez used her jab to reign supreme. The 34-year old Brazilian remained undefeated, taking a split decision (48-47 2x, 47-48) over Denise Kielholtz. Although she was out-landed 101-46.
Kielholtz, the Bellator kickboxing champion came into the fight on a four-fight win streak. With all of those being finishes, and the last three coming in the opening round. The decision win for Velasquez gives her seven-total (including her last three-fights).
It didn't start out that great for the champion, as Kielholtz used low leg kicks and continued to rush into Velasquez' range. And Kielholtz continued to own the center of the cage while chasing down Velasquez. But midway through round 2, the champion was becoming more active, and circled away better. That in turn slowed down Kielholtz's attack, despite her piston-like hand speed.
From there on, the story of the fight became the right jab of the champion. It found a home time and again on Kielholtz's face, swelling her left eye, as she started to piece her up. Although the fight was slipping away from her, Kielholtz continued to let her hands fly. And in a last ditch effort to pull victory from defeat, she pressured Velazquez again, stinging her.
Juliana Velasquez Reigns Supreme, But How Good Is She?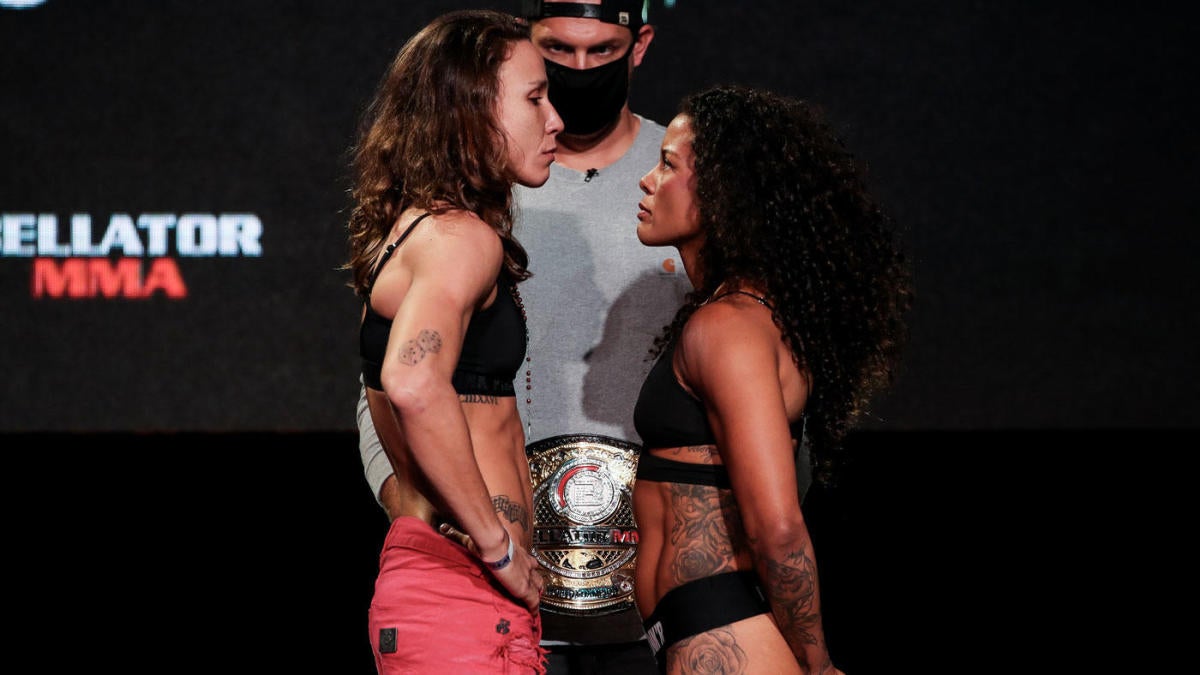 When you still have your "0", you're good. And when you have a usually decided height and reach advantage, you're automatically harder to beat. But the woman who dedicates every fight to her deceased younger brother really doesn't have that much left to prove. The multi-black belt holder has faced all types of fighters. Those that like to bang, bring the action to the mat, and fighting under the bright lights. At least Bellator's bright lights. Now, how she'd do against someone like Valentina-Shevchenko we may never know. Plus this was only her first title defense, we don't know if Ilima-Lei MacFarlane can figure out the riddle that is Velasquez.
Her only downside is she leaves herself open to be hit. Kana Watanabe might be the only one in the division with the ability and power to beat her, next to Liz Carmouche. But the Japanese import is not ready for a title shot.
Juliana Velasquez Reigns Supreme, But How Does She Fare Against Others
That answer though, we may find out by the end of 2021. Post fight, in the cage she told John McCarthy next for the title could be either MacFarlane getting a rematch, or Carmouche. Carmouche brings the forward pressure and more power, but can be plodding at times. At least in that fight, the two women have the same height and reach.
MacFarlane who was a guest at "the desk" said she'd love her rematch somewhere in the Pacific, where it's warm; referring to her homeland of Hawaii. Of course that'll be decided more with the world situation, over Scott Coker and the Bellator team.
But until that point in time comes, things remain the same:
#AndStill | @JuVelasquezMMA's 1️⃣st #Bellator flyweight title defense at #Bellator262 is a smashing success.#MMA pic.twitter.com/3O5YDmANpG

— BellatorMMA (@BellatorMMA) July 17, 2021
So, when you need your hunger for sports filled, check out some of my other work or head over to Belly Up Sports' Twitter. And if you'd like to keep up with all things CYCLONE and possibly win some great free raffle prizes, head over to CYCIEProdz on Facebook.