Tom Brady always has an eye on him, especially as he grows with age. His age 44 season has come to a conclusion. Earlier than expected, sure. But it was to no fault of his own. After another MVP-level campaign (5,316 yards, 43 touchdowns, 67.5 completion percentage), he and the Tampa Bay Buccaneers came into the playoffs shorthanded. Missing receivers Chris Godwin, Antonio Brown, and playing a banged-up offensive tackle Tristan Wirfs. After escaping the wild card round with a win over the Eagles, they got stomped by the Rams in the first half.
Behind TB12, the Buccaneers launched a vintage comeback. They scored 24 unanswered points in that second half. Brady was lights out, as he tends to be in the clutch, finishing the game with 329 yards and a score. Hitting Rob Gronkowski with consistency. Tossing a touchdown to Mike Evans. Unfortunately, Brady and the offense couldn't do anything about defensive coordinator Todd Bowles calling a corner blitz. The play call that left Cooper Kupp to be covered by a bulky safety in Antoine Winfield Jr. The Rams kicked a field goal as time expired that sent quarterback Matt Stafford and the Los Angeles Rams to the NFC Championship game winning by a score of 30-27. Meanwhile, the Brady Bunch were sent home early.
Brady was very non-committal about a return in 2022 after the game. He posted on Instagram thanking his teammates and fans for yet another successful campaign. But acknowledged that there is an increased eye on his status as he grows older. Also admitting he doesn't have an answer right now as far as if he will continue his playing career.
Reading The Signs
On his podcast "Let's Go!" with Jim Gray, Tom Brady also gave a telling quote for fans to chew on: "It pains (Gisele, his wife) to see me get hit out there. And she deserves what she needs from me as a husband and my kids deserve what they need from me as a dad." We have never heard the seven-time Super Bowl champion speak of retirement like this. He has always pushed the bar. Saying even that he could totally play beyond his goal of age 45. Though as we sit just shy of seven months away from his 45th birthday, his future remains as unclear as ever.
Even Gronkowski said he'd retire if he had to make a decision this second. Meanwhile, the Buccaneers are more than likely to lose tons of players from their Super Bowl LV team. Chris Godwin, Jason Pierre-Paul, Ndamukong Suh, Leonard Fournette (who had two touchdowns on Sunday), Ryan Jensen, and Carlton Davis just to start. Never mind Brady and Gronk. Also, probably losing their two coordinators on offense and defense with Byron Leftwich likely to move to Jacksonville and take the Jaguars head coaching gig, and Todd Bowles receiving a lot of interest from other teams with head-coaching vacancies.
If Tom Brady decides to return to Tampa Bay in 2022, he's not returning to the same team. They can't just re-sign everybody as they did after the Super Bowl last season. There will be some heavy turnover. But as much as it looks like it'd be the perfect time to go, I can't see Tom Brady leaving at the top of his game. After a comeback like that last Sunday, coming up just short on a play call out of his control. Will he return? TBD. But here's why he should.
Brady Still Has Plenty In The Tank
Tom Brady led the league in passing yards, passing touchdowns, and ranked top 10 in completion percentage, all the while having the most dropped passes of any quarterback in the league. He's going to be the MVP or at the very least runner-up to Green Bay Packers quarterback Aaron Rodgers.
Brady will make the Buccaneers a Super Bowl contender if he chooses to return to Tampa. Even if there's heavy turnover. Any squad with Tom Brady has the chance to go deep into the playoffs. At the same time, the Buccaneers are his only destination for next season if he won't retire. He's under contract through the 2022-23 season. So the dream of him going to San Francisco was dead as soon as it began.
The Buccaneers roster will still be good enough to win a division title, and as much harder as it will be to go to the Super Bowl with a lot of moving pieces, it's totally possible under Brady. At age 44, Tom Brady is still a top 5-10 quarterback in this league by most metrics. Leaving while he's hot like this would be totally against everything he's stood for since turning 40.
Shockingly Enough, There's Still Something To Prove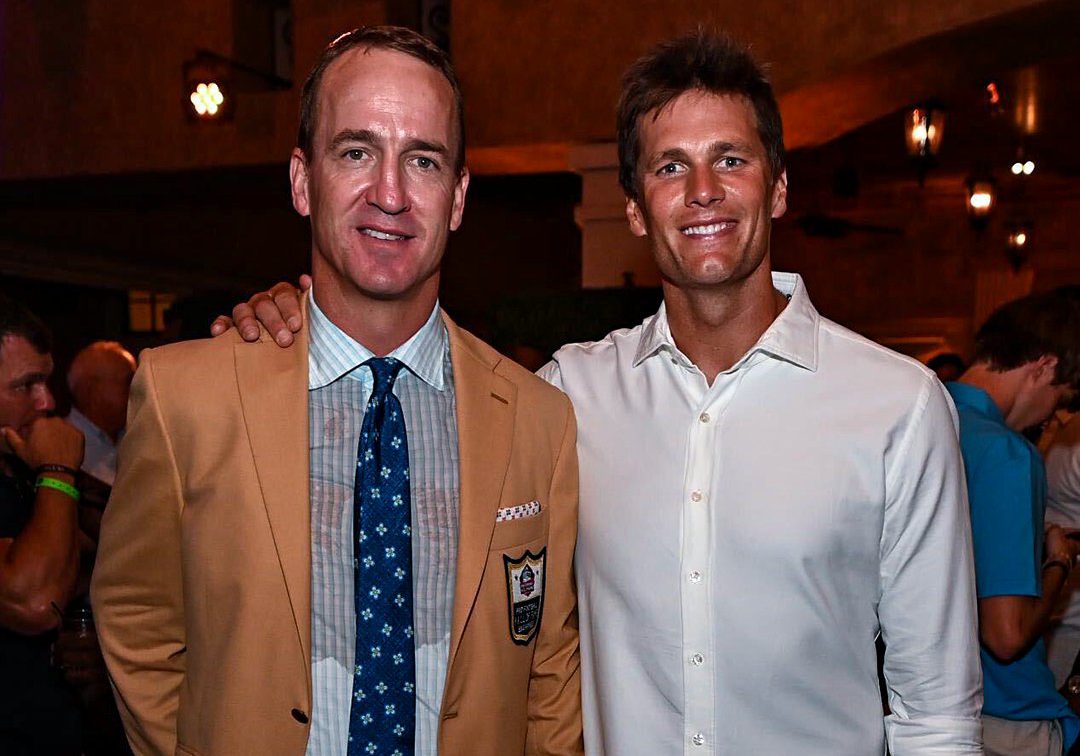 Pictured above are the only two quarterbacks in history to win a Super Bowl with two NFL franchises: Peyton Manning with the Indianapolis Colts (Super Bowl XLI) and the Denver Broncos (his final season in Super Bowl L), and Tom Brady with the New England Patriots (six times) and the Buccaneers. If Brady won another in Tampa, he'd obviously become the only quarterback in NFL history to win MULTIPLE Super Bowls with two franchises.
It's another layer of icing on top of a cake that's already covered in it. But Brady's a competitive guy, and I'm sure that there's some appeal to just continuing to do what nobody else has. He'd also win an eighth Super Bowl in this hypothetical, which would be twice as much as the next closest quarterbacks.
Sure, a lot of these records are trivial and TB12 is already a certified hall of famer, as open and shut of a case as there'll ever be. But Brady has always been one to pad the record book and remind all of us just who he is. Love him or hate him.
The Last Dance Storyline
As we mentioned with Peyton Manning, as washed up as he was, he still left a Super Bowl champion. John Elway before him, left the game a Super Bowl champion in 1998. I think if anybody deserves to go out with confetti and celebration, it's Tom Brady.
Sure, other great quarterbacks fell off and never got the sendoff they hoped. Ben Roethlisberger, Dan Marino, Eli Manning, and Philip Rivers just to name a couple. But the big difference between Brady and those mentioned is that he's still playing at an elite level, and could absolutely drag a team all the way to a Super Bowl championship.
It's not as easy as this piece may make it seem. But this Buccaneers squad will be in the thick of it again with Tom Brady at quarterback. He's gotten pretty damn close with worse rosters in New England. He dragged a dreaded 2011 Patriots team to the Super Bowl. I think having a retirement tour with the only goal being getting that last Super Bowl championship is absolutely desirable and possible. Good enough reason to stick it out one more season.
Closing Thoughts
Obviously, anything I say won't play into the GOAT's decision. Hell, I'd be lucky if this piece makes his radar. He's a human before he's a quarterback. As much as the little kid in me wants him to play forever, and wishes he was still playing for my favorite team, I also recognize that all good things come to an end. I saw his Patriots tenure finish in a less than desirable fashion. It would kill me to see his career end on a sour note as well. Thinking about what could've been, instead of knowing it concluded just how it should've.
As I write this article, I sit back and reflect on just how amazingly lucky I am, and how lucky we all are, that Brady did all this in our lifetime. While we were fans of the sport we watched an athlete accomplish all that he did, for as long as he did. Tom Brady has given more to the game of football than anybody could've asked for. If he retired today the game would be losing one of its greatest icons. We will likely never see anybody do what he did ever again.
Unfortunately, the suspense is likely to continue for a while, as big decisions like this tend to take some time and serious conversation. But as biased as it is, I truly hope Tom Brady continues on for just one more campaign. An all-or-nothing effort to go out how I believe he deserves: In a blaze of glory on top of the world. Just how my 10-year-old self always dreamt it would be. Minus the uniform change.
If you enjoyed this content, or hate it and want to argue with me, follow me on Twitter @KalebEmcee! Feel free to check out the work I do on Foxboro Beat! Also, read up on the rest of the NFL content Belly Up Sports has to offer here!