New York Jets general manager Joe Douglas has been a trade partner with the Seattle Seahawks before. He was responsible for trading disgruntled safety Jamal Adams to the Seahawks in July 2020 for two first-round and two third-round picks. As of right now, it's a fleece: one of the Jets picks acquired turned into Alijah Vera-Tucker while Adams is stuck on a team in a rebuild – again) Could the New York Jets be trade partners with the Seahawks again, but this time, for DK Metcalf?
But First, This Moment of Schadenfreude
Before I give the reasons for and against the New York Jets acquiring DK Metcalf, please allow me a moment of Schadenfreude. On Wednesday, the Seattle Seahawks informally announced they have gone into rebuild mode by trading quarterback Russell Wilson to the Denver Broncos. Though the trade won't be official until next Wednesday when the free agency period opens, it was a move they had to make. The Seahawks got a treasure trove in return, earning two first-round picks, two second-round picks, a fifth-round pick, quarterback Drew Lock, tight end Noah Fant, and defensive lineman Shelby Harris. Remember when Jamal Adams wanted to be traded because he wanted to be paid an extravagant contract and not be on a rebuilding team? Now he's on a team that is clearly rebuilding.
The Schadenfreude is just…
(Okay, moving on.)
The Case For Metcalf
Now that's out of the way, allow me a couple of reasons why the New York Jets need to at least inquire about DK Metcalf. Metcalf is coming off a season where he underperformed. Compared to his 2020 when he finished with over 1,300 yards, his 967 yards are a far drop off. Part of it was the divide with Wilson; the quarterback seemed to connect with Tyler Lockett more than he did with Metcalf in 2021. There's a perceived attitude problem if he doesn't get the ball, but given the drop-off in 2021, I'd be a little upset, too. One of the factors that Metcalf has is a friendship with Jets wide receiver Elijah Moore. The two receivers were teammates at Ole Miss and are reportedly best friends.
Douglas has promised to build around quarterback Zach Wilson. He's putting together a offensive line to protect Wilson and installed a coaching staff to help his development. Now, Douglas needs to give Wilson some receivers to throw to. Corey Davis is a serviceable receiver, but the Jets have an option to cut him after this season. Metcalf will only earn $4.3M in salary this season, which makes him a surprisingly cheap option. Could you imagine the Jets trading for Metcalf, releasing Davis, and signing Metcalf to a long-term deal? Especially if Metcalf has a big season? Metcalf on one side and Moore on the other with the emerging Braxton Berrios would give the Jets weapons.
The Case Against Metcalf
With every pro, there must be a con, and there are cons as to why the New York Jets should inquire about a trade for DK Metcalf. First things first: the attitude problem. As mentioned in the last section, there was a bit of a divide between Metcalf and Russell Wilson. Metcalf had a near 400 yard drop off in 2021, a far cry from his 2020 campaign which made him a breakout star. Will he ever get back to his 2020 numbers? If Metcalf doesn't get the ball, will he cop an attitude? Will he get in a heated discussion with Zach Wilson? Hopefully, Elijah Moore will be the whisperer if Metcalf gets out of line.
Let's say Douglas calls Seahawks general manager John Schneider and proposes a deal. What does Douglas dangle in front of Schneider? Do the Jets dare send the tenth overall pick in this year's draft and maybe offer a second or third-round pick in 2023 as part of a trade package? The appeal of having back-to-back first round picks is enticing to the Seahawks. But considering the history of the Adams trade, Schneider doesn't pick up the phone. Also, if you're Douglas, do you mortgage the future to improve your team now? Is Metcalf worth the tenth overall pick this year and possibly a second or third-round pick next season, especially since he's a UFA in 2023? This might be another reason why the New York Jets don't try to acquire D.K. Metcalf.
Is the Risk Worth the Reward?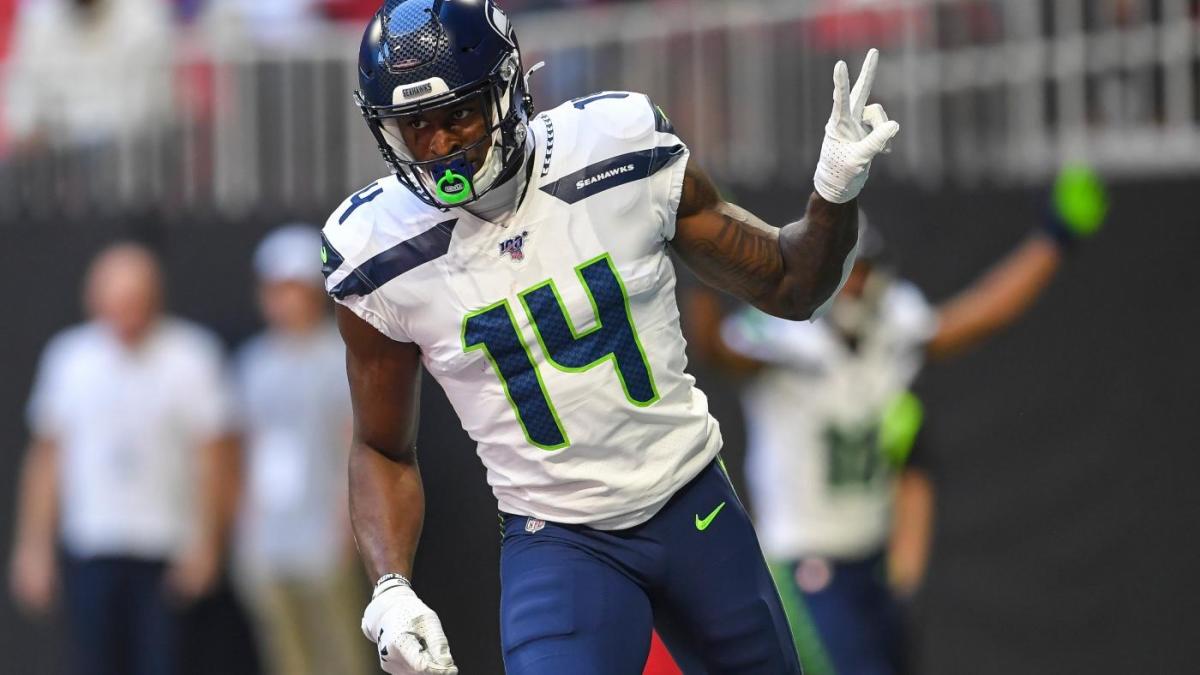 Is the risk of the New York Jets acquiring DK Metcalf worth the reward? There are certainly some pros (contract value, friendship with an ex-college teammate) and cons (perceived attitude, mortgaging the future). The last – and probably most important factor – is the chance to be part of a team on the rise. Metcalf will be out to prove next season that 2021 was a fluke and he is the elite receiver he became in 2020. Could he do it under the microscope that is the New York City media? Time will tell if he'll be a Jet, but the addition of Metcalf would be a shot in the arm for an offense looking to gain explosiveness in 2022.
I'm Ryan McCarthy and I cover the New York Jets beat for Belly Up Sports. We have a lot more to offer in our NFL coverage. If you want to chirp at me regarding the Jets, life, or other topics, hit me up on Twitter: @whoisryanmcc. Thanks for reading.