You wanted it and you got it. This NFL season has been one for the books. Every week there was many must-watch games or even no big deal games that have turned into something you will never forget. The number of teams in contention to make the playoffs was crazy. I mean the Cleveland Browns were actually "in the hunt" and even played in a crucial playoff atmosphere type game in week 17. You have a five-loss Patriots team, the first time since 2009, which almost had to play on wild-card weekend for what seems like the first time since the existence of the NFL. Now that the playoffs are set the only question left is, who ya got?
Why do we love the Super Bowl?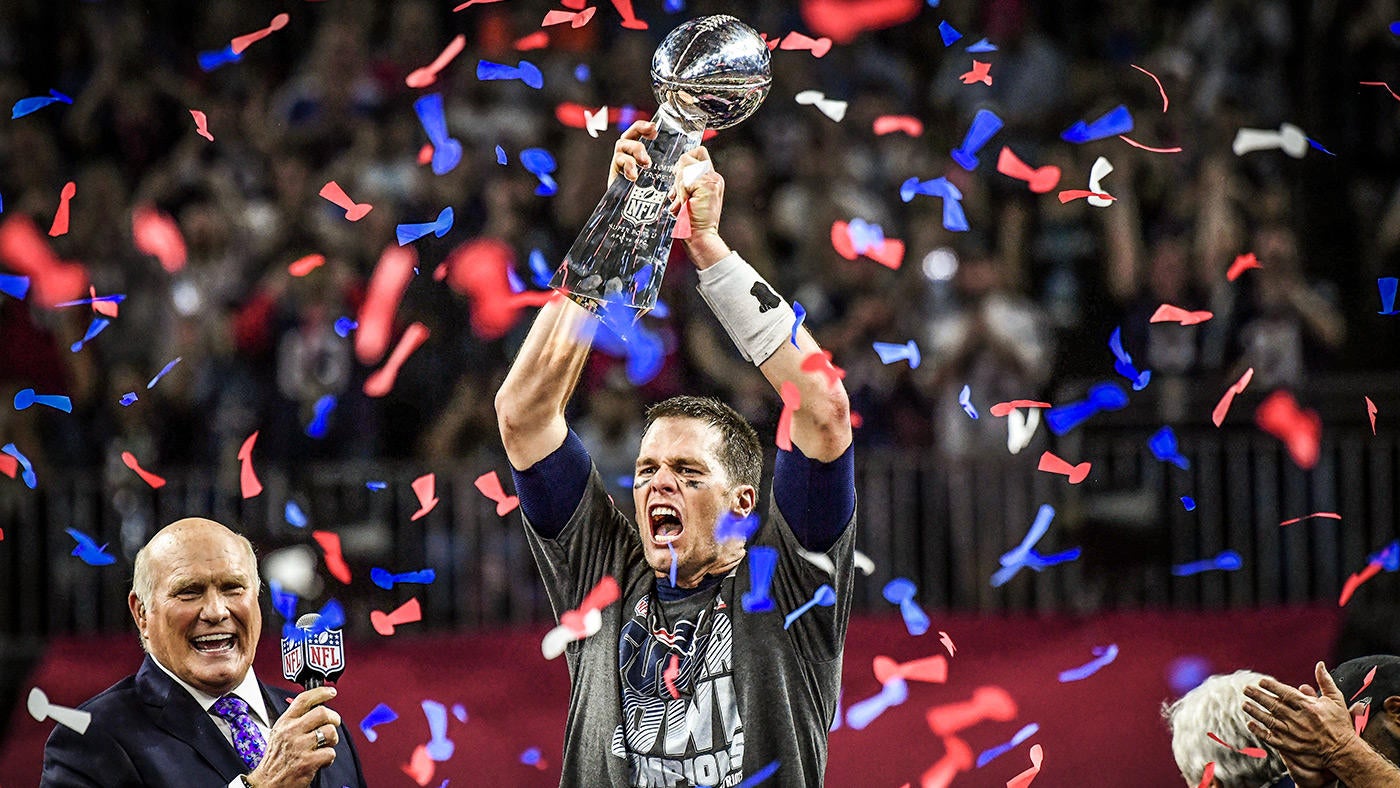 For the last decade, the AFC team has been represented by only four different quarterbacks (Brady, Manning, Flacco, Big Ben). That is a pretty insane stat considering the NFC has had nine (you can look them up). The point is that the AFC has been the reason for the lack of parody since the same teams have dominated over the years. This year you have the Chiefs, Chargers, Texans at the top which is out of the ordinary. With all this being said, we have always loved the Super Bowl regardless of who is in it. As much as it is still loved, you tend to always hear people saying how they are tired of seeing the same teams, tired of seeing Belichick and Brady… Well if you actually believe that, then this year should do the trick.
AFC
If you would have told me this off-season that the best division in the AFC, minus the mess called the Raiders, would be the AFC West… I would have called you crazy. Some might argue it to be the AFC South, but I just think any division with the Chiefs & Chargers has to be at the top. You almost have to feel bad for the Chargers to end up in the Wild Card after having such a great season.
AFC West: Chiefs & Chargers
The Chiefs might be the most exciting team in football. Patrick Mahomes has taken the league by storm with his never before seen throws. He makes the throw on the run look like nothing, completing passes with his left hand, and oh yeah don't forget about the no-look throws. Either way, this offense is very hard to stop and should not be a problem regardless of who they end up playing.
The issue this team faces is their defense. It is safe to say they have not been very good all season, if not the worst this year. They have been playing better over the last few weeks simply because of their pass rush. Eric Berry is back which should help that secondary out. This team has a real shot to make a run, just depends what kind of defense they put out on the field.
Old man Rivers is on his way to having another baby, this time a Super Bowl baby. This team has all of the tools to get to the promise land. They are winning the close games which they always used to lose. Their defense is getting stronger as players are now just starting to come back from injury. Not to mention Derwin James has made a huge impact and might be the biggest steal of this past years draft.
The offense is not something to ignore either. Although the Chiefs have easily the most exciting offense in the division, the Chargers are a close second. The difference this year is that Phil finally has some weapons in Allen, Williams, Benjamin and even old reliable, Antonio Gates. Not to mention a top running back crew with Melvin Gordon leading the pack. I understand he is not 100%, but he will still have an impact as well as a hidden gem in Justin Jackson who did alright when his name was called
East: Patriots
Is the end of the dynasty? Is the Belichick and Brady era coming to an end? Well, the answer is most likely yes, but not just yet. The Pats for sure do not look like they are the same team we have seen in the past decade, but I beg of you do not count them out yet. Brady has looked bad recently along with a beaten up and much slower Gronk. This all being said, I will never count the Patriots out when it comes to Belichick and the playoffs. Their defense is nothing special, but Bill will have them ready to go when the games start to matter. All I am saying is even though this seems like the beginning of the end, please do not sleep on the Pats because we all know what they are capable of.
North: Ravens
This division was all over the place this year. You had the Browns who won 7 games and were actually in the playoff conversation going into week 16. There was a very slim chance that they got in, but we still had to mention them because they are showing teams what to expect in years to come. Next, you had the Steelers who at times looked to be the best in the AFC only to choke it away by losing 4 out of their last 6 games. The only team that is representing this division this year is the Ravens.
Somehow this new look Ravens team with Lamar Jackson seems to be much of the same as old teams we are accustomed to. For as long as I can remember the Ravens have always been a defensive team which is why they won championships. Now, this is still true, but the only difference is they have a playmaker behind center. With the ability to run all over the field, Jackson has been a game manager that this team needs. He is not going to flash crazy stats and throw the ball a mile, but he will manage the game and trust his defense to get the job done. It is crazy that he is only turning 22 on Monday following his first career playoff start. Will he be ready, or will his age and inexperience hurt the Ravens in the end.
South: Colts & Texans
This division is very confusing, to say the least. Some might say they saw the downfall Blake Bortles and the Jags, but not many saw Andrew Luck actually looking back to norm in his first year. It is a shame that the Colts took so long to get things figured out, but this team is something to look out for. Looking back the 4th down call that coach Reich actually looks to be a genius move now that they have made the playoffs. That call to go for it seemed to set the tone for the rest of the season. Credit has to be given to this coaching staff as well as Andrew Luck. Oh, captain, my captain Luck has put together an unthinkable season from someone that could not throw regulation size football a couple weeks before the season started. This might not be the season it all comes together, but with a solid offensive line and an improving defense, I expect good things to come.
The Texans are a team that I really don't know anything about or really understand. I think they are good considering they won 9 games straight, even though the competition was poor during most of those games. Watson is going to be a star in this league, especially with a weapon like Hopkins, but he still makes poor decisions that might cost him games in crunch time during the playoffs. If he keeps holding on to the ball the way he does I don't think he will last very long in this league. The one thing I have some confidence in is the defense. With Watt and Clowney coming off the edge, any QB will struggle. It also helps to have the honey badger running around in the secondary making plays. I don't have faith that this team will make a deep run, but then again this year is different from the rest.
NFC
It is safe to say the top of the NFC looked a little on paper to start the year. The defending Super Bowl champs have been inconsistent all year, Kirk Cousins has not done was his 80 million guarantee was expected to do, and the Rams and Saints started off hot while in recent weeks have come back down to earth. So who will come out on top?
East: Eagles & Cowboys
I did not have all the faith in is the Philadelphia Eagles. If all went as I thought it would, the Rams would have beat the Eagles and ruined any playoff chances. Nick Foles and a hungry defense had other plans. This team has been a mess all year with plenty of injuries and inconsistent play from their hopeful franchise quarterback in Carson Wentz. Now it appears he was playing with a few injuries this year, but it is safe to say he has not looked the same regardless. With all this being said, Nick Foles is back! I do not know what he did or does around this time of year, but he is a gift from God. The team comes together behind this guy like nothing I have ever seen before. Coach Pederson seems to be in rhythm and a lot more comfortable when Foles is out there. I am not sure if they make a run like last year, but it is safe to say not many teams want to find out.
The Cowboys controlled this division as soon as they swept the Eagles. This defense has proven to be one of the best in the league. They can pressure the quarterback as well as control the run. That is all great and dandy depending on what offense shows up. The Cowboys can dominate on offense one week, or get shut out by the Colts another. It is clear that Dak appears to be exposed when Zeke is not effective. When Zeke has a big impact and is putting up big numbers the offense runs smooth which helps Dak/Amari Cooper and the passing game. I actually think this Cowboys team could make some noise in the playoffs because of their defense, just depends on what team show up on that day.
South: Saints
This team was one of the scariest teams in the league for the first 3/4's of the year. They have struggled offensively on the road, but are deadly at home minus the fluke loss to open the season. As much as this team as looked overrated the past few weeks, I would not want to see them in the playoffs. If there is any guy you trust more in the playoffs other than Tom Brady, Drew Brees is it. With a strong duo running the ball along with a stud receiver in Thomas, I believe this team will figure it out and get back on track. It really only matters to when they can do it.
North: Bears
From worst to first! The Bears have finally gotten over the hump and dethroned Rodgers. Yes, I understand the Vikings won the division last year, but this division has in recent years ran through Rodgers and the Packers. This Bears defense is amazing. They owe Jon Gruden so much for giving them a top 3 defender in the league. Mack has changed the culture of this team completely. Everyone plays better with Mack on the field including the offense. There is almost a sense of relief because Trubisky knows if he makes a mistake, his defense will make a play/stop to give him another shot. The issue with that last statement is how many mistakes can Trubisky make? This Eagles defense is not fully loaded, but with a solid pass rush and some young ballhawks in the secondary, this game could come down to #10 and how well he plays.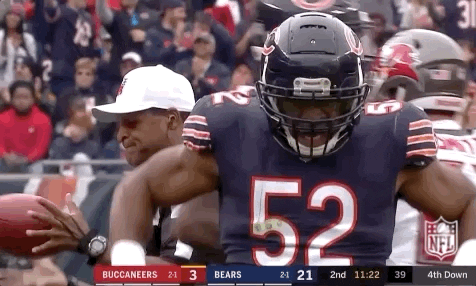 West: Rams & Seahawks
Seattle is like that little gnat that you keep swinging at but just can't seem to hit. This team was not supposed to be anything to pay attention to this year. The "Legion of Boom" was no longer in existence and Wilson had no help on offense. Well, it appears none of that actually was true. Pete Carroll has a solid running game and a defense that runs all over the field. This team, while just losing to the 49ers, is not a team to overlook. They are a tough/gritty team that could surprise some teams come playoffs.
Sean McVay is a really good coach and the Rams should be very happy that he is their coach. That being said, he has to figure something out because Jared Goff and that offense have struggled since that shootout with Kansas City. At one point there were talks about this team being better than the greatest show on turf! Cooper Kupp going down might be more crucial to this team than we thought. For those calling him a system receiver that the team could do without, well you are just wrong. Goff needs a player like Kupp to be Mr. Reliable even if he still has Brandon Cook and Robert Woods. Now enough of the offense, this defense has a few holes that could cost them. This line is stacked with possible MVP in Aaron Donald, Suh, Fowler, Brockers, and more… But for some D-Line can only rush the passer while forgetting to stop the run. Not to mention a secondary with a few big names in Peters and Talib that have struggled as well. McVay has already proven he will be a coach in this league for a long time, now we see if he can go from good to great by winning when it matters.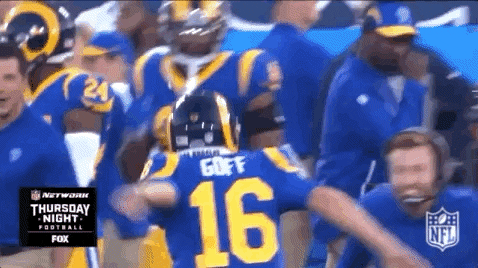 Who wins it all?
After all that… It feels as if it is safe to say that no one knows who is going to end up with the Lombardi this year. There are so many questioned that need answered to feel confident on any certain team.
Can Andy Reid or Phillip Rivers finally win the game that has haunted them their entire careers?
Will NFC "Least" make some noise?
Do the Pats just win because that is what they do?
Is the Rams offense/Bears defense enough to win it all?
This is the year where parity appears to exist to take advantage of it! The only thing left to do is sit back and enjoy the ride because this season is rare and might just be a preview of many years to come.