Only 24 hours removed from an action-packed Money in the Bank PPV, Monday Night Raw comes to us live tonight from inside Times Union Center in Albany, NY!
Monday Night Raw: Beast in the Bank
The winner of the 2019 men's MITB ladder match is Brock Lesnar. WWE shocked everyone watching last night when Lesnar hit the ring to take the 8th spot in the match. Sami Zayn was originally the 8th man but was laid out earlier in the night.
Despite what your opinions may be towards Lesnar and his booking, this was an incredible moment. WWE has people talking and that's what they want.
With that being said, WWE has to follow this up, tonight. He most likely won't cash in the contract anytime soon but Lesnar & Paul Heyman need to kick off Monday Night Raw and set something up for Brock going forward.
As he said last night, "he's back baby". Back with a new contract and a new push. It's good to have Lesnar out of the world title picture at the moment but with his MITB win, it's almost inevitable that he'll have a world title by the end of summer.
Here's a bold prediction: Lesnar will be the WWE Champion on SmackDown Live by the time SD Live moves to Fox this fall.
Mick Foley to Unveil a New Championship
Last night, WWE announced that Mick Foley will be on Monday Night Raw tonight to unveil a new championship. Last time Foley announced a new title, it was the Universal title a few years ago and it didn't go over too well at first.
It's interesting to see that WWE wants a new championship added to their shows. In recent years, the United States and Intercontinental titles haven't been booked well at all.
WWE hasn't confirmed whether or not this will be a world or mid-card title. Whether it be in the men's, women's, or tag division, WWE needs to get it right from the start.
The WWE Woman's tag team titles were created only a few months ago and they weren't even featured on MITB at all. It may take time but I believe that WWE will get it right. As always, everything in WWE takes time to get used to.
Becky 1 Belt
Last night, Becky Lynch wrestled two different matches. She defended her Raw Woman's championship against Lacey Evans, in which she retained. As soon as that match ended, Lynch had to turn around and face Charlotte Flair for the SmackDown Woman's title.
Lynch lost the match, which ultimately led to Bayley cashing in on Flair to capture the SmackDown woman's title, making her the first and only grand slam woman's champion in WWE history.
The Man is now only the Raw Woman's champion. It looks like WWE have closed the chapter of Lynch vs Flair for now. With Lynch solely on Raw, what's next for her? The Wild Card rule always gives WWE a reason for her to try and get her other title back.
AJ Styles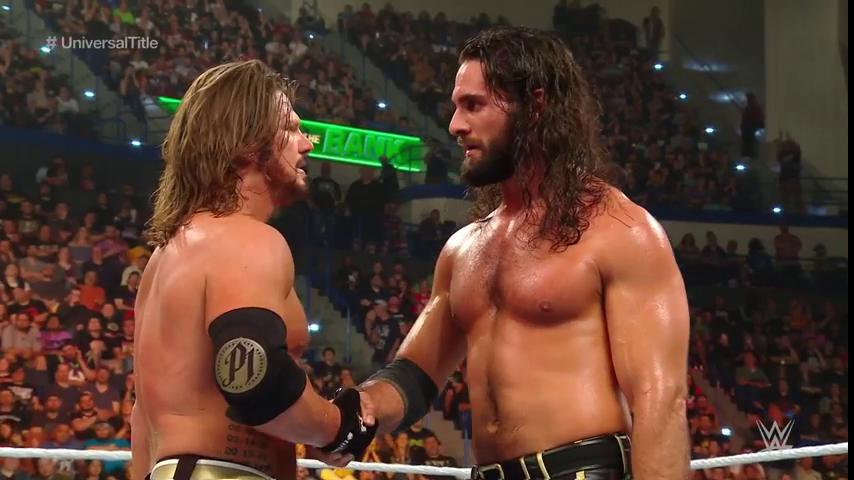 AJ Styles took on Universal champion, Seth Rollins last night in one of, if not the best match either man has had all year. The two tore the house down at MITB, but Rollins proved too much for Styles in the end.
Many believed when Styles was sent to Monday Night Raw in the superstar shake-up, this match would likely be saved for a huge PPV such as SummerSlam or even WrestleMania. WWE hotshot this feud as soon as they could.
It's unclear what's next for Styles. He showed signs of aggression throughout this rivalry and many thought he'd turn heel after that match last night, but that wasn't the case. So what can he do?
He could go after any title he wanted to, even possibly the new title that's being announced tonight. Regardless what WWE decides to go with for Styles, he's going to be great at it. There's no question about it.
Overall, this should be a very newsworthy episode of Monday Night Raw. A new title, new feuds and we have a Beast in the Bank. Here's to a great episode tonight!