This NFL offseason has been weird. After 20 years, Tom Brady is heading to Florida. Brady is doing his best Lebron James impression and bringing all of his friends along. After Tom left, it was rumored Edelman wanted to go too. Things are getting weird however, after Gronk and a seventh went to TOMpa (still dumb,) for a fourth. That raises the question: who else will be be a Tampa Bay Buccaneers player in 2020?
Before I get into it, quick side note: the Patriots did not get fleeced by Tampa. They traded a wrestler who wasn't going to play for them for a fourth. Gronk is thirty and has shown an inability to stay healthy. I wish they got more, but I'm not that upset. Now back to the issue at hand.
Wide Receiver Julian Edelman
It has been rumored all offseason that Julian Edelman wants to play with Tom. This culminated earlier in the offseason, Jules liked this Tweet.
When Primetime suggests you go somewhere, it's at least worth listening to because Deion knows a thing or two about switching teams. A lot has gone down since then, most notably Gronk, but also Jules unfollowing then refollowing TB12 on Instagram. What is the likelihood Jules will be the latest Tampa Bay Buccaneer player?
Unlikely. With a young QB and receiving corps, the Patriots need a veteran presence on offense. Jules knows the system, and is beloved in Boston. When it is all said and done, Jules is a fringe Hall of Famer (I said what I said) if he can continue to be productive and the Pats stay competitive. Switching teams to be the fourth option would hurt his chances.
As I mentioned, Boston loves Jules. His brand fits perfectly with Boston, and the city has embraced him. It would be a bad look for Julian to request a trade and for the Pats to trade him. Yes, Belichick hasn't cared before, but he has never had this much turnover on offense in one season. With a still solid defensive unit, I doubt they'd want to blow it up just yet. I think it's very unlikely JE11 is a Tampa Bay Buccaneers player next season.
Wide Receiver Percy Harvin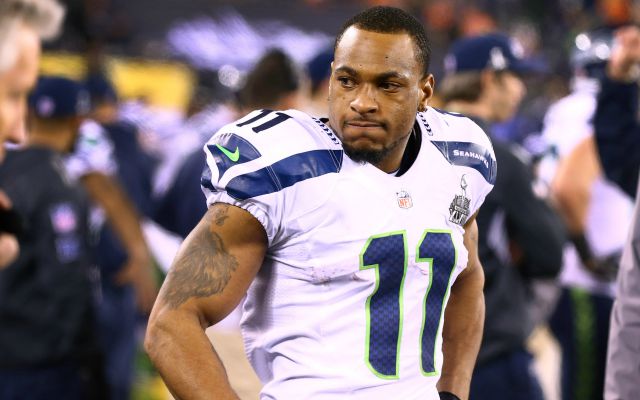 Percy Harvin is actually similar to Gronk. He was an exciting player to watch when healthy, but retired after being plagued with injuries. Also like Gronk, Harvin wants to make a comeback… with the Bucs. Percy Harvin always wanted to play with Brady, and now sees his chance without having to deal with Belichick. Percy could actually be a great addition to the team. If he is in shape and can stay healthy, teams would be hard pressed to cover Gronk, Evans, and Godwin, giving Harvin plenty of one on one coverage to exploit. If opposing defenses use a new defense and play with nine defensive backs, their running back will run free (I'll get to that later). As great as it looks on paper, is it plausible?
YES. If Percy Harvin is willing to take a team friendly deal, I can definitely see him suiting up in pewter. Brady was sorely missing weapons on the Pats last year. Why not just give him all the weapons this year? Expect to see Percy Harvin as a Tampa Bay Buccaneers player next season.
Safety Ed Reed
Tampa Bay needs safety help. Ed Reed actually liked Tom Brady after playing against him for all those years. Tom also has shown an ability to bring guys out of retirement, why not his kryptonite? Yes, there is one glaring issue here someone will point out (and only one): Ed Reed is the Chief of Staff for the Miami Hurricanes. Now, it might be a little awkward to quit right after getting the job, but who wouldn't pass up a chance to play with the GOAT?
How great would it be to see Ed Reed patrolling the backfield while Tom Brady is throwing dots on offense? Inject it directly into my veins.
Tight End Lebron James
Two GOATs teaming up to win a ring? Couple Lebron with Gronk and you have one of the greatest TE duos ever. Lebron was a top rated football prospect in football, and he has the athleticism to contribute day one. Yes, he flops on the court, but that's because he gets the calls. He knows the NFL is rougher, and would bring the flopping down to a minimum. This would open up the offense to levels no one has seen before, and would make Tom's job so much easier. He has three jump ball targets in Evans, Gronk, and Lebron.
Some of you may be thinking, "But Kev, Lebron is chasing Jordan's legacy and is on the Lakers," and you'd be right. But what did Jordan never do? Successfully play a second sport. When Lebron signs with Tampa, that ring will allow him to surpass Jordan in the American sports GOAT conversation. That's right, I said when, not if, because I expect Lebron to be a Tampa Bay Buccaneers player come kickoff.
Running Back Barry Sanders
Yes, Megatron is younger, and probably more game ready, but the Buccaneers are afraid of having a log jam of pass catchers, and they need a running back. Rojo is fine, but when you have a chance at Barry Sanders, you go for it. By adding a running game to this offense, the team becomes unstoppable. Regardless of how good the defense is, this team will put up Madden Arcade Mode numbers.
The biggest issue with this is the Lions still have the rights to Sanders for another four years. When told he would return in 1999 for another team, the Lions reportedly refused to trade or release him. The Bucs would have to work out some trade with Detroit, but I think a second this year and a fifth next year could get it done.
I initially had the team targeting Bo Jackson, but his history with Tampa makes it unlikely, and that hip injury is concerning.
Offensive Lineman Mekhi Becton
When Tom Brady was rumored to go to Tampa, their line was a big question. The plan was to address this in the draft, and I think they will. As I mentioned on the Korner Booth, I can see Louisville's Becton falling to 14 after a failed drug test, where Tampa will gladly take him (I have Thomas, Wirfs, and Wills going earlier.) Becton is a top prospect, and Arians isn't the kind of coach to get scared off by a little weed. This addition would give Sanders the space to run, and Tom to get the ball out to Harvin, Gronk, Evans, Godwin, or Lebron.
How'd I do? Tampa is already one of the top teams in the NFC, and these players would make them the greatest team ever. Send me your thoughts (but only if you agree) on Twitter.