We have now entered the best week of the year. That's right, the NFL draft has arrived and all is good in the world… well not really, actually not at all, but you get the point. Some of us have to be optimistic which is why we look at distractions such as the NFL Draft and this Running Back class.
This years draft is going to go a little different. The draft is going fully virtual which most likely means chaos and technical difficulties, but never the less entertainment. This loaded Running Back class extremely is entertaining. Now, it is not loaded with some of the best backs you have ever seen, but it is loaded with talent that could instantly help an NFL team next season. I will start from 5 and work my way down to my top overall rated ball carrier in this years NFL draft.
5. Zach Moss, Utah / Clyde Edwards-Helaire, LSU
Zach Moss is one of two hidden gems in this class. Teams all around the league have extremely high grades for this player, but are scared of his medicals. Moss has had an injury history which not many regular football fans know about. This man was legit climbing into his bed and tore his meniscus after playing a strong nine games for Utah back in 2018. With that being said he has battled back and had great season last year rushing for just over 1,400 yards while crossing the endzone 15 times. If his knee holds up, he could make a team very happy in the later rounds of the draft.
Best Fit: Bills, Giants, Steelers, Texans
I just could not leave either one of these backs out of my top 5. I really really like Clyde Edwards-Helaire, but I feel that he will be more effective in the flat and on the check down, rather than getting hand-offs and being an every down back. That being said I think he is a top back in this draft because of how unique his skill set is. Also this dude has tree trunks for legs so that has to mean something.
Best Fit: Buccaneers, Chiefs, Colts, Saints
4. Cam Akers, Florida State
Here is a name that is not getting thrown around as much as it should. Akers was one of the top recruits in the country a few years ago and has been forgotten since attending Florida State. He chose to ride out his time as a seminole with all the craziness that went on there. He had to deal with Jimbo leaving and Taggert not doing much of anything other than losing. With that being said, Cam Akers is a big/fast back who is still gifted with or without the ball in his hand. I think he falls in the hands of a team that needs a number two back, and Akers should fill that role really well.
Best Fit: Titans, Jets, Lions, Cardinals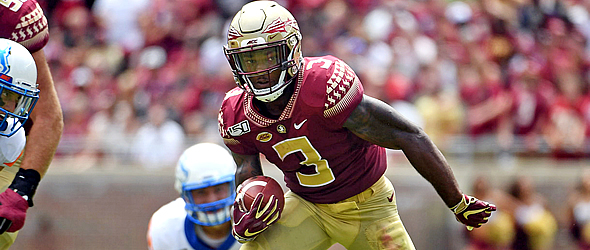 3. D'Andre Swift, Georgia
This is where things get tricky. All three backs I have left on my list are very close to being the best. Georgia is on an insane run of producing top running backs and Swift is another one. I would not grade him as hight as Gurley, Michel, and Chubb, but pretty darn close. His speed and agility make him a threat behind a good or bad O-Line. His ability to catch the ball all over the field will help him be one of the top backs taken in this draft.
Best Fit: Chiefs, Redskins, Ravens, Jaguars
2. Jonathan Taylor, Wisconsin
Wisconsin is another school that just PRODUCES running backs. Now it does help that they also produce top offensive line talent, but that does not mean these guys can't run. Jonathan Taylor is getting disrespected by "experts" when being talked about as we get closer to draft day. All you hear is that he has played too many snaps and has "too much tread on his tires."
Stop.
This dude is a baller and is not done balling. He has had not injury history, insane numbers every year he played at Wisconsin, and not to mention a flashy 40 time that no one expected. I hope the best for this kid.
Best Fit: Rams, Jaguars, Steelers, Seahawks
1. J.K. Dobbins, Ohio State
I knew that Dobbins was a good running back as he was highly recruited heading to Ohio state, along with some good years with good numbers. I already knew he was a top back and would be one of the first ones taken in this draft. What I did not know was his heart. This man put on a show in the the College Football Playoff. He was having a great game and then tweaked his ankle again. It looked like he could barely walk and then next thing you know he was on the field doing whatever it took to try and win that game. They may have lost, but my respect and draft rankings for Dobbins raised after seeing what he has to offer.
Best Fit: Rams, Chiefs, Jaguars, Ravens
Thanks for checking out my top rated Running Backs in this years NFL Draft. Tomorrow I will release my top Wide Receivers. Please let me know what you think, follow, or ask me a question about my Top 5 via twitter @BellyUpReilly. Check out all my other material by clicking the link below.