The running back position is one of the more polarizing positions in all of the NFL. When should you draft a running back? When you have one of the league's top backs, what should you pay him? How vital is an elite running back to a team's overall success? These questions aren't easy to answer, and the answer really varies on a team-by-team basis. Every year we see talented backs enter the NFL. Whether they get drafted high, drafted in the mid-rounds, or don't get drafted at all. The league's current pool of talented running backs is vast, with even more talent on the way in the upcoming 2021 NFL Draft. Regardless of your stance on the running back position, there's no doubt some of these guys will succeed at the next level. Here are the top five 2021 NFL Draft running backs.
1. Najee Harris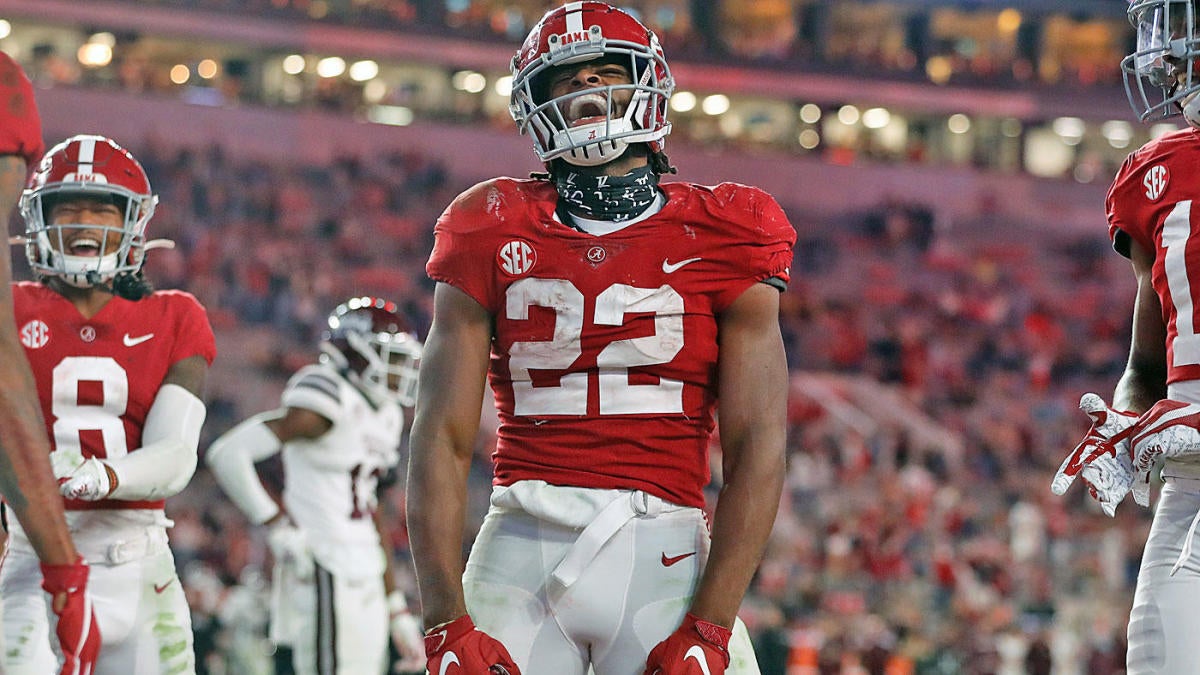 Najee Harris is the best prospect among the 2021 NFL Draft running backs. He leaves broken records in his wake after dominating during his time in Tuscaloosa. He's Alabama's career leader in rushing yards with 3,843. He's also Alabama's all-time leader in rushing touchdowns with forty-six. A truly incredible feat, given the talent that Alabama has boasted in their backfield since Nick Saban took the reigns. Harris has been a consistent producer since stepping foot on campus. This past season he set the SEC record for most receiving and rushing touchdowns in a single season with thirty combined touchdowns. The 2020 Doak Walker Award winner still has his best football ahead of him, possessing all of the traits of an elite NFL running back.
Standing at 6'2″, and weighing 230 pounds, he's a beast of a human. He's no Derrick Henry in regards to size, but no one is. The agility he possesses at his size is really what blows me away the most about Harris. His ability to cut on a dime at will is incredible. Harris doesn't have that flashy super speed, which is a moderate concern, but not necessarily a worry. He's more than fast enough to break away from defenders and his shiftiness allows him the necessary space to break free. He's incredibly poised and has the ability to get skinny and find the open hole. Harris can really run the rock, he's a great pass catcher, and he's solid at pass protection. He gives me serious Le'Veon Bell vibes. I would be pretty surprised to see Najee Harris slip out of the first round.
2. Travis Etienne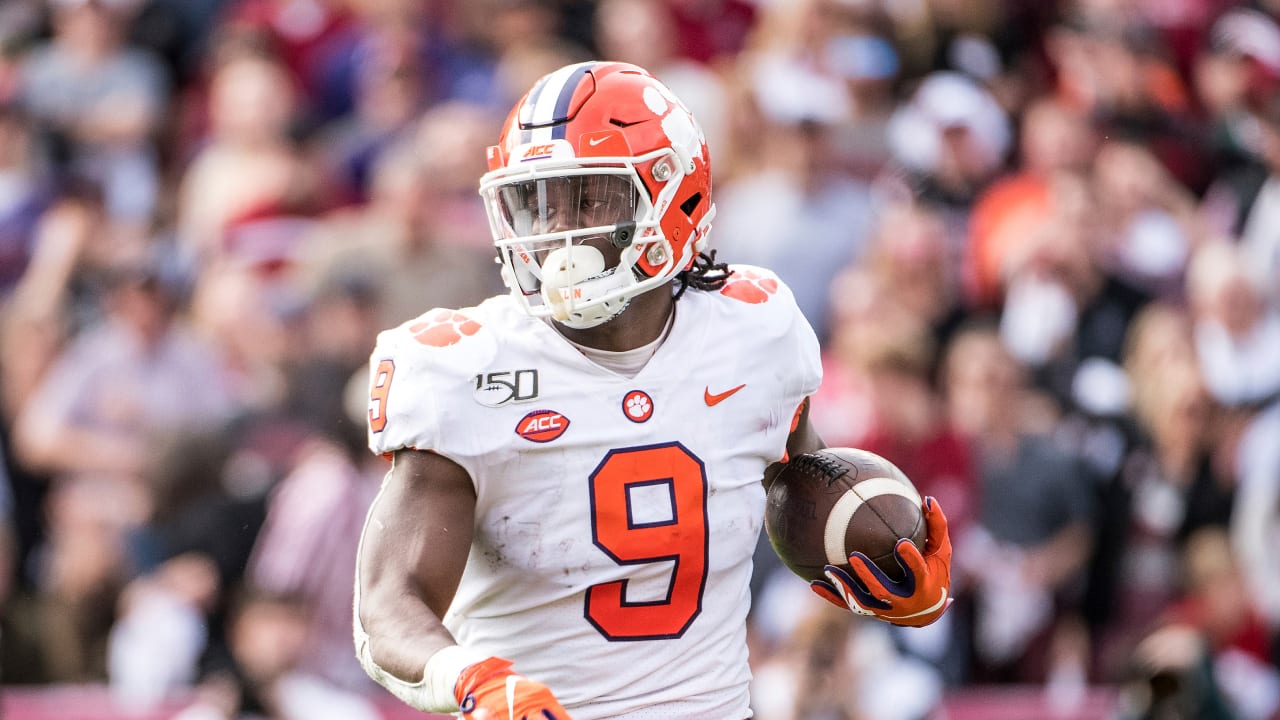 While Trevor Lawrence will get most of the attention, Travis Etienne is also a top-tier NFL prospect at his position. I'll give Harris the edge, but the argument can be made that Etienne is the best of the 2021 NFL Draft running backs. While Najee Harris was breaking records in the SEC, Travis Etienne was breaking records in the ACC. He is the ACC's all-time leader in career rushing touchdowns with seventy, as well as the all-time leader in career rushing yards with 4,952 yards. With a career average of 7.2 yards per carry, Etienne was essentially a walking first down during his time at Clemson.
Etienne is smaller than your typical NFL running back, standing at 5'10" and weighing 205 pounds. Part of the beauty of the running back position is that it's not a "one size fits all" kind of position. We've seen all different heights and weights achieve success in the NFL. Etienne has the poise, power, and agility of Harris. While Harris has a bigger frame, the overall speed advantage goes to Etienne. Harris is bigger, and a better pass protector. At the end of the day, Etienne has the college production and the NFL traits that lead me to believe he will be successful. With his speed and size, he reminds me of a slightly smaller Miles Sanders. Etienne will be the second of the 2021 NFL running backs taken. He could sneak into the first round, but will most likely be a second-round pick.
3. Kenneth Gainwell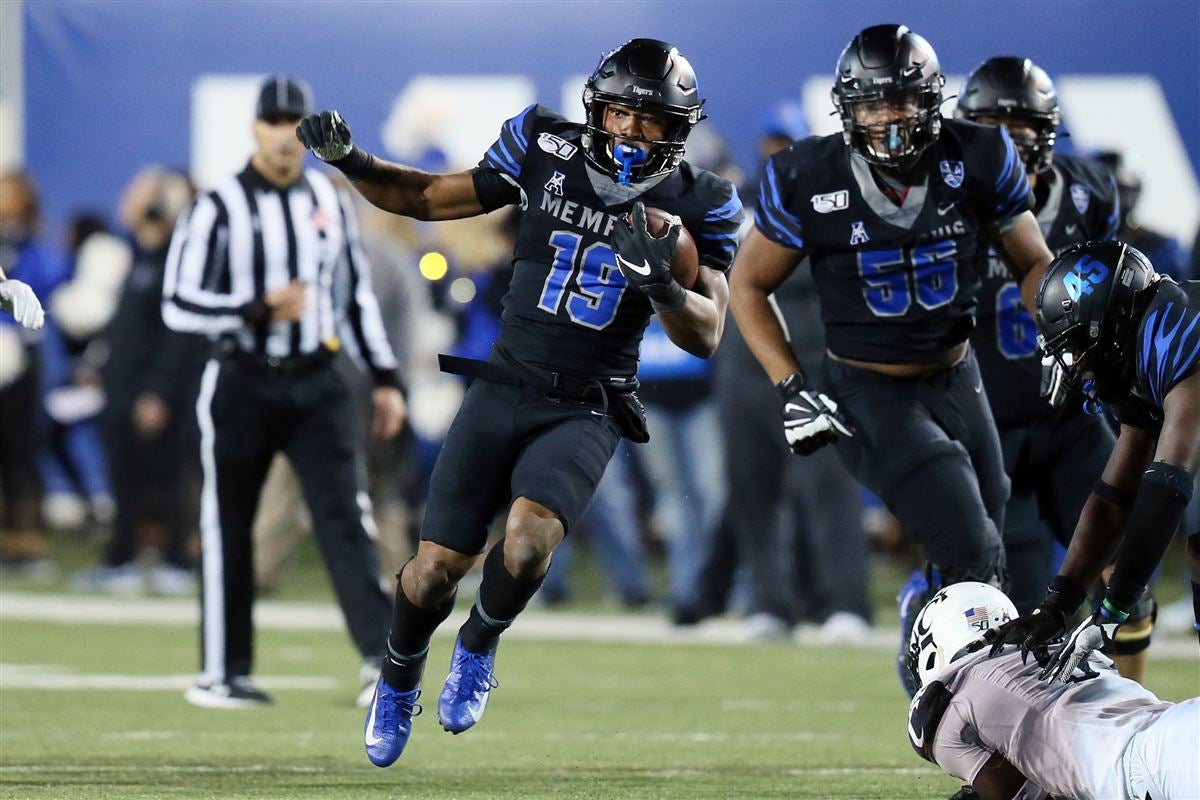 When you play for the University of Memphis you don't get the national attention that a Clemson or an Alabama player gets. Combine that with opting out of the 2020-2021 college football season, and it makes sense why people might not know the name Kenneth Gainwell. There's no shortage of talented Memphis running backs in the NFL, and I'm sure teams take notice of that. Antonio Gibson, Tony Pollard, and Darrell Henderson were all on the 2018-2019 Memphis roster along with Gainwell. I'm a huge fan of both Gibson and Pollard, and the latter could definitely be a starting back for several teams in the NFL. Being amongst this talented backfield was no doubt beneficial for Gainwell. During the 2019-2020 season, with Gibson still on the roster, Gainwell became the lead back for Memphis.
Gainwell would go on to have 1,459 rushing yards, 610 receiving yards, and 16 total touchdowns. He was the bell cow, and while Gibson was primarily a receiving back, Gainwell still had more receiving yards than him. Gainwell would be a unanimous first-team All-AAC selection and AAC Rookie of the Year at the conclusion of the 2019-2020 season. These Memphis backs enter the NFL with tremendous experience in terms of pass-catching, and the converted quarterback Gainwell is no exception. He's a smaller back like Etienne, at 5'11" and roughly 190 pounds, with a similar skill set. Elite level athlete, versatile, with little tread on the tires. He too, like Etienne, needs to work on pass protection. Gainwell, to me, is the most intriguing of the 2021 NFL running backs. I'd liken his pro comparison to James White, with higher upside as a rusher. I see him going no later than round three.
4. Javonte Williams
Mack Brown's program had the luxury of two elite running backs this past season. Michael Carter was named First Team All ACC, while Javonte Williams was named Second Team All ACC. Carter is a monster in his own right, but Williams is the better prospect. Williams ended the season with 1,140 rushing yards and 19 rushing touchdowns, all while averaging 7.3 yards per carry. Carter had more rushing yards (1,245 yards) with one less carry than Williams (156 attempts), but ten fewer rushing touchdowns. It's hard to not compare these players to each other, given their close proximity. Putting their statistics aside and viewing them as prospects on the grander scale of all 2021 NFL Draft running backs, it's Williams who has the edge.
Javonte Williams is the first back on this list who's really your typical sized back, standing at 5'10" and 220 pounds. He's a compact bowling ball, with no problem initiating contact. He's extremely physical, which explains why he got the lion's share of goal-line carries for the Tar Heels this past season. What really impresses me about Williams is his ability to break tackles. After he breaks that initial tackle and sees some daylight, he explodes, ready to run through anything in his way. Gainwell is more speedy and versatile, but Williams gives you that trustworthy, more traditional, consistent back. Contact balance and physicality define Williams, two traits that have helped many running backs succeed in the NFL. He reminds me of slightly quicker Jordan Howard, and like Gainwell, he won't fall past round three.
5. Trey Sermon
The running back who claims this fifth spot is Ohio State's Trey Sermon. Starting his career as an Oklahoma Sooner, he would split carries for all three of those years, never really getting the chance to be the lone lead back. In a pass-friendly offense, he also had to deal with teammates Kennedy Brooks, Rhamondre Stevenson, and Rodney Anderson eating up carries during his time as a Sooner. Looking to get a chance at being a lead back, he took his talents to Ohio State, where, unfortunately, he would also split carries. This time with Master Teague. Sermon played his best ball this past season, being extremely efficient in only eight games. He had 870 rushing yards, 7.5 yards per carry, and 4 rushing touchdowns. Solid stats for a small sample size, but the overall career production pales in comparison to the four backs above Sermon on this list.
What earns Sermon this fifth spot has a lot to do with his otherworldly play down the stretch of this past season. Sermon suffered a collarbone injury on OSU's first drive of the national championship against Alabama. In the three games leading up to the national championship, Sermon had 636 rushing yards, 4 rushing touchdowns, all on 9.6 yards per carry. Absurd video game-like numbers, all in crucial games of the season. I get the concerns about Sermon. Small sample size, lack of overall production, and never really won the job as his team's lead back.
This three-game span of pure dominance, to me, mitigates these concerns. If I'm an NFL team I want a guy who's going to shine when the lights are brightest. Sermon proved that he can be that guy, and set records in the process. He's a pure runner. He can catch passes, but it's not one of his strong suits. With his skill set, at 6'1″ roughly 215 pounds, I would liken his pro comparison to a less well-rounded/athletic Joe Mixon. He'll go as high as the third round, and as low as the fifth.
Honorable Mentions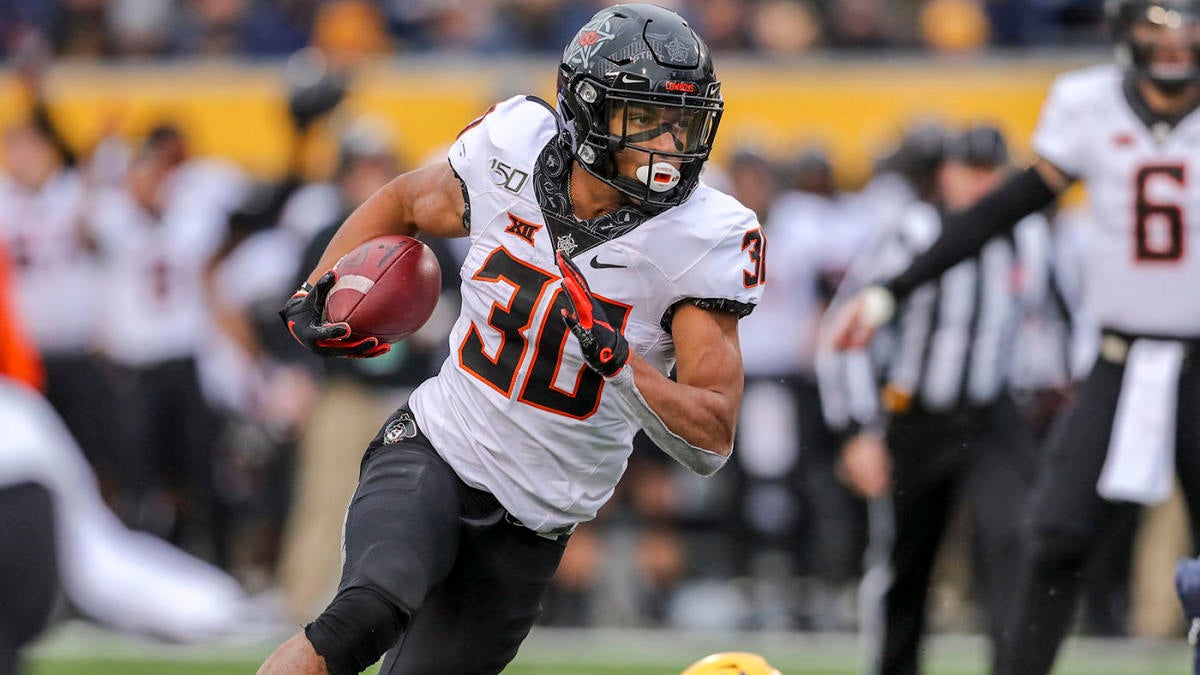 Michael Carter, Javonte Williams' counterpart at UNC, is one back who is very deserving of being on this top five list. He was very productive during his time at UNC. Undersized, but very quick, agile, and athletic. He's going to be a solid complementary, change of pace back for whatever team selects him. While I like Sermon more, I could see Carter being selected before him.
Oklahoma State's Chuba Hubbard is also very deserving of being on this list. His 2019-2020 season was legendary. He rushed for 2,094 yards, to go along with 21 touchdowns. Hubbard has that Olympic sprinter speed, and I expect he'll test very well at his pro day. Between his monster 2019-2020 season and his straight-line speed, he makes me think of Bryce Love. Like Carter, he may go above Sermon depending on how he tests at the combine.
Mississippi State's Kylin Hill is also a quality running back prospect. I'm a big fan of Hill's game, he's a complete back. He has the college production, and he has the proper NFL traits to succeed at the next level. The best version I've seen of Sermon is better than the best version I've seen of Hill, which is the reasoning he didn't get that fifth spot. He will likely also be a fourth or fifth-round draft selection.
I'm a big believer that showcasing versatility will improve draft stock, and is something that NFL teams highly value. UCLA's Demetric Felton is right behind Gainwell as my most intriguing 2021 NFL running back prospect. Dabbling in receiver and running back during his time in college, and lighting up the Senior Bowl, he's definitely a guy to keep an eye on.
From top to bottom, I like the 2020 NFL Draft running back group more than this class. Running back selection in the draft comes down to team and scheme fit. A lot of it also comes down to opportunity. The success of these players isn't fully in their hands, which makes their professional projection difficult. Either way, there's no denying the talent of this group.
Like this article? Don't forget to follow me on Twitter @jthomann16 and check out all of the other great Belly Up Sports content!